Quick Links
Charlotte Artifact Stat Priority
Charlotte Talent Priority
If you've just started playing Genshin Impact, most of your teams will be made out of four-star characters. However, some of these four-star characters can stay on your team even when you're in the late game since they provide general utility like healing or phenomenal buffs to your team.
RELATED: Genshin Impact: Best Builds For Furina
Charlotte is one such character since, apart from dealing a bit of damage, she can heal your entire team during her Burst. Unfortunately, she doesn't have much else going for her, which makes her quite a niche character to use and build.
All-Heal Charlotte Build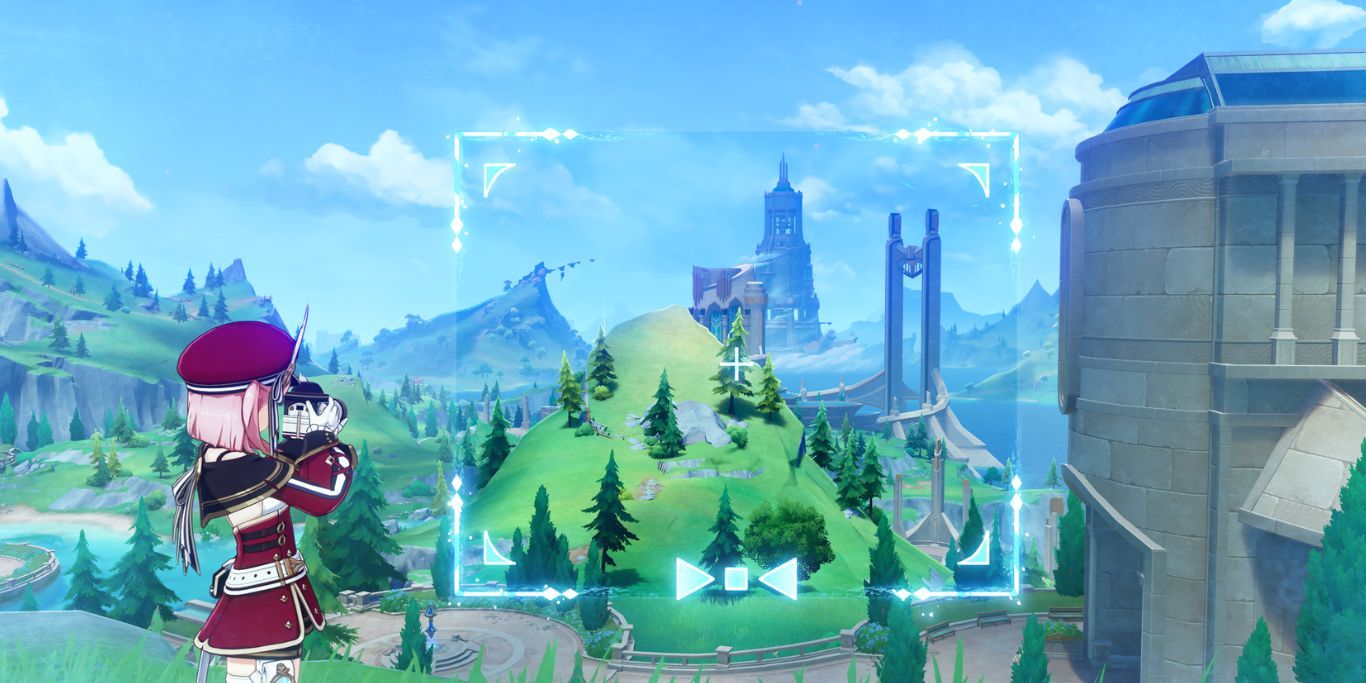 Weapons – Favonius Codex, Oathsworn Eye
Artifact Set – Ocean-Hued Clam
Charlotte's Elemental Skill applies an effect on up to five enemies and deals Cryo DMG to them at regular intervals. However, this is better used for Cryo applications than damage since the multipliers aren't too high. These multipliers remain low even for her Burst, which makes her best only while you're trying to heal.
She was released alongside Furina for the first time, and HoYoverse probably meant to build her as a dedicated support for the Archon. Thankfully, with this build, you can still use her as a decent healer on any team where you wouldn't mind Cryo being applied to the enemies.
Her Cryo application can be used in Freeze teams whereas this application doesn't matter too much in Dendro-based teams.
Favonius Codex is a great weapon for this since its high Energy Recharge helps her get the Burst faster while the particle generation can help both her and her teammates get some extra Energy. This is especially good if you use her with Furina since she has quite a difficult time in getting her Burst back.
On the other hand, Oathsworn Eye can increase both her Energy Recharge and ATK (her healing scales on this stat) as well. Both of these weapons are great for Furina, but she might not have the same flexibility in artifacts. Ocean-Hued Clam is the best one you can use if you want to go for the four-piece because of its healing effectiveness and a little extra damage.
However, it might be better to use a two-piece Ocean-Hued and a two-piece ATK Percent artifact set like Shimenawa or Gladiator on her.
Charlotte Artifact Stat Priority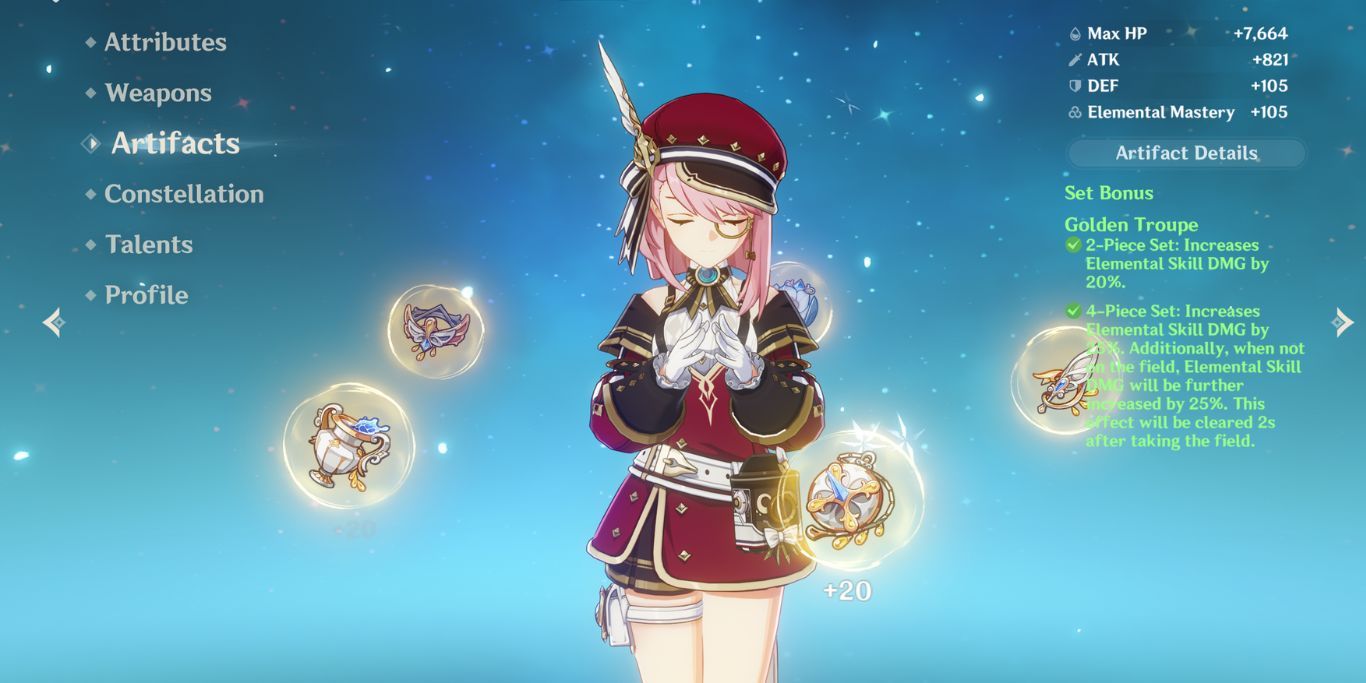 Being a four-star, Charlotte is one of the easier characters to understand and build since her kit is fairly straightforward. Here are all the artifact stats you should be looking for her:
| Artifact Type | Main Stat Priority | Sub-Stat Priority |
| --- | --- | --- |
| Flower | HP | ATK Percent > Energy Recharge |
| Feather | ATK | ATK Percent > Energy Recharge |
| Sands | Energy Recharge/ATK Percent | ATK Percent/Energy Recharge > Elemental Mastery |
| Goblet | ATK Percent | Energy Recharge > Elemental Mastery |
| Circlet | ATK Percent | Energy Recharge > Elemental Mastery |
Since it's so easy to build Charlotte, you can always try to give her a decent Crit Ratio to get a bit of DMG from her.
Charlotte Talent Priority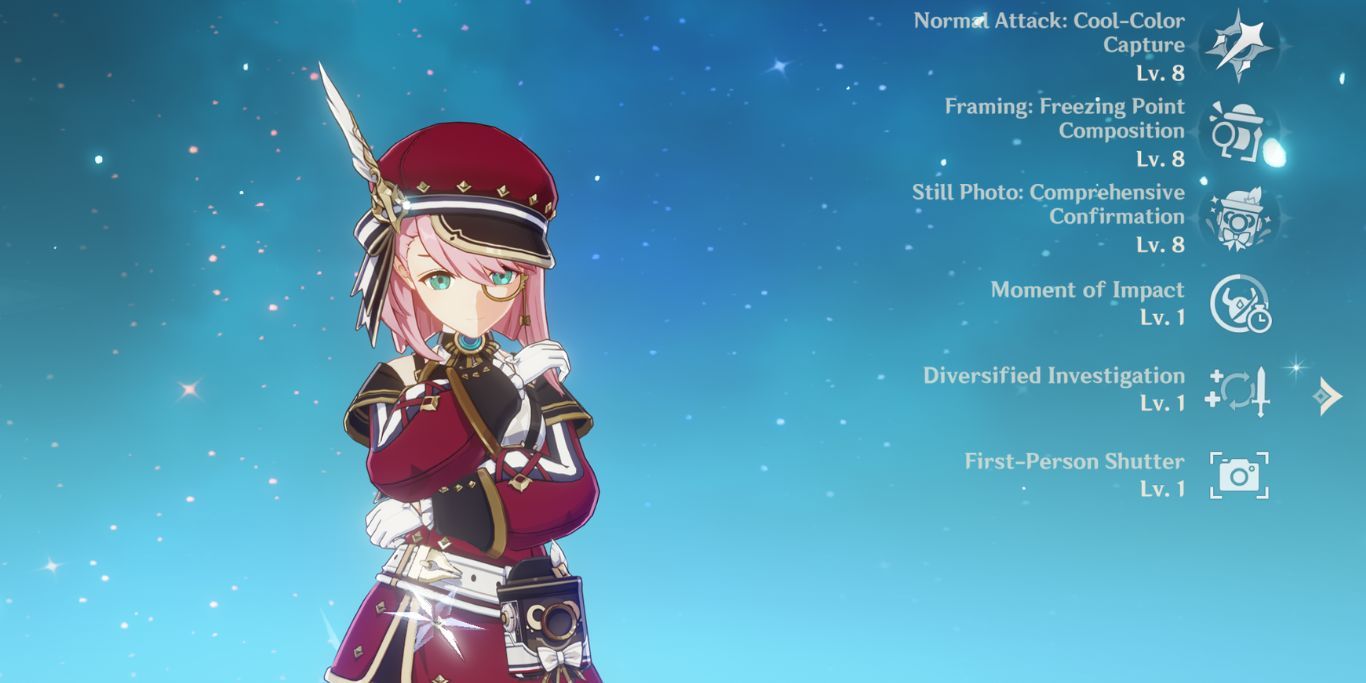 Much like every other character, Charlotte also has a set of three talents that can be upgraded up to level ten. However, she requires very little resource investment if you aren't planning to build her on damage. You can simply upgrade her Elemental Burst and put a few levels into the Skill if you want to.
However, it's still recommended to have the Skill upgraded to at least level eight since the extra DMG, albeit not a lot, will still help you defeat enemies a little faster.
NEXT: Genshin Impact: Best Weapons For Charlotte