Baldur's Gate 3 has no shortage of effective spellcasters – full and mixed, but few can compare to the sheer damage potential of the Lightning God themselves, the Storm Sorcerer. However, also in true spellcaster fashion, the Storm Sorcerer remains one of the more complicated builds in need of a little careful prior planning.
RELATED: Baldur's Gate 3: Best Life Domain Cleric Build
Best operating as a tri-class build in the more difficult echelons of gameplay, you'll have to plan your level-ups accordingly and select the right spells along your journey. Action economy will be everything, and abusing status conditions will become your favorite pastime. And we have everything you need to know to make the most of it.
Best Storm Sorcerer Races And Backgrounds
For the Storm Sorcerer, there isn't necessarily a "best race" for this class. However, you can gain some early advantages if you choose Dragonborn.
By electing to take Dragonborn, you can take the Blue or Bronze dragon for a Lightning Breath attack that can scale well with this build and give good, consistent damage without expending spell slots throughout gameplay.
We chose drow for our Storm Sorcerer Tactician run for no particular reason other than we felt like it. You, too should choose a race you enjoy more than picking an optimized game-breaking build; this is, after all, only a guide.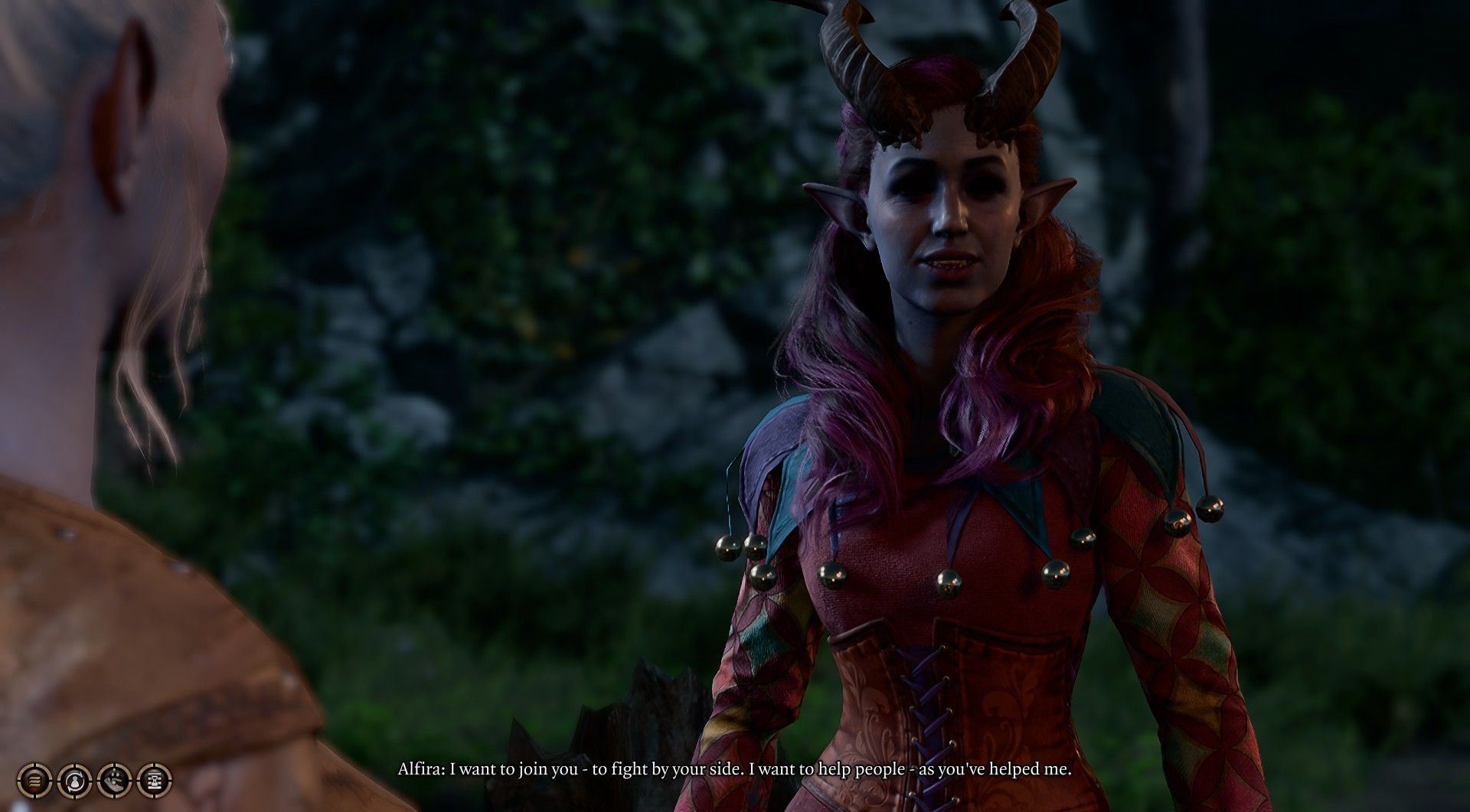 As for Backgrounds, this Storm Sorcerer is actually best as the Dark Urge. With Medicine that scales with Wisdom for the two levels of Cleric and Intimidation that operate well with Charisma, you'll have two handy proficiencies that come to use often in a playthrough.
Alternative backgrounds that also work include:
Acolyte (Insight and Religion)
Criminal (Deception and Stealth)
Guild Artisan (Insight and Persuasion)
Noble (History and Persuasion)
Choosing the Dark Urge is highly recommended for this build, thanks to the cloak it grants.
With the ability to turn invisible after every kill and this build's penchant for killing on a massive scale, you won't need to worry so much about the Sorcerer's squishy stats.
Multiclassing As A Storm Sorcerer
This build is best operated as a tri-class build. After strenuous testing on Tactician mode, we have determined the best multiclassing strategy to follow as you level up:
| | |
| --- | --- |
| Level 1-3 | Sorcerer 1-3 |
| Level 4 | Wizard 1 |
| Level 5 | Sorcerer 4 |
| Level 6-7 | Cleric 1 and 2 |
| Level 8-12 | Sorcerer 5-9 |
This build gives you second level spell slots early, takes a break for learning spell scrolls and ensures you should have the necessary headband to make this build work, and returns to Sorcerer for a much-needed Ability Score Improvement.
From there, gaining the Cleric Channel Divinity is next on the list before finishing out the build in Sorcerer.
Best Storm Sorcerer Spells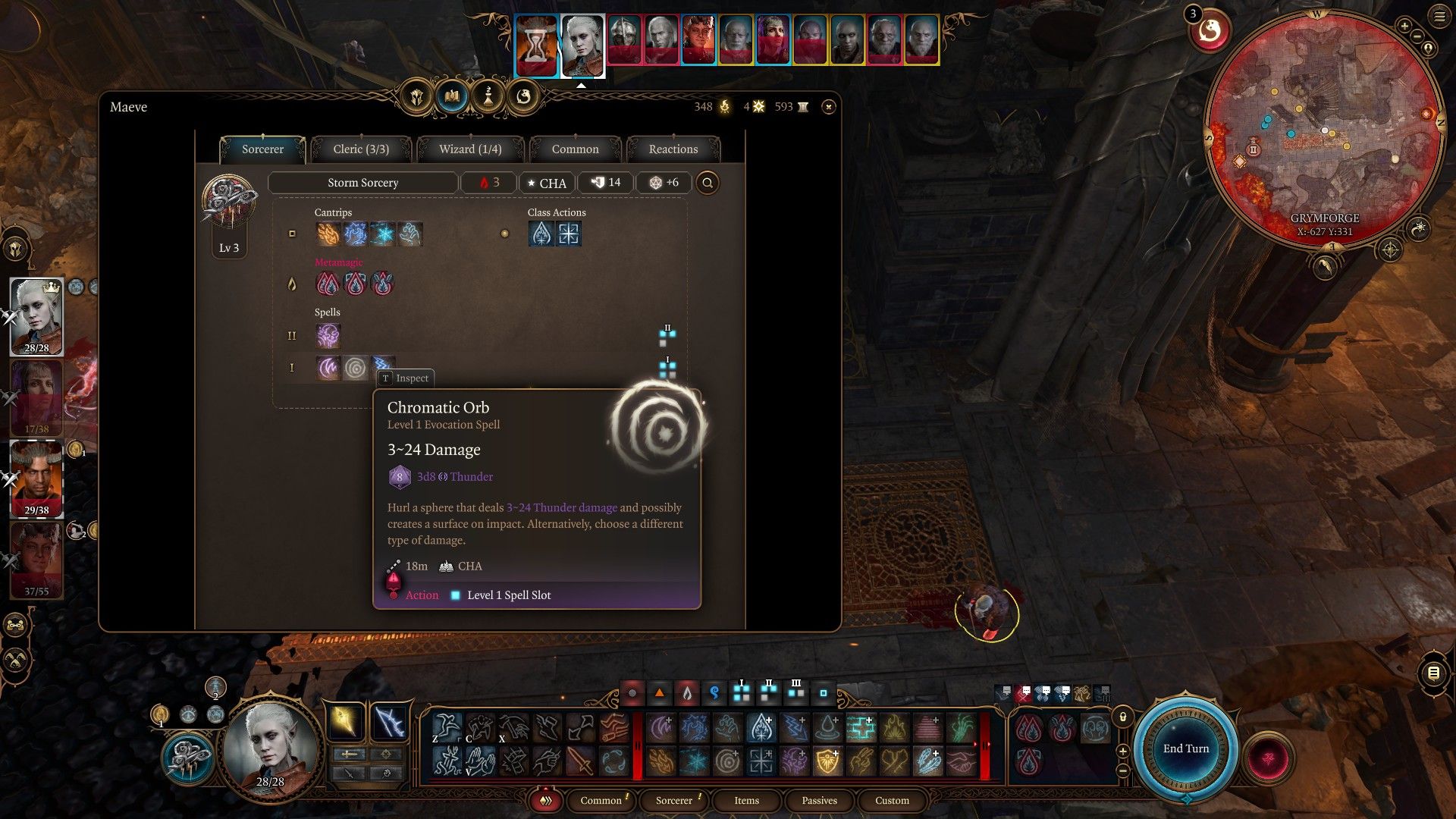 Level Spell

Top Three Spell Choices

Cantrips

Sorcerer: Shocking Grasp, Ray of Frost, Mage Hand

Cleric: Guidance, Sacred Flame, Resistance

One

Witchbolt, Chromatic Orb, Magic Missile

Two

Shatter, Misty Step, Invisibility

Three

Lightning Bolt, Counterspell, Haste

Four

Ice Storm, Dimension Door

Five

Cone of Cold, Hold Monster
When you begin as a Sorcerer, you'll want to take spells in the cantrip section of the table above. You'll have one extra slot left over, and this should either go to Firebolt or Bonechill.
Leveling up, Witchbolt and Chromatic Orb will be your workhorses for the first act of the game, thanks to their Lightning damage and synergy with Twinned Spell.
Magic Missile can be learned later to make up for high-AC enemies (especially in Tactician mode).
You may feel urged to get Thunderwave for this build. You can invest in it and swap the spell later for something else or wait for classing into Tempest Cleric at Level 6.
For Tactician, we recommend learning and swapping as its push effects are too strong to ignore.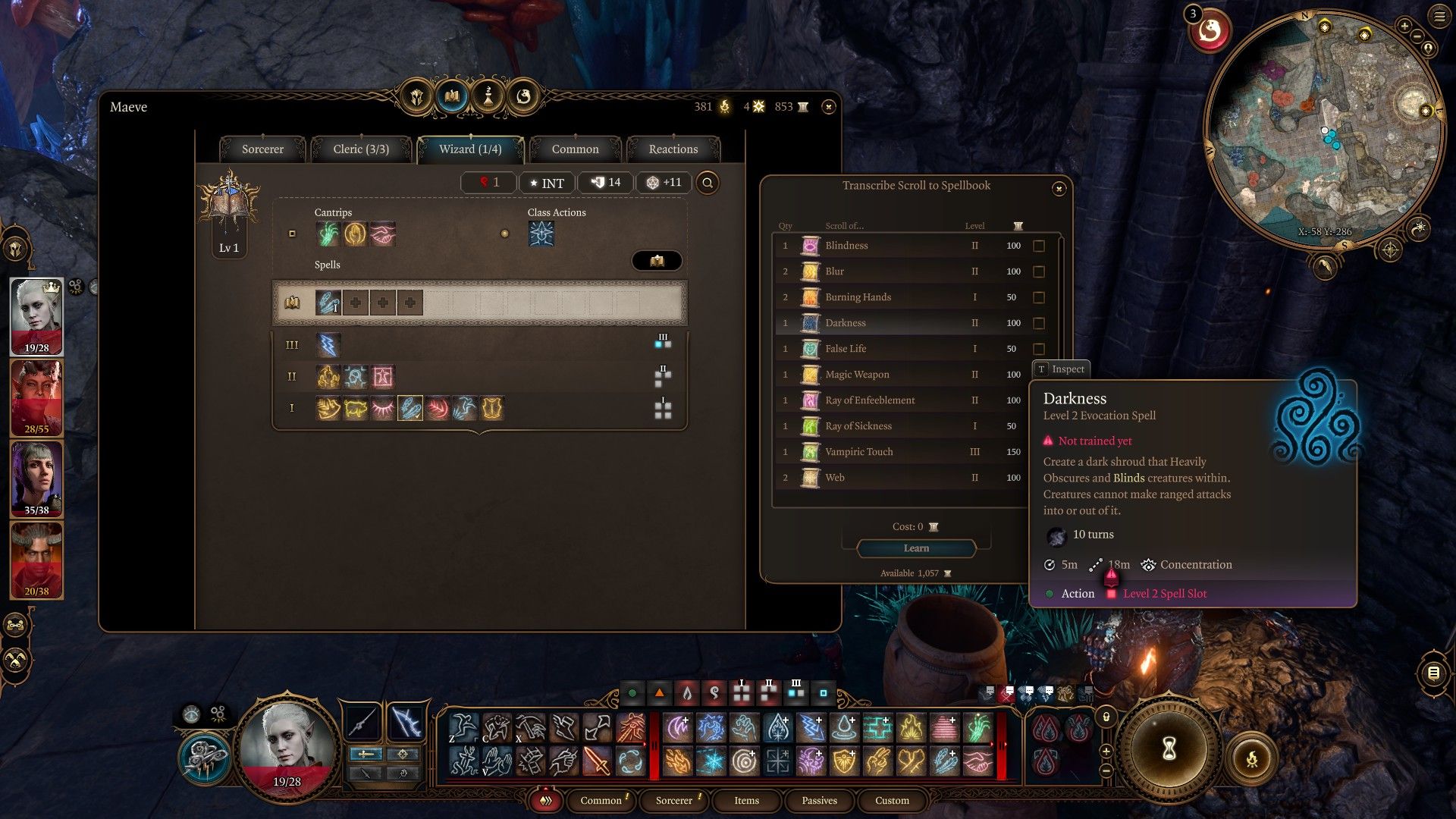 As you reach the second-level spell slots, Shatter is your priority.
Misty Step and Invisibility are great for later gameplay, but Invisibility can be commonly found in spell scrolls to learn, and Misty Step can be gained later when you have more spell slots to spare.
The next level will be the Wizard dip, and spells learned from it should include:
Enhance Leap
Feather Fall
Longstrider
You receive three more choices of anything you prefer, and if you have the spell scrolls for any of the spells above, you can study those scrolls and learn something else on the tree.
Feather Fall is very important at this point as it will allow you safe access into the Underdark from the Whispering Depths location for more leveling and access to important items for this build.
You can use this spell to explore the Underdark without triggering the Waukeen's Rest quests or finishing the Goblin Camp/Druid's Grove main questline.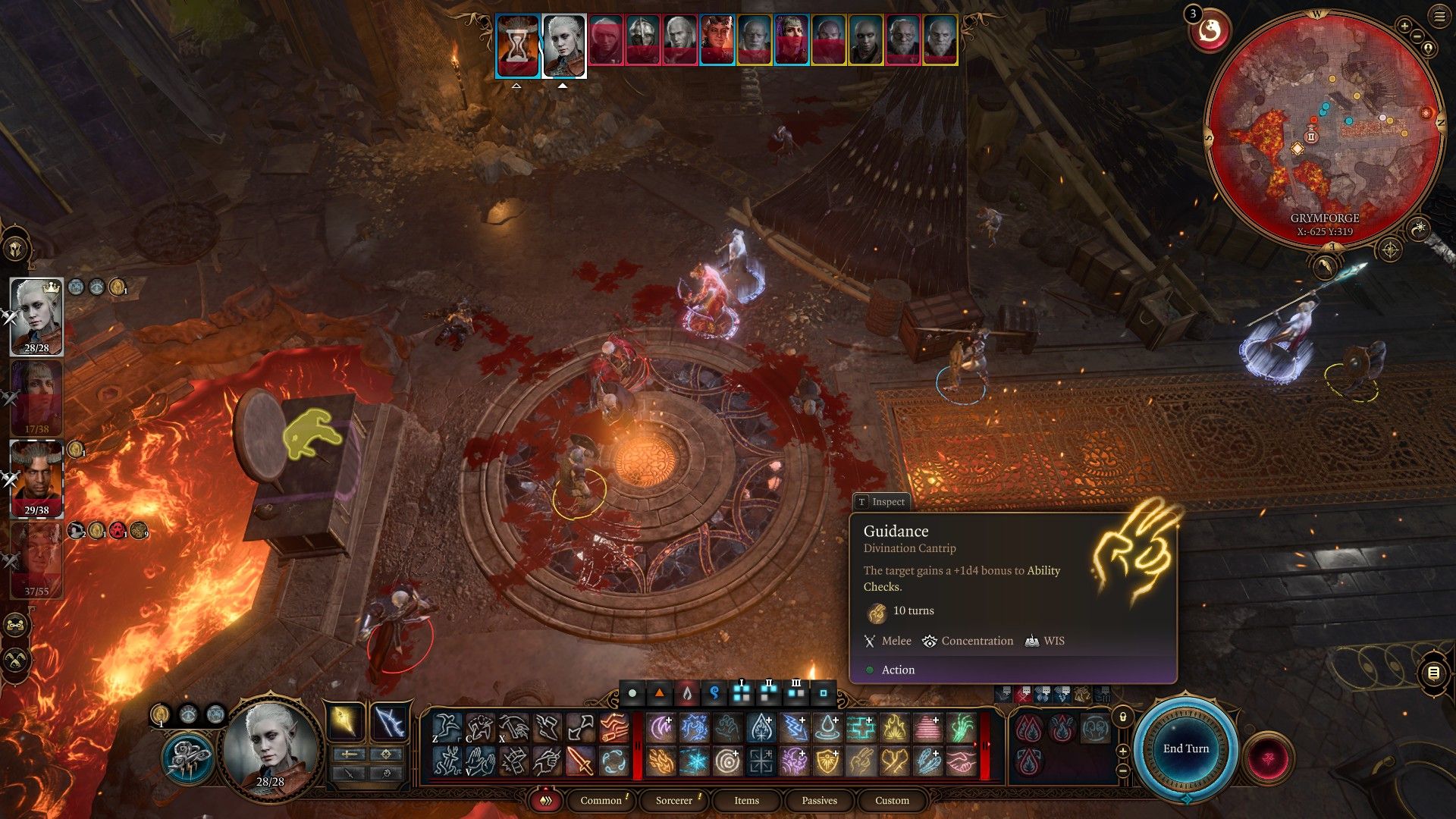 You'll soon get the Cleric spells, and Guidance is your number-one priority for cantrips.
Sacred Flame can be useful for low-Dexterity but high AC enemies when you don't want to use a spell slot. Resistance is generally useful.
The important part of this two-level Cleric dip is primarily in the feats, but preparing Create Water is an important aspect for increasing spell damage.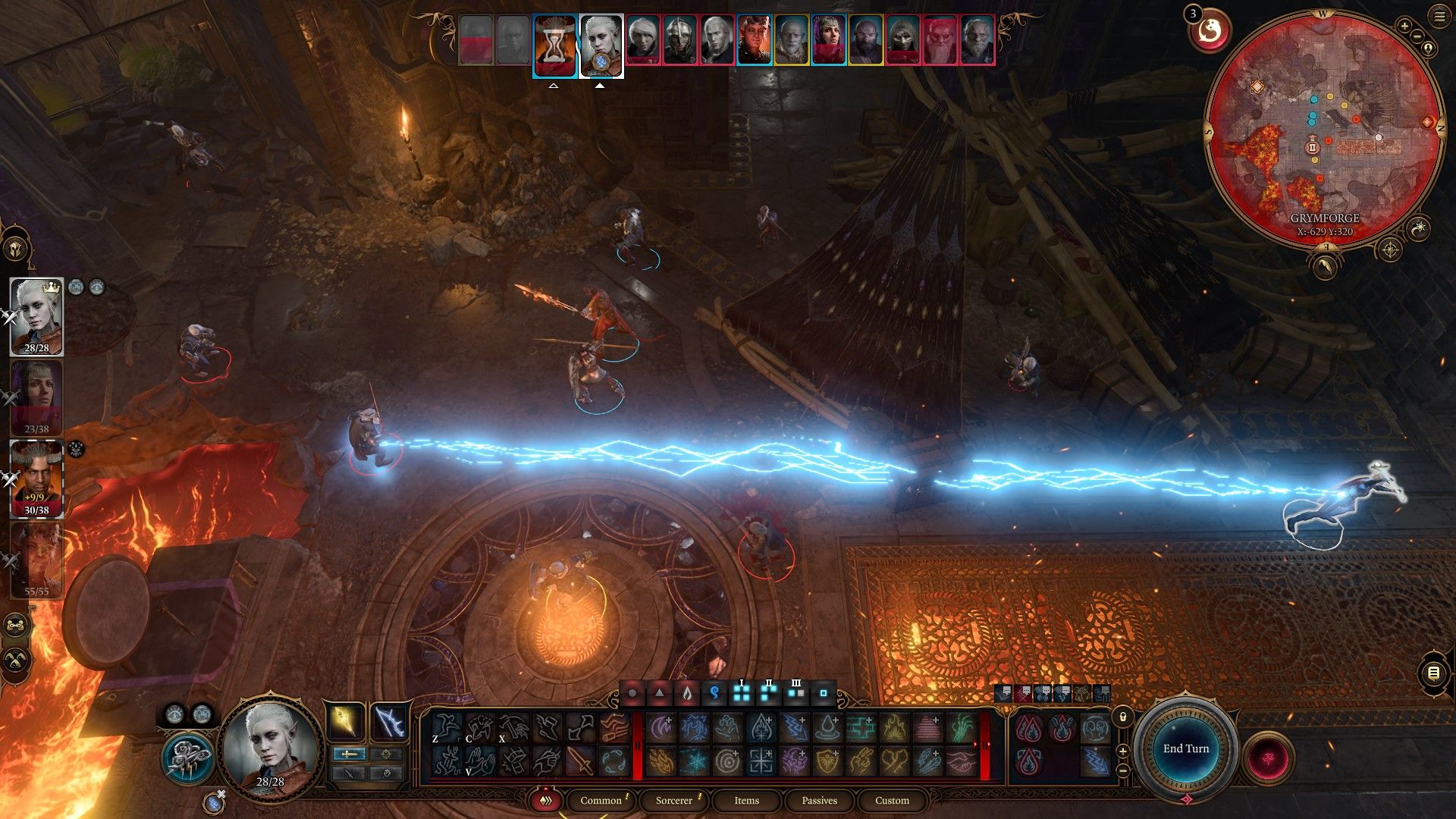 The late Sorcerer levels should prioritize Lightning Bolt above all other spells. This will be your main source of damage until the very late game where you'll gain a staff with Chain Lightning.
Ice Storm is another strong spell for the few enemies with Lightning Immunity or Cold Vulnerability or when you need to do some Prone-zoning and setup. Otherwise, other spells to take should include:
Haste
Counterspell
Mage Shield
Shield
The first two will be basic utility spells that can make or break an encounter, and the latter could be for preparing against difficult boss fights where killing someone every turn may not be feasible or on builds that do not follow the Dark Urge path.
Best Storm Sorcerer Ability Scores And Feats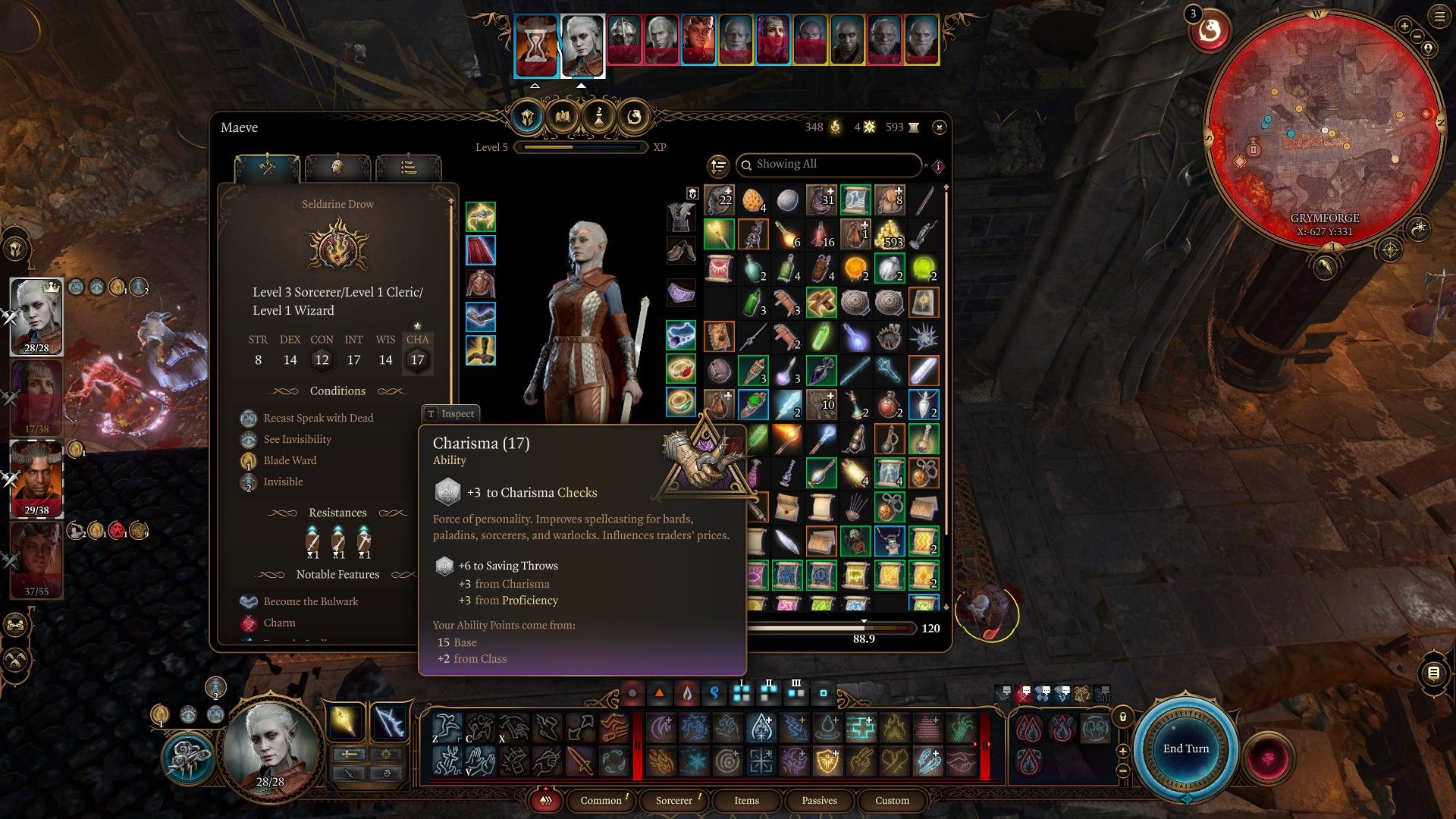 | Ability | Base Score | Goal Scores | Method Achieved |
| --- | --- | --- | --- |
| Strength | 9 | 9 | — |
| Dexterity | 14 | 14 | — |
| Constitution | 13 | 14 | +1 Ability Score Upgrade |
| Intelligence | 8 | "17" | Change to 17 with Warped Band of Intellect |
| Wisdom | 14 | 14 | — |
| Charisma | 17 | 20 | +1 Ability Score Upgrade, +1 Auntie Ethel's Hair, +1 Mirror of Loss |
Your primary concern with this build is Charisma, which will determine your main spellcasting abilities. It will be upgraded at every opportunity for a perfect 20.
Wisdom will help with several enemy Saving Throws (against Frightened or Auntie Ethel's dreaded Hold Person).
Dexterity's early +2 is all you'll need for armor in the early-to-mid game and will increase your Initiative. Constitution will be rectified soon enough, and it will be upgraded later with an Ability Score Upgrade.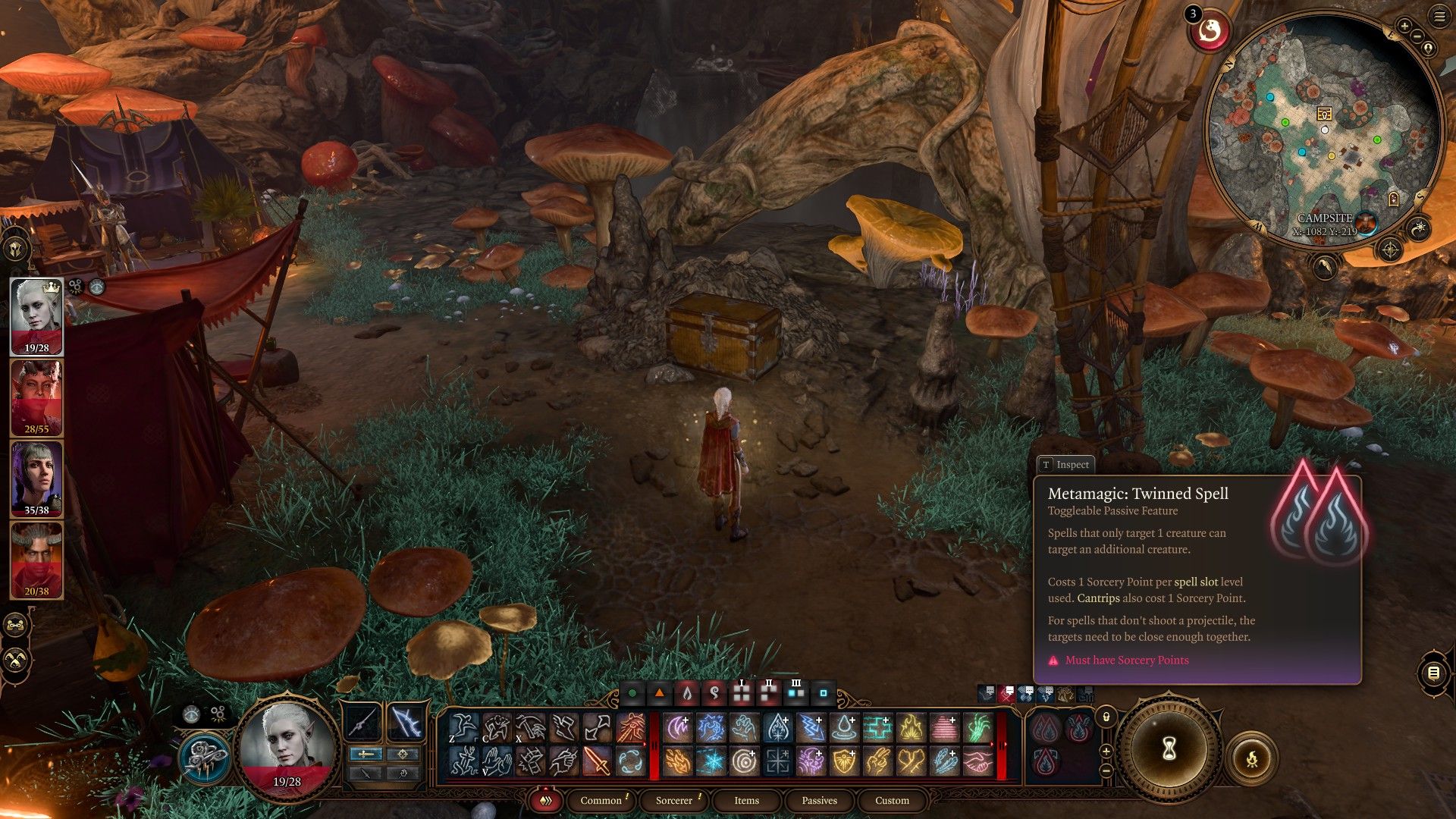 You'll gain your first Ability Score upgrade at Level 5 (Level 4 Sorcerer), and that should be invested in an equal +1 in Constitution and Charisma.
Your only other upgrade is at Level 11 (Level 8 Sorcerer), and this should gravitate toward Elemental Adept (Lightning) to bypass Lightning damage resistance and prevent the rolling of ones (helpful especially for Witchbolt).
Sorcerer also has access to Metamagic. Metamagic's most important choices are Twinned Spell and Quickened Spell. All other Metamagics are up to you and your playstyle.
Best Storm Sorcerer Equipment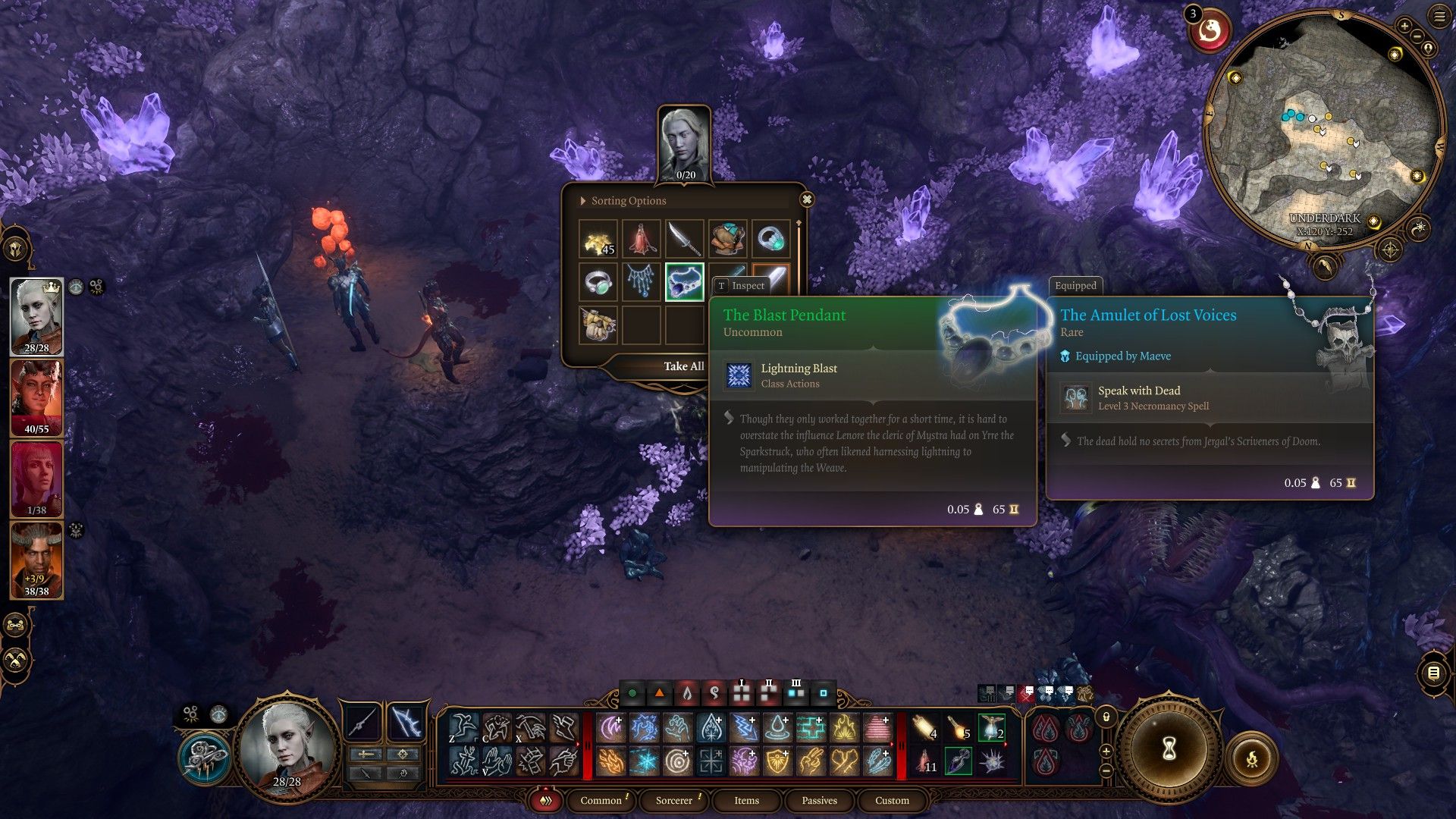 Equipment Type

Equipment Piece

Act Available

Effect

Method Obtained

Helm/Hat

Warped Headband of Intellect

1

Wearer's Intelligence becomes 17.

Loot drop from Lump the Enlightened, the ogre of the Blighted Village.

Armor

Potent Robe (Non-Dark Urge)

2

Cantrips deal bonus damage equal to Charisma modifier, and wearer gains temporary hit points each round equal to their Charisma modifier.

Given by Alfira after saving the tieflings from Moonrise Tower.

Moon Devotion Robe (Dark Urge)

2

While using Mage Armor, all successful saving throws deal the enemy caster 1d4 Radiant Damage. Acquire Advantage on Constitution Saving Throws, +1 to all Saving Throws, and the Lunar Bulwark spell.

Drop by Isobel after killing her.

Robe of the Weave

3

Gain +1 to spell attack rolls and Spell Save DC. When saving against a spell, the wearer also regains 1d6 health.

Found in the Ramazith Tower. Must complete the puzzle to free it from Globe of Invulnerability.

Gauntlets

Daredevil Gloves

2

Allows the casting of ranged spell attacks as melee attacks when adjacent to enemies. Gain +1 to spell attack rolls.

Sold by A'jak'nir Jeera at Rosymorn Monastery's Creche.

Boots

Watersparkers

1

Standing in water electrifies it. If wearer starts turn on electrified surface, they gain 3 Lightning Charges.

Found in a chest beside Minthara at goblin camp.

Disintegrating Nightwalkers (optional)

1

Gain free cast of Misty Step and cannot slip. Wearer cannot be Enwebbed, Ensnared, or Entangled.

Drop by defeating Nere in Grymforge.

Cape

Deathstalker Mantle (Dark Urge)

1

After killing an enemy, become Invisible for two turns.

Reward for killing Alfira as the Dark Urge after meeting her and Long Resting once.

Cloak of the Weave (Non-Dark Urge)

3

Gain +1 to spell attack rolls and Spell Save DC. When taking elemental damage, take half damage and deal 1d6 of that damage type on your next attack.

Sold by Helsik at the Devil's Fee.

Ring #1

Ring of Free Action

2

Difficult Terrain does not affect you, and you cannot be Restrained or Paralyzed.

Sold by Araj Oblodra at Moonrise Towers.

Ring #2

Ring of Mental Fatigue

2

When an enemy fails a Saving Throw against your spell, they have a -1 penalty to Wisdom, Intelligence, and Charisma Saving Throws for two turns.

Found in Oliver's house (the House in Deep Shadows) in the Shadow Cursed Lands.

Amulet

Necklace of Elemental Augmentation

2 or 3

Add spellcasting modifier to any cantrip dealing elemental damage.

Found in two locations:

In Rosymorn Monastery near Vlaakith's portal
In the shipwreck on the coast of Rivington near Open Hand Temple

Melee Hand Weapon

Spellsparkler

1

Gain 2 Lightning Charges every time you cast a spell or cantrip.

Chosen reward for saving Ambassador Florrick from the burning building at Waukeen's Rest.

Markoheshkir

3

Gain +1 to Spell Save DC and spell attack rolls. Gives Arcane Battery ability to choose any spell and cast it at any level for free once per long rest. Gain Kereshka's Favour and cast two Evocation spells of a specific type once each per short rest (includes Chain Lightning).

Found in the Ramazith Tower. Must complete the puzzle to free it from a Globe of Invulnerability.

Ranged Weapon

Ne'er Misser

2

Allows free cast of Level 3 Magic Missile.

Sold by Roah Moonglow at any of her multiple locations. Sells this earliest at Moonrise Towers in Act 2.

Gontr Mael

3

Gives free five-turn Haste with no downsides, a cast of Guiding Bolt with each attack, and Bolt of Celestial Light special ability.

Loot reward for defeating the Steel Watcher Titan at the Steel Watch Foundry.
The sorcerer's spell list should comprise of as many objects that increase spell attack bonuses, spell damage, and Spell Save DC as possible. But there are a few items which are absolutely crucial to this build:
Warped Headband of Intelligence – Allows successful casting of Wizard spells without Ability Score investment.
Markoheskir – Allows free cast of any spell and the use of Chain Lightning once per short rest.
Daredevil Gloves – Allows the casting of spells at close range without Disadvantage.
Gontr Mael and the Deathstalker Mantle are icings on the cake, giving immensely powerful bonuses. The first will allow you to cast free Haste with no downsides, while the other will give you a repeating Invisibility effect.
If you prefer moving, the Disintegrating Nightwalkers (and later, Helldusk Boots) can be excellent choices for this build – and any build, truly. Otherwise, the Watersparks are great stacks for this build's use of Create Water.
How To Use A Storm Sorcerer – Battle Tips, Strategy, And Analysis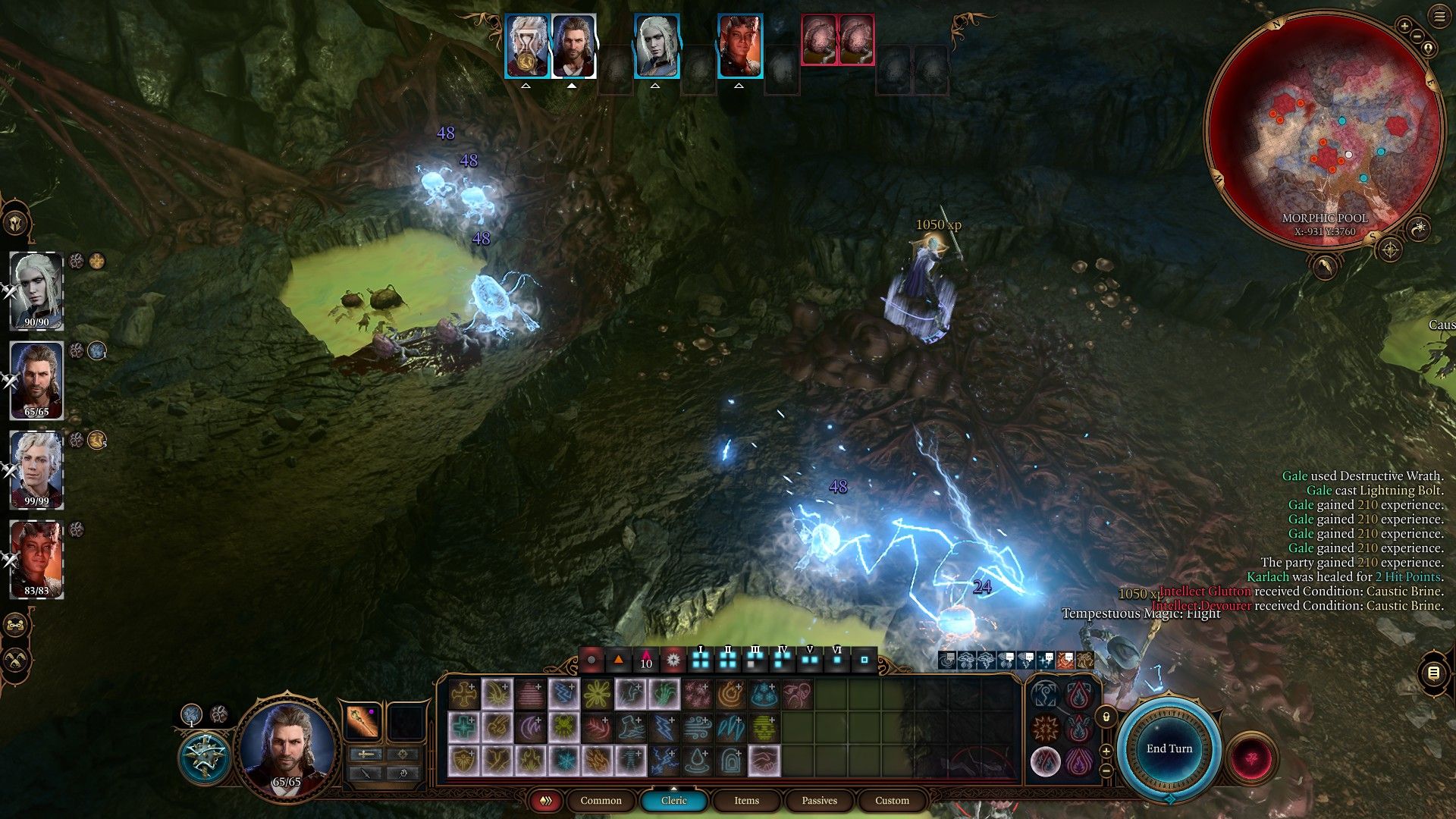 The result of the Storm Sorcerer build by the end of the game should appear something similar to this:
Ability Scores

Strength

Dexterity

Constitution

Intelligence

Wisdom

Charisma

8 (-1)

14 (+2)

14 (+2)

17 (+3)

14 (+2)

20 (+5)

Health

76

AC

12-14

Spell Save DC

19-20

Top 5 Prepared Spells

Witchbolt, Lightning Bolt, Haste, Misty Step, Create Water

Feats

Draconic Ancestry (Lightning), Metamagic (Twinned & Quickened Spell), Tempestuous Magic (Fly), Wrath of the Storm, Heart of the Storm, Destructive Wrath, Elemental Adept (Lightning)
This backline unit is extremely adept at dealing massive amounts of Lightning and Thunder damage and fleeing the scene of their deathly crime with the use of Tempestuous Magic.
With as much damage as it deals on any given turn, it will often one-turn hordes of enemies and give lessons in etiquette to the bosses that would normally give you trouble.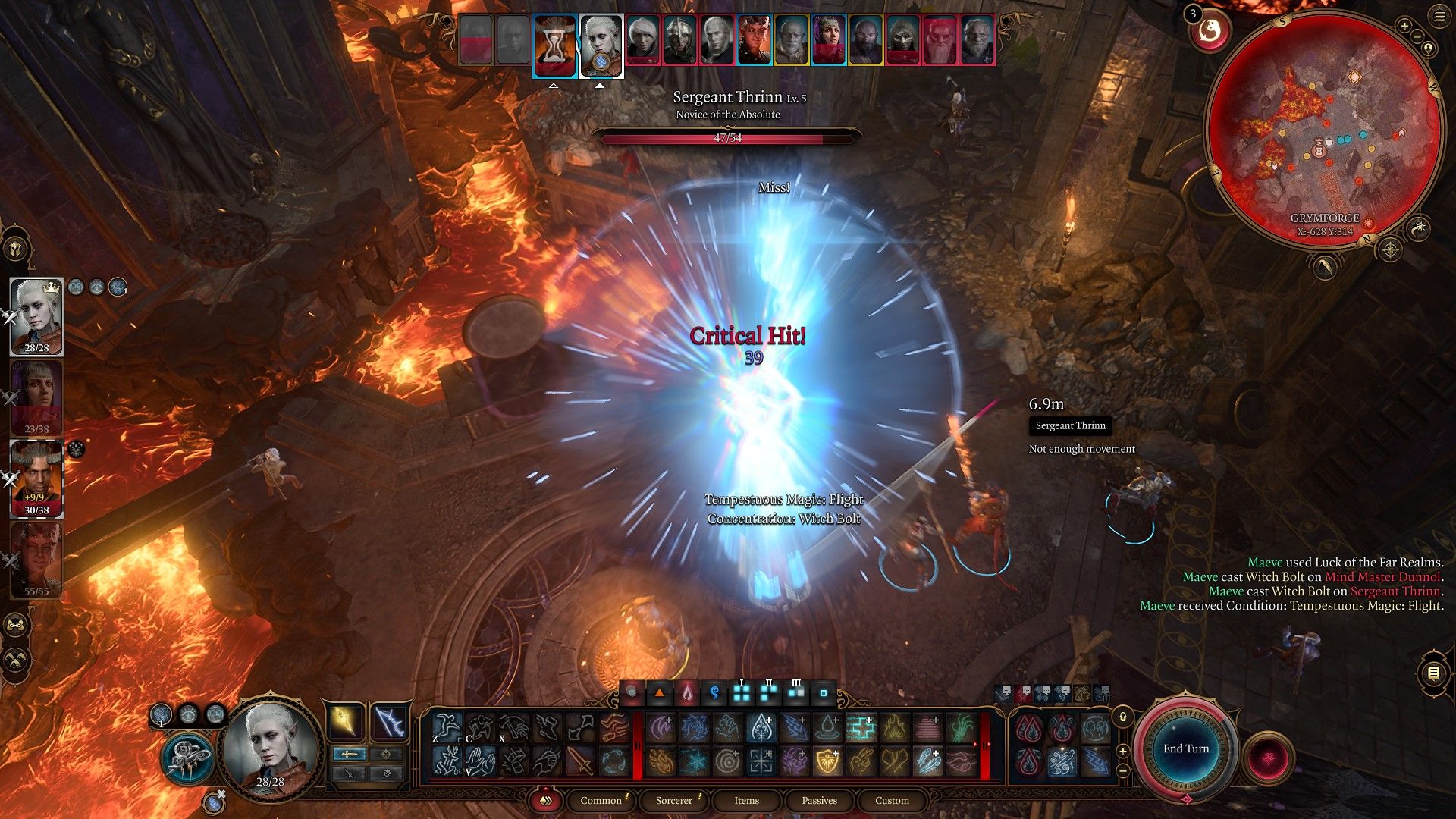 A successful Storm Sorcerer in any given combat normally sets up the field on the first turn (either through themselves or through the aide of a helpful Cleric) with Create Water, getting enemies Wet. This condition will double the damage of Lightning and Cold attacks.
After using this spell, Metamagic can allow the dual use of Chromatic Orb or Witchbolt or cast two Lightning Bolts in quick succession.
Stacking with the cleric's Channel Divinity: Destructive Wrath, you'll do the maximum allotted damage as well as double the damage from the Wet condition.
You can also use the Markoheskir staff to use Chain Lightning on the first turn for maximum damage.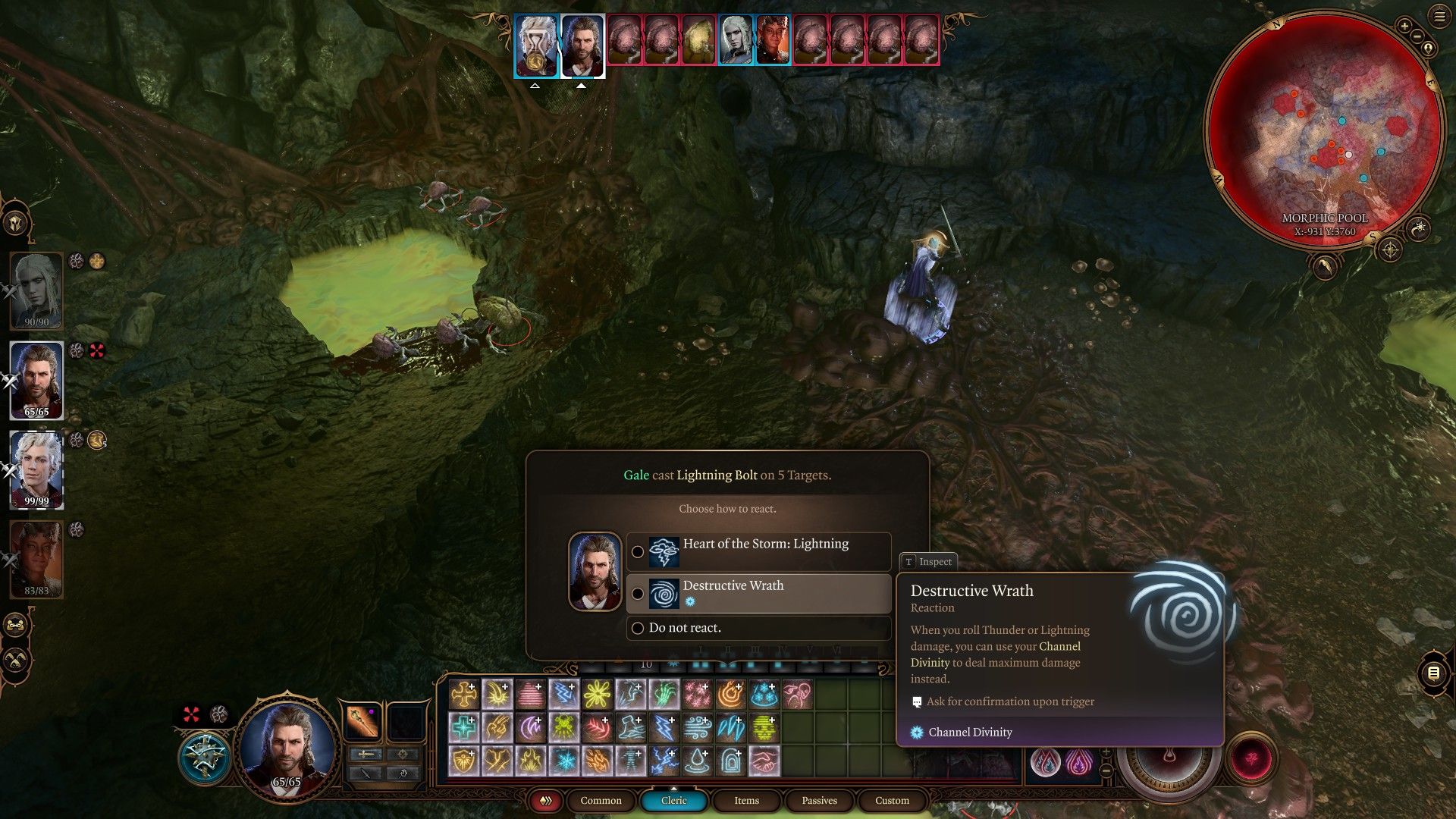 And when enemies prove to be too close for your liking, you can shove them over the edge with Thunderwave or run away with Misty Step in preparation for another strong Lightning spell.
Whatever your strategy, Elemental Adept will temper those pesky enemies that think Resistance will save them.
Heart of the Storm's leftover ability will clear out the stragglers, Tempestuous Magic will allow you to flee the crime scene, and the Deathmantle Cloak will hide you completely from any enemies seeking revenge.
You'll be an untouchable god of Lightning.
NEXT: Baldur's Gate 3: Best Tempest Domain Cleric Build