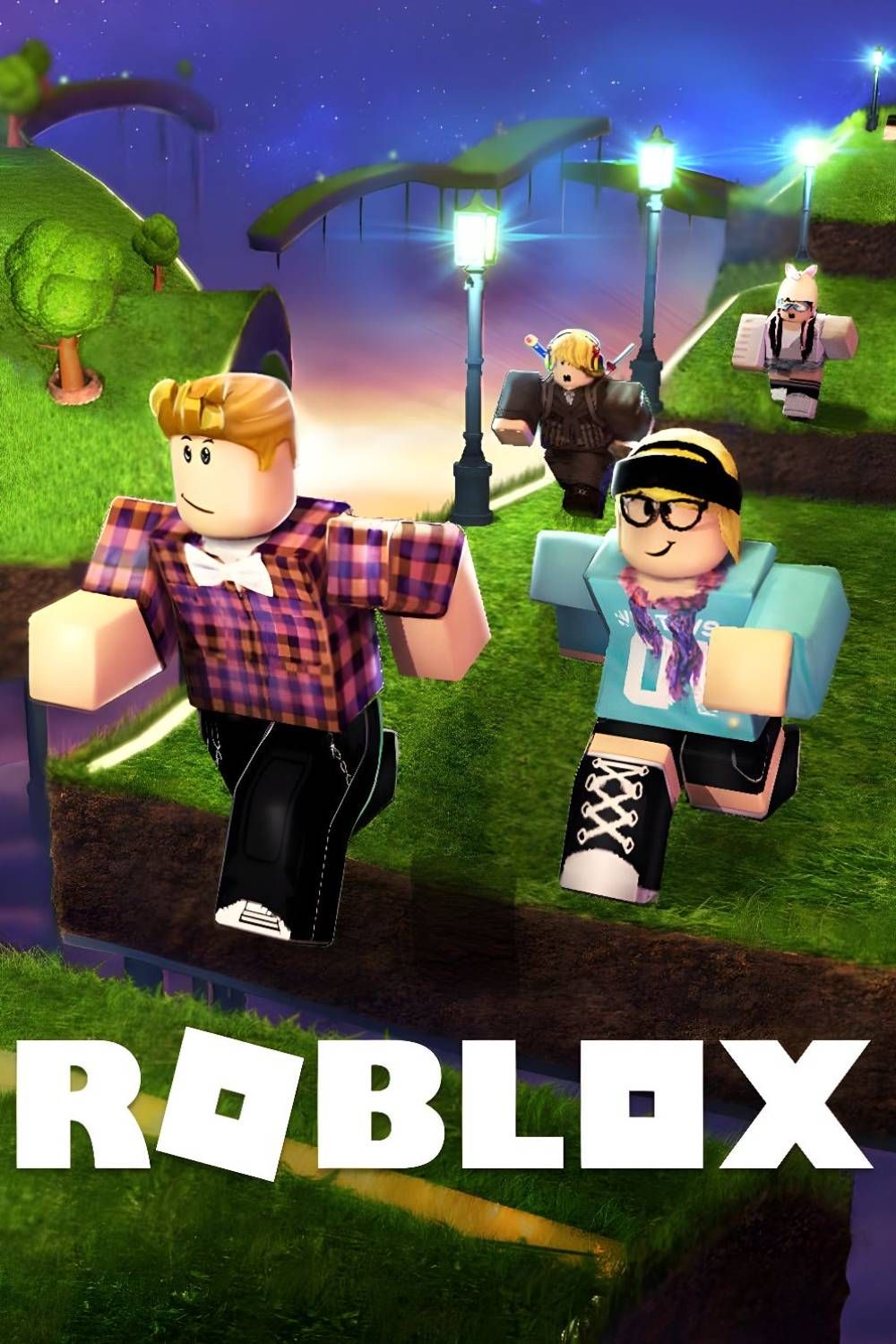 Roblox – Game
Roblox is enjoyed by millions. A sandbox game where you can play, create, and come together with people all over the world. Jump into any of the community experiences, or take advantage of promo codes for cool content. 
We added new codes on November 12, 2023, for update 7!
Welcome to Anime Champions Simulator, a new game from the developer of Anime Fighters. You can redeem these Anime Champions codes to get lots of free rewards, like diamonds, tokens, and more! You'll need these boosts to help you get a good start in this Roblox anime and collecting game. Work your way up through a bunch of lower leveled characters and travel to new planets.
RELATED: Blade Ball Codes
We check for new codes on a regular basis, and as it stands, new codes are added very often. Codes arrive for milestones, updates, and shutdowns.
Anime Champions Simulator Codes
Here are all the working codes for Anime Champions Simulator, as well as the rewards they give you.
| Code | Reward |
| --- | --- |
| RedeemNow | XP Boosts, Damage Boosts, etc, and other potions (NEW) |
| Gigantic | XP Boosts, Damage Boosts, etc, and other potions (NEW) |
| Delayed | XP Boosts, Damage Boosts, etc, and other potions (NEW) |
| GiveMeDPS | XP Boosts, Damage Boosts, etc, and other potions |
| SawbladeRaid | Free Raid Key for the new Sawblade raid added in the update, and a variety of other potion boosts |
| TrickOrTreat | Free event candy and boosts for Halloween! |
| Chainsaws | Free rewards! |
| SpookyGremlins | 1.5k Diamonds and a bunch of free boost potions |
| HappyHalloween | 50k Candies and other rewards |
| WoodBall | Raid Chest Key |
| 100kFaves | Free boosts for luck and more |
| oTMSaveUs | Free Luck Boost |
| updateshutdown | Free Luck Potions And Tokens |
| thanks50mil | Free Luck Potions And Tokens |
| UPDATE3 | Free Luck Potions And Tokens |
| FreeKeys | Keys And Diamonds |
| raidbuff | Raid Key and Tokens |
| MeltedIcecream | Raid Key and Free Gems |
| towerstuff | Free Tokens and various boosts |
| Update2 | 100 Tokens and 3k Diamonds |
| UpdateDelay | Loads of rewards – including a damage and experience boost, 5k diamonds, and more! |
| update1 | Coin boost, luck boost, & damage boost |
| 100thousand | 5k Diamonds and boosts! |
| 1million | 5k Diamonds and free tokens |
| release | Free Diamonds and tokens |
These codes can be redeemed for all sorts of rewards. Diamonds can be used to roll for new champions to assist you in battle, whereas the various potions – XP boosts, damage boosts, luck boosts, etc. – will help speed up your leveling progress.
Expired Codes
Gummybear
FixerUpper
StayClassy
shutdown1
shutdown2
shutdown3
RELATED: Roblox: Fat Race Codes
How To Redeem Codes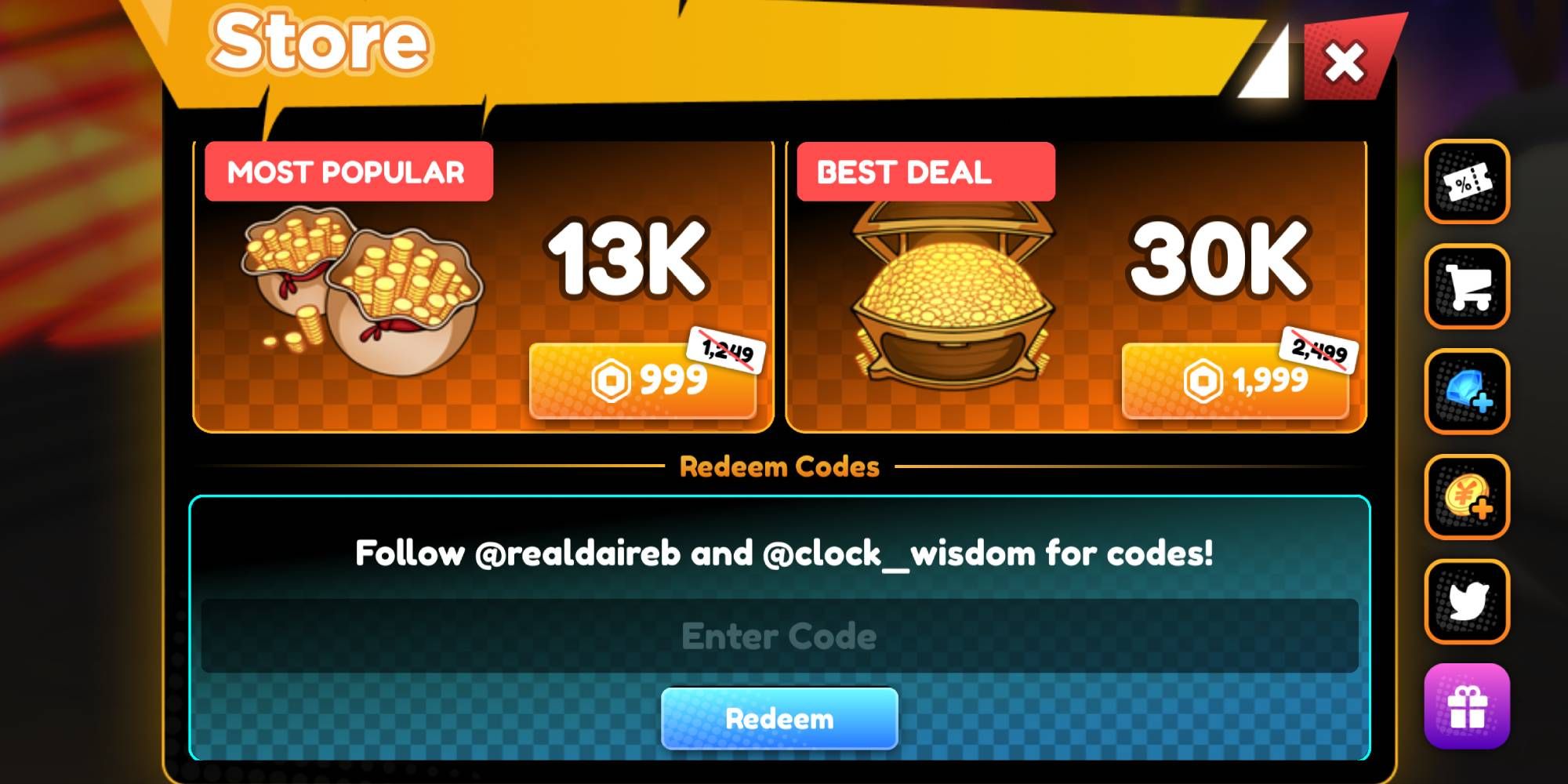 Codes can be redeemed via the Store menu.
Click on the Shopping Cart on the left menu.
Click on the Twitter icon or scroll down.
Enter the code into the box. Your rewards will appear on the screen, and then in your inventory.
Roblox codes are usually case-sensitive which means you need to copy and paste the code exactly, with the same capital letters, numbers, and punctuation.
New codes are posted for updates and other milestones, so check regularly for more when they are dropped by the devs. Anime Champions Simulator was developed Bura ACS from some of the team behind Anime Fighters Simulator.
You may find more info on the game and upcoming codes on the official Twitter account or via the Discord server.
What Is Anime Champions Simulator?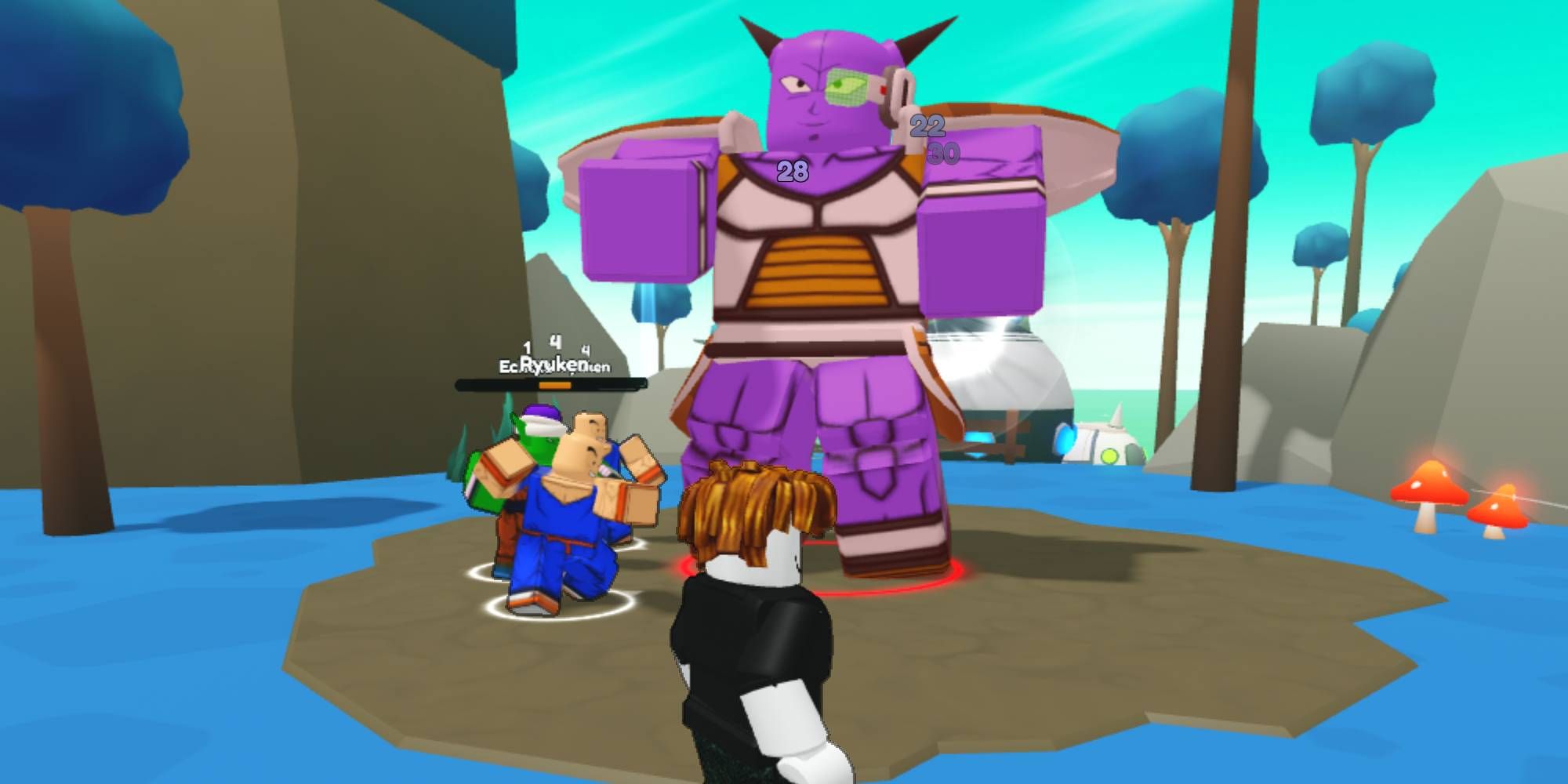 This is a classic Roblox game in many ways: you earn champions by defeating NPCs, which drop coins. These coins can be used to purchase new areas, unlock new champions, and generally progress from area to area.
You get more powerful as you level up, unlocking new characters to take with you on your journey.
These codes will give you a massive boost at the start of the game. Activate them all and start defeating enemies – make the most out of those coin and damage potion boosts.
At certain levels, you will be able to participate in Raids for special awards.
Most of the new updates for the game are focused around these new Raids.
Anime Champions Simulator Tips – How To Play
You'll first need to complete the tutorial level by defeating NPCs and earning 10k gold to unlock Pirate Town.
Once you get to Pirate Town, talk to Adventurer Gomu to get your first quest to catch a Magic Spirit.
Don't forget to upgrade your character's abilities (you can do this via the Upgrades menu.)
Each new area also has a new type of Orb you can unlock. Orbs cost coins and will contain Common, Rare, Epic, and Legendary heroes that you can equip to deal more damage.
Upgrading Your Heroes
Once you get to Champion City, you can start participating in Raids and unlocking new character upgrades for your heroes. You can change their cosmetics with items or get an entirely new hero skins and abilities, as shown in the picture below.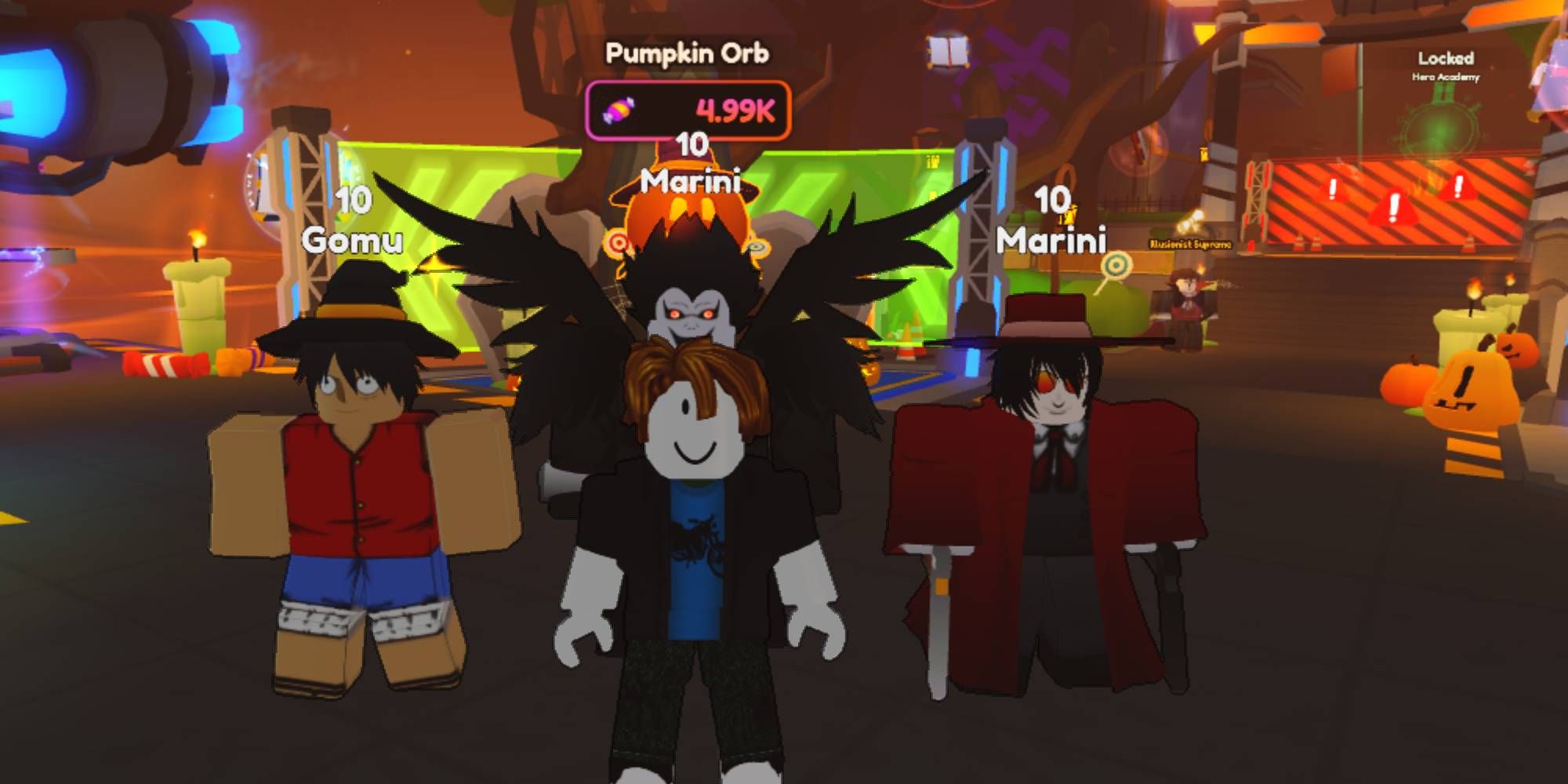 For example, during the Halloween event, you can use the Event Candy to purchase Halloween Orbs which contain hats, masks, and weapons for your heroes.
You can also reroll for Quirks and Talents. These are extra benefits added to your character. Take for example this Accuracy Perk below, it will improve your heroes crit rate chance by 10%.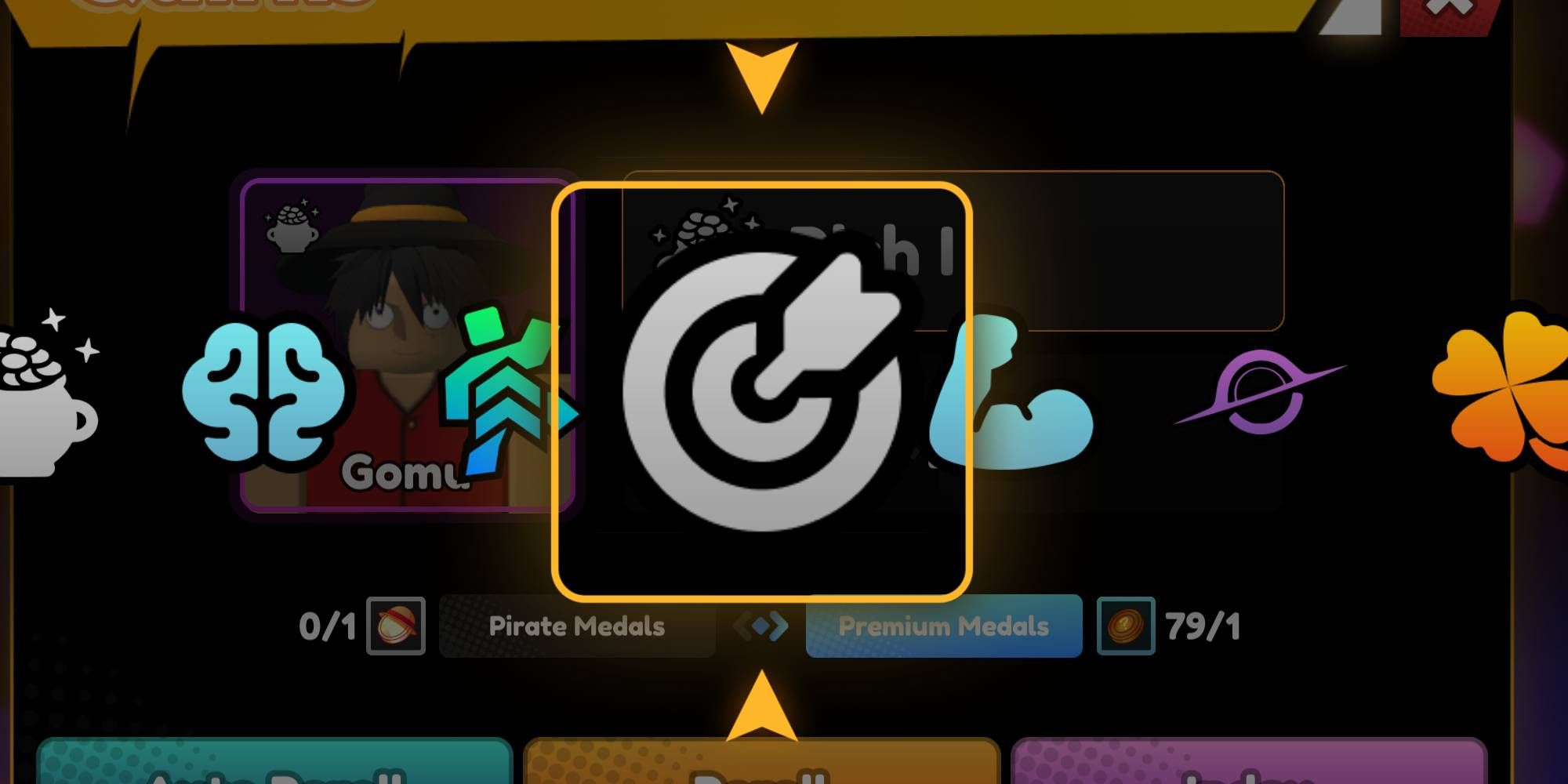 Different Quirks have better benefits, and these also come in rarity levels. You'll need medals to reroll them – but you get 80 Premium medals for free to test the system out first.
NEXT: Roblox: Pirate's Destiny Codes