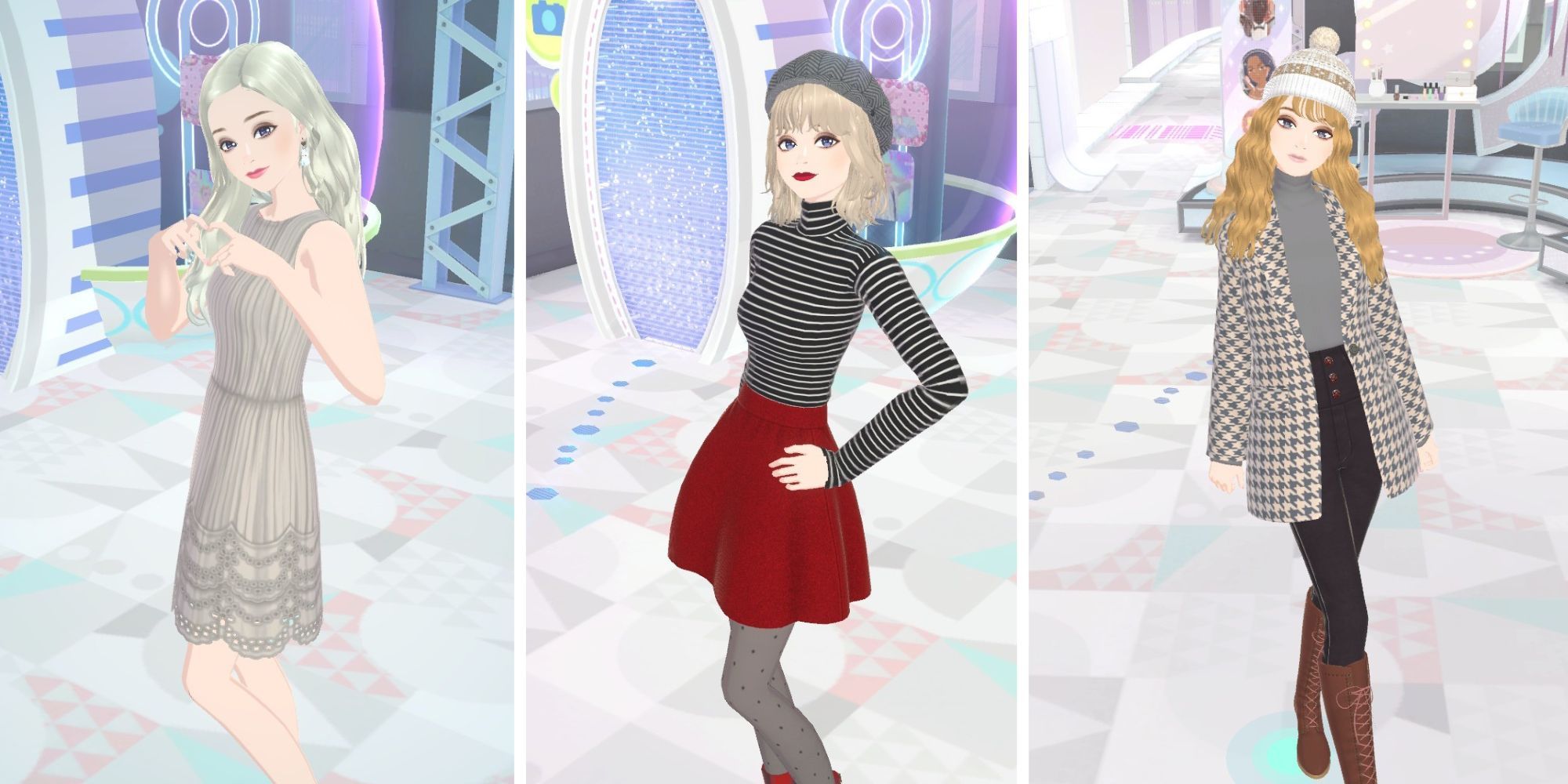 So far, Fashion Dreamer isn't great. That would go in my official review, but I'm hoping it gets a little better before I deliver my final verdict. I can't imagine it'll ever get to 'great', but climbing up to or even above 'okay' would be welcome. The whole point of the game is that you dress up in different outfits, collecting new clothes to then help other avatars dress up in clothes. No story. If that sounds a little empty, well… like I said, I don't want to get into my official review just yet. In any case, I had just one goal in my mind when I started – dressing up like Taylor Swift.
I'm only in the early stages of the game, so I don't have a full wardrobe yet – don't judge me too harshly. I went for looks that fit the vibe of each of her ten albums, rather than trying to recreate any like for like looks. Maybe later once I have a lot more clothes to choose from, I'll get some closer fits. For now though, we're going for Eras Tour outfit vibes.
Taylor Swift (Debut), Fearless, Speak Now
Taking them in order, Taylor Swift (AKA Debut) was a bit of a struggle. It's hard to pin down what her aesthetic really was at the start of her career, and the dress options overall aren't great in the early game. That's not even a cowboy stetson, but a white witch hat angled to hide the point. For Fearless, I got lucky and found a dress similar to the one my wife wore to the Eras Tour (I went for the Willow look, impossible in the game with no cape), but with no cowboy boots the look isn't fully complete.
Look, I don't expect a million readers on this, but if you (hello fellow Swiftie/Fashion Dreamie) share this with a few friends, maybe I'll do a follow-up when I have all the outfits at my disposal.
Speak Now was my biggest disappointment. It has a clear fantasy-princess aesthetic, and everyone knows the short purple dress, but the game struggles to find a balance between modern street style and outrageously goofy kawaii cuteness. This is the best I could do in the middle ground. Thankfully, Taylor's later career is more suited to the game.
Red, 1989, Reputation, Lover
The middle of Taylor's career saw the most changes in her fashion sense, and that gives us the most options. For Red, there's a Parisienne flair to her beret and striped black and white jumper which is probably the most direct recreation of a look on here, tied with Midnights and possibly the bootless Fearless look. It's certainly the one that is the most 'I am dressing up as Taylor Swift'.
For 1989, we move to an all black jumper, and that purple skirt with sunglasses is trying for a mix of New York City and California that the album (especially with the Vault Track additions) leans on. Moving to Reputation, the overall black rocker vibe was pretty simple, though I would have liked more personalisation. I'll admit this one is more generic. Then for Lover, the first of Taylor's owned albums, we have the least 'Taylor' fit but one that I thought might embrace the vibe of the album's tone. Hey, I tried.
Folklore, Evermore, Midnights
I styled Taylor in reverse order when doing this, mostly because these three seemed the easiest to build. The Midnights look has the '70s vibe of the album shoot and the Anti-Hero vid, if not the actual album itself. Meanwhile, I don't consider Folklore to be an album for all seasons but, like Evermore, see it as having more of a winter tone. For that reason, I wrapped these sister albums up warm, peppering Folklore with hints of silver and Evermore, complete with the plait, with touches of orange.
Using Taylor is a good experiment for a dress-up game's diversity. She has gone through a fairly wide range of fashion eras, but none of them have been haute couture. A game should be able to house each Taylor Swift album comfortably. The fact that Fashion Dreamer wobbles in places doesn't fill me with confidence that the overall game will pick up much.
Next: Baldur's Gate 3 Is Just Like Taylor Swift