Highlights
Tactics are crucial in Football Manager 2024, regardless of player quality. Choose from preset tactics or create your own to succeed.
Gegenpress applies intense pressure to regain possession, needing a team with off-the-ball movement and aggression.
Tiki Taka, made famous by Guardiola, focuses on controlled possession with quick, short passes and well-timed runs.
Tactics and strategies are, undoubtedly, the most important part of any Football Manager game. To become the best manager, it doesn't matter how good your players are – you need to get your tactics right. Football Manager 2024 comes with even more preset tactics than its predecessors, so you have more options to choose from when managing your team.
Related: Best Teams To Manage In Football Manager 2024
The game allows you to make your custom tactics and even download tactics other people have made online. This list will talk about some of the best and most used tactics in Football Manager 2024 and the ideal formations you should use to implement them.
9
Wing Play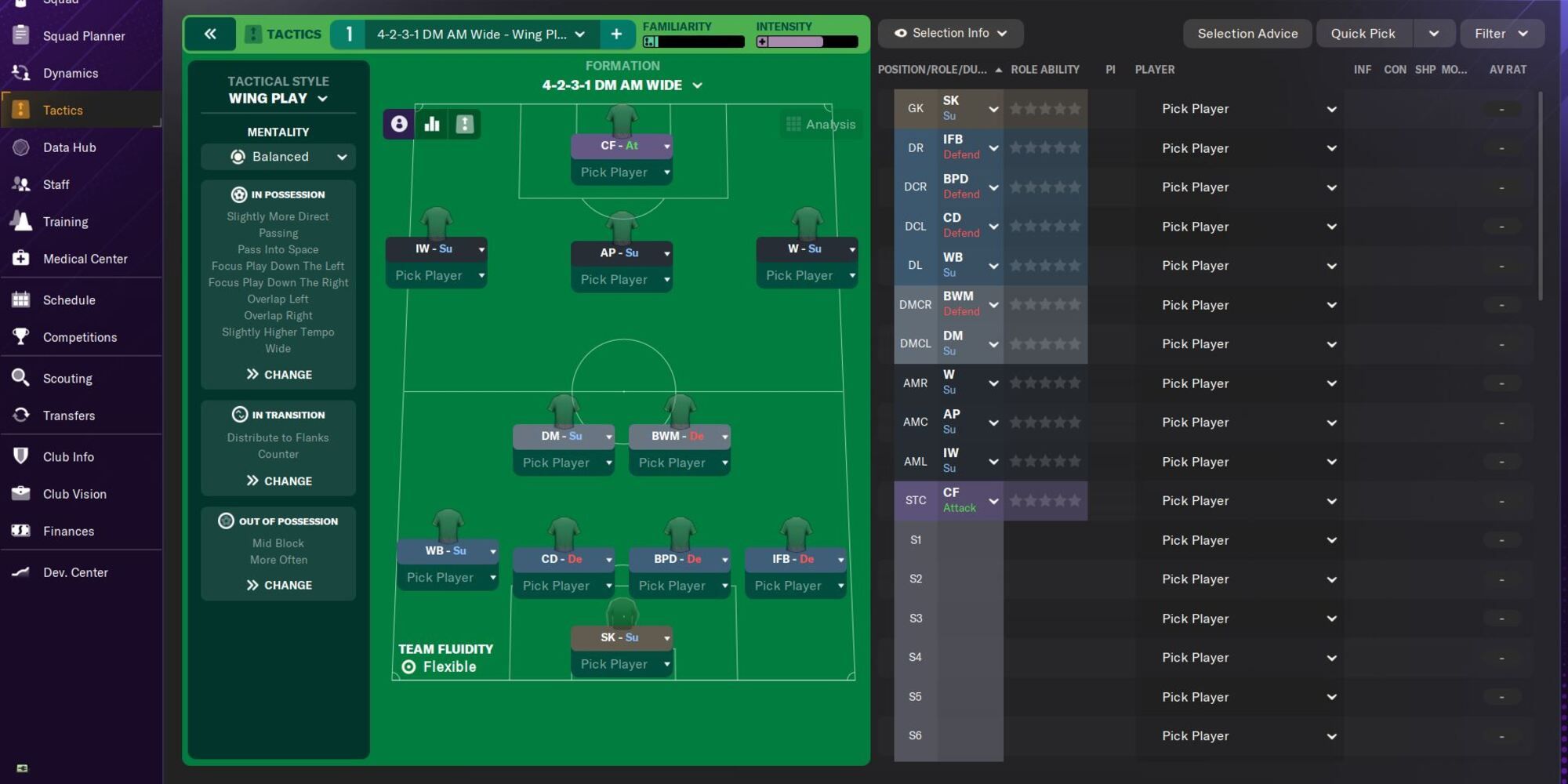 Ideal Formations: 3-4-3, 3-4-2-1

Ideal Mentality: Balanced
If you believe your team's strength lies in its wingers or the fullbacks, this is the perfect strategy for you. Convert those fullbacks to wingbacks and send them higher up the pitch. The wingbacks do a good job of helping the midfield and attack and play a solid all-around role in this setup.
Pairing this tactic with a tall striker with a good aerial presence is always an added benefit, as your wide players can easily lob crosses into the box for the striker to attack. A defensive midfielder alongside a box-to-box midfielder and a Libero as a center-back can really make this tactic work well.
8
Route One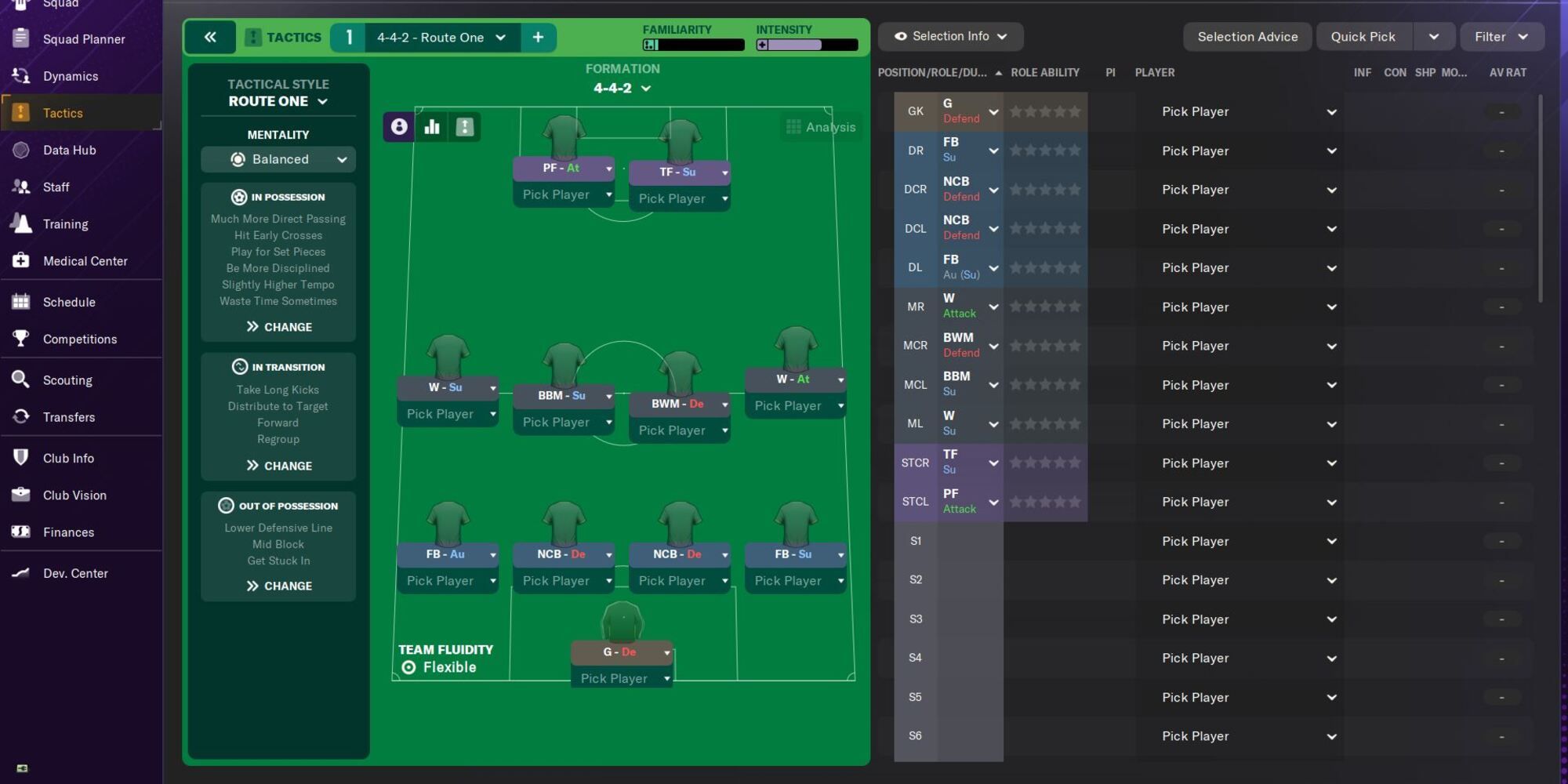 Ideal Formation: 4-4-2

Ideal Mentality: Defensive
You don't get to see this tactic too much in the modern game, but if the odds are against you, going Route One is always a good option. The tactic doesn't focus on passing or pressing; it is solely about hoofing the ball up the field to your strikers, hoping they can control it, and setting up an attack. While this might not have much depth to it, it can be surprisingly effective.
There is no point in going toe-to-toe with a team like Manchester City and trying to beat them at their own game by dominating the possession game, especially if you are heavy underdogs. Instead, you can choose to pester their back-line and create some chances out of it. Pairing a Target Man up front with an Advanced Forward makes this strategy even better.
7
Direct Counter-Attack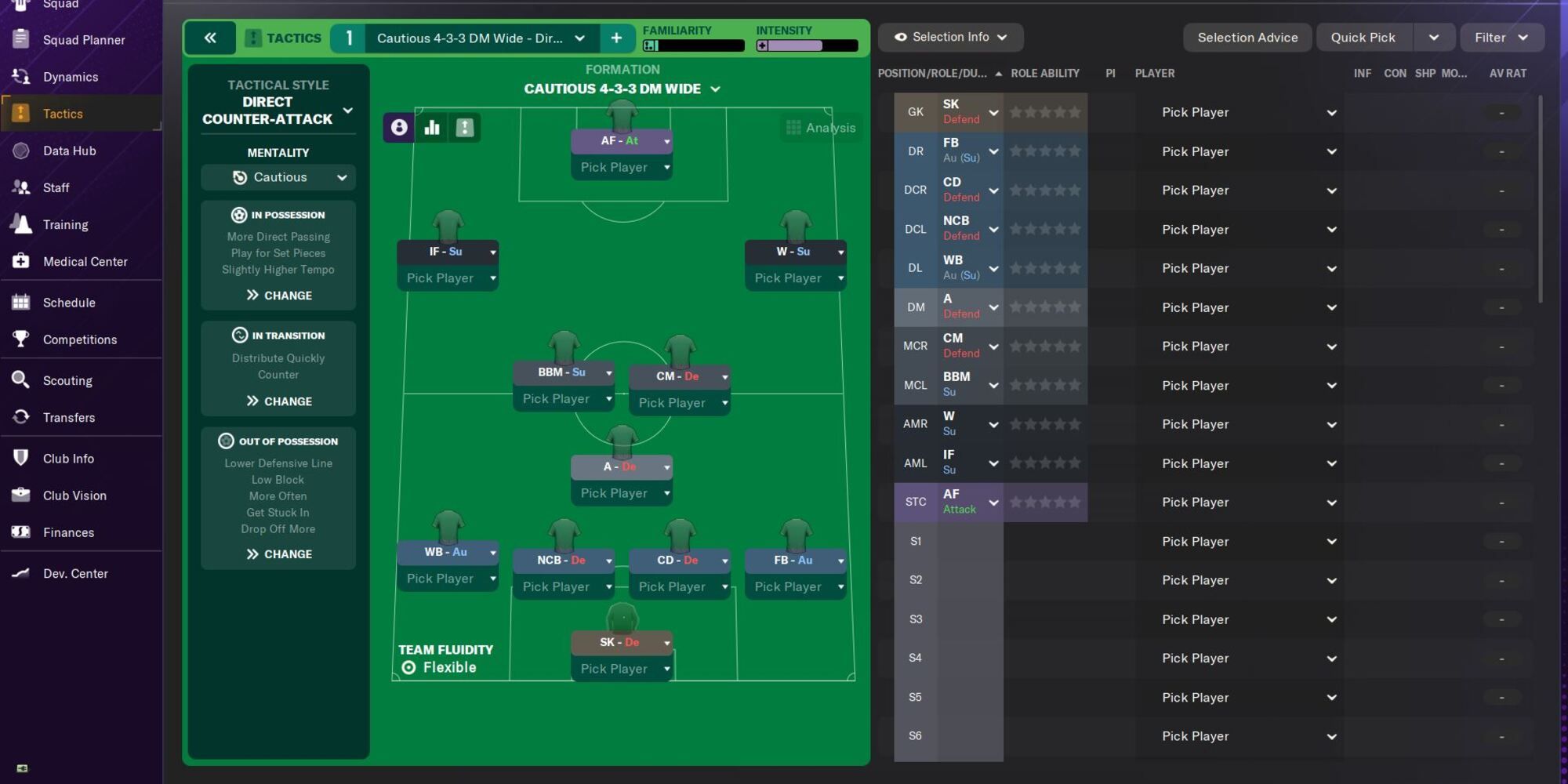 Ideal Formation: 4-2-3-1

Ideal Mentality: Cautious
Counter-attacking is pretty simple in theory. All you have to do is soak up the pressure, gain possession, and hit on the break. With so many teams looking to play possession football these days, counter-attacking is the ideal tactic to punish them. You will need players with strong athleticism and speed so they can take on defenders on the break and score without much support.
Related: Football Manager 2023: Beginner Tips
Once your team regains possession, the goal should be to pass the ball into space as quickly as possible to take advantage of the bad positions of the other team. A formation such as the 4-2-3-1 or the 4-3-3 is ideal as it provides adequate defensive cover and also has the potential to strike on the break.
6
Park the Bus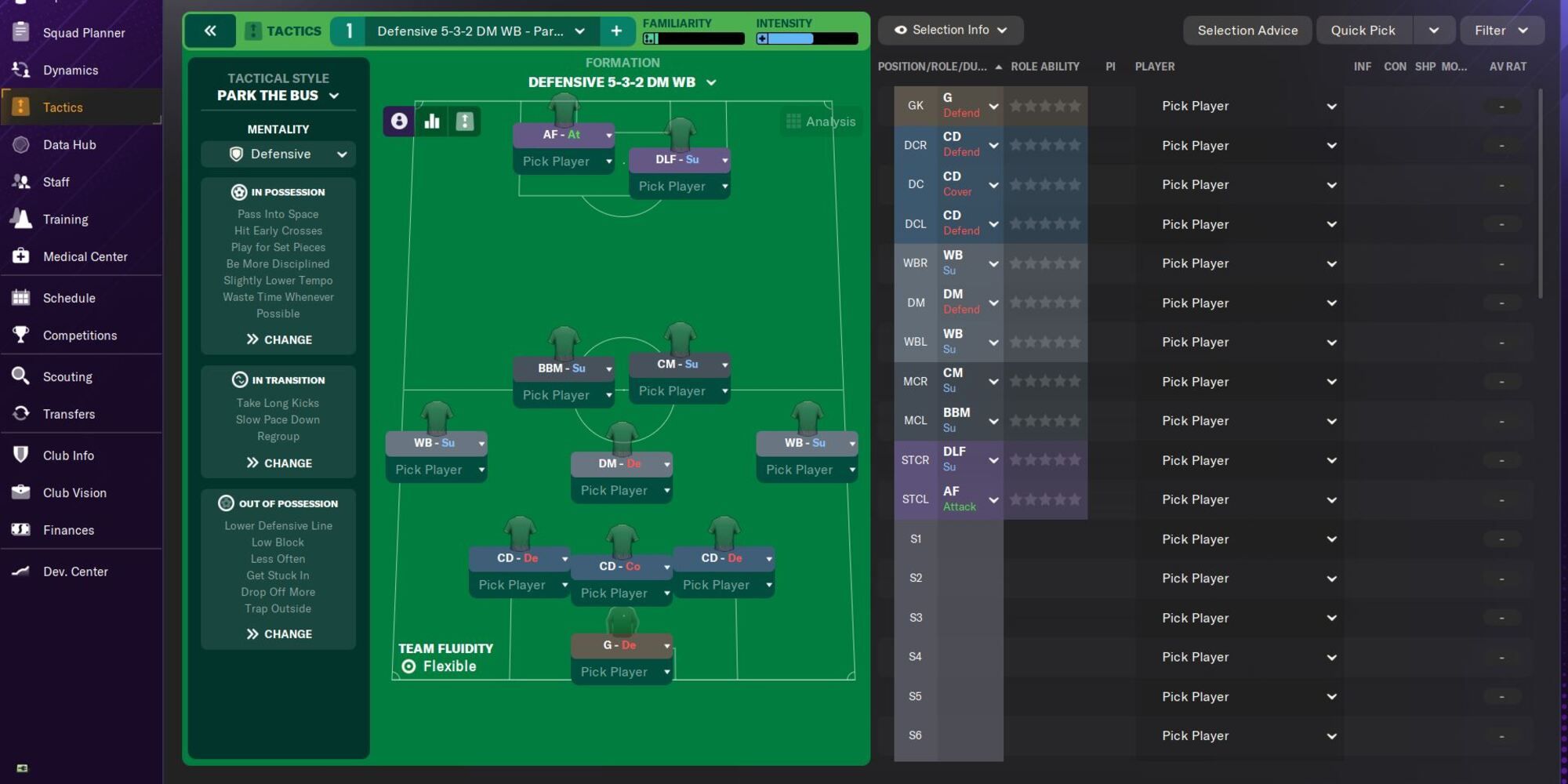 Ideal Formation: 4-2-3-1, 5-4-1

Ideal Mentality: Very Defensive
No one likes it, but sometimes you just have to park the bus. This tactic is a simple one as well. It involves putting as many players in your half as possible and not letting your opposing team get even a whiff of your goal. Parking the bus is a good strategy if you are looking to hold on to a result and don't expect to score any goals.
Time-wasting and slowing down the pace of the game are some of the main ideas of this tactic while in possession. Out of possession, the main goal is to stop the attackers from scoring by any means possible. You can leave your striker up-front if you want, but some teams even choose to defend with all 11 players.
5
Tiki Taka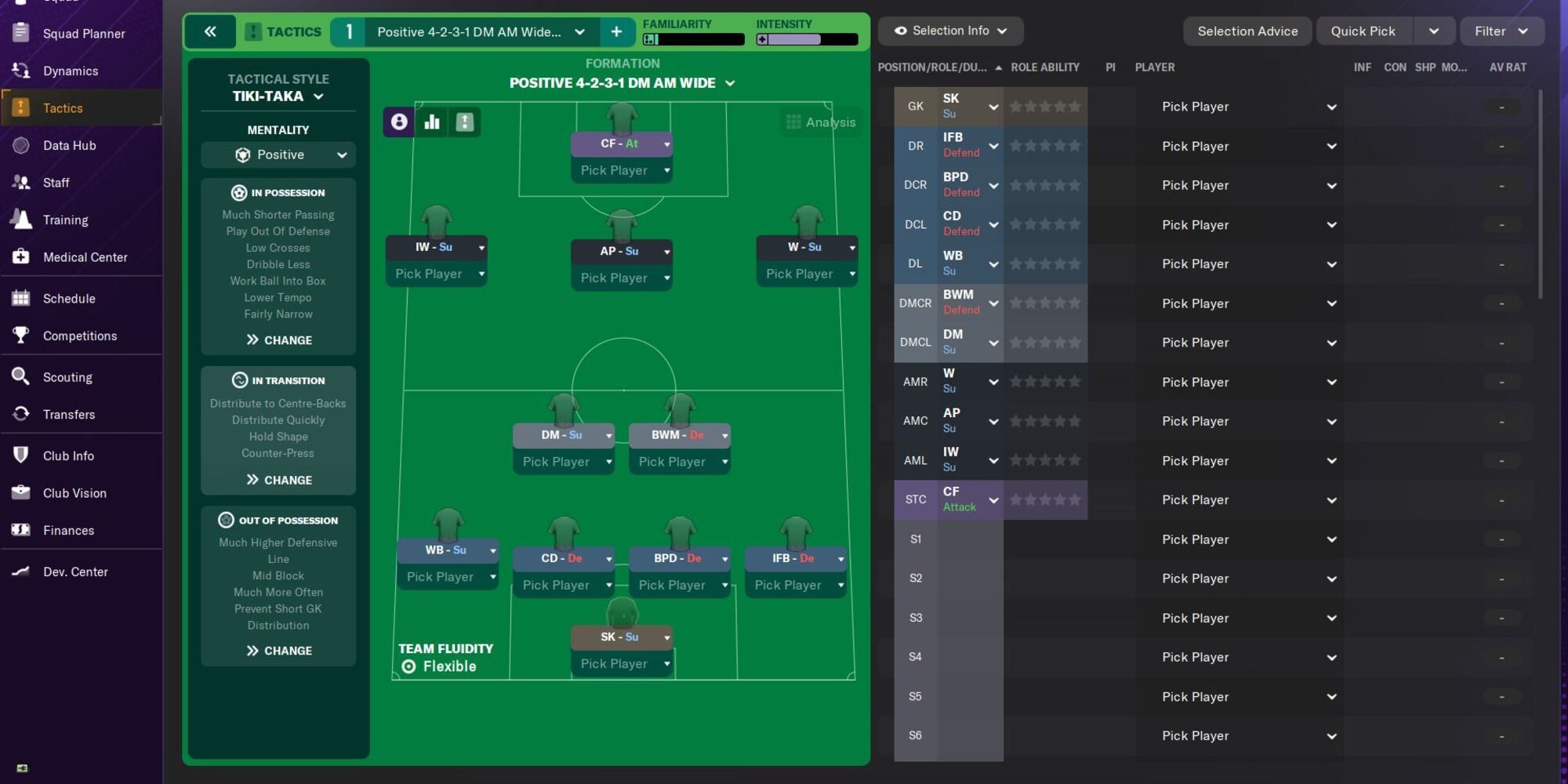 Ideal Formation: 4-3-3 DM Wide

Ideal Mentality: Balanced
Made famous by Pep Guardiola's teams, such as Barcelona and Manchester City, Tiki Taka is perhaps one of the most well-known tactics out there. Tiki Taka is most effective when you control the ball, make quick short passes to open up spaces in your opponent's team, and then take advantage of these gaps with well-timed runs.
Related: Best Sports Games On PS5
Not many teams will be capable of playing this tactic well, and you will need several high-quality passers of the ball to play out of the back. You can also choose to implement an inverted fullback system by moving your fullbacks to the midfield when the team has possession of the ball so you can control the game even more.
4
Vertical Tiki Taka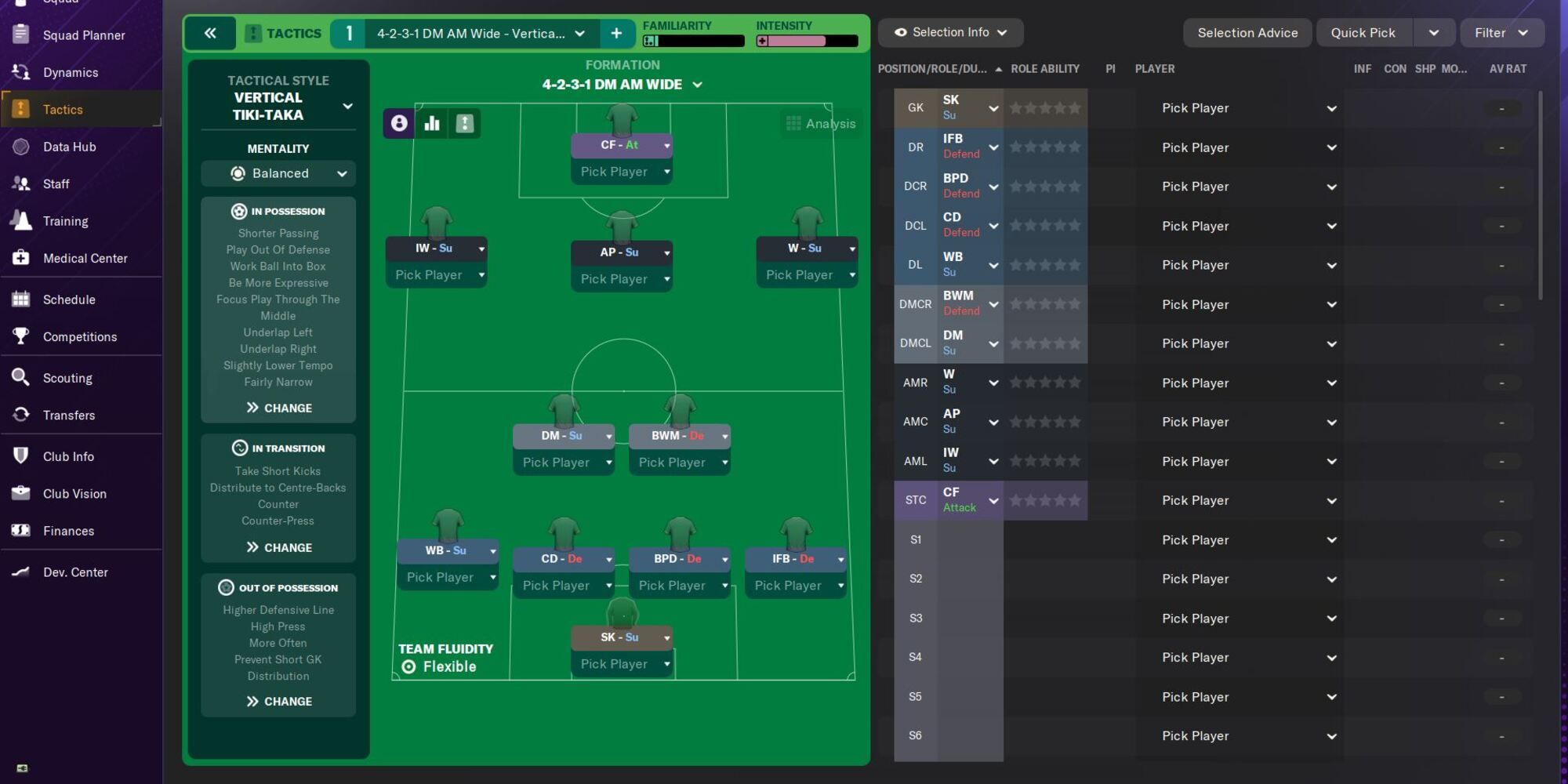 Ideal Formation: 4-3-2-1 DM AM Narrow

Ideal Mentality: Positive
Vertical Tiki Taka is a faster, more direct version of Tiki Taka and uses a much narrower structure. This is a much more attacking formation and should ideally be used against weaker teams or if you need goals. You will need to have reliable ball-playing center-backs and goalkeepers in the team, as they will be your last line of defense in this setup.
As this is a narrower tactic, your wingers will need to come inside, and all the width will be provided by your fullbacks. So make sure your fullbacks have good attacking stats and high stamina as they become a vital part of the team. Although it may be risky, a Vertical Tiki Taka system can overwhelm opponent defenses at times and completely destroy them.
3
Control Possession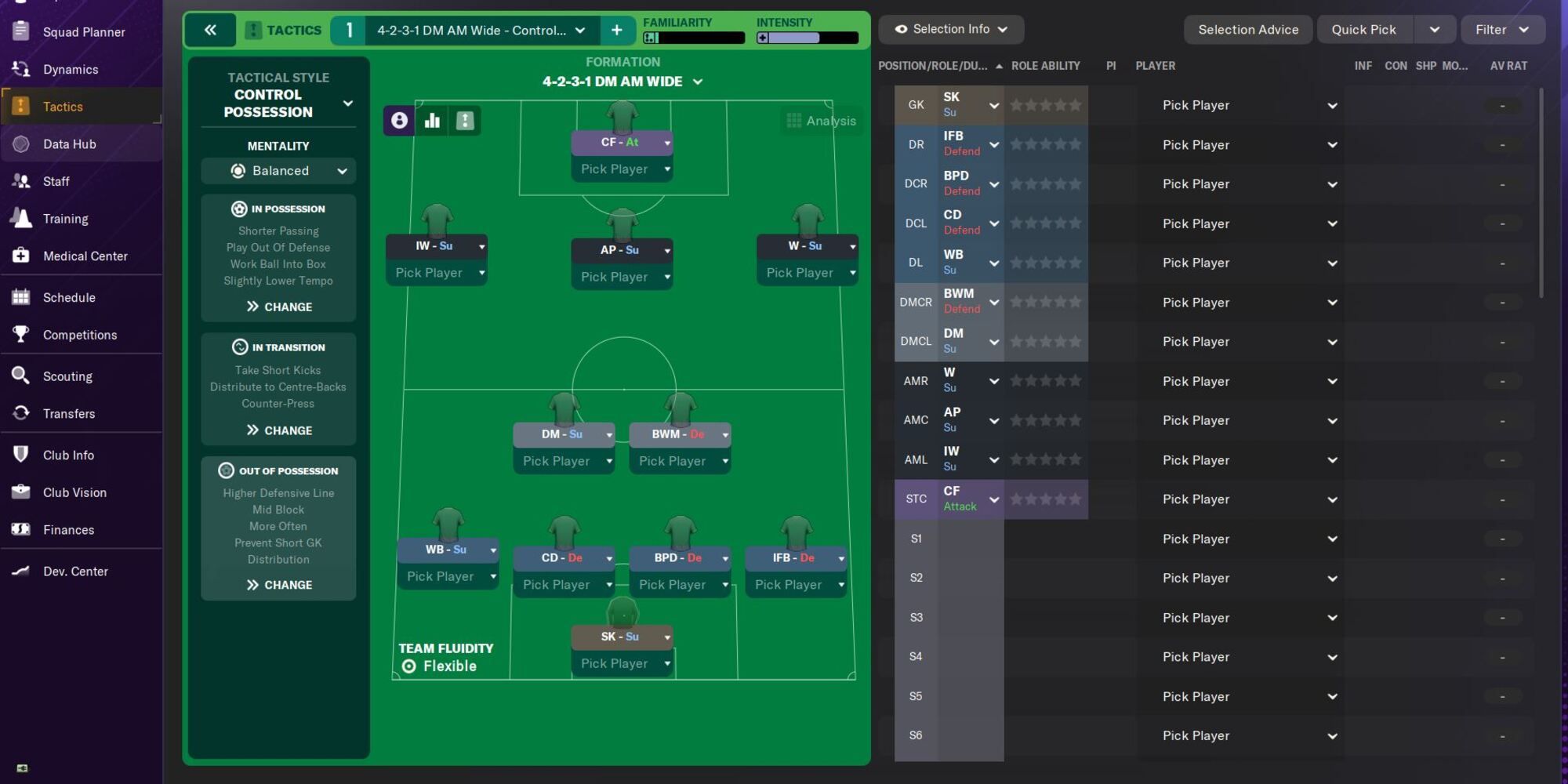 Ideal Formation: 4-3-3 DM Wide

Ideal Mentality: Balanced
This is probably the best tactic in Football Manager if you are a strong favorite in a game. The main idea of this strategy is to control possession of the ball as much as possible. This will eventually lead to your opponents making mistakes, which your team can capitalize on.
If you want to effectively control possession in a game, then you need to have certain roles in your squad. A deep-lying playmaker, along with ball-playing center backs, will help out a lot. Turning your wingers into inside forwards is also a good shout to dominate more possession and push your fullbacks forward.
2
Gegenpress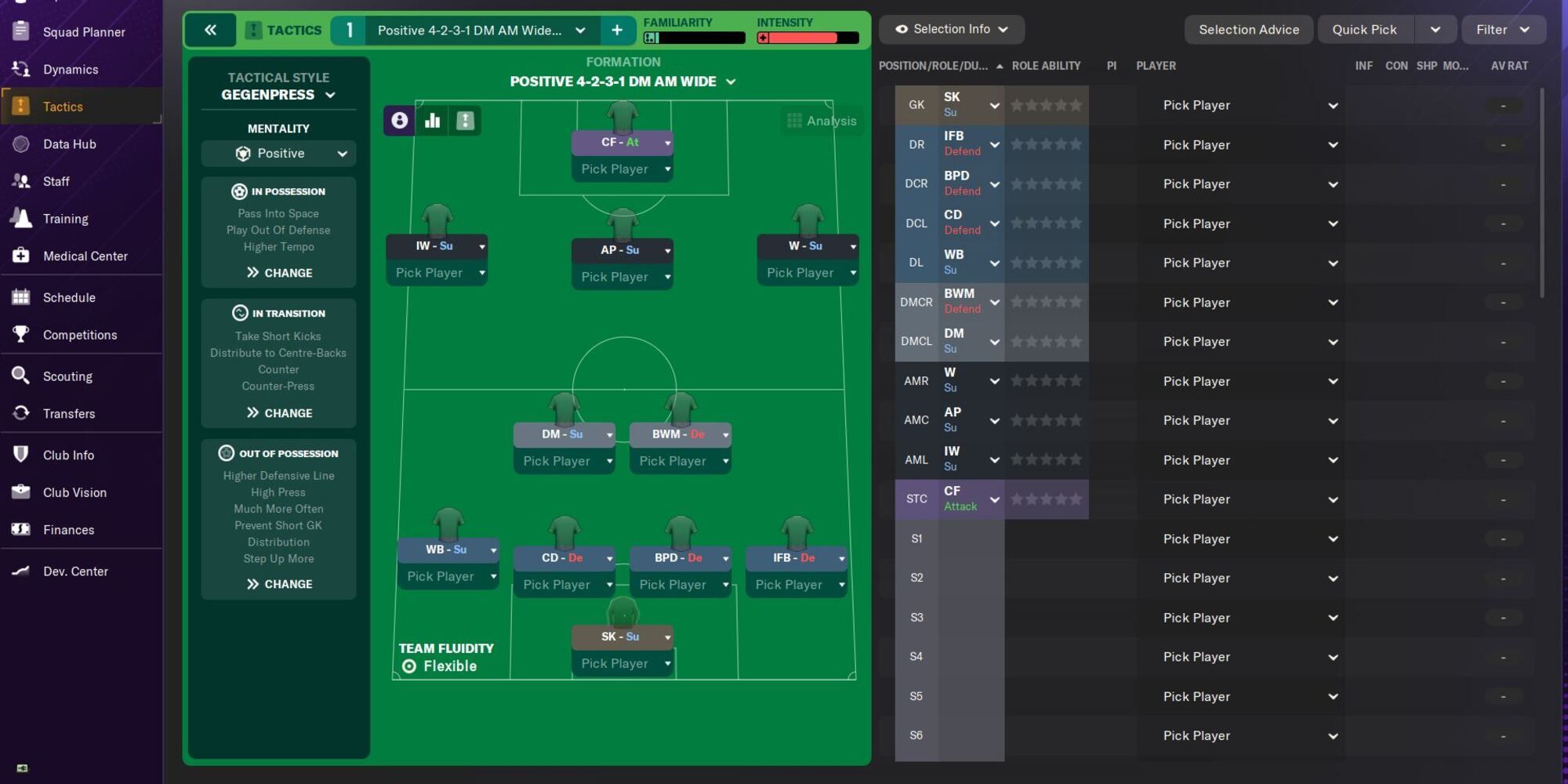 Ideal Formation: 4-3-3 DM Wide

Mentality: Positive
Gegenpressing is an old concept in football that has been adapted throughout the years. This tactic has been popularized by managers such as Jürgen Klopp and Thomas Tuchel. It focuses on swiftly regaining possession by applying intense pressure on the opposing team, particularly in their half. You will need a team with good, off-the-ball movement and high aggression and intensity to implement this tactic properly.
Related: The Best Sports Games For Kids
Gegenpress uses a high-pressing line, and your defenders need to be fast enough and strong in the air so they don't get caught off-guard by balls over the top. A strong defensive midfielder to cover for your defenders and to support the high tempo of the game is also recommended.
1
Create Your Own Style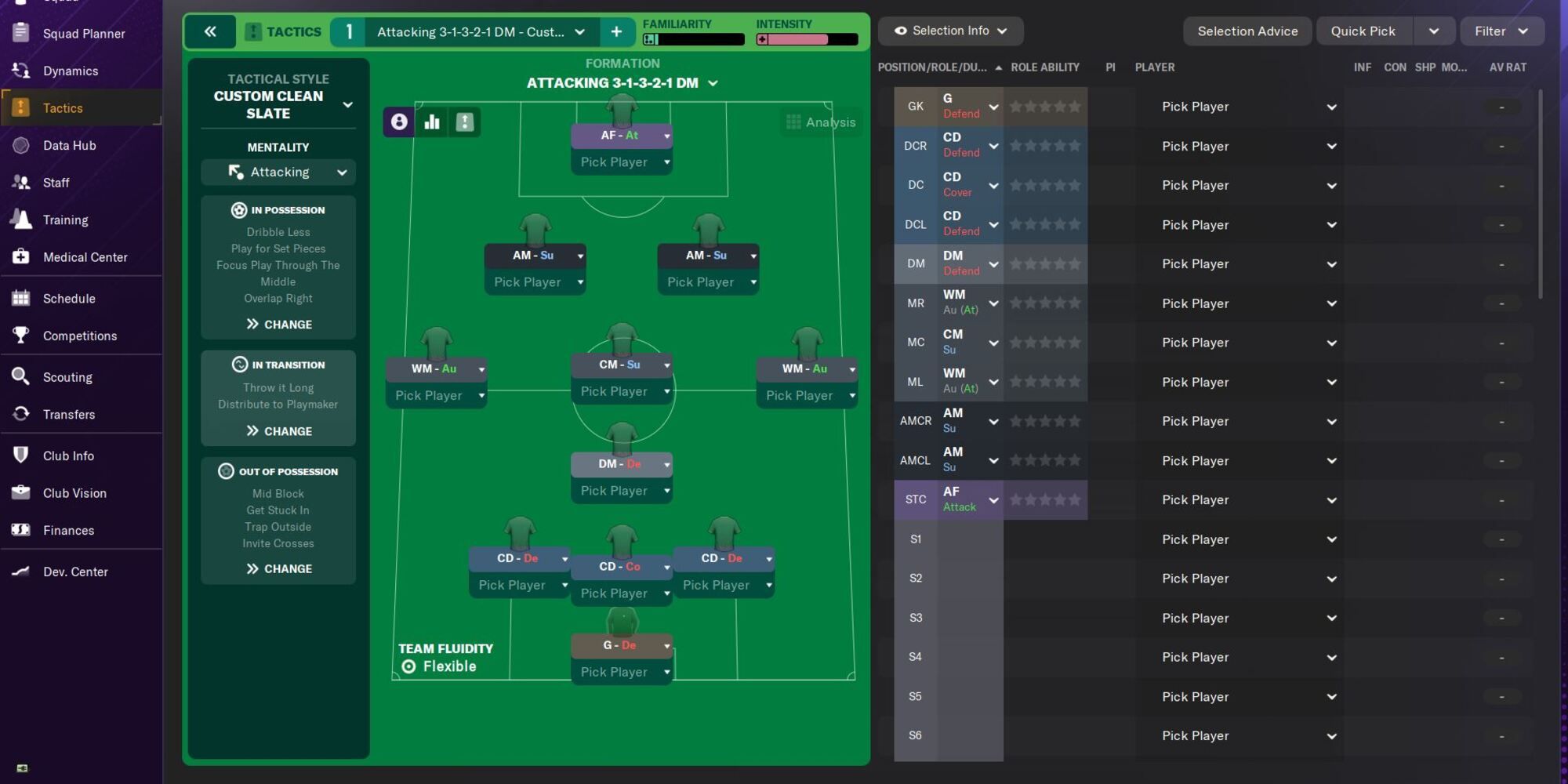 If you are a veteran Football Manager player, then this is the tactic that you should be implementing. This wipes out all the preset tactics and lets you form one of your own. You can set the exact instructions you want your players to follow and implement them in your own way.
You don't need to follow any particular formations and can experiment as much as you want. Try to take a look at your player's playing styles and form a tactic suitable for them. Making a tactic yourself is one of the most fun parts of the game; every player should try it at least once.
Next: Games You Need To Play If You Liked Game Dev Tycoon