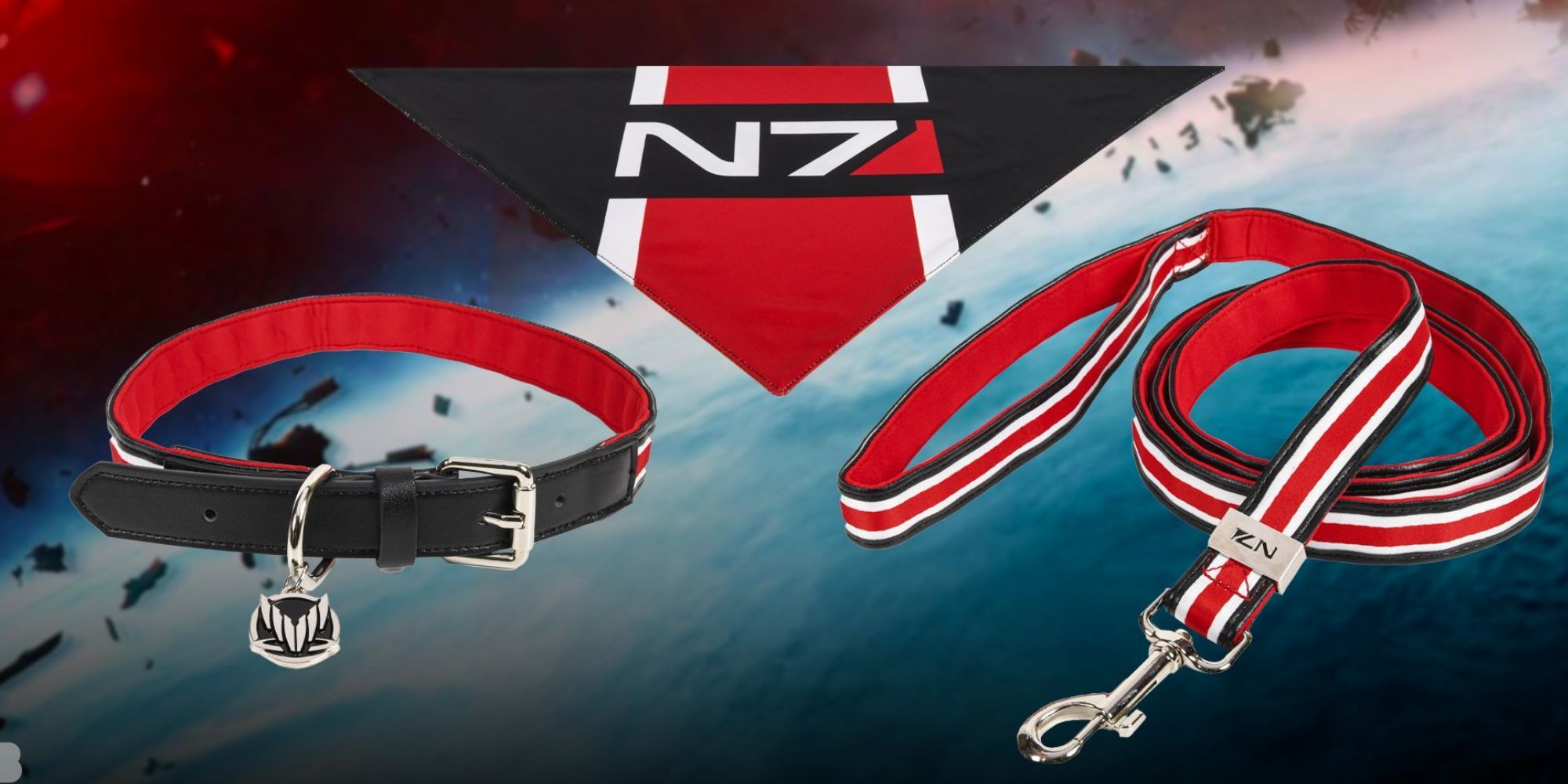 We just got some new Mass Effect merch. Cool, right? It's a collar and leash set with the N7 logo, perfect for any Mass Effect fan with a canine companion. Or, uh, a very friendly human companion, apparently, because I don't think a single dog will see this gift set.
The Mass Effect Deluxe N7 Dog Collar Leash Bandana set seems like an innocent piece of merch on the face of it, but what everyone involved failed to consider is just how feral this fanbase is. Now, the replies are full of horny fans talking about how they'll use this set for every purpose other than the one that is intended. C'mon, BioWare, how did you not see this coming?
"I fear that majority of these won't touch any canine necks," replies Twitter user @oide_oide_oides. They're right – the rest of the replies are a mess.
"I'm Commander Shepard and you're the goodest girl on the citadel", reads one response. "Perfect for Jack," says another.
The Mass Effect dog collar set will usually set you back $40, but it's currently on sale for $20. Y'know, if you're looking for something for that special person in your life.
It's enough to get the attention of BioWare community manager, Jay Ingram, who has a simple message for fanbase: "Stop. All of you. Stop. Behave."
Shout out to @times_new_homo for making the best point yet, though, writing, "Puppy girl" this, "fuck me in this" that. Nobody is saying "Commander German Shepherd." What's the point."
It's easy to see why Mass Effect fans are feeling all hot and bothered – BioWare's been teasing us for years. Finally, we have something resembling another trailer for the next Mass Effect game, but even that's just another teaser of someone walking down a hallway. We're likely years away from the next game being ready to play, and in the meantime, the latest instalment is the poorly received Mass Effect Andromeda, which launched in 2017.
Things aren't much more exciting on the Dragon Age end. We're still waiting for another Dreadwolf trailer, but we might get that at The Game Awards next month. Still, the release date is likely to be a while off yet too, particularly after the mass layoffs a BioWare this year. Included in the layoffs was BioWare veteran Lukas Kristjanson, who wrote for many games including the first two Baldur's Gate titles. Some of those affected are having to sue the company for more severance pay, and others have called for further industry unionisation.
Next: I'm Okay With Vampire: The Masquerade – Bloodlines 2 Being Less Of An RPG Than The First Game