Ever since the start of Genshin Impact, you'll already realize the importance of team composition. The game's combat revolves around the seven elements and their reactions. While there are a few exceptions where you don't need elemental reactions, most characters in the game still get the most value when you use them.
RELATED: Genshin Impact: Best Builds For Furina
Furina is a five-star Sword character released during the Version 4.2 update for the first time. She has a special turret-type damage, which allows her to deal significant numbers even when she's not on the field. However, she might not seem as good until you use her with the right characters.
Furina-Centered Team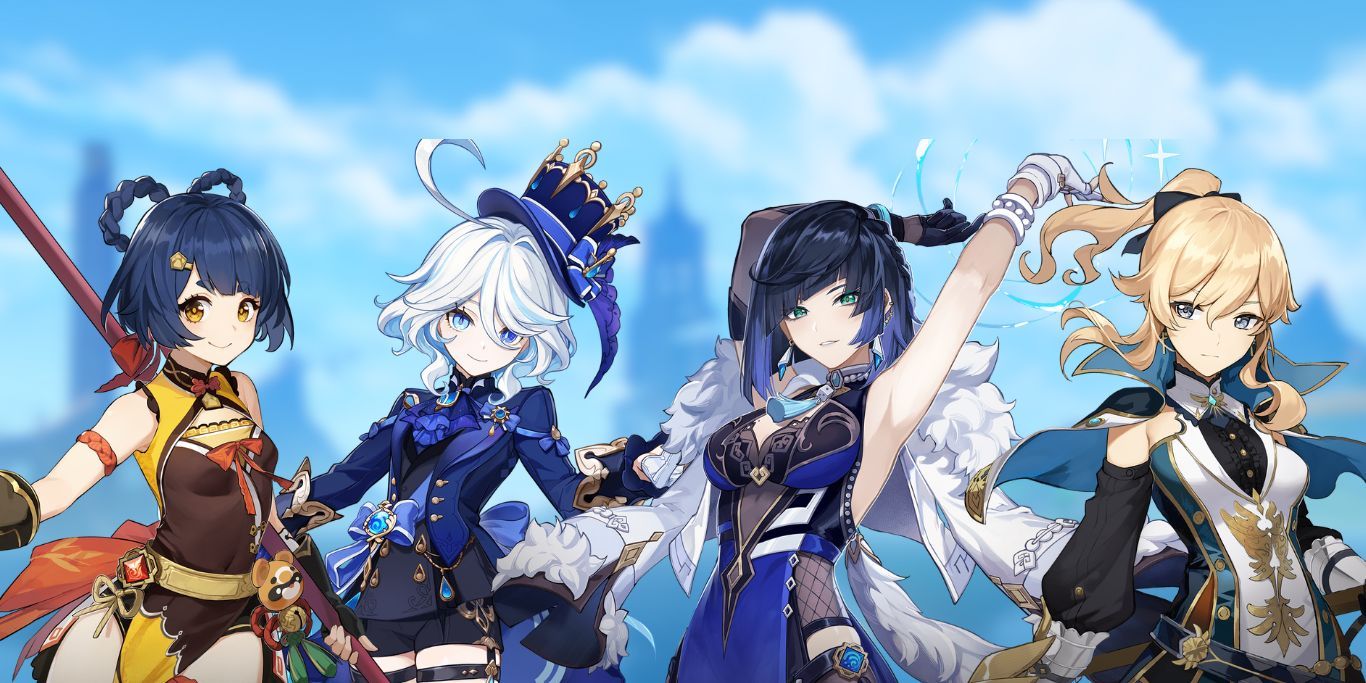 Xiangling
Furina
Yelan
Jean
Being the dramatic queen that she is, Furina would love a team that revolves around her, and this is exactly what this one is for. She's the most important character of Fontaine and of this team, which also makes it one of the best teams you can put her in. The presence of double Hydro characters also triggers Hydro Resonance here.
Having two or more Hydro characters in the team increases all party members' HP by 25 percent, which is perfect for Furina.
Whenever you use Furina's Skill, she spawns three celebrants that deal constant Hydro DMG to the surrounding enemies. These spirits can follow the enemies around the battlefield, and they drain your team's HP to increase their own damage. Furina can also switch the spirits by using a Charged Attack to heal her team members.
However, the healing isn't the best part about her kit and you'll want to stay on the damage-dealing spirits. This is why you need a character like Jean who can easily heal your characters back up with the right Energy Recharge. It's recommended to use the Viridescent Venerer set on Jean to get the Hydro DMG Bonus as well.
Viridescent Venerer can increase the Swirled element's DMG by 40 percent, and it's quite easy to Swirl Hydro with this team.
With Xiangling's Pyro application to trigger reverse-vaporize and Yelan's DMG increase from the Elemental Burst, this team can easily delete all the surrounding enemies with the following rotation:
Start by placing Furina's Elemental Skill and Burst since her Skill lasts for the longest time and she needs to build her Fanfare from the Burst.
Switch to Yelan and Xiangling to use their Elemental Skill and Burst as well. These will start triggering all the reactions and dealing all the damage to the enemies.
This gives time for your party members to lose some health, and you can now switch to Jean and use her Skill and Burst. Putting her on Sacrificial Sword will also give you a better chance to Swirl Hydro here while increasing her Energy Recharge.
Xiangling is the only Pyro character in the team, which means you'll also need a ton of Energy Recharge on her.
However, this isn't too hard since the Emblem of Severed Fate is her best artifact set.
Furina Bloom Team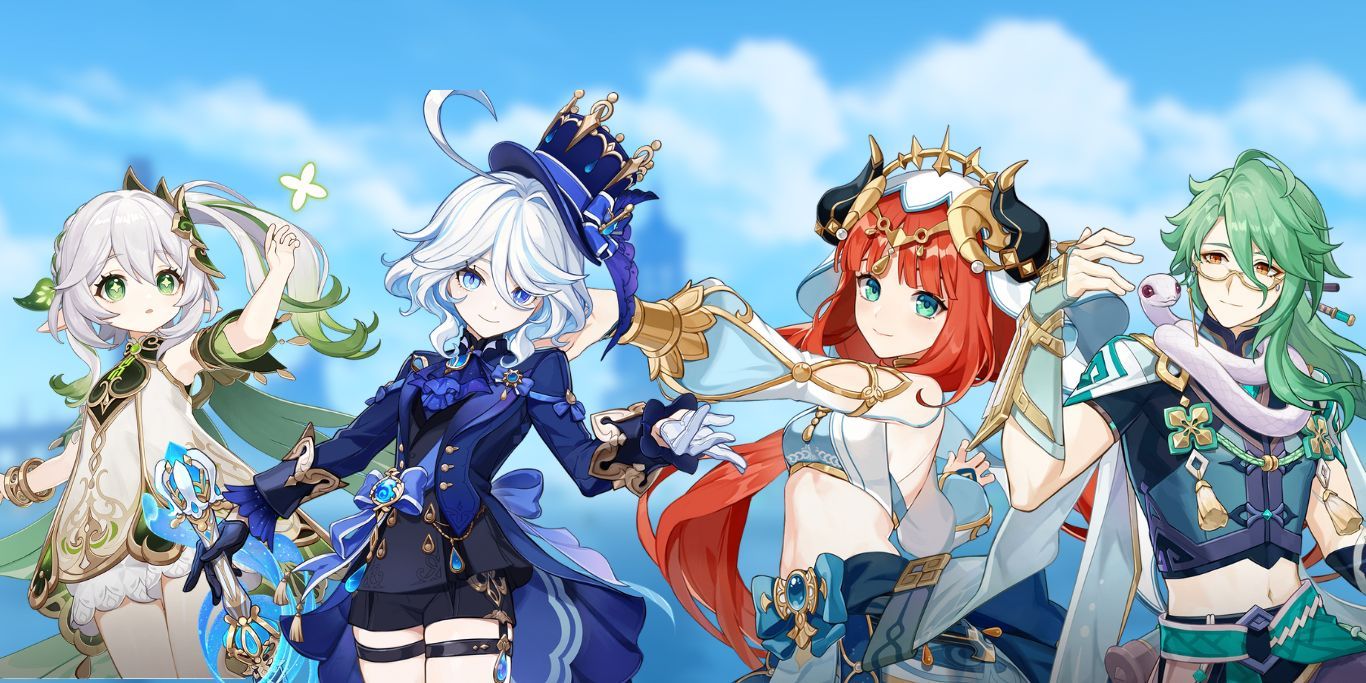 Nahida
Furina
Nilou
Baizhu
Before we start talking about this team, it's important to note that the DMG bonus from Furina's Ultimate doesn't apply to the Bloom reaction. If that was the case, this team would arguably be one of the best in the game. However, it's still very good because of Nilou's ability to produce Bountiful Cores.
Bountiful Cores are special Cores that explode instantly and deal exponentially more DMG in a larger area.
However, it's required to have only Hydro and Dendro characters in the team for them to work.
Not a lot of people will have all these five-star characters, so you can replace Nahida with any decent Dendro applicator and Baizhu with Yaoyao. Nahida's personal DMG doesn't matter too much in this composition since it's not buffed by Quicken. Here's what the rotation for the team will look like:
Apply Nahida's Elemental Skill to all the enemies on the field and then place Furina's Elemental Skill while using her Burst at the same time.
Switch over to Nilou and use her Elemental Skill thrice to create the flower under your active character for even more Hydro application.
Finally, use Baizhu's Elemental Skill and Burst for constant healing on the entire team to negate the HP drain from Furina.
Keep in mind that it's important to keep your characters over 50 percent HP in this team so that Furina can deal more DMG.
Buff Hu Tao Even More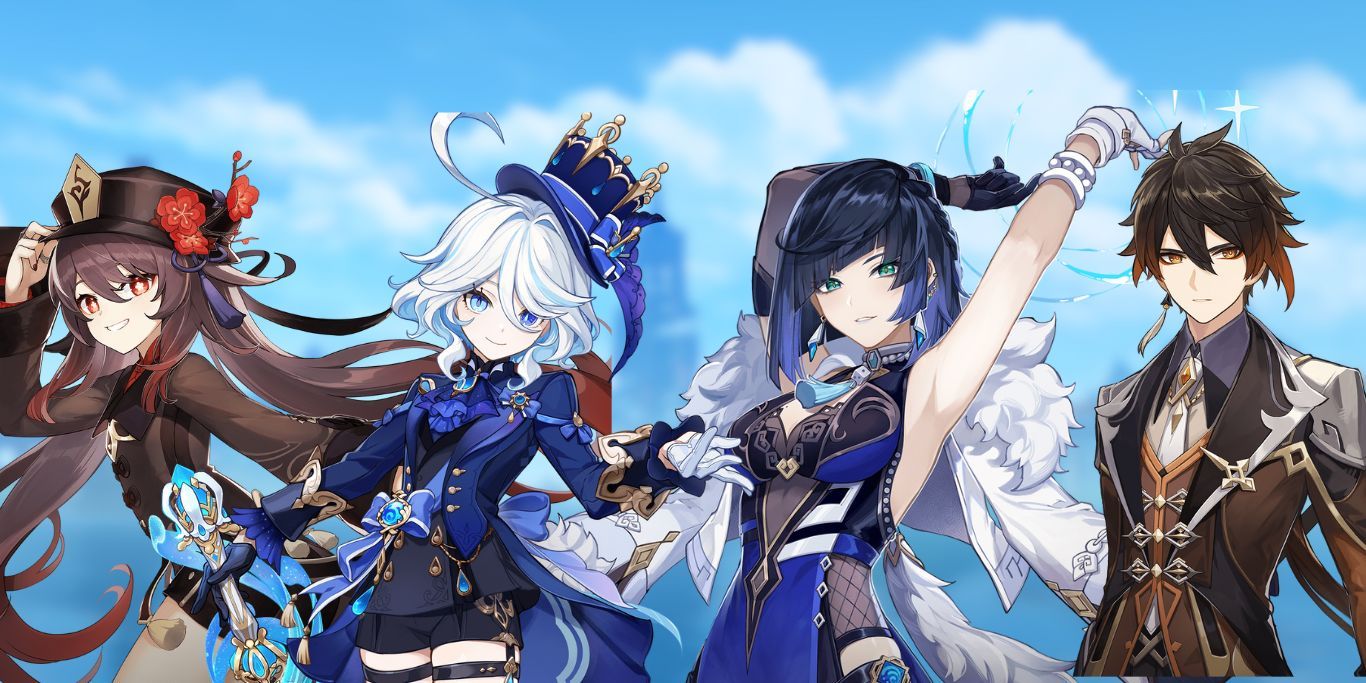 Hu Tao
Furina
Yelan
Zhongli
Hu Tao is undoubtedly the strongest Pyro character in the game ever since her release, and that might not even change when the Pyro Archon is released. She already got a buff with the recent Hydro Resonance change, and it seems like she's gotten buffed once again with Furina's release due to her Burst.
When characters gain or lose HP in Furina's Burst, she gains Fanfare points that increase the DMG of all characters. Similarly, Yelan also increases every characters' DMG during her Burst. All of this along with the 25 percent HP increase and Zhongli's DEF shred makes Hu Tao deal ungodly damage.
Hu Tao also needs to be below 50 percent HP to deal more DMG, which is easy to achieve with Furina.
However, there is a glaring problem in this team. Furina can only get Fanfare points when characters lose or gain HP, and her damage-dealing spirits cannot drain party members' HP when they're at 50 percent. You also can't use a healer here since you wouldn't want to heal Hu Tao, which leads you to a situation where your rotations will be much longer:
You'd first have to start by using Furina's Skill and Burst to build Fanfare while you switch to Zhongli and get his shield.
This can be followed by Yelan's Skill and Burst to apply even more Hydro to the enemies and get all the DMG boosts for Hu Tao.
During this, Hu Tao will lose a bunch of HP and you can then use her Skill to start dealing a ton of damage to the enemies, which is the best if you're fighting a single-target boss.
However, after this, you'll have to change Furina's spirit and allow it to heal all your party members except Hu Tao.
The last part might make this team a little sluggish to use, but it'll still deal more damage than you'll ever need.
The Fontaine Party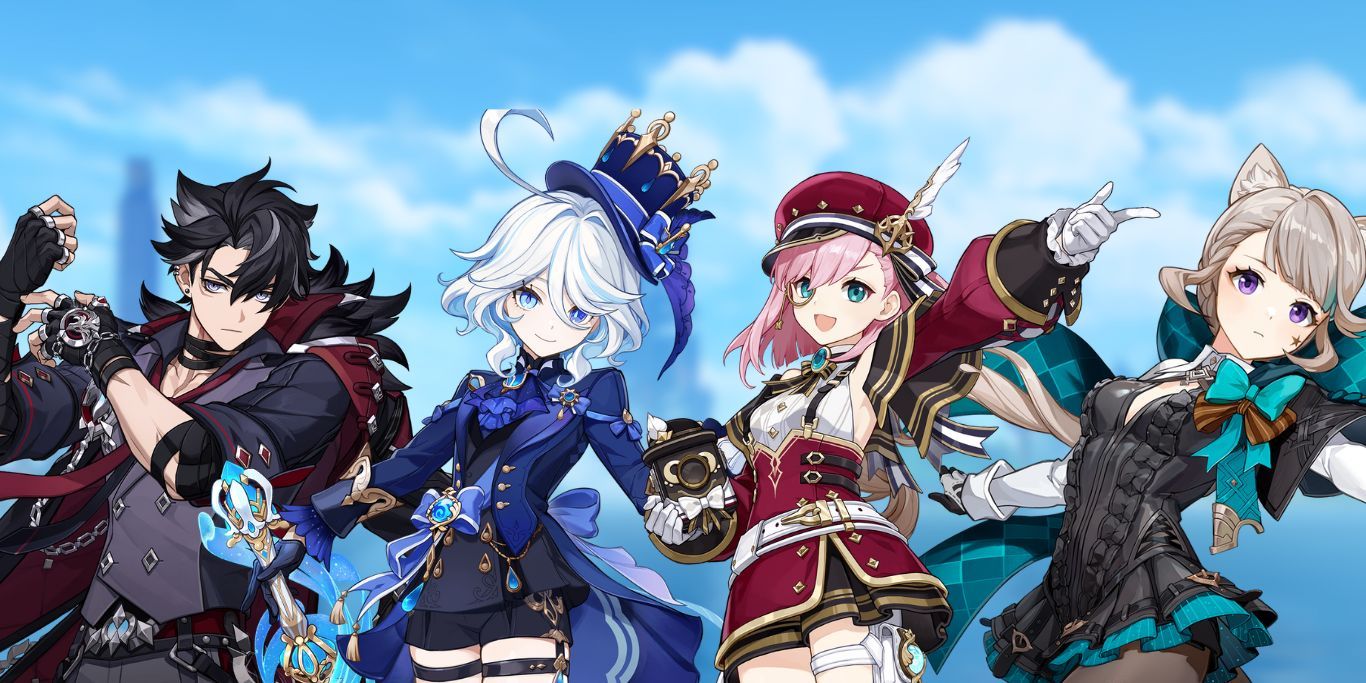 Wriothesley
Furina
Charlotte
Lynette
This best teams article wouldn't be justified if we didn't mention a Fontaine-based team for the Archon of Justice. With this team, you might not deal the most damage to the enemy, but it's much easier to build the Fanfare points on Furina and you can also keep the enemies frozen for a long time as long as they aren't bosses.
Here are all the reasons this team is perfect for building a ton of Fanfare on Furina:
Wriothesley loses HP when he attacks normally after activating his Skill and gains HP upon doing a charged attack at low health.
Lynette gains HP when she hits an enemy with her Skill and then rapidly loses HP for four seconds.
Furina already drains a ton of health with her Skill, and you can use Charlotte Ultimate to heal all that back up.
The rotation for this team is not as important, however it's still recommended to Swirl Hydro with Lynette's Burst so that you can constantly apply the element and also increase Furina's DMG with the Viridescent Venerer set. Wriothesley will be your on-field DPS for the team while Furina does a ton of off-field damage.
NEXT: Genshin Impact: Best Weapons For Furina