Highlights
Xbox offers a wide variety of rhythm games, ranging from heavy metal shooters to light-based action games.
These games incorporate music into their gameplay, requiring players to time their actions with the beat.
Whether you're a beginner or a veteran, Xbox has rhythm games that provide fun and entertainment for everyone.
Are you an Xbox fan who also happens to love a good rhythm game? If you answered yes, then you are in luck because Xbox, specifically Xbox One and Xbox Series X/S, have a bevy of fun, musically-inclined games to choose from. Whether you're new to the genre or a long-time veteran, Xbox has something for everyone.
RELATED: Best Rhythm Games For Beginners
Musical rhythm games come in many shapes and forms, from smaller indie titles to larger, triple-A music-focused games. These types of games can often be intimidating at first, with lots of action happening in the user interface and tons of colors flashing before your eyes, but they're good fun, too. If you're in a musical mood, consider trying these Xbox rhythm games.
Games on this list were added based on these criteria: mostly positive reviews, replay value, and gameplay that must be "music-tethered" in some way.
Updated November 12, 2023 by Jack Pierik: If you're reading this, odds are you're in the market for a new rhythm game to smash some buttons to on one of your Xbox consoles. You'll be pleased to learn that this update, on top of the already wonderful titles included, adds three games for you to check out.
Whether combat, combo, or sequence-focused, each of these games ties rhythm into their gameplay in some way or another. If you're new to the rhythm game genre, remember to give your hands and fingers a break on occasion; these games aren't exactly cramp-friendly.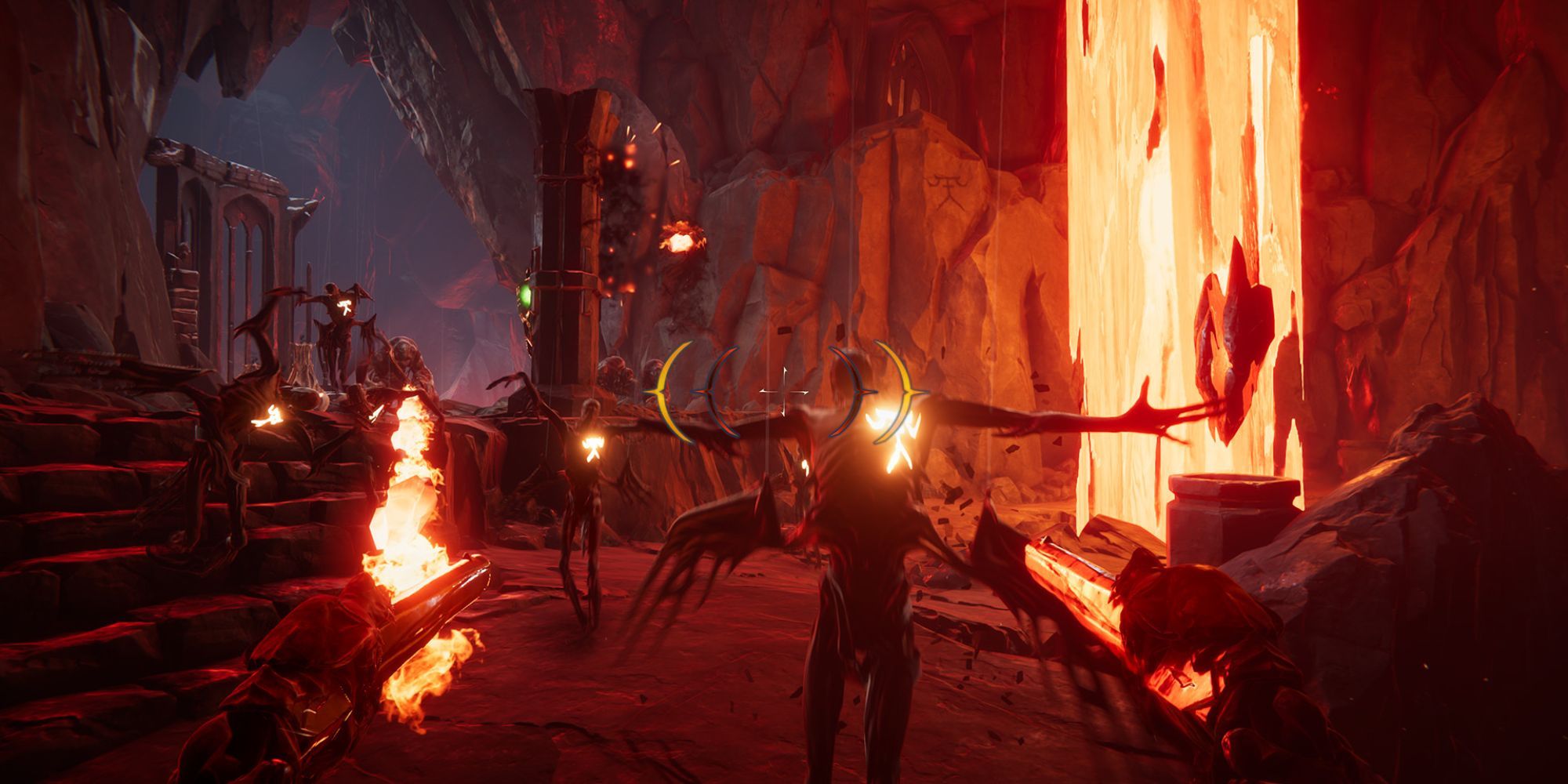 Available on:
Xbox One, Xbox Series X|S.
What would you bring if you had to fight through eight different parts of Hell? A bunch of weapons is the practical, pragmatic answer, but why not accompany your slaying with heavy metal music? If you want to feel cool slaying hellish creatures, Metal Hellsinger has you covered.
The soundtrack isn't just there to sound thumpy, grungy, and energetic, though; you'll have to feel the beat and properly time your attacks with your demon-slaying arsenal to deal the most damage in this rhythm-based FPS. Oh, and if heavy metal isn't your thing, you can mod the game to play your own music.
9
Hi-Fi RUSH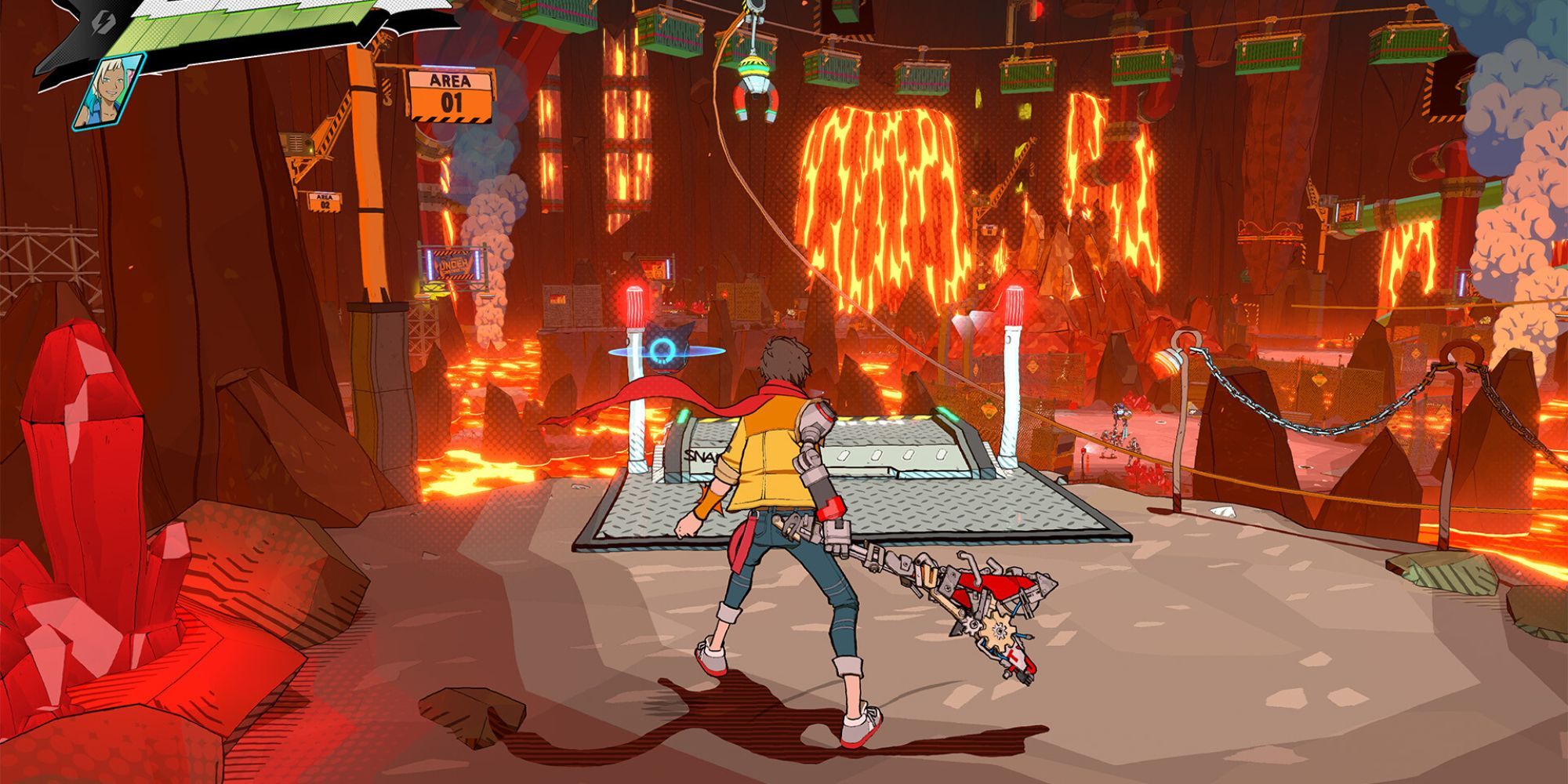 Available on:
Xbox Series X|S.
In Hi-Fi RUSH, you play as Chai, a self-proclaimed rockstar rebelling against a dystopian mega-corporation. Bash your foes with your trusty guitar, and above all else, keep track of the music because not only do your attacks have to be in time, but so do your enemies'.
The more you play and the better you get, the more the gameplay will feel like a beautiful, albeit destructive choreography in this hack-and-slash, rhythm adventure. Once you're getting the hang of things, you should try BPM RUSH, a mode where the BPM steadily increases with each new wave of enemies.
8
Rock Band 4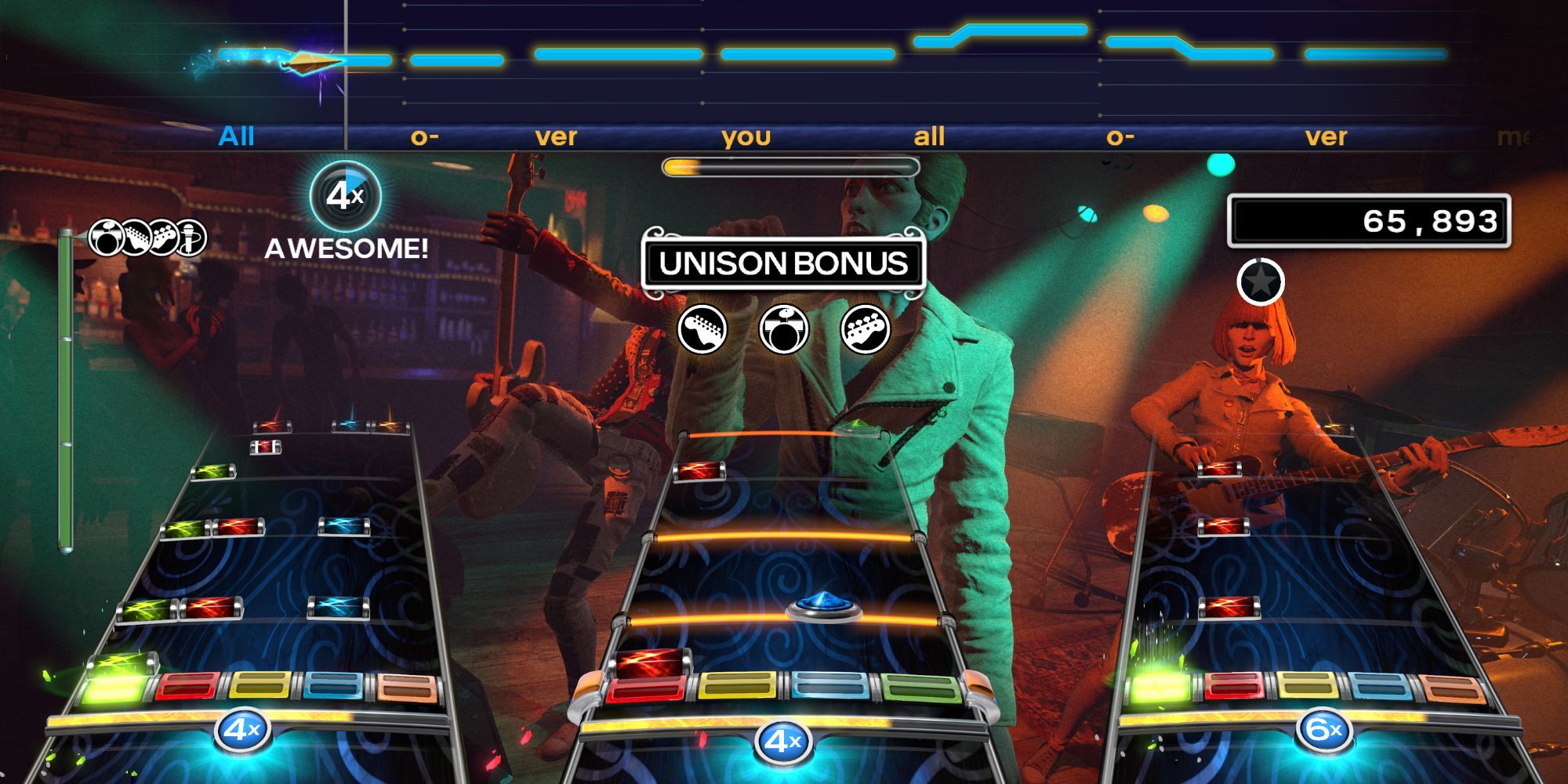 In Rock Band 4, you can jam out on the guitar, bass, and drums or flex your singing skills to dozens of songs made by big names, ranging from classic groups like the Foo Fighters and Ozzy Osbourne to more modern bands, like Paramore and System of a Down.
While most rhythm games are satisfying to play in general, it's hard to beat that added, analogue connection you get from Rock Band and other similar games as you shred on a guitar controller or bang on an electronic drum set.
7
Taiko No Tatsujin: The Drum Master!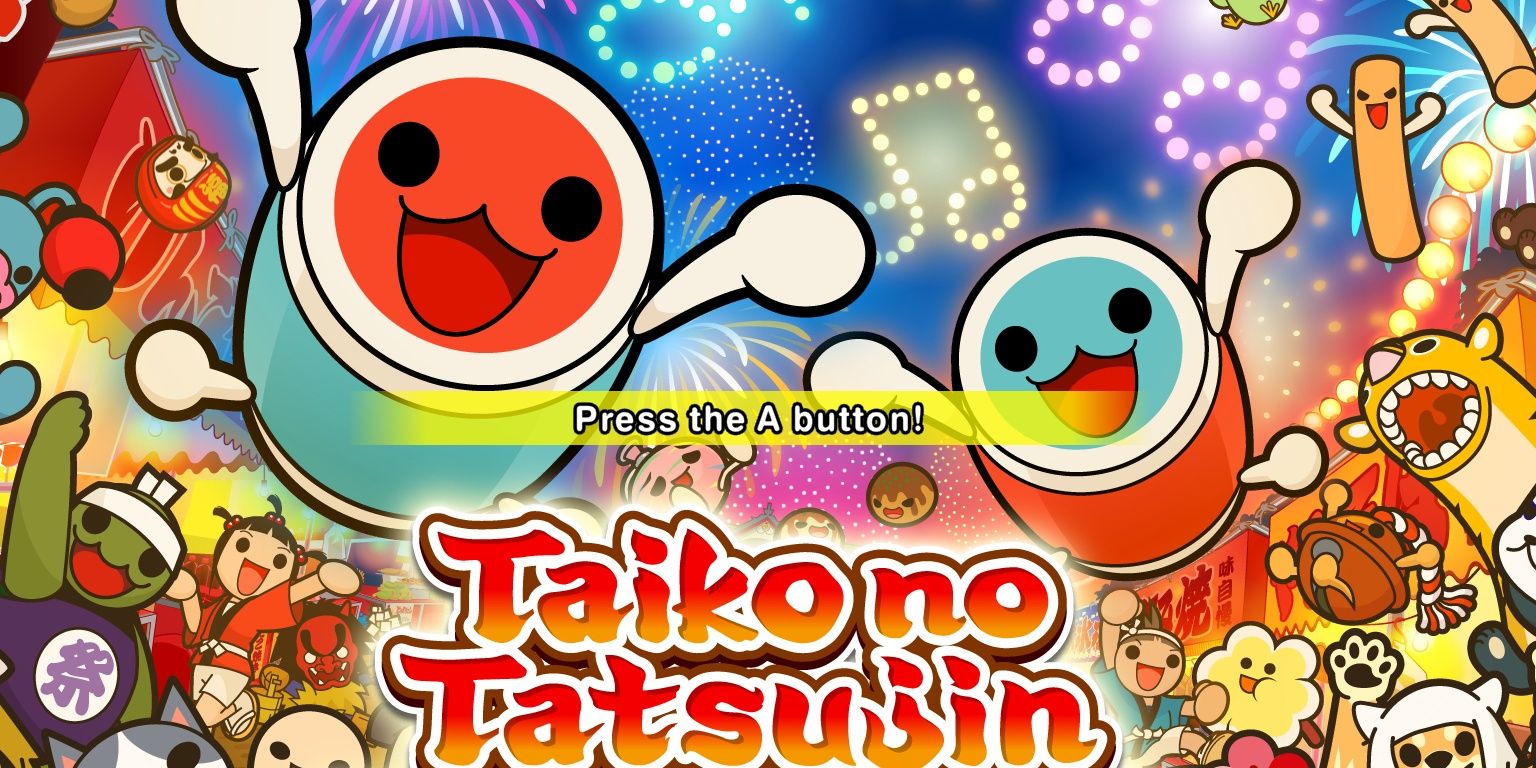 Available on:
Xbox One, Xbox Series X|S.
If you are in the mood for a fast-paced, off-the-wall, and endlessly entertaining musical rhythm game then look no further then Taiko no Tatsujin: The Drum Master! This drumming-focused rhythm game is overwhelming in the best way possible, mostly down to its anime-inspired graphics and zany characters.
Taiko no Tatsujin: The Drum Master is equal parts brilliant rhythm game where you must match the specific drum beat as well as a precision puzzler of sorts. Oftentimes each song will throw random beats your way to try to get you off your groove. Worry not, there are a ton of difficulty modes to choose from for each of the songs.
6
Thumper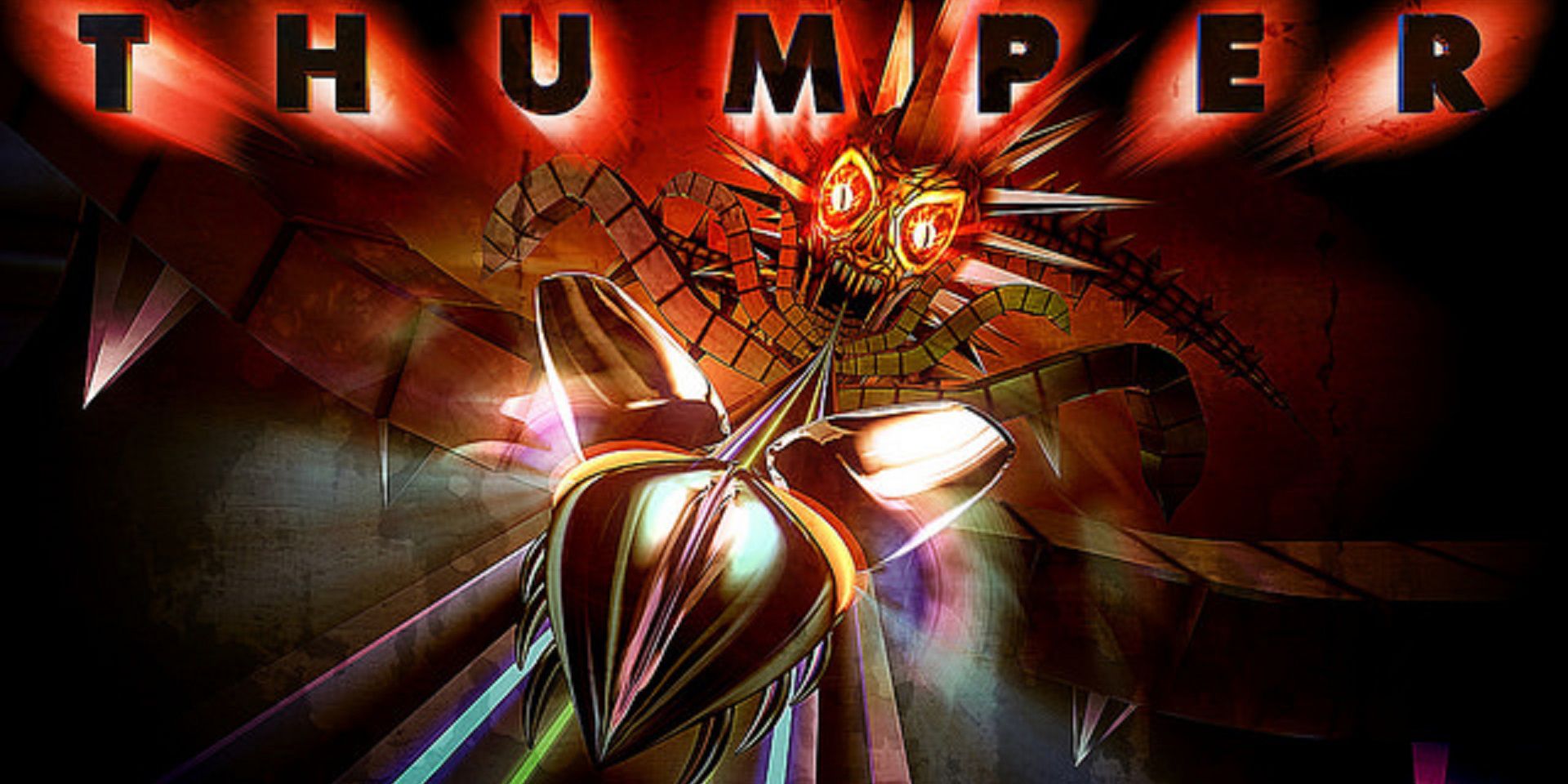 Who would have ever thought that a horror-inspired rhythm game where you play as a robot beetle would ever work? Fortunately for Thumper's case, it worked out magnificently. This off-putting and creepy rhythm action game tasks you with matching the beats and musical patterns while you power through otherwordly stages.
This game is not going to take it easy on you. Thumper is punishing, brutal, and violent. For those hoping to enjoy the rhythm genre but want a darker more action-focused edge then Thumper certainly fits that bill.
5
Crypt Of The NecroDancer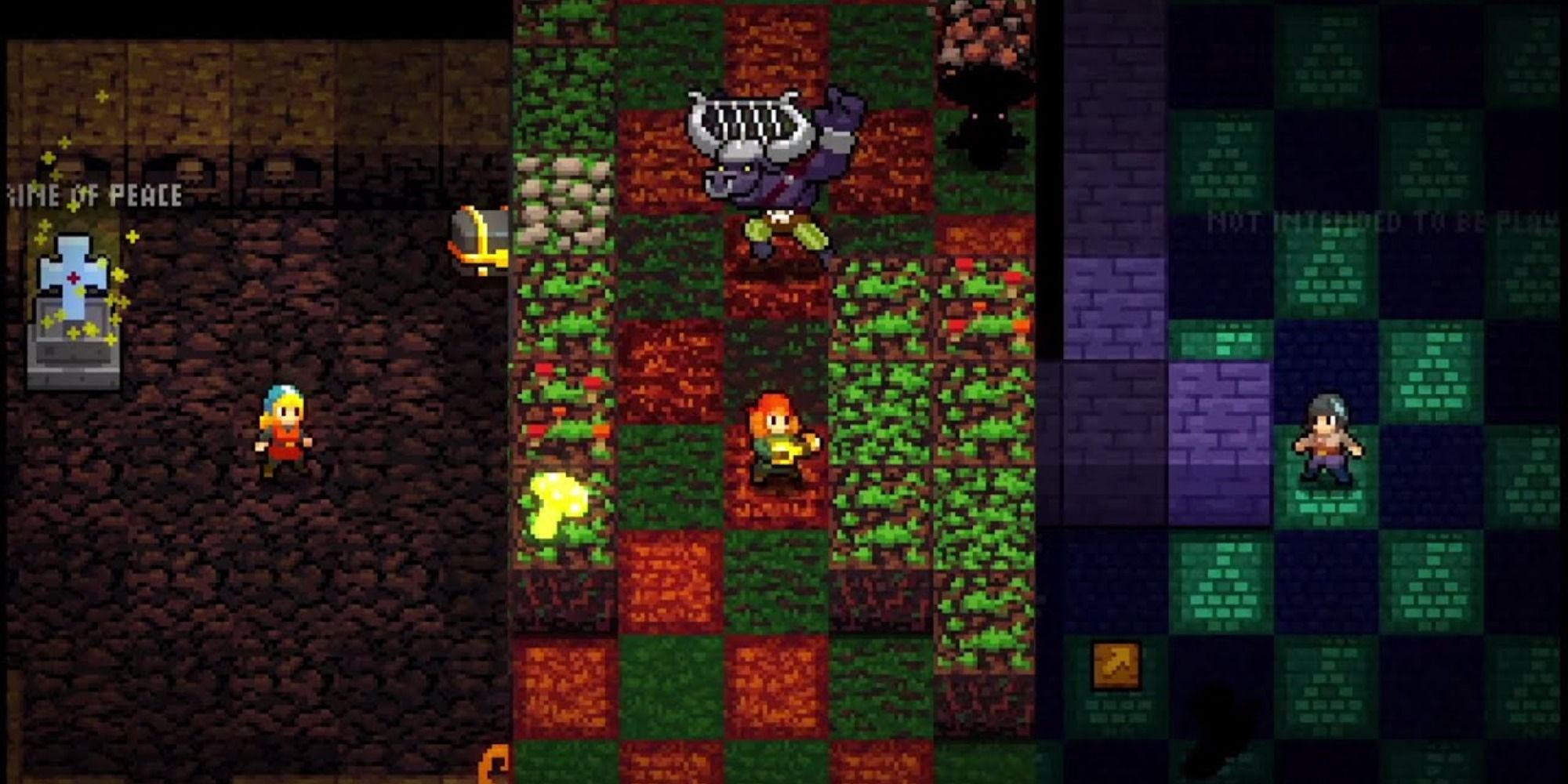 Crypt of the NecroDancer has become somewhat of a cult classic in the indie game sphere. On paper, this game sounds downright bananas. Crypt of the NecroDancer blends top-down roguelike dungeon crawling action where you must time your moves and attacks to the beat of the music.
RELATED: Most Difficult Roguelikes
While roguelikes have quickly become the norm in indie gaming, Crypt of the NecroDancer eschews genre conventions by masterfully allowing music to guide you through each enemy encounter and each new dungeon run. It will certainly take some time to get to grips with the movement grid; however, those who are patient are rewarded with deep and nuanced gameplay.
4
Aaero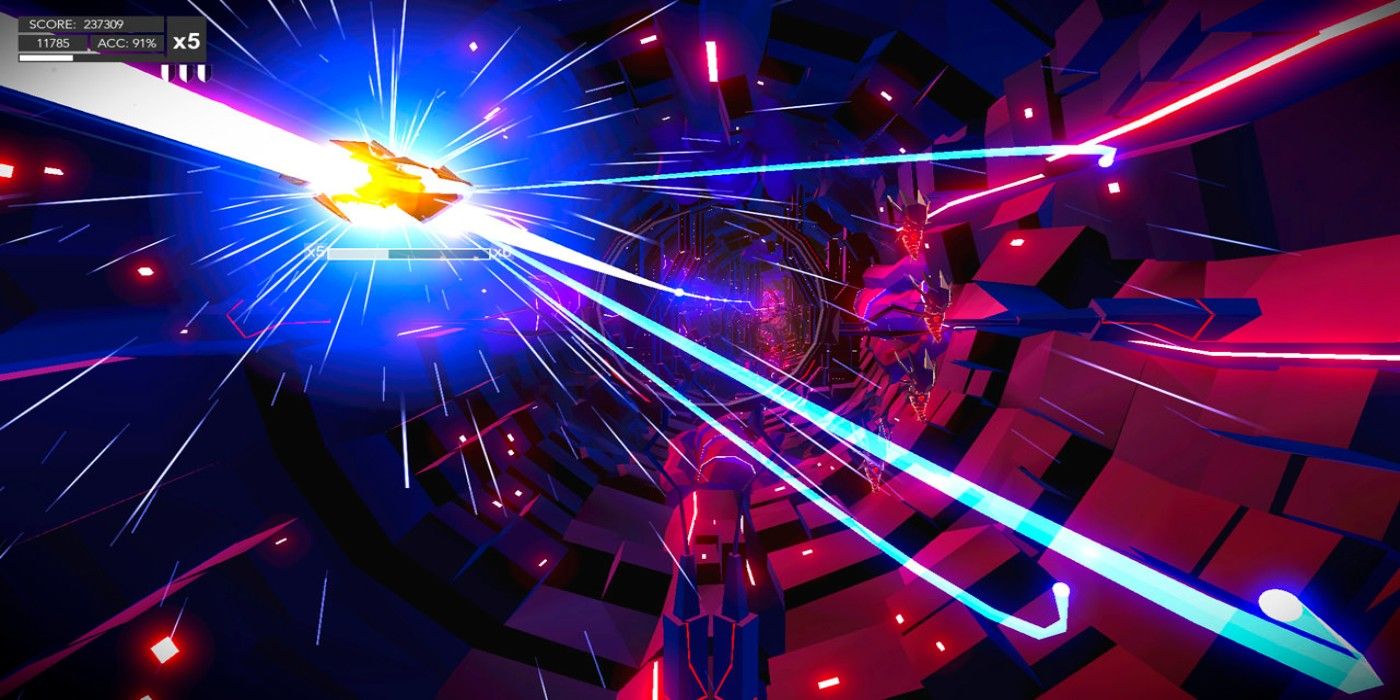 Aaero is an ethereal light-based rhythm action game where precision is key to success. The gameplay here is centered around releasing energy and light in order to conquer each stage. Taking place in a mesmerizing sci-fi world, Aaero keeps you glued to the screen with some fantastic licensed music.
Much like Thumper, Aaero is all about speed and accuracy, albeit without the horror influences. Aaero isn't talked about much in the gaming discourse, but it definitely deserves to be checked out on Xbox if you get the chance. It's beautiful and challenging in equal measure.
3
Superbeat: Xonic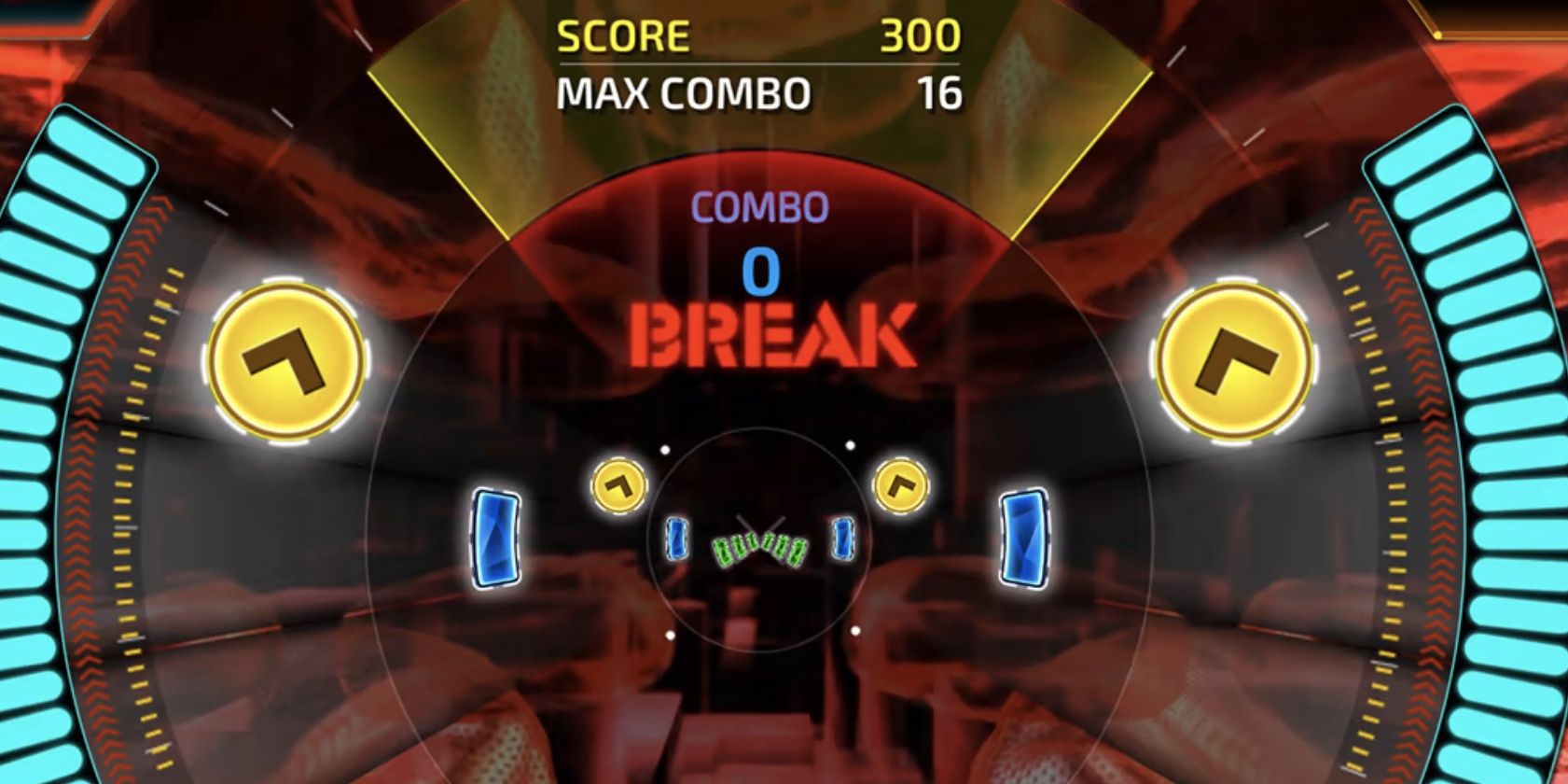 Superbeat: Xonic is a pretty standard and straightforward rhythm game, one where you must play each musical pattern correctly and with style. Releasing in 2015, Superbeat: Xonic was one of the first rhythm games to arrive on Xbox One.
RELATED: Best Rhythm Games On Steam
This game is great for those new to the genre as a whole since it gives you a plethora of songs to choose from and a great number of difficulty options. The user interface can be a bit overwhelming at first glance; however, you truly feel like a rhythm genius once you get to grips with the game's mechanics.
2
Any Of The Just Dance Games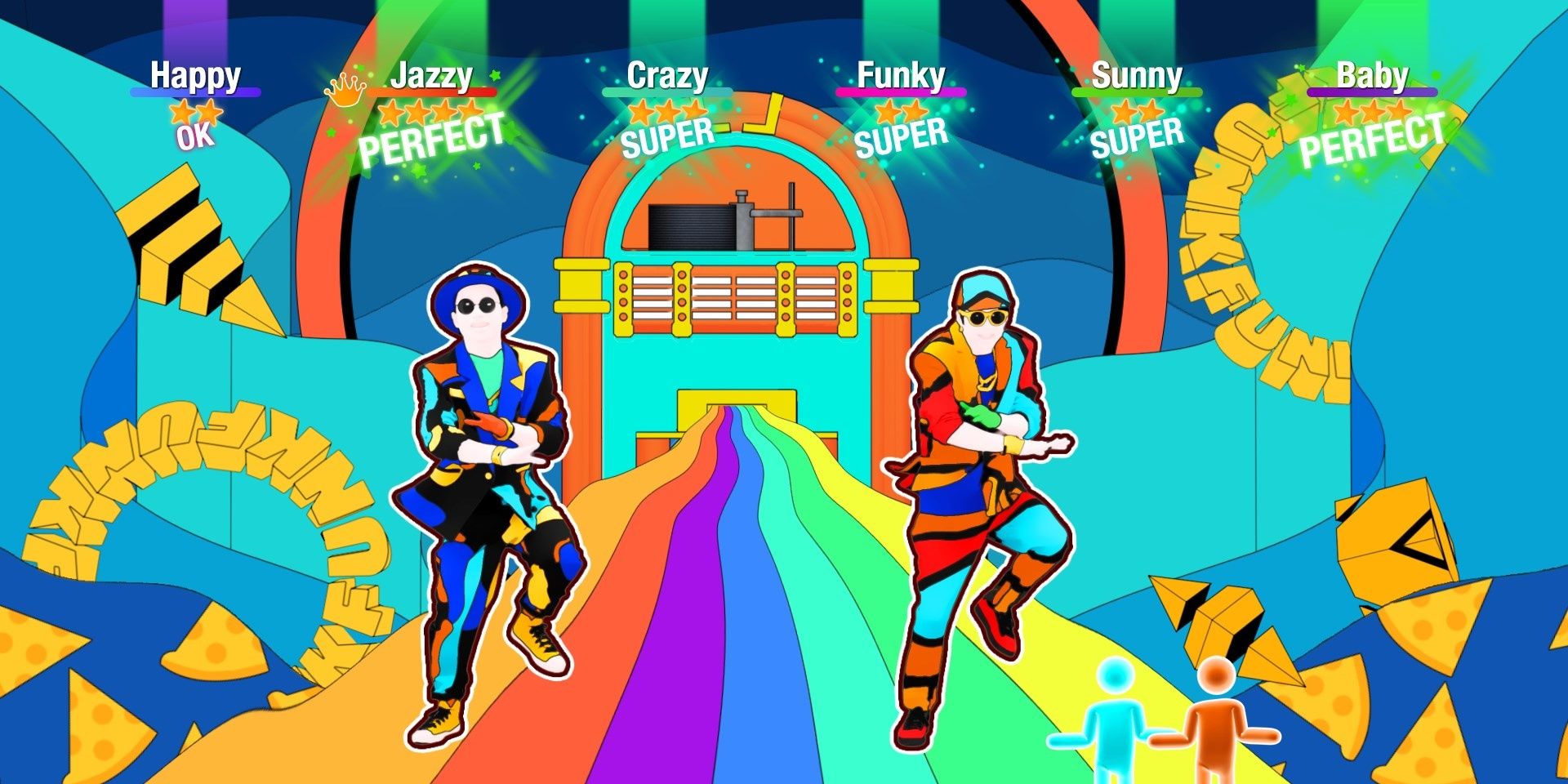 Available on:
Xbox 360, Xbox One, Xbox Series X|S.
The many, many Just Dance games are often the butt of many jokes, mostly down to how goofy you actually look when dancing to the top-charting pop songs that many people love. Despite how silly the games can be, they still sell like hotcakes each and every year with one of the more recent entries even being released on the Nintendo Wii for some reason.
For the uninitiated, the Just Dance games, as you might guess, are all about dancing to popular songs. It's really quite as simple as that. These games can certainly be a blast with the right group of friends, providing a good laugh or two while also helping you get a decent cardio workout…maybe.
1
Kingdom Hearts: Melody Of Memory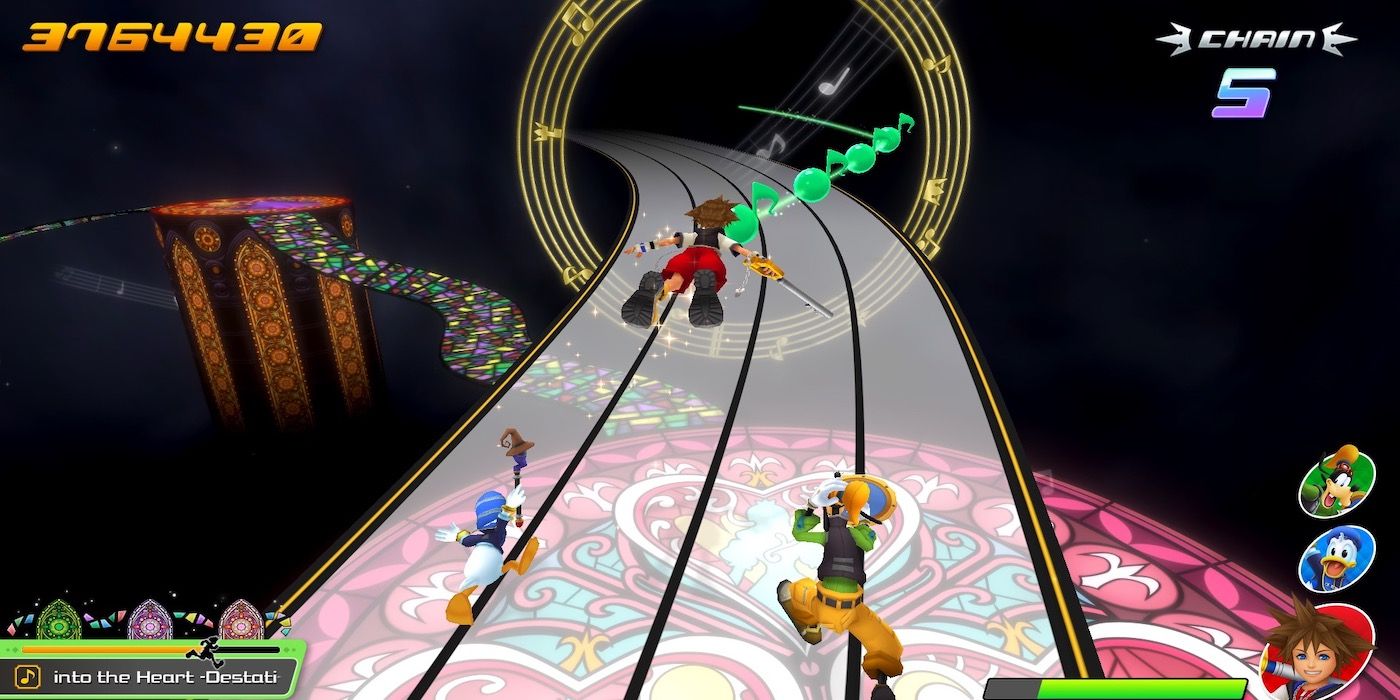 Kingdom Hearts, by nature, is already pretty interesting, considering the series blends beloved Disney characters with Final Fantasy characters to great success. Given that Kingdom Hearts has been around for over two decades now, it should come as no surprise there are many spin-off games in the franchise.
Kingdom Hearts: Melody of Memory is one such spin-off. In this game, you control Sora, Donald, Goofy, and other series favorites while timing your button presses to the beats and patterns of various Kingdom Hearts songs. While it's certainly a unique breed of game, it's an absolute joy to watch fan-favorite characters dance along to some great tunes.
NEXT: Best Music And Rhythm Games On Switch