Quick Links
Castoroides Taming Process
What Are Castoroides Used For?
The early game of Ark: Survival Ascended is filled with dangerous creatures that you have to stay away from. However, as you tame better dinosaurs, you'll slowly stop being as afraid of these creatures and start focusing on late-game content like defeating bosses or building your base of operations.
RELATED: Ark: Survival Ascended – How To Make Dye
Making yourself a big house is one of the best things to do in a survival game, but it's not an easy task due to the high cost of structures in this game. Thankfully, you can tame dinosaurs like the Castoroides to make it a little easier.
Castoroides Taming Process
The first step in the process of taming Castoroides is finding one, which isn't very easy. These creatures are quite rare, but they can usually be found near the river banks all across The Island. As you're going past these banks, you'll see some Beaver Dams in the area, which is a clear sign of a nearby Castoroides.
Beaver Dams are also a great way of getting Cementing Paste, Rare Flowers, and Silica Pearls.
Make sure you drop or claim all the items from these dams or they won't respawn.
You'll either find Castoroides running around their dams or sleeping inside them. If you find a good-level creature that you want to tame, you can simply make it stationary by using a Bola and then knock it down with a Club or Tranq Arrows. Castoroides' rate of gaining Torpidity is very slow, so it might be better to make a trap for it.
For the trap, you can simply make a two-by-two stone structure with window walls and either drop the beaver inside using an Argentavis or make it fall through a ramp. Once you successfully make it unconscious, you can tame it with some Kibble or grown crops, but berries can also do the job.
You'll need a bunch of Narcoberries or Narcotics to keep their torpidity high since they lose it quite fast.
What Are Castoroides Used For?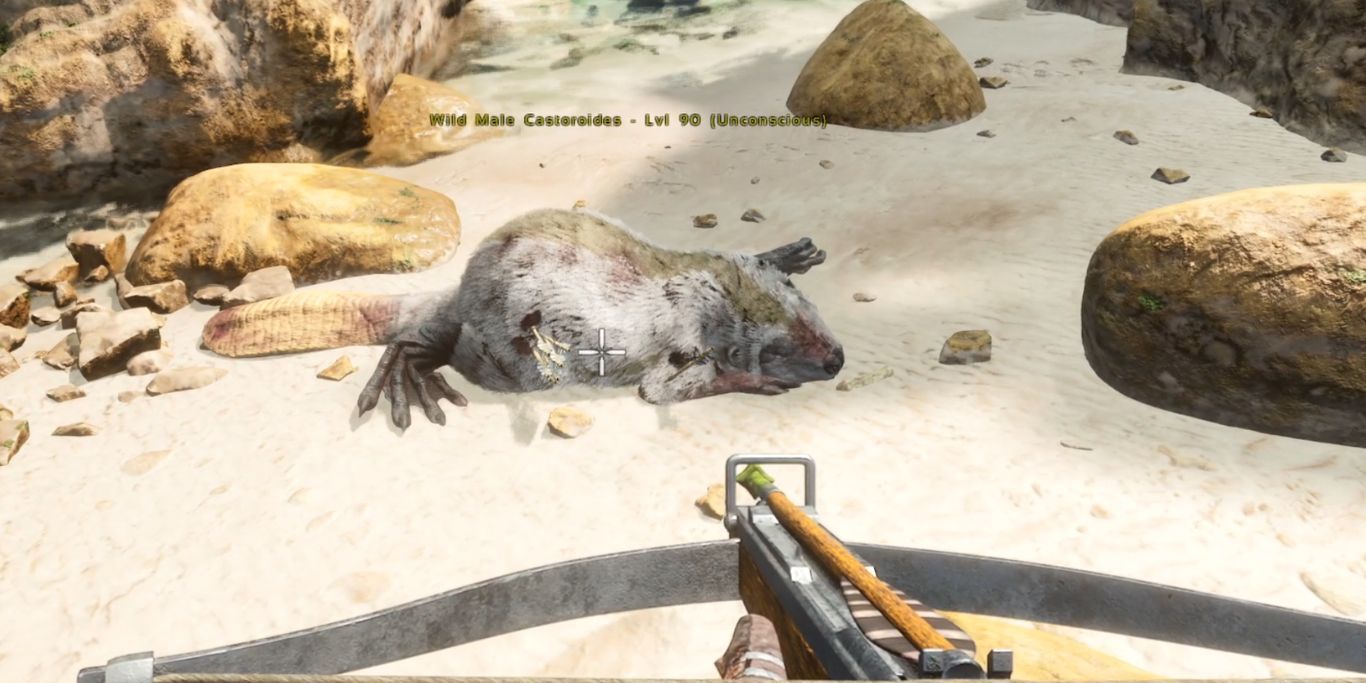 These creatures are quite slow on land, but they have high speed underwater, making them one of the best choices if you want to travel through the waters. However, if you're getting attacked on land, it's better to just fight since their slow speed won't allow you to outrun most of the predators.
A Castoroides' true potential shines when you're trying to collect wood with them. Not only will they get you hundreds of wood within seconds, but they also reduce the item's weight when it's in their inventory, allowing you to carry much more.
NEXT: Ark: Survival Ascended – How To Tame Pteranodon