Quick Links
Which Gifts Should You Give To Arvio?
There are many bachelors and bachelorettes in My Time At Sandrock, and one of the first you'll meet is Arvio. He's a social butterfly with a knack for commerce, and you'll be seeing him frequently at his store to buy goods you need. He's an easier romance to pursue if you want to settle down quickly, and he's quite charming too.
RELATED: My Time At Sandrock: Fang Romance Guide
You can't go wrong if you want to find a determined and shrewd businessman to spend time with in Sandrock. Originally from Barnarock, he and his sister Amirah opened their own respective shops and work on rebuilding Sandrock with you.
Who Is Arvio?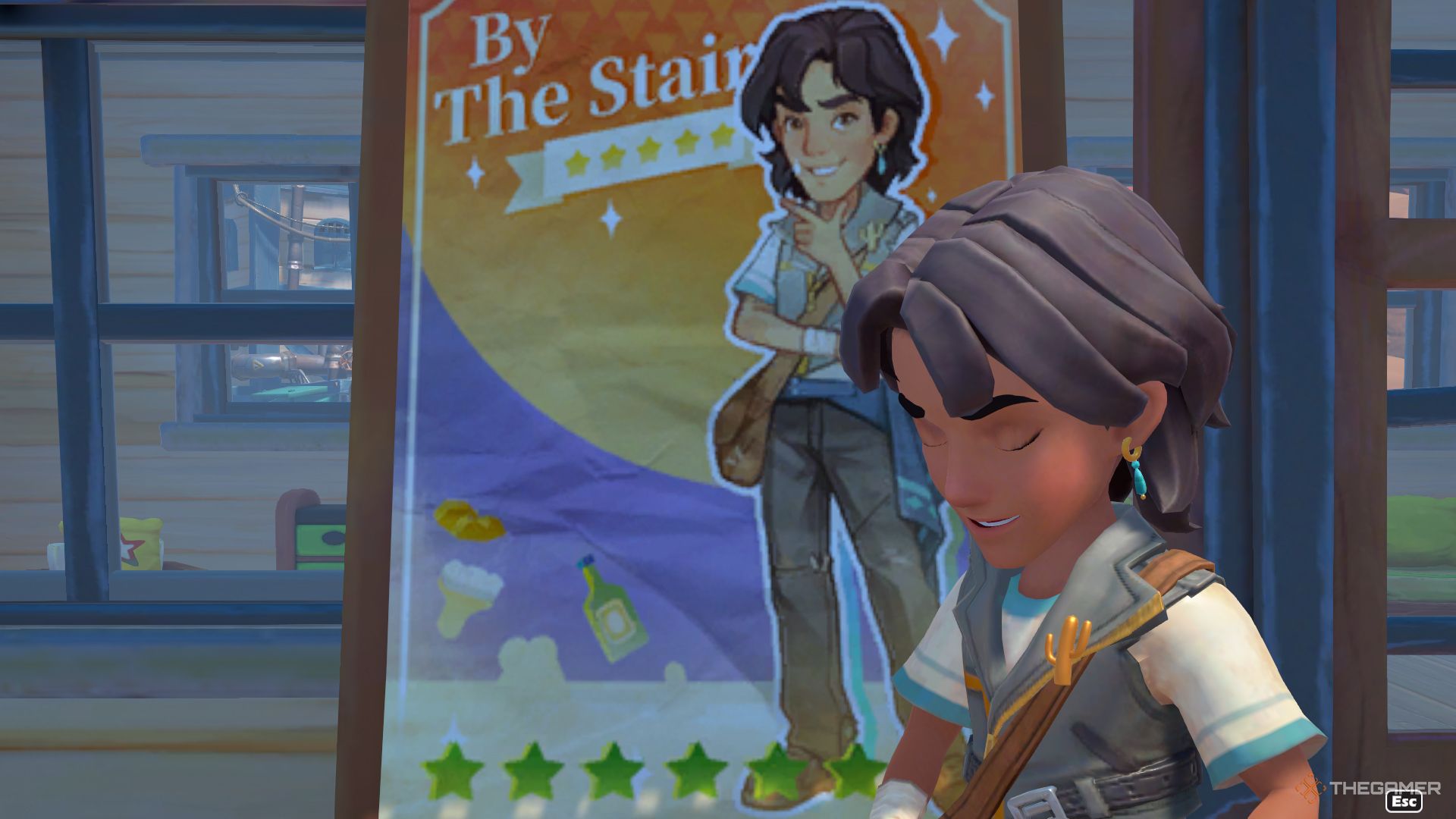 Birthday

Autumn 6

Height

173 cm

Weight

65 kg

Occupation

Shopkeeper

Reverse Confession?

Dating: Yes

---

Marriage: Yes
Arvio runs By The Stairs, the general store in town. You'll be running into him often if you want to purchase goods and furniture that's available. You can also sell him things you find in your adventures.
His network includes his sister, Amirah, and Rian, though he knows everyone in town and makes a habit of bothering Fang, the local doctor. He loves making a profit, though it sometimes comes at a cost. The love he has for his sister is only rivaled by his eye for a good deal.
He's available from day one and is easy to befriend. Many of his quests involve his business ventures and helping him out of trouble. He's also known for not paying back his debts, but if you're a true friend, you can help improve that.
What Are Arvio's Relation Perks?
As you befriend Arvio, you'll earn perks, like discounts at his shop.
| | |
| --- | --- |
| Buddy | Receive 10% discount when consuming in the store. |
| Friend | Receive 20% discount when consuming in the store. |
| Good Friend | Receive 25% discount when consuming in the store. |
Where Can You Find Arvio In Sandrock?
Normally, you'll find Arvio just outside his shop. If not, he's either tending to matters inside or he's roaming Main Street. He's never too far away, and he enjoys attending festivals and events that are held in town.
Which Gifts Should You Give To Arvio?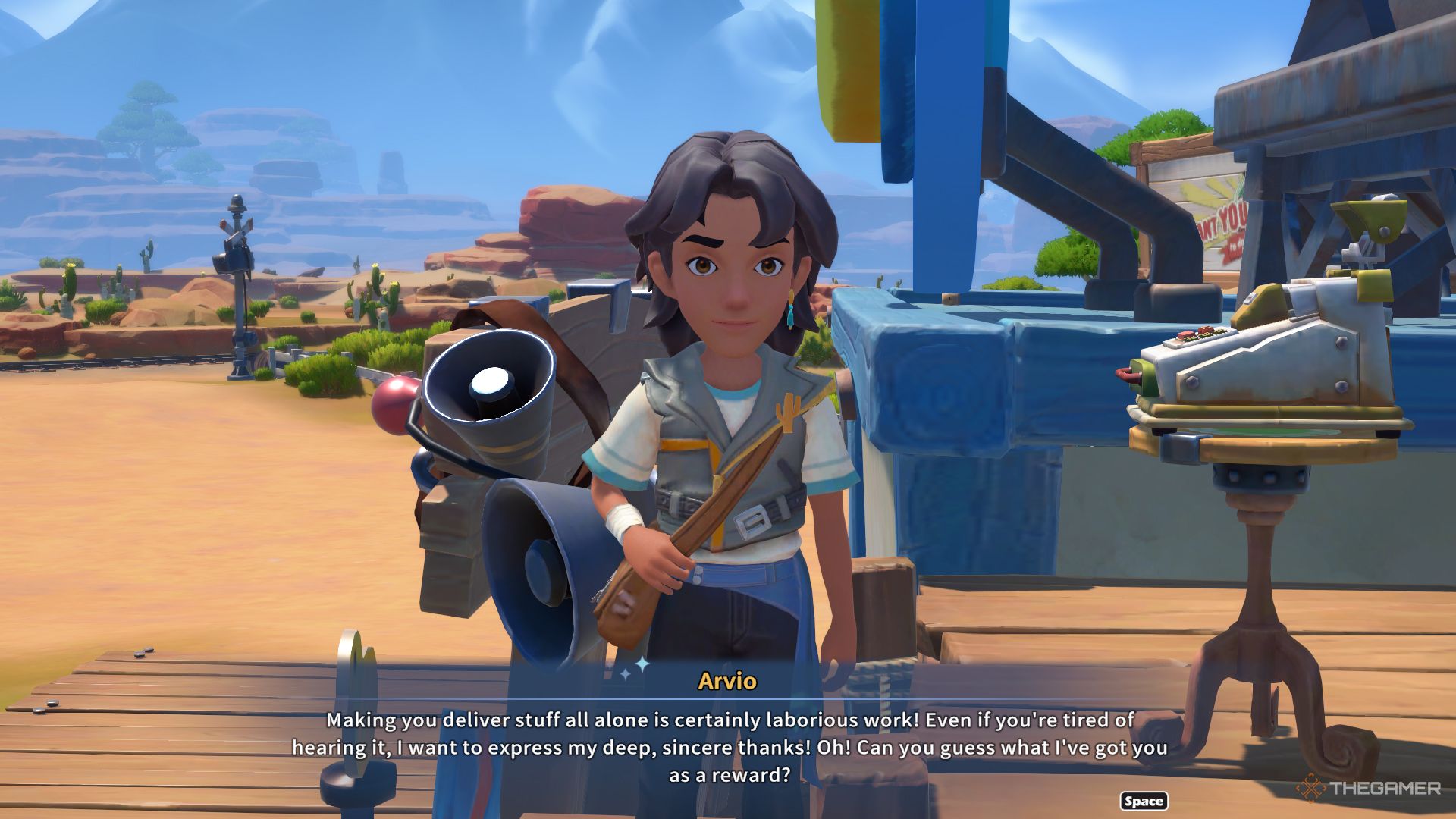 Arvio is easy to please compared to many other candidates. He can be given a gift once a day, and many are easier to find than other candidates gift preferences.
Arvio's Loved Gifts

Clothing

Creepy Pumpkin Bottoms

---

Creepy Pumpkin Jacket

---

Bunny-ear Headband

Furniture

Cute Armchair

---

Large Storage Box

---

Sandfish Aquarium

---

Simple Bookcase

---

Yakboy Swing

Resources

Diamond

Weapons

Alloy Daggers

---

Aluminum Axe

---

Aluminum Pickhammer

Arvio's Liked Gifts

Clothing

Jade Bracelet

---

Amber Pendant

---

Diamond Earrings

Furniture

Wooden Storage

---

Arvio Figurine

Resources

Gold

---

Fluorite

---

Spinel

---

Opal

Weapons

Iron Axe

---

Iron Pickhammer

---

Steel Daggers

---

Iron Dagger
Gifts To Avoid Giving Arvio
Avoid giving Arvio any kind of scrap, as he strongly dislikes it. He also dislikes steamed sweet potatoes, so avoid them as well.
Additionally, ruined items and lizard teeth should be avoided as well. Manure is outright refused.
NEXT: My Time At Sandrock: Owen Romance Guide