One of the main reasons for Genshin Impact to stay as a popular game is its main story, and the Archons are a big part of it. These characters rule the seven nations of Teyvat under Celestia, and you can get them as playable characters when the main story reaches their specific region.
RELATED: Genshin Impact: Best Builds For Furina
Furina is the fifth Archon to be released in the game, and she rules the nation of Fontaine. Being a five-star Hydro Sword user, she can be used both as a main DPS and a reaction-based support in the game. However, you'll have to choose the right weapon if you want to make her strong.
8
Favonius Sword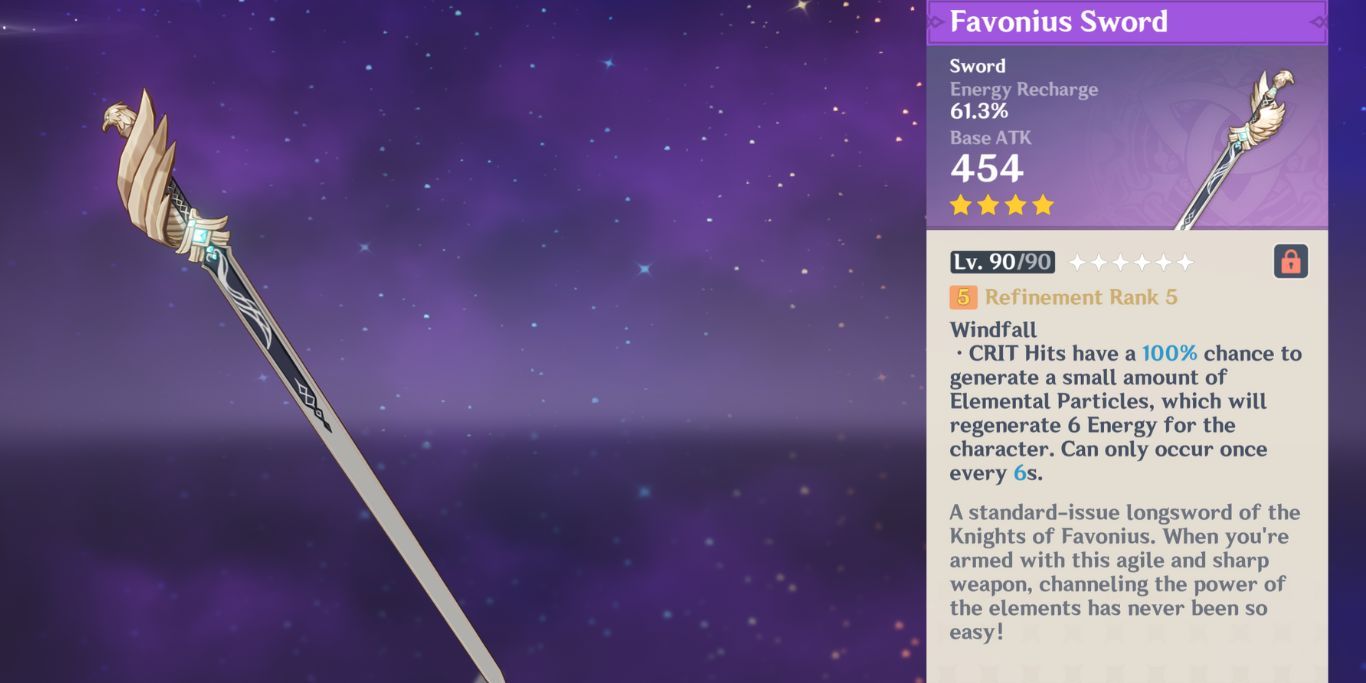 Rarity –
Four Star

Secondary Stat –
Energy Recharge
Favonius Sword is one of the early-game weapons in Genshin Impact, which means you most likely have multiple copies of it if you've been playing for a while. You can only get it from the Gacha system of the game, and it gives you a massive 61.3 percent Energy Recharge boost, which is crucial for Furina.
You only need 60 Energy to trigger Furina's Burst, but that's not easy since her particle generation can be quite bad. However, this weapon becomes a little useless if you already have a lot of Energy Recharge on her artifacts or if you're using another Hydro character with her.
7
Iron Sting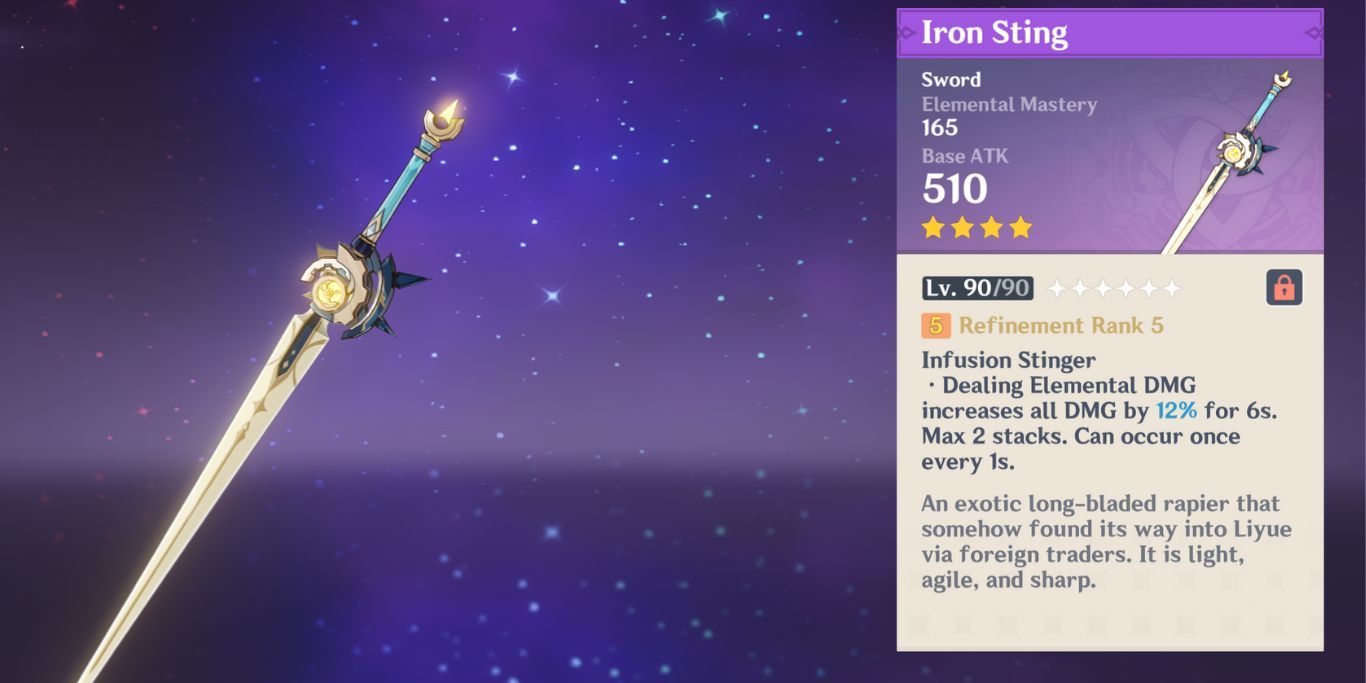 Rarity –
Four Star

Secondary Stat –
Elemental Mastery
Being another one of the early game weapons, Iron Sting gives you up to 165 Elemental Mastery once you level it fully. This can be great if you're planning to use Furina in a reaction-based team where she's supposed to trigger Hydro-based reactions. For example, you can increase the reverse-Vaporize damage with the extra Elemental Mastery.
However, the main reason for this weapon being good in the build is its ability to increase her Elemental DMG by up to 24 percent at Refinement Five. This stacks with the DMG from her passives and Ultimate and you'll be able to see her deleting all your opponents.
6
The Dockhand's Assistant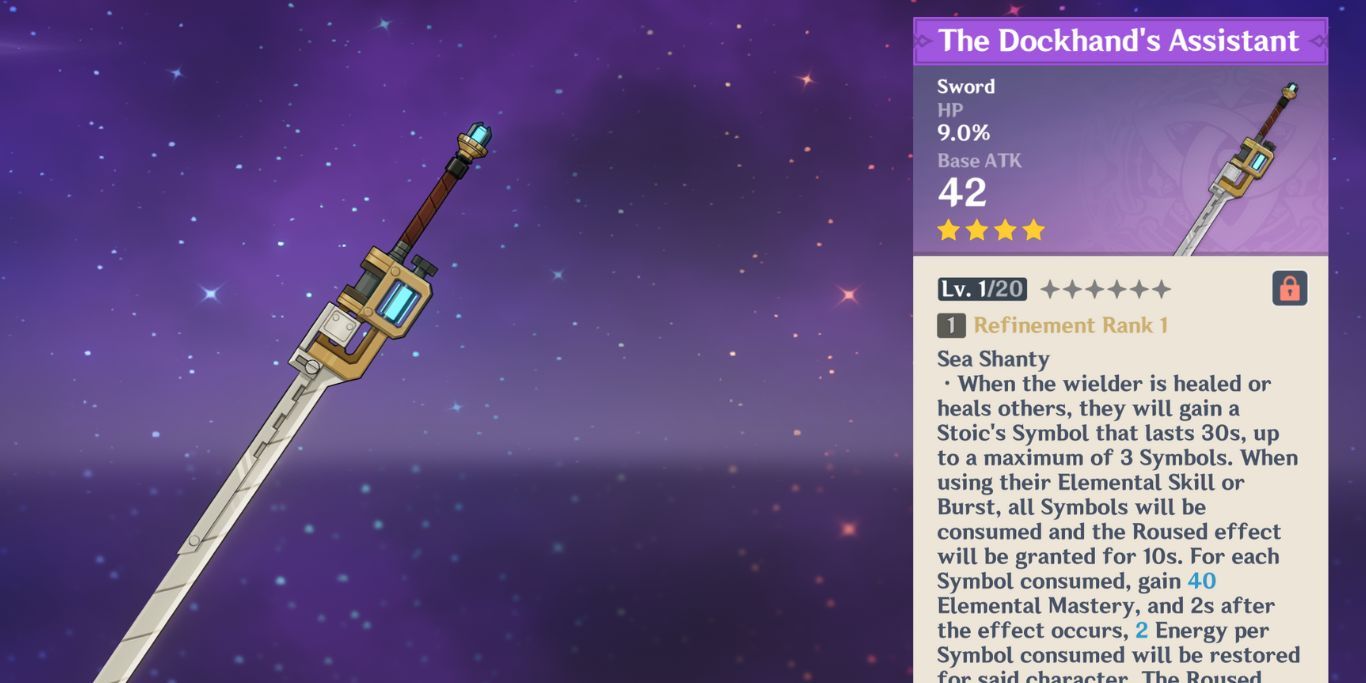 Rarity –
Four Star

Secondary Stat –
HP Percent
For the first four regions of Genshin Impact, the game had a huge lack of HP Percent weapons, which made characters like Nilou a little hard to build. However, this was fixed with Fontaine's release as this weapon was introduced in the Gacha roster, but you can only get it when it's featured on the weapon banner.
RELATED: Genshin Impact: How To Get To Fontaine
Apart from giving her a much-needed HP Percent, this weapon also increases her Elemental Mastery and Energy Recharge based on the characters healed by her or the healing she gets before using an Elemental Skill or Burst. As mentioned above, getting some extra Energy is always great for Furina.
5
Xiphos' Moonlight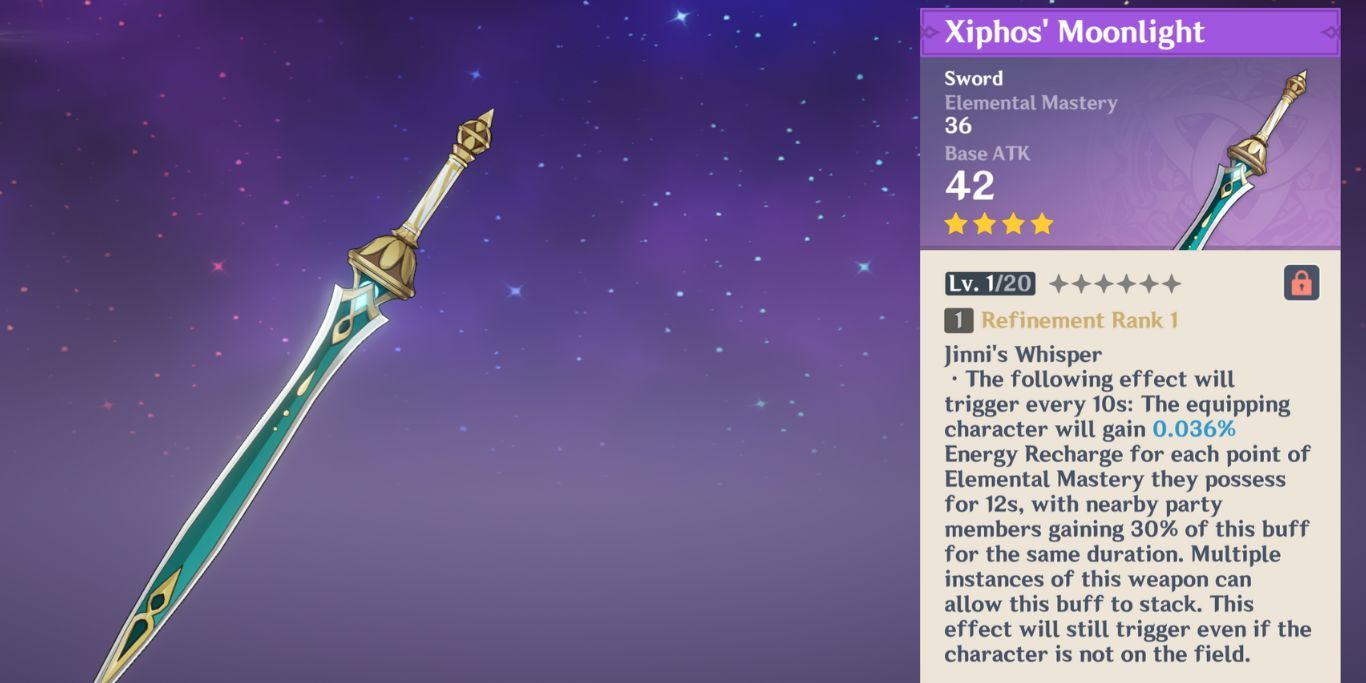 Rarity –
Four Star

Secondary Stat –
Elemental Mastery
Xiphos' Moonlight shares the same ATK and Elemental Mastery as Iron Sting once they're fully leveled up, however this weapon can be marginally better because of its passive. Every ten seconds, the weapon gives Furina some extra Energy Recharge for 12 seconds based on her Elemental Mastery.
Her party members can also receive a portion of this effect, which makes the weapon great to use on support Furina. Unfortunately, this can be a little hard to obtain since it needs to be featured on the weapon banner.
4
Fleuve Cendre Ferryman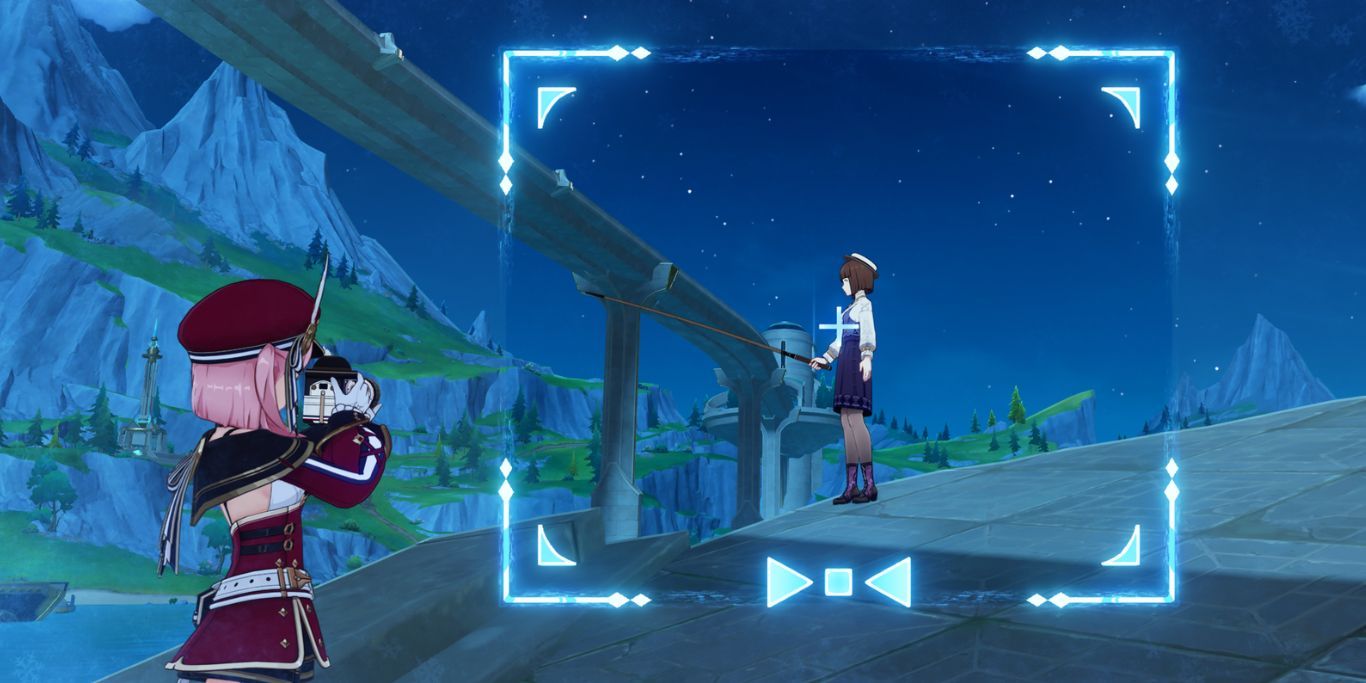 Rarity –
Four Star

Secondary Stat –
Energy Recharge
Along with the release of Fontaine, a new set of fish and fishing rewards were released, and Fleuve Cendre Ferryman was one of these rewards. You can get this weapon and its Refinement by simply fishing all around Fontaine and submitting the fish to an NPC near the main city.
It gives you up to 45.9 percent Energy Recharge, but it gives even more of this stat from the passive. You also get a bit of Elemental Skill Crit Rate, which is the main source of damage for Furina. However, this weapon doesn't have any DMG boost for her kit, which makes it not the best on her.
3
Festering Desire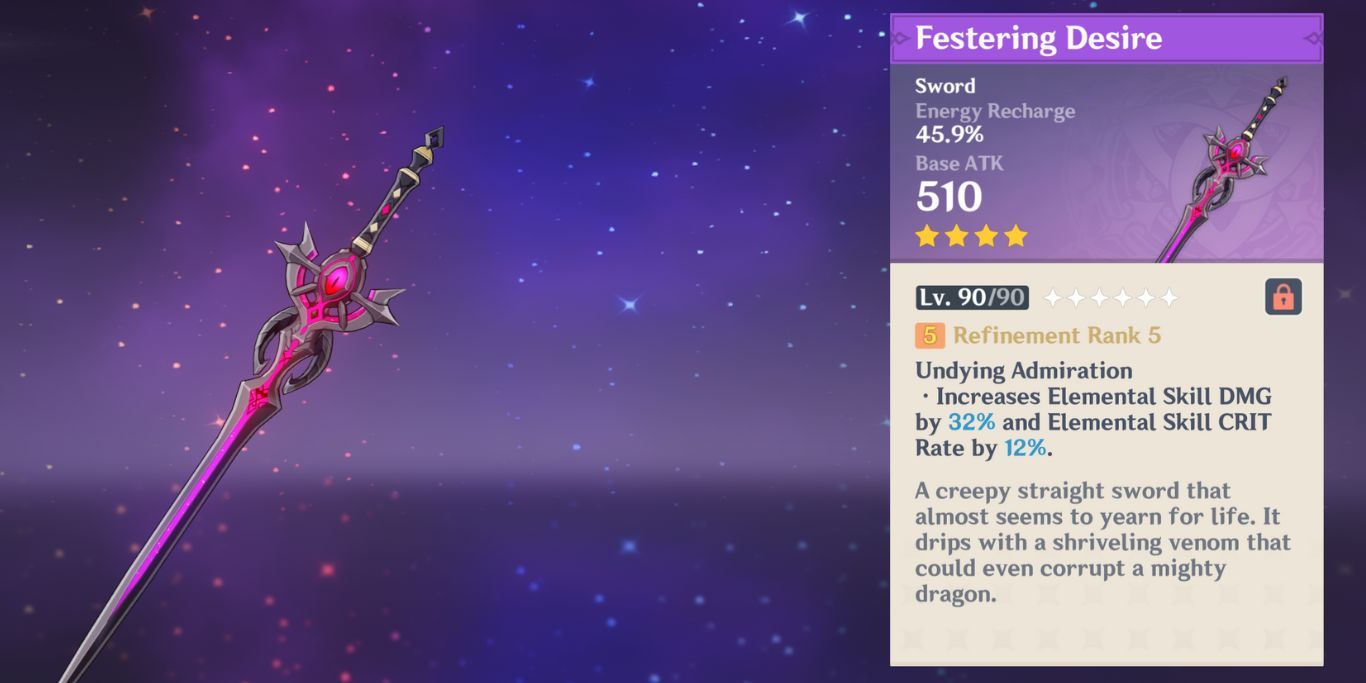 Rarity –
Four Star

Secondary Stat –
Energy Recharge
If you played during the limited-time event where you could get the Festering Desire weapon and all its Refinements, you've stumbled upon a gold mine as this is arguably one of the best free-to-play friendly weapons for Furina. Apart from the Energy Recharge, it also buffs Furina's Elemental Skill.
RELATED: Genshin Impact: Best Weapons For Bennett
This is done by increasing its DMG by a whopping 32 percent and its Crit Rate by 12 percent. Since most of her DMG comes from the Skill, this weapon will make it much easier to build her artifacts and save you a lot of Resin.
2
Wolf-Fang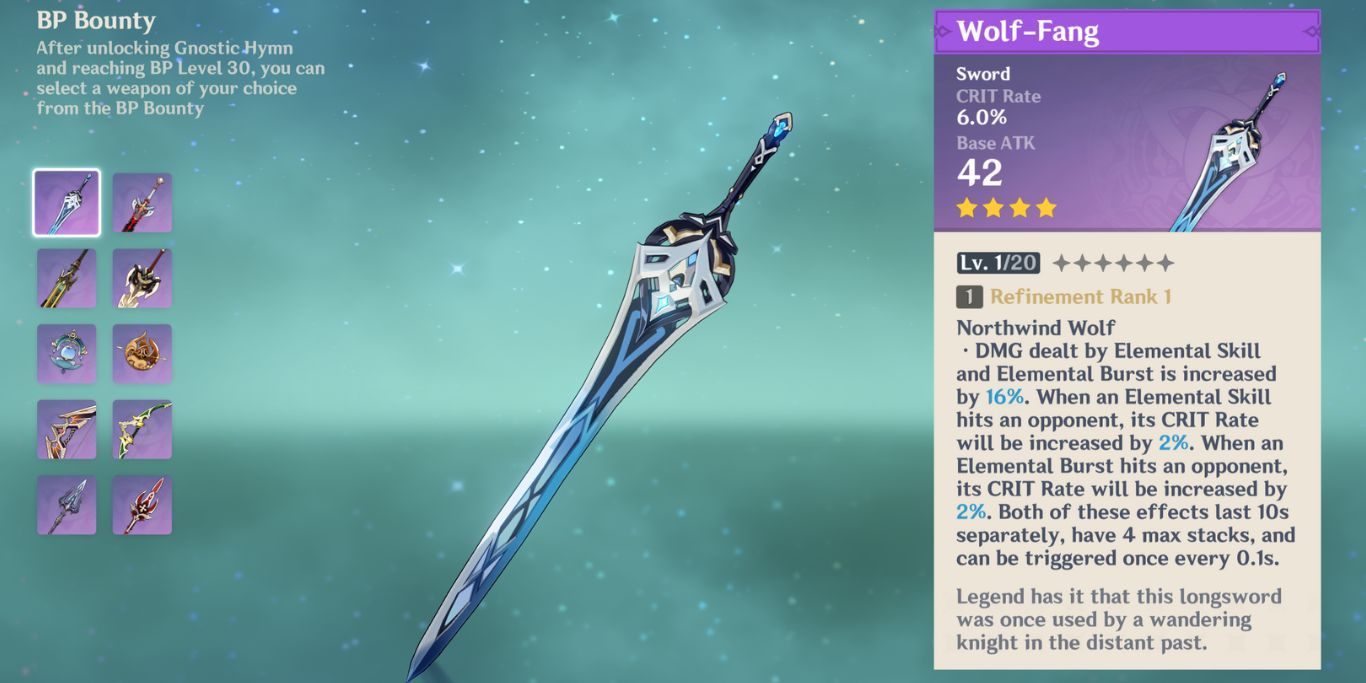 Rarity –
Four Star

Secondary Stat –
Crit Rate
Along with the Version 4.0 update, a new set of weapons was added to the battle pass including the Wolf-Fang. This weapon gives you up to 27.6 percent Crit Rate, which stacks with Furina's Ascension Crit Rate to become over 45 percent. You get another 8 percent Crit Rate from its passive at Refinement One.
It also increases your Elemental Skill and Burst DMG by 16 percent, which makes it the perfect choice as long as you can afford the battle pass to get the weapon. It gets a lot better with Refinements, but they're not necessary.
1
Splendor Of Tranquil Waters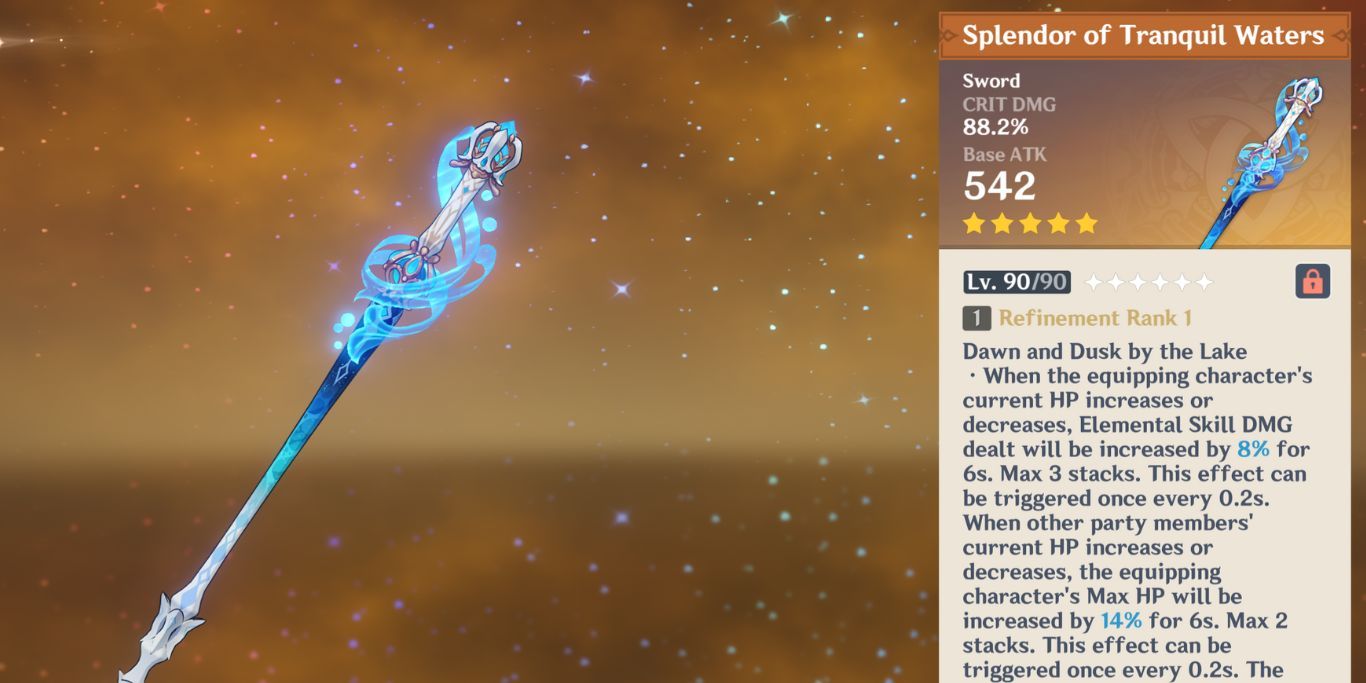 Rarity –
Five Star

Secondary Stat –
Crit DMG
Finally, Furina's signature weapon undoubtedly takes the throne of the best weapon for her with its whopping 88.2 percent Crit DMG and a phenomenal passive. This is the only five-star weapon that suits her kit since she's quite unique with the ability to both drain and heal your characters' HP.
At Refinement One, it can increase your Elemental Skill DMG and Max HP by 24 percent each. This buff can stay with her forever even if she's not on the field. Apart from all the buffs, the weapon looks absolutely beautiful on her.
NEXT: Genshin Impact: Best Builds For Wriothesley