The Commando is the default, jack-of-all-trades, character in Risk of Rain Returns. The Commando offers a perfect middle ground for players who want to be able to do a bit of everything, but not necessarily excel in any one category.
Related: Risk Of Rain Returns: Beginner Tips
That said, the Commando is still a great choice for the early game, and can even carry you through even Monsoon difficulty with the right items and Artifacts. Below, we'll take a look at everything you need to know about the Commando, including his default and unlockable abilities, the best items to use, and some tips for playing as him.
Commando Skills
The Commando starts with the following skills unlocked.
| Skill | Description |
| --- | --- |
| Double Tap | Shoot rapidly for 60% damage. |
| Full Metal Jacket | Shoot through enemies for 230% damage, knocking them back. |
| Tactical Dive | Roll forward a small distance. You cannot be hit while rolling. |
| Suppressive Fire | Fire rapidly, stunning and hitting nearby enemies for 6×60% damage. |
Unlockable Skills
You can also unlock the following skills that replaced Full Metal Jacket, Tactical Dive, and Suppressive Fire.
Skill

Description

How To Unlock

Combat Knife (replaces Full Metal Jacket)

Slash enemies for 150% damage, wounding them for 4 seconds. Wounded enemies take an extra 50% damage from all sources.

Complete the Providence Trial "Brave Heart, Steady Hand".

---

Complete 25 stages as Commando.

Tactical Slide (replaces Tactical Dive)

Slide on the ground a short distance. You can fire in either direction while sliding.

Complete the Providence Trial "Slide to the Finish!"

---

Defeat 3,000 enemies as Commando.

Point-Blank (replaces Suppressive Fire)

Take your shotgun and fire, hitting nearby enemies for 6×100% damage.

Complete the Providence Trial "A Colossal Feat"

---

Collect 300 items as Commando.
Essentially, these alternate skills turn Commando from long-range to short-range. Both sets of skills are equally as good, so choose the ones that better suit your playstyle.
Between Tactical Dive and Tactical Slide, Dive offers invulnerability while rolling, while Slide does not. However, Tactical Slide allows you to continue shooting while moving, which can be good for faster-paced scenarios.
Best Items For Commando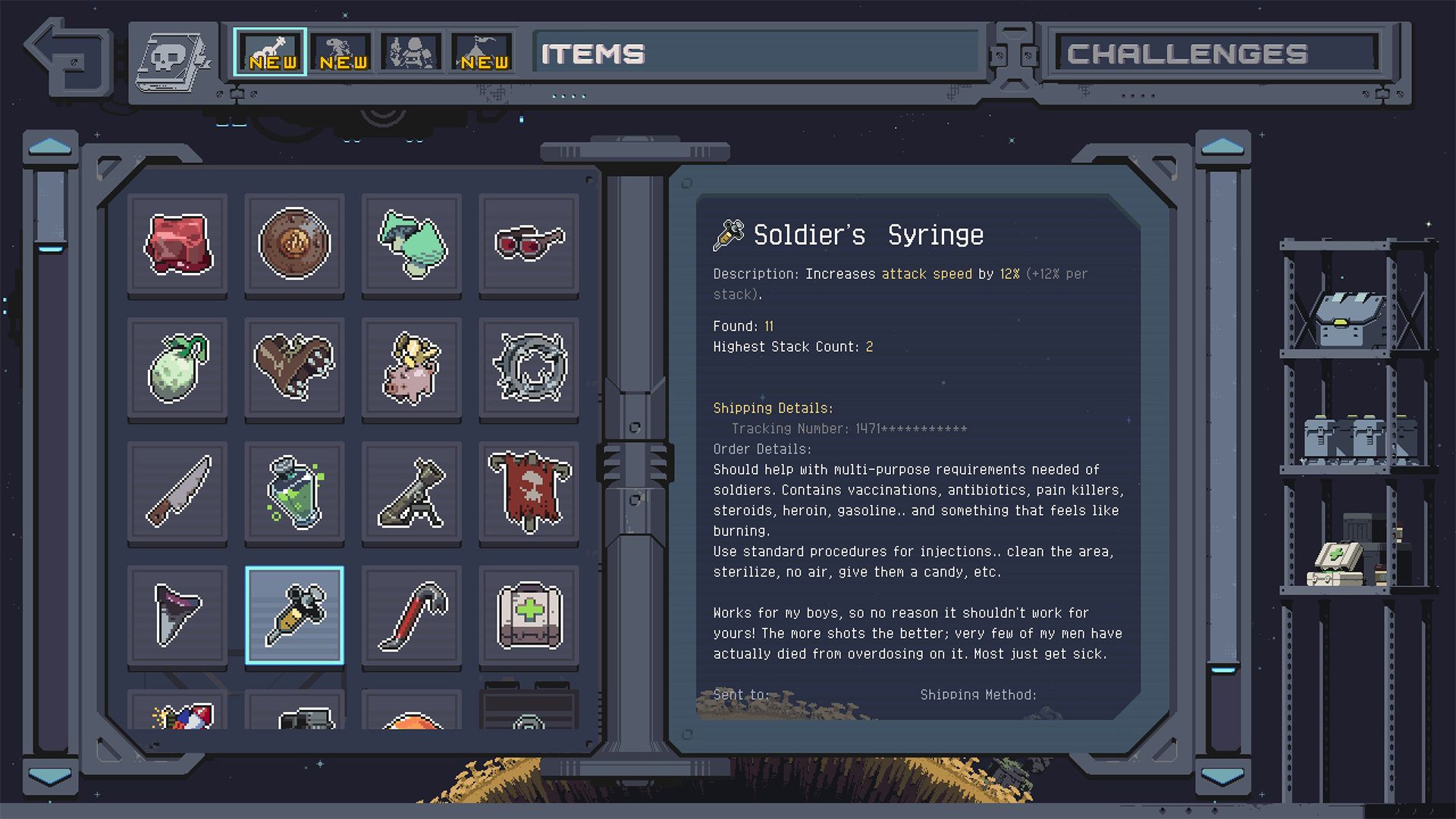 Depending on your loadout, the Commando can either be a fast, long-range damage dealer, a melee-ranged nuke, or a combination of the two.
The Commando has high base attack speed, and his basic attack and Suppressive Fire hit multiple times. This makes items that activate on hit effects especially good.
| Item | Description | Why It's Good |
| --- | --- | --- |
| Soldier's Syringe | Increases attack speed by 12%. | Increased attack speed means more attacks to activate item on-hit effects. |
| Lens Maker's Glasses | Attacks have a 10% chance to Critically Strike, dealing double damage. | Increases overall DPS while helping to activate Harvester's Scythe. |
| Rusty Knife | Attacks have a 15% chance to bleed on hit, dealing damage over time. | Increases overall DPS. |
| Backup Magazine | Gain an additional charge for your Secondary Skill. | Allows you to use Full Metal Jacket or Combat Knife more often, increasing AoE damage. |
| Meat Nugget | Attacks have an 8% chance on hit to drop 2 meat nuggets that heal you. | On-hit effect that increases survivability. |
| Ukulele | Attacks have a 20% chance on hit to fire chain lightning, damaging up to 3 enemies. | Increases AoE damage. |
| AtG Missile Mk. 1 | Attacks have a 10% chance on hit to fire a missile that deals damage. | Increases AoE damage. |
| Leeching Seed | Heal for 2 health per hit when attacking enemies. | Consistent healing with basic attacks and burst-healing with Suppressive Fire or Point-Blank. |
| Harvester's Scythe | Increases Critical Chance by 5%, and Critical Strikes heal you for 8 health. | Consistent healing and increased DPS through Critical Strikes. |
| Ifrit's Horn | Attacks have an 8% chance on hit to fire a flaming wave that deals 300% damage. | Powerful on-hit effect and AoE damage. |
| Brilliant Behemoth | All attacks explode for 20% additional damage, and deal damage in an area. | Increases single-target and AoE damage. |
| Heaven Cracker | Every 4 basic attacks pierce through enemies. | Increases AoE damage and on-hit effect activation rate. |
How To Play As Commando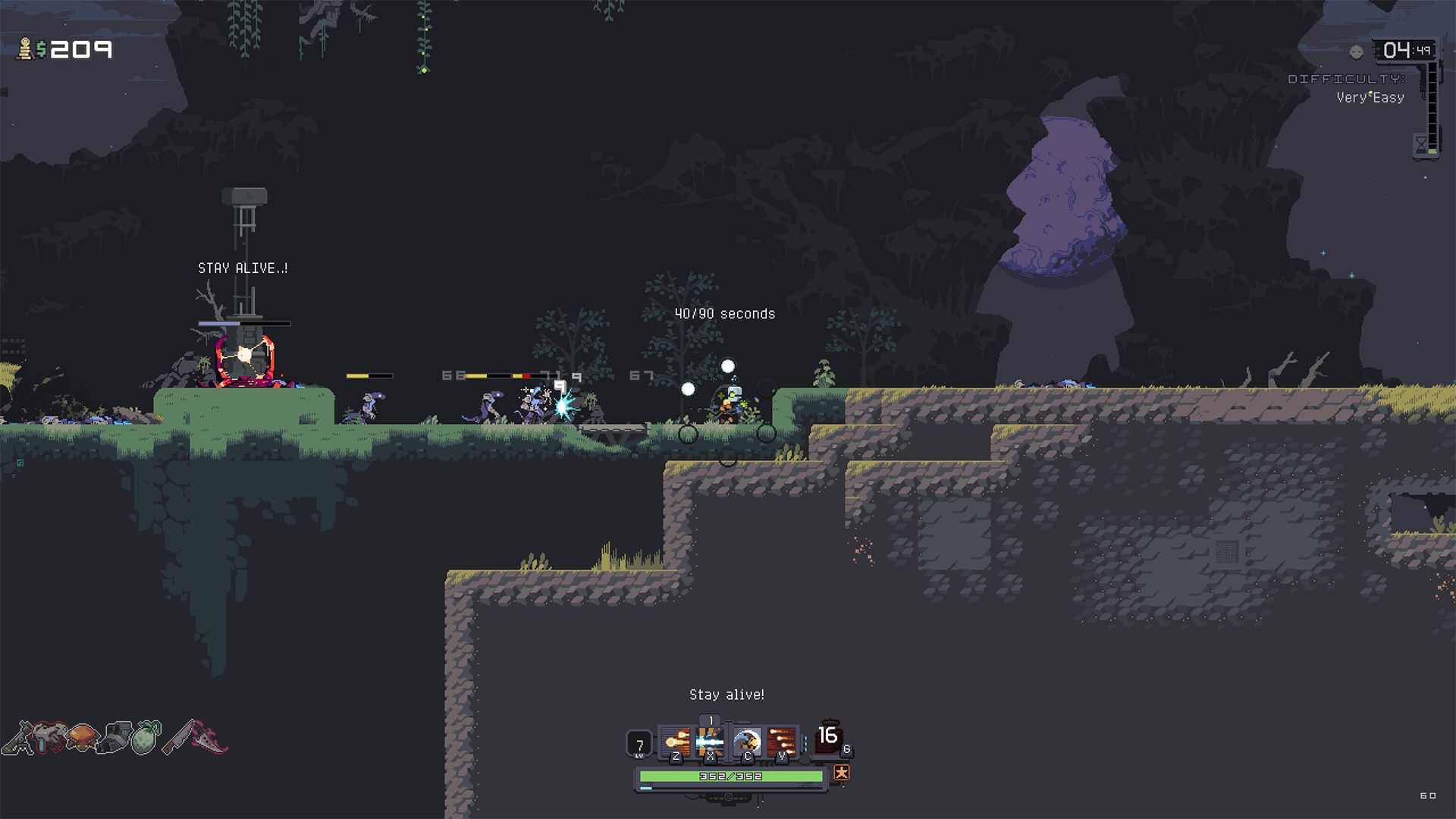 As mentioned above, Commando can be played in a variety of different ways, depending on which set of skills you select. In general, though, you will be relying on items with on-hit effects for most of your damage, as his base kit doesn't deal the most damage.
Combat Knife can greatly increase your damage to enemies, and is especially good when combo-ed into Point-Blank.
While you can stay at range from enemies, the Commando has no innate source of healing, and can only use Tactical Dive to mitigate damage. This makes getting defensive or healing items imperative if you want to stay alive. Leeching Seed and Harvester's Scythe are two of the best for on-hit healing, allowing you to sustain your health while dealing damage.
In general, the Commando can play offensively or defensively, depending on the situation. Utilizing Tactical Dive or Slide, you can maneuver around the battlefield, taking out groups of enemies with Full Metal Jacket, Suppressive Fire, or Point-Blank. Movement-buffing items are strong on pretty much every character, and Commando is no different.
Paul's Goat Hoof, Hopoo Feather, and Rusty Jetpack are just a few great movement-based items that work well on any character.
The Commando works especially well when stacking items. Because most items have an increased chance to activate their on-hit effect with more copies of that item, you'll be activating your items much more frequently the more of them you have.
Next: Risk of Rain 2: The Ultimate Commando Guide