Quick Links
What Is Organic Polymer Used For
How To Get Organic Polymer
In Ark: Survival Ascended, where you'll be taming dinosaurs and surviving in a wild, untamed world, resource gathering will quickly become a crucial part of your journey. You'll find yourself needing vast amounts of resources, one of them being Polymer. Essential for crafting a range of items from tools and armor to advanced machinery, Polymer typically requires a combination of ingredients to painstakingly craft.
RELATED: Differences Between Ark: Survival Ascended And Ark: Survival Evolved
However, there's an easier alternative! Unlike its crafted counterpart, Organic Polymer can be directly harvested from creatures, saving you multiple trips between your Smithy, Mortar and Pestle and Fabricator during the early game. This guide will show you how to find and efficiently harvest Organic Polymer.
At the time of writing, Ark: Survival Ascended is in Early Access. Changes and updates may occur, but we'll monitor developments and update this guide as needed.
What Is Organic Polymer Used For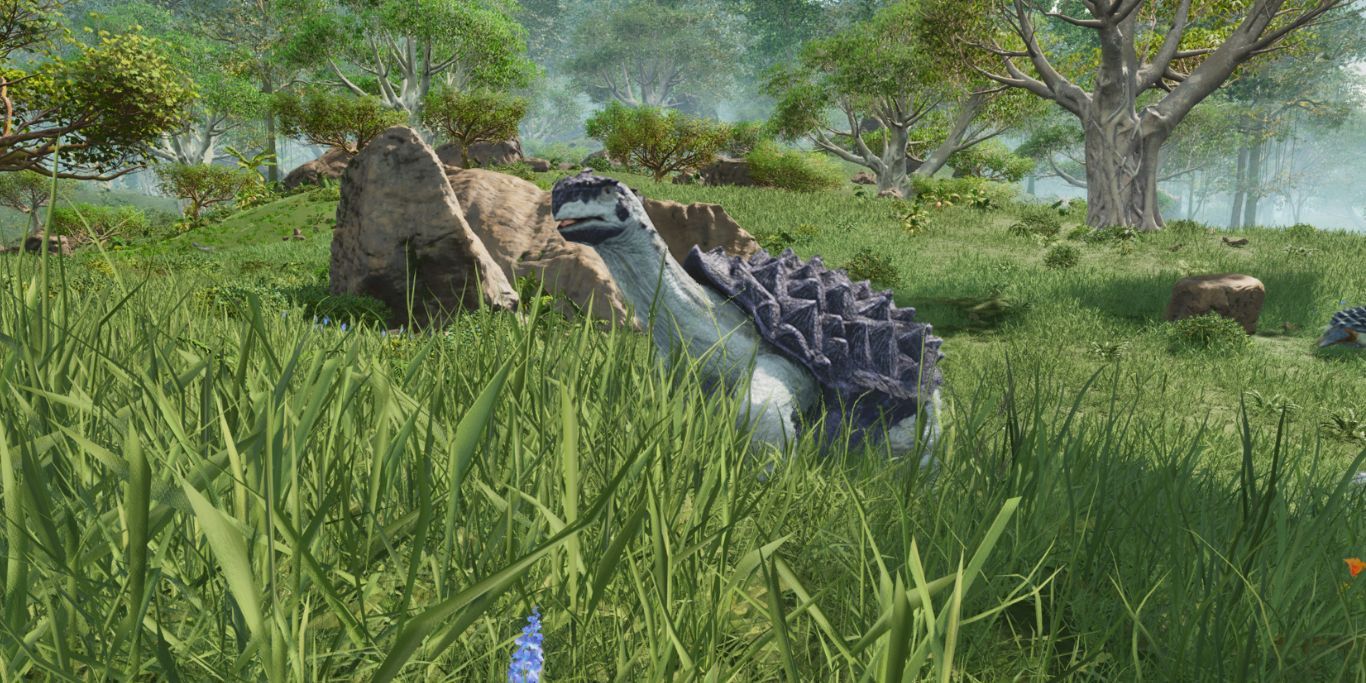 Polymer is a vital resource in the mid to late-game section of ARK gameplay, and is used to craft pretty much every piece of machinery, storage unit, and gear once you start using a Fabricator.
This includes vital machines such as the Refrigerator to store your kibble, taming supplies, and food; as well as both the Industrial Cooker and Industrial Forge, which will greatly expedite your cooking and metal-smelting endeavors.
Below is a list of items that are crafted by Polymer.
Tools

Canteen

Soap

Spray Painter

Gas Mask

Transponder Node

Transponder Tracker

GPS

Armor

Heavy Miner's Helmet

Riot Armor

SCUBA Leggings

SCUBA Tank

Tek Armor

Gas Mask

Saddles

Megalodon Tek Saddle

Mosasaur Tek Saddle

Tapejara Tek Saddle

Rex Tek Saddle

Electronics

Air Conditioner

Refrigerator

Elevator Structures

Structures

Behemoth Gateway

Industrial Forge

Chemistry Bench

Industrial Grinder

Industrial Cooker

Vault

Bunk Bed

Tek Gateways

Weapons

Assault Rifle

Auto Turret

C4 Charge

C4 Remote Detonator

Compound Bow

Fabricated Pistol

Fabricated Sniper Rifle

Metal Arrow

Pump-Action Shotgun

Riot Shield

Rocket Launcher

Rocket Propelled Grenade
Unfortunately, as a compounded crafting ingredient, Polymer is more difficult to obtain than resources such as Wood or even Metal.
Polymer has to be crafted with Obsidian and Cementing Paste. Obsidian can only be obtained on mountains and other dangerous areas, whereas Organic Polymer has to be crafted with Stone and Chitin or Keratin — which are in turn harvested from creatures with shells, horns or exoskeletons.
As you can tell, once you start needing thousands of Polymer in the late-game, it can be a real pain to obtain.
Fortunately, Organic Polymer is a convenient alternative that can be farmed directly from creatures. Unfortunately, only very few creatures in the wild produce this resource. Still, the creatures that do can be hunted and farmed with little difficulty if you know the trick to it.
Unlike Polymer, Organic Polymer will spoil. Make sure to harvest it just before you're ready to craft with it!
How To Get Organic Polymer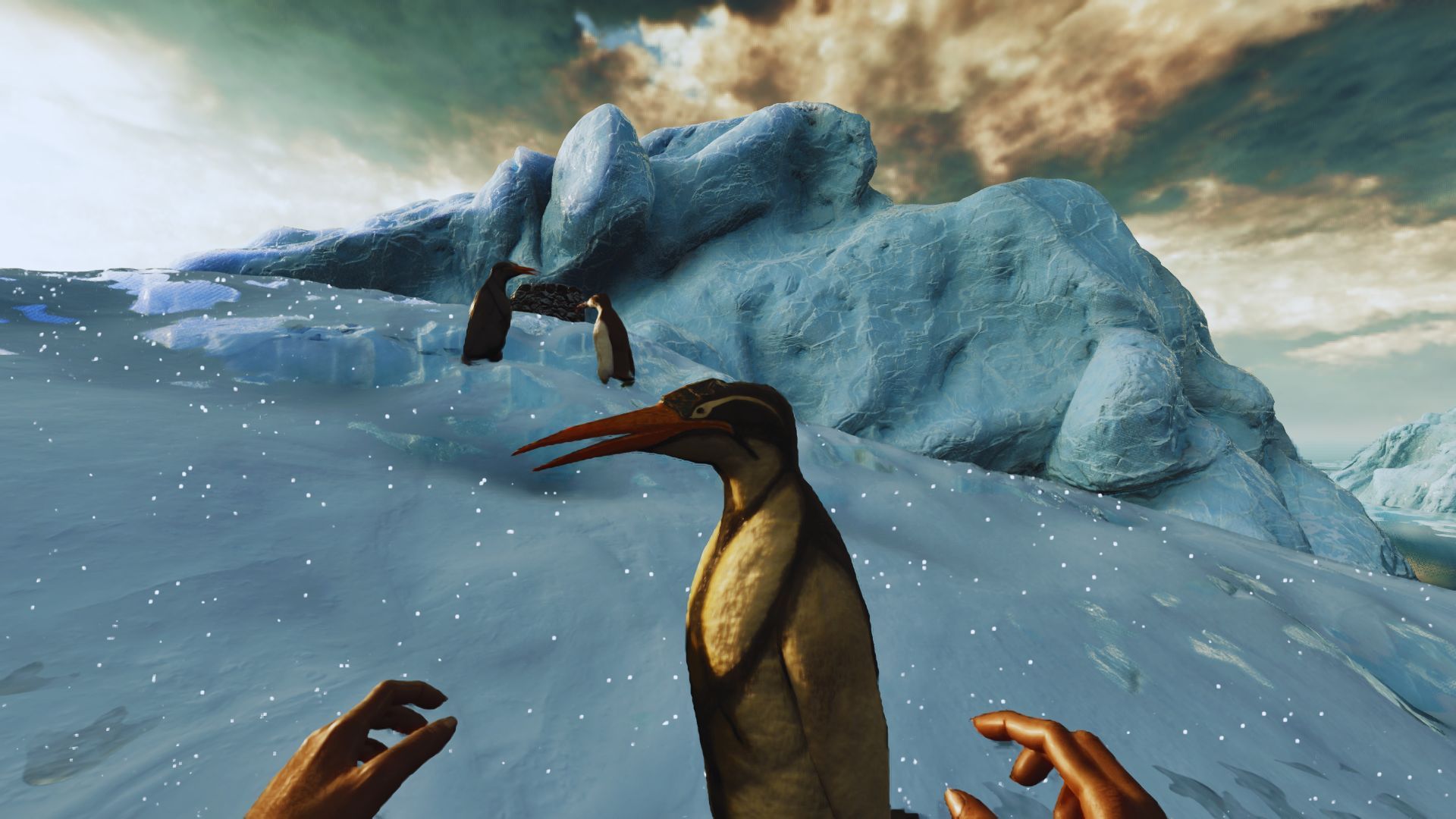 Harvest From Kairuku
The best source of Organic Polymer on the Island is the Kairuku.
The Kairuku are skittish penguins that can only be found in the far north of the Island map. They'll most commonly be found along the glaciers and near water areas.
The tools and creatures are the most efficient at harvesting Organic Polymer from the Kairuku, ranked in order of effectiveness.
Sword or Club
Direbear
Yutyrannus
Pelagornis
Due to how difficult and dangerous the snowy mountains — where the Kairuku spawn — are to traverse, it is ill-advised to bring a Direbear or Yutyrannus up there.
As such, despite being marginally less efficient, the Pelagornis is the best tame to bring hunting for Kairuku, as they can fly, automatically harvest a Kairuku corpse in one bite, as well as land on the water near the Kairuku spawn areas without dismounting you.
A Kairuku farm can be created by taming several female Kairuku and one male Kairuku, and setting them to mate automatically in a breeding pen outfitted with Air Conditioners to regulate the egg temperature. Killing a baby Kairuku will yield both Organic Polymer and Raw Prime Meat, which is good for taming carnivores.
The level of the parents and babies do not matter when it comes to harvesting resources.
Harvest From Achatina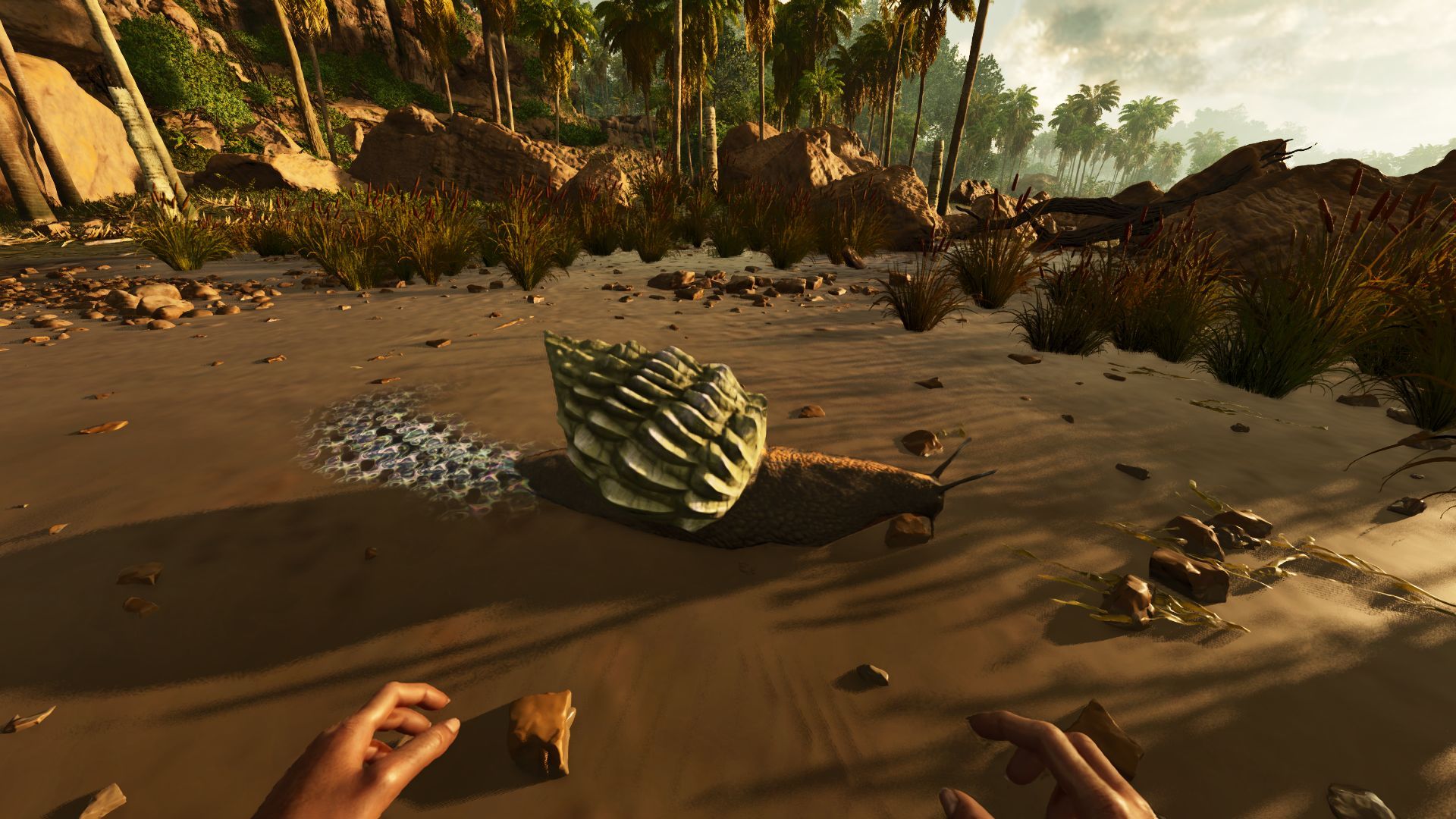 For those who find clubbing baby penguins difficult to stomach, not to worry: there's a non-violent way of obtaining this resource.
You can also harvest Organic Polymer from the Achatina, the giant snail that can be found around the southern swamps of the Island.
When set to 'Wander', the Achatina generates Achatina Paste and Organic Polymer passively, which are crafting alternatives for Cementing Paste and Polymer respectively. You can harvest these resources from its inventory every so often, though it will also drop Achatina Paste on the ground as it wanders.
To tame an Achatina, you'll need to knockout-tame it with copious amounts of Sweet Vegetable Cake. The cake itself is a bit of a hassle to get, as it requires several crops and tree sap.
However, once you have a good amount of Achatina, you'll be set on these two vital resources (or at least need to run around to collect a whole lot less of them).
When being produced and held in an Achatina's inventory, Organic Polymer spoils significantly slower than when outside. Make sure to leave it in there!
NEXT: Ark: Survival Ascended – How To Get Silica Pearls