Though you're able to source the majority of your resources in My Time at Sandrock, nobody can ever really go it alone. For anything you're not able to find in the desert yourself (or for anything you'd rather buy than craft), head to one of the surprisingly numerous stores in the town of Sandrock.
RELATED: My Time At Sandrock: Beginner's Tips
Offering everything from food to clothing to materials and more, if you need something, the residents of Sandrock probably have it for you, if you're willing to part with a few Gols or medals. You can even sell your unwanted items to them for cash, too.
​​​​​
How To Buy And Sell From Shops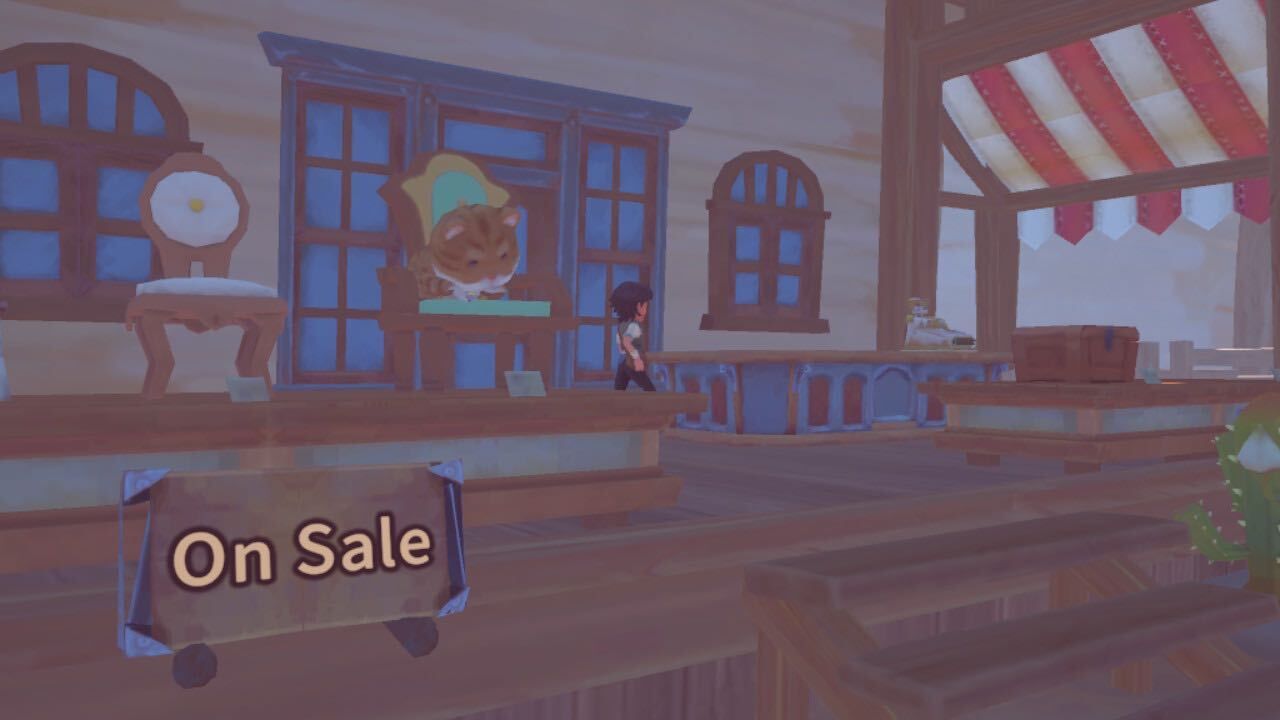 In My Time at Sandrock, you'll be gathering plenty of resources yourself as you go about your daily life, but for everything else, there are vendors in town that have you covered.
At any of the shops listed in this guide, you're able to both buy and sell items, typically working within a specific niche that every store offers.
Covering a little bit of everything and offering some items you can't seem to get elsewhere, the stores in Sandrock are symbolic of the town working together – you can't do everything on your own!
To buy items from a store, simply interact with the cash register located either inside the store building or out on the porch in front. It'll have a purple symbol above it to direct you where to go.
On the buy page, all you'll need to do is select the item you want and confirm that you're buying it – easy as pie. It heads right into your inventory after that.
On the flip side, the selling page can be accessed from the top of the menu screen at a cash register. When you flip to the selling page, you'll have every item you can sell there highlighted in your inventory.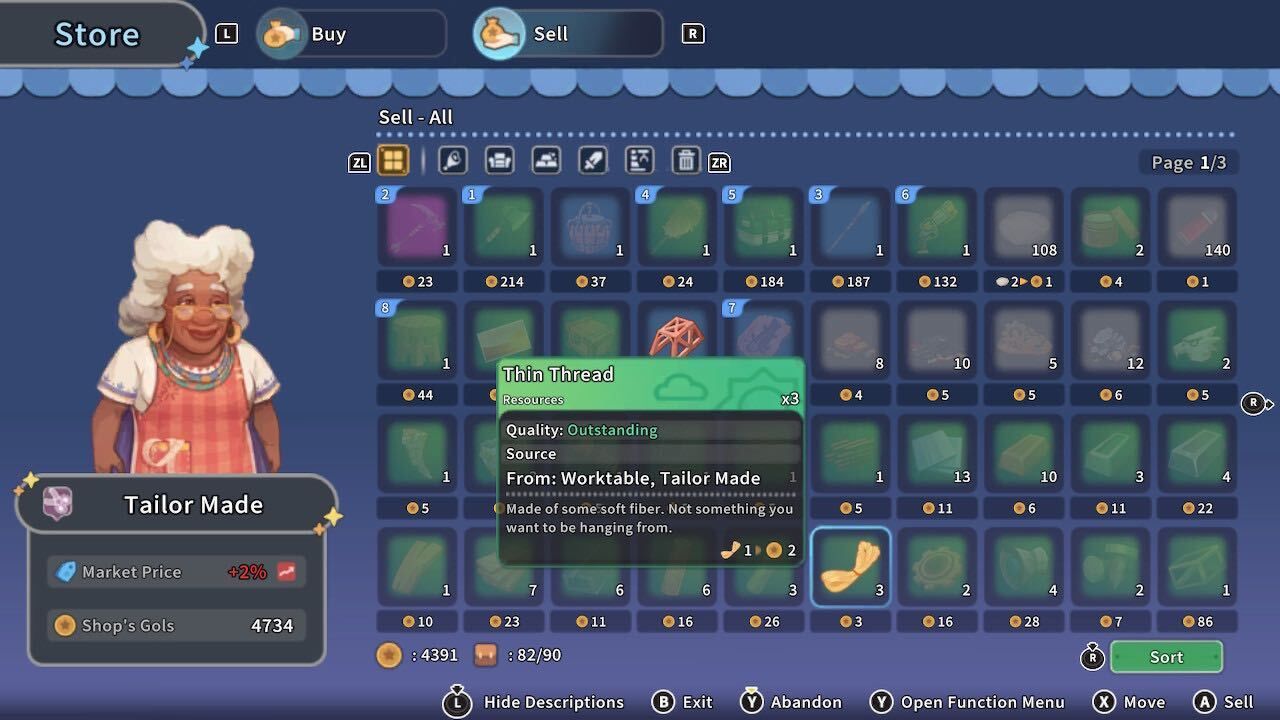 Anything not highlighted cannot be sold in this shop. Vendors only buy items like what they sell, which means you can't sell the tailor your old pickhammer – you may be doing a bit of traveling to offload your goods.
This doesn't seem to apply to general stores, though, like By the Stairs or the Commerce Guild store. They're more likely to purchase anything you have on offer, due to the nature of their shops.
Shops only have a limited number of Gols on hand, so you can't sell anything more expensive than they can actually buy.
Market Price, Explained
When you open a store's buy and sell page, on the left side of the screen beneath the store's owner, you'll see a box of info that features the name of the store, the shop's current Gols on hand, and the market price, as denoted by a blue tag.
This text will either be in red or green depending on the state of the market that day. The number changes daily, and the market price shown influences the buy and sell price of goods.
The market price is the same for every shop each day, but it'll impact how you shop. It's best to buy when the market value is negative to ensure the lowest price for your builders.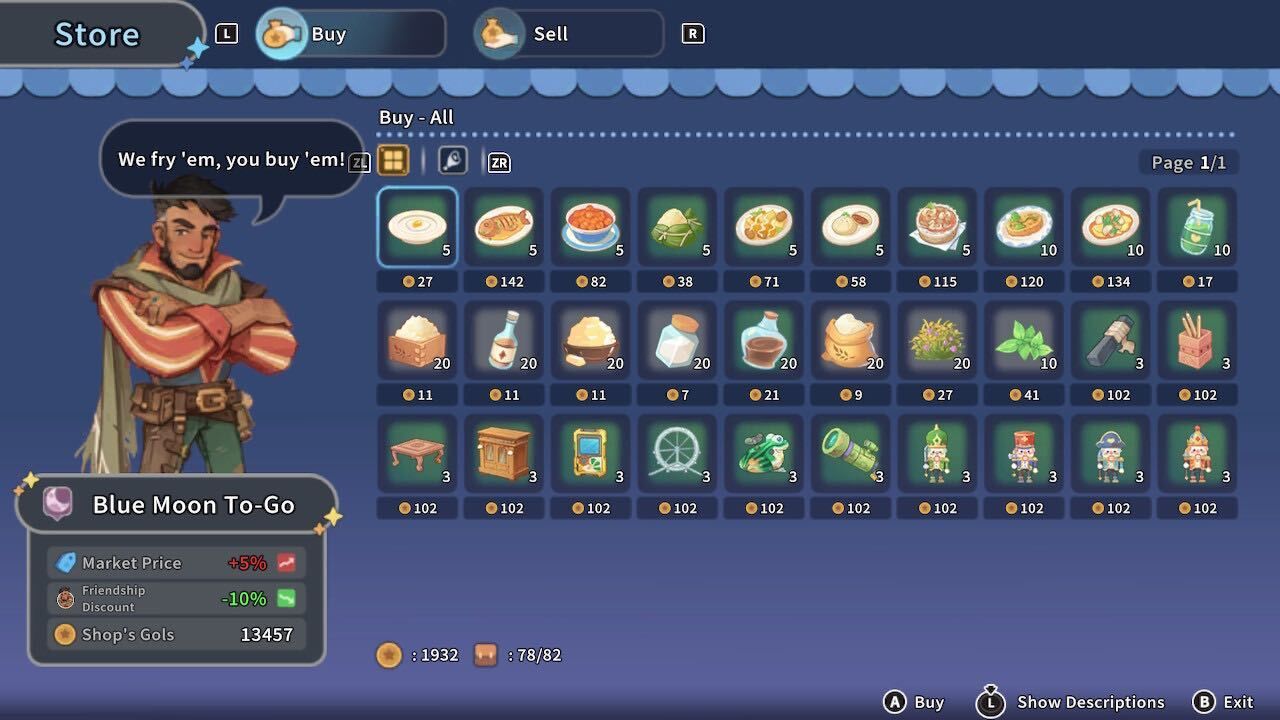 On the flip side, if you can, wait to sell until the market value is positive to earn more cash per item sold. We've seen the number fluctuate between -20 and +20, so keep checking back to get the most out of your sales.
Make Friends To Earn Discounts
Finally, you'll likely have noticed that you've been gaining relationship points with the townsfolk, who offer relationship perks to those they're closest with.
For the majority of the store owners, your friendships with them will net you discounts at their store that progressively increase as you get closer.
If you have an active discount, you'll see it in green text below the market price for the day.
RELATED: My Time At Sandrock: Workshop Rankings, Explained
Every Store In Sandrock And What They Sell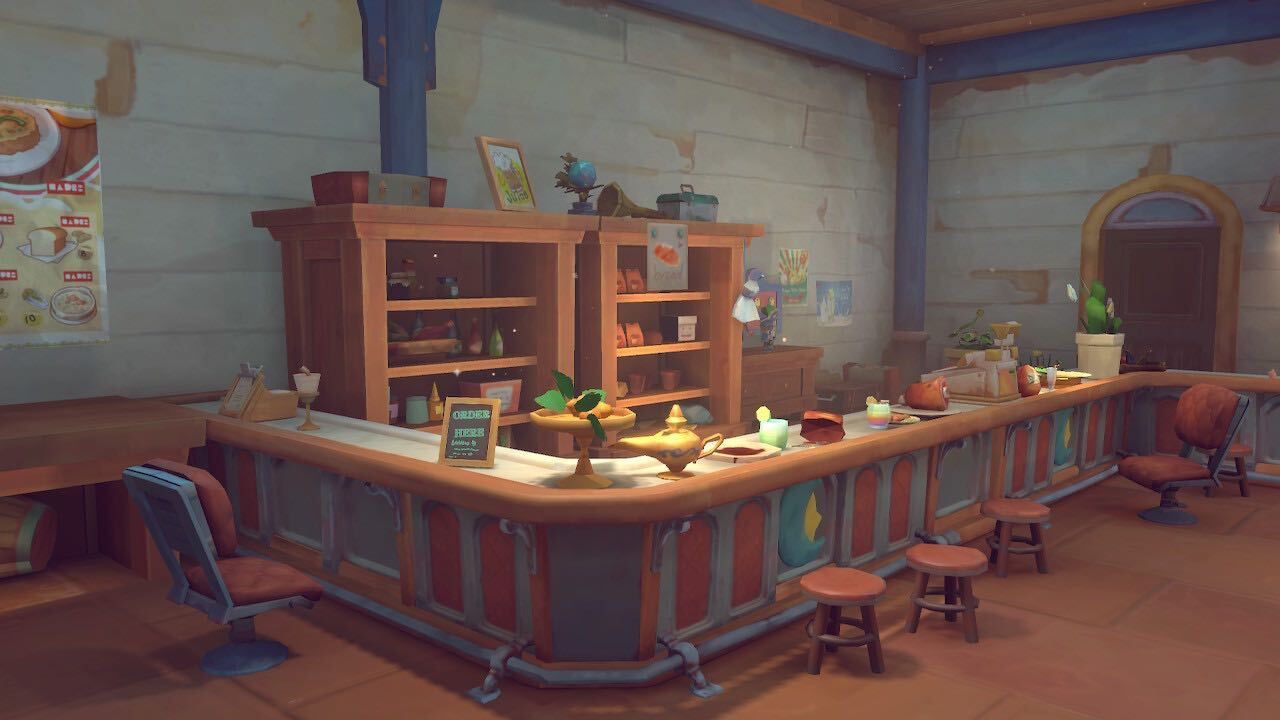 Blue Moon Saloon
The Saloon is a great place to stop in if you need any meals for your upcoming missions or expeditions. Run by Owen with Grace serving as a faithful line cook, the pair serve up all kinds of dishes you can either eat immediately or take to go.
Additionally, at the to-go counter on the right, you can also purchase some of your own cooking ingredients if you're getting into meal prep in your own time.
You can find it pretty easily – just look for the blue moon sign on the building as you head into Sandrock from your Workshop.
By The Stairs
Any odd or end you could possibly want to have in Sandrock, Arvio has you covered. At By the Stairs, you can find a really varied selection of general goods. This will include items like resources, furniture, baby supplies, and so much more.
Stock seems to replenish every day, making By the Stairs a good place for staple items.
As the name implies, Arvio's store can be located across from City Hall by the stairs that lead down to the Oasis.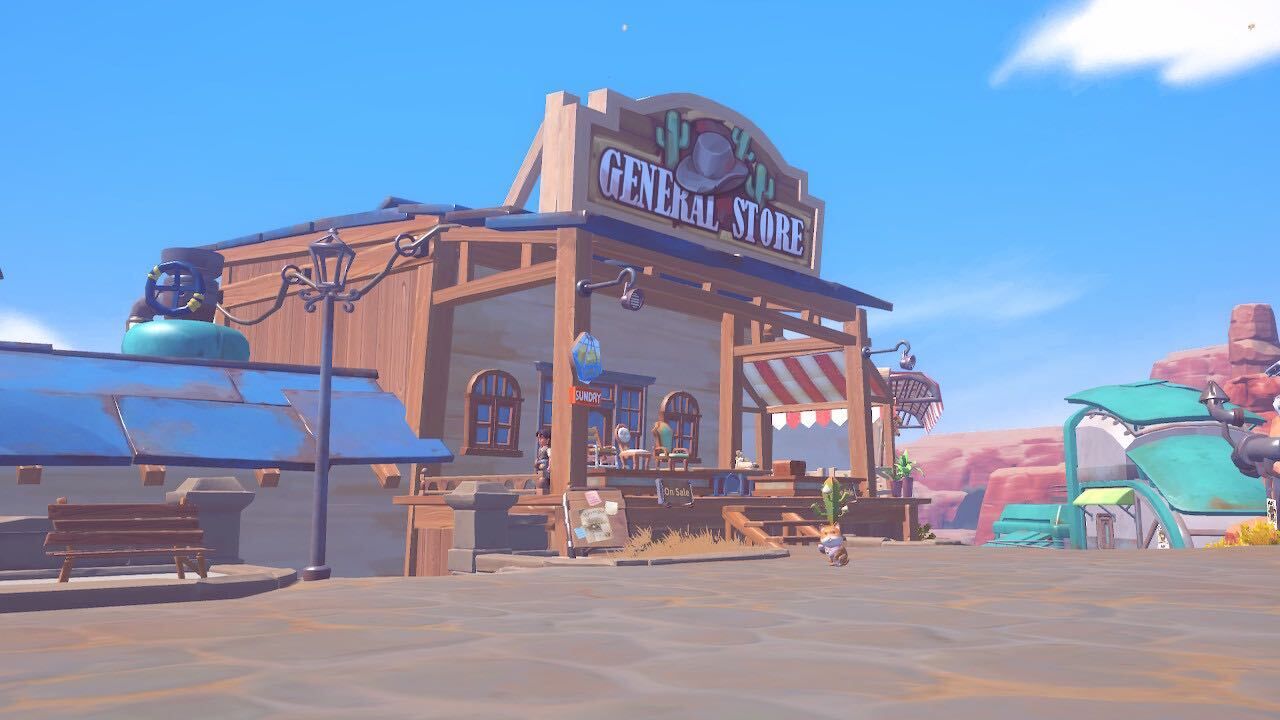 Civil Corps
With Justice as the leader of the Civil Corps and their work tied so closely to the main story, you'll likely end up here quite a few times. By using the cash register inside the Civil Corps building, you can purchase both rarer mining resources and assorted clothing.
Located just past City Hall on the main road through the lower part of Sandrock, Justice's goods can be purchased in exchange for tokens rather than Gols. You'll receive these for you work with the Corps.
The Clinic
Though Fang himself is the strong, silent type, he and his bird, X, sure do make a number of potions and healing items over at their Clinic. If you're going monster-hunting, you'll want to stop by!
Fang's Clinic can be located up by the sparring arena near the Game Center and Museum.
If you're feeling brave, Fang conducts medicinal experiments outside his Clinic on Wednesdays and Fridays during the day.
It's a good chance to potentially gain a new stat perk, and Fang may extend his inventory when finding successful medicines.
Commerce Guild
Saying that Yan "runs" the Commerce Guild feels generous, given how often you can find him with his feet kicked up on his desk. When you head in to grab a commission, though, check out the cash register by the door.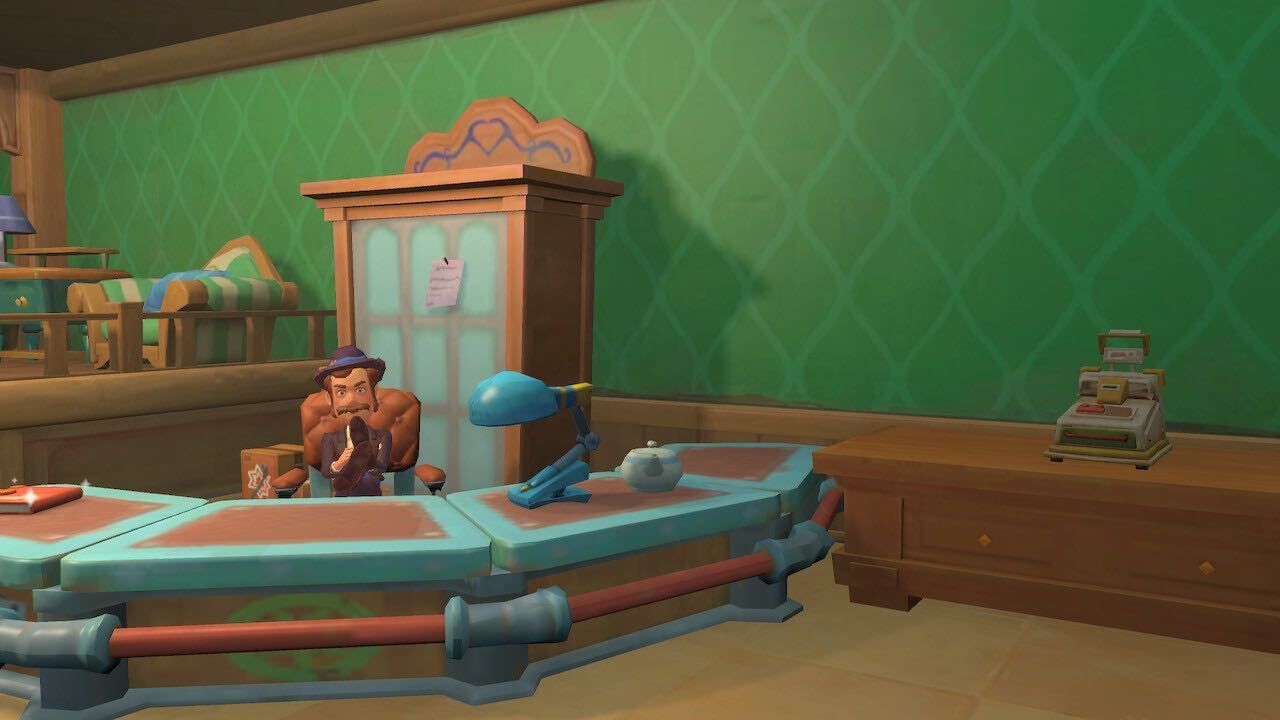 At the Commerce Guild Store, you can find all sorts of items like furniture or basic resources, but you'll also find a wealth of furniture blueprints available for purchase, if you'd like to get crafty at home.
Construction Junction
Although there are plenty of more formal services you can request here, Heidi also has a cash register in the corner at Construction Junction that sells furniture and desert resources like Stone and Marble.
Construction Junction is located to the right of City Hall, and you can also access the architectural catalog inside whether Heidi is there or not, if you have home renovations to make.
Eufala Salvage
While you'll need the pass to the salvage yard to get into the Abandoned Ruins and the scrapyard itself, Rocky and Crystal have a cash register inside the building along the fence at Eufala Salvage.
There, you can grab all sorts of mining materials that other folks have found down in the Ruins, if you're not heading down yourself.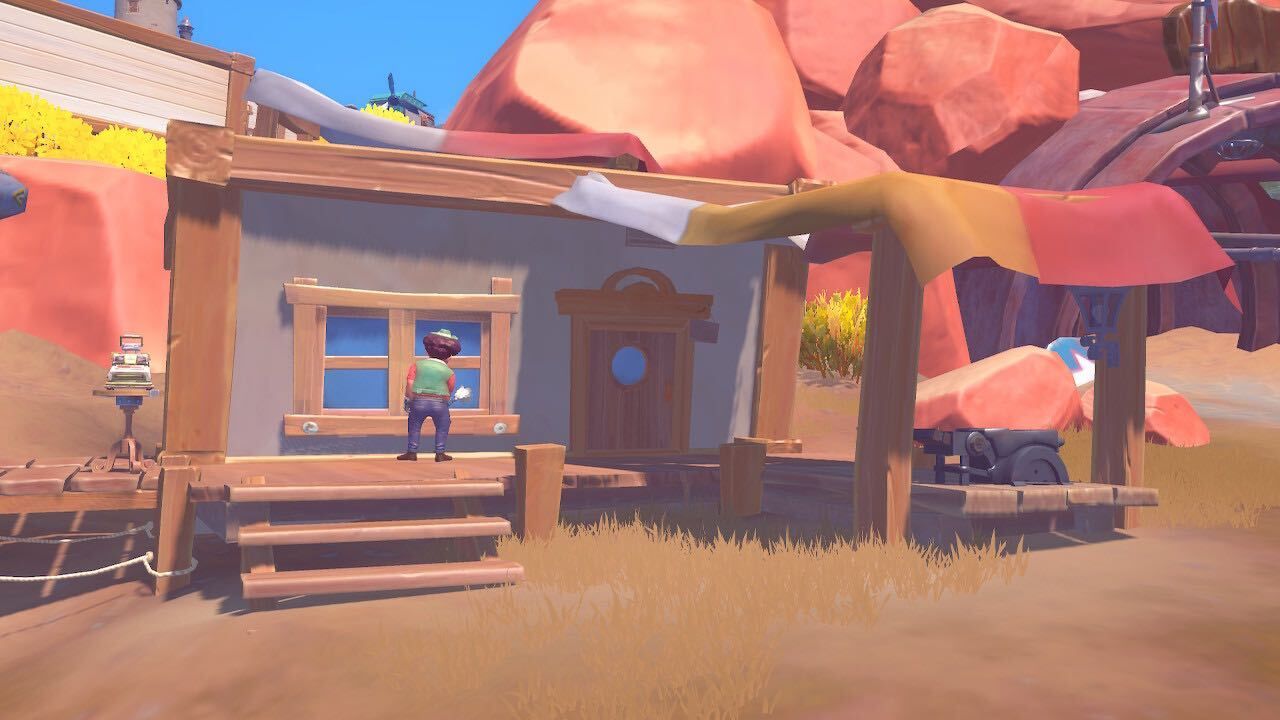 Hammer Time
Hugo knows exactly how skilled he is at blacksmithing – he'll tell you himself – but his work on weapons and blacksmithing materials like finished ore bars says everything for him, too.
While Hugo can often be found off-hours hanging out at Vivi's house (she is his mother, after all), Hammer Time is next to the Blue Moon Saloon's stage as you're heading up toward the northern part of town through the tunnel.
This also seems to be the only place in the early game where you can get the Sharpening Stones required to improve your tools.
Moisture Farm Store
Though it's locked behind the story progression of your builder improving Sandrock, Zeke will eventually open the Moisture Farm store again to sell you seeds and gardening supplies.
His shop is quite a bit out of the way, though – it's North of the Clinic, down the mountain, meaning it's way easier to take the Yakmel Cart up there. Inside the building, the cash register itself is to the left when you first walk in.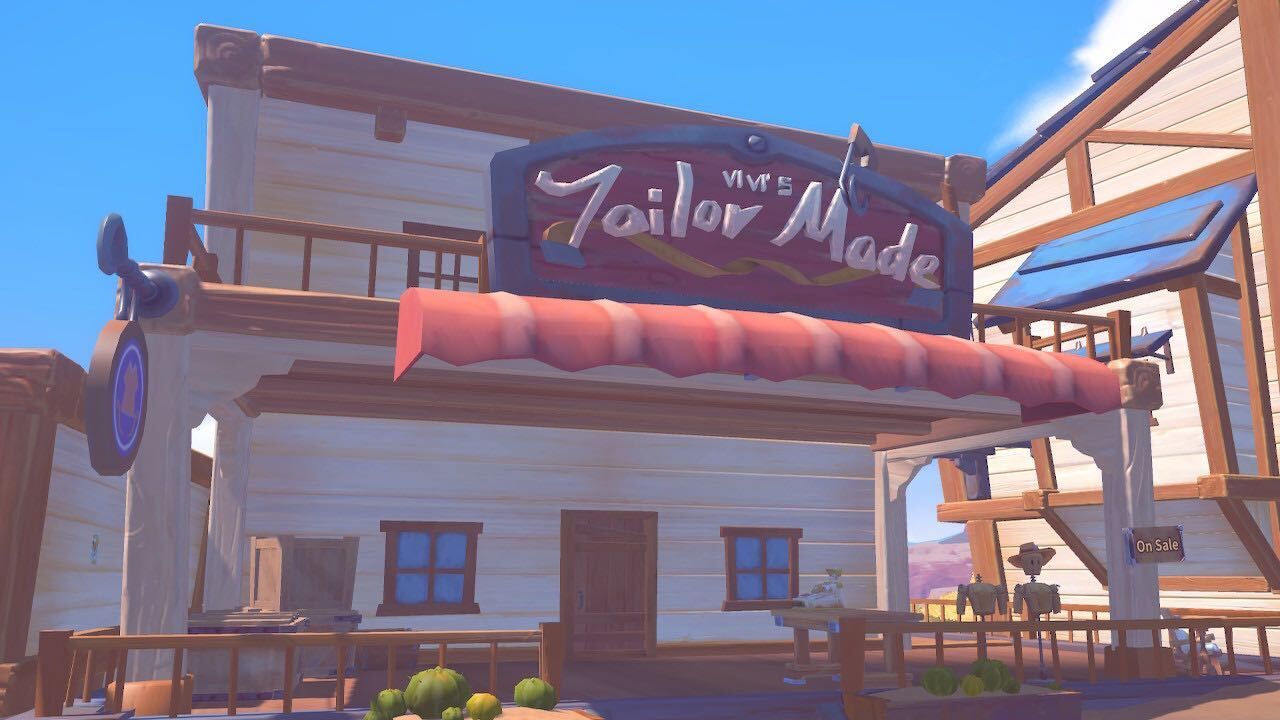 Tailor Made
Vivi certainly feels like Sandrock's grandmother, as one of the oldest residents, and true to that nature, she runs Tailor Made, the clothing store in town.
Whether you're looking for outfits that Vivi made or just the materials to make clothes at the Workshop on your Tailoring Machine, Vivi has what you need.
You can find her shop next to the Commerce Guild, where you'll occasionally see some of the town's pets hanging out by her cash register.
Wandering Y
While it's her husband Cooper out in the fields doing the dirty work, Mabel stays near the house to look over the Wandering Y store, which sells the Ranch's animal goods and some homestyle meals.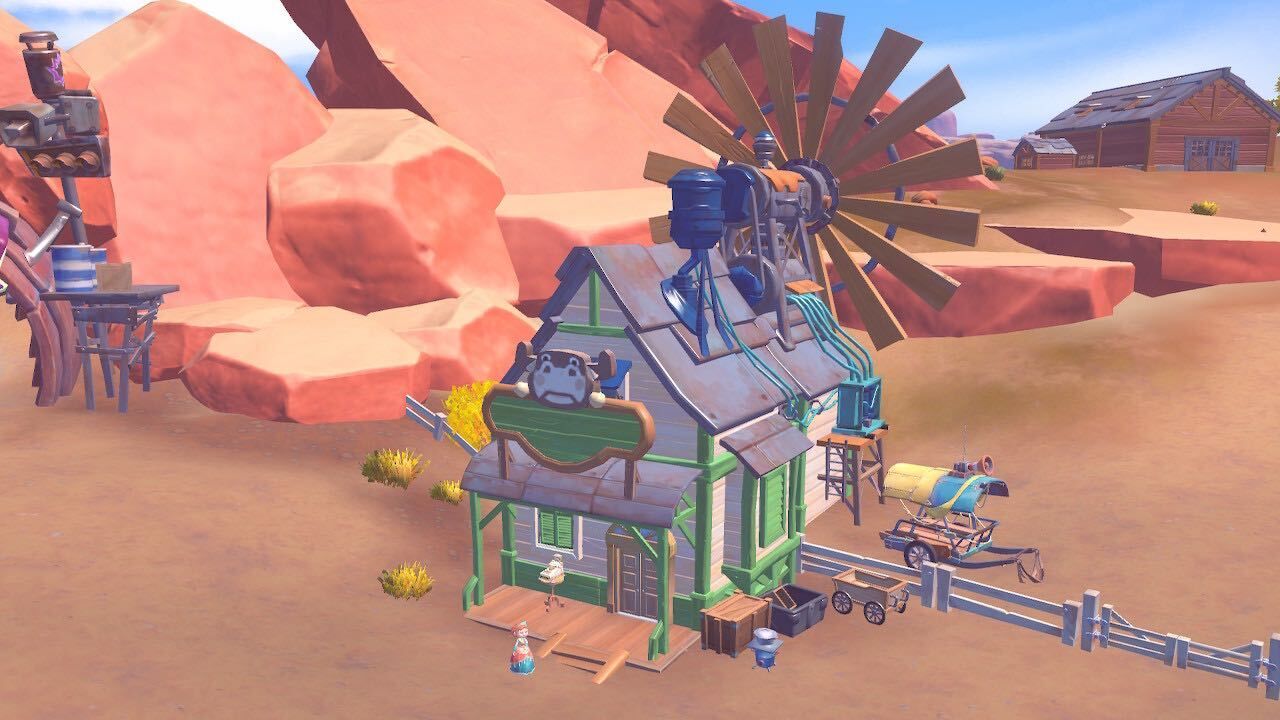 There are also cash registers on the Ranch property that allow you to rent mounts and purchase animals of your own.
If you're looking for the Wandering Y, you don't have to go far: it's across the train tracks from your Workshop on the left. You'll usually see Mabel outside by the register, too.
Water World
Living in such a harsh environment like the Eufala Desert, having a steady supply of water is critical to your daily life. Burgess is in charge of this, and you can buy water from him if you don't have enough Dew to make it at home.
Located at the far end of the Oasis from your Workshop just down the namesake stairs from Arvio's shop, Burgess has the most valuable resource of all and will sell you some in exchange for Gols.
Additionally, once you've helped Zeke at the Moisture Farm and have begun farming yourself, Burgess will also sell seeds and gardening supplies.
Seeds cost Data Discs instead of Gols, so plan your shopping out carefully, as this is also the currency that the Research Center uses to prototype new machines.
NEXT: My Time At Sandrock: Knowledge Points, Explained