There is no one right way to do battle in Lies of P. Although difficult, the game continuously encourages and rewards those who seek to try new things and apply creativity in balanced harmony with skill. Technique builds in particular are fluid not only in their movestyle but also in their development.
RELATED: Lies Of P: Best Motivity Build
While this guide seeks to give you a template for your Technique build from stats to weapons and everything in-between, the essence of any Technique build is to weasel your way into a solution that works for you – no matter the cost.
Best Stats For A Technique Build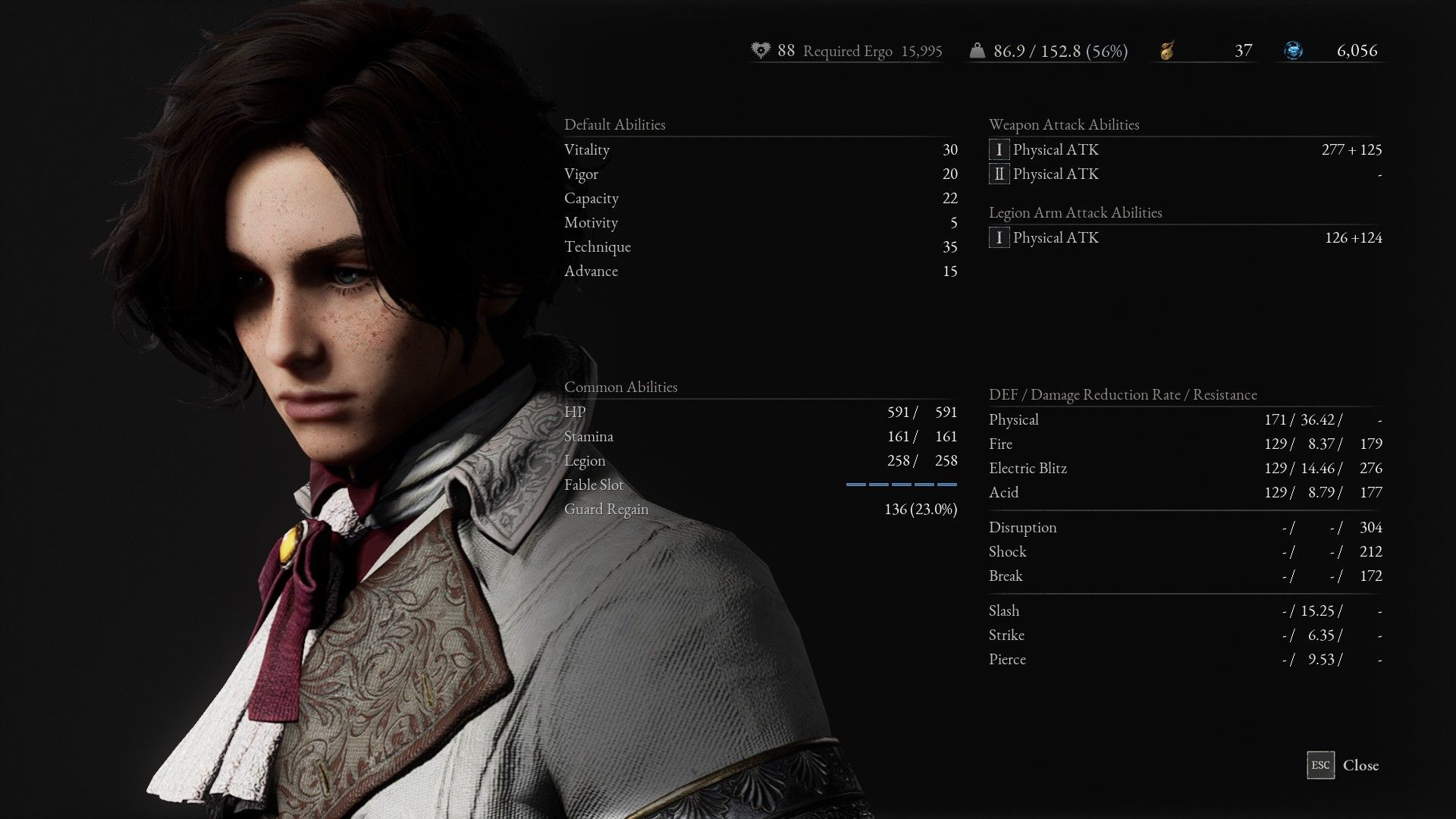 | Stat | Importance | Goal (Level 80) | Alternate Goal (Level 80) |
| --- | --- | --- | --- |
| Vitality | A | 30 | 25 |
| Vigor | B | 20 | 20 |
| Capacity | A | 22 | 22 |
| Motivity | D | 5 | 5 |
| Technique | S | 36 | 32 |
| Advance | D or C | 6 | 15 |
Presuming that you begin this build with a fresh save, you'll want to begin with the Path of the Bastard stats. While you can begin with any other starting path with this build, it will take longer for your stats to become as efficient or powerful as a pure Bastard-Technique build.
With this chosen, your primary stat at the beginning will be Vigor and Technique. This will give you good damage while increasing your ability to dodge, which Technique builds focus a little more heavily on than Motivity builds.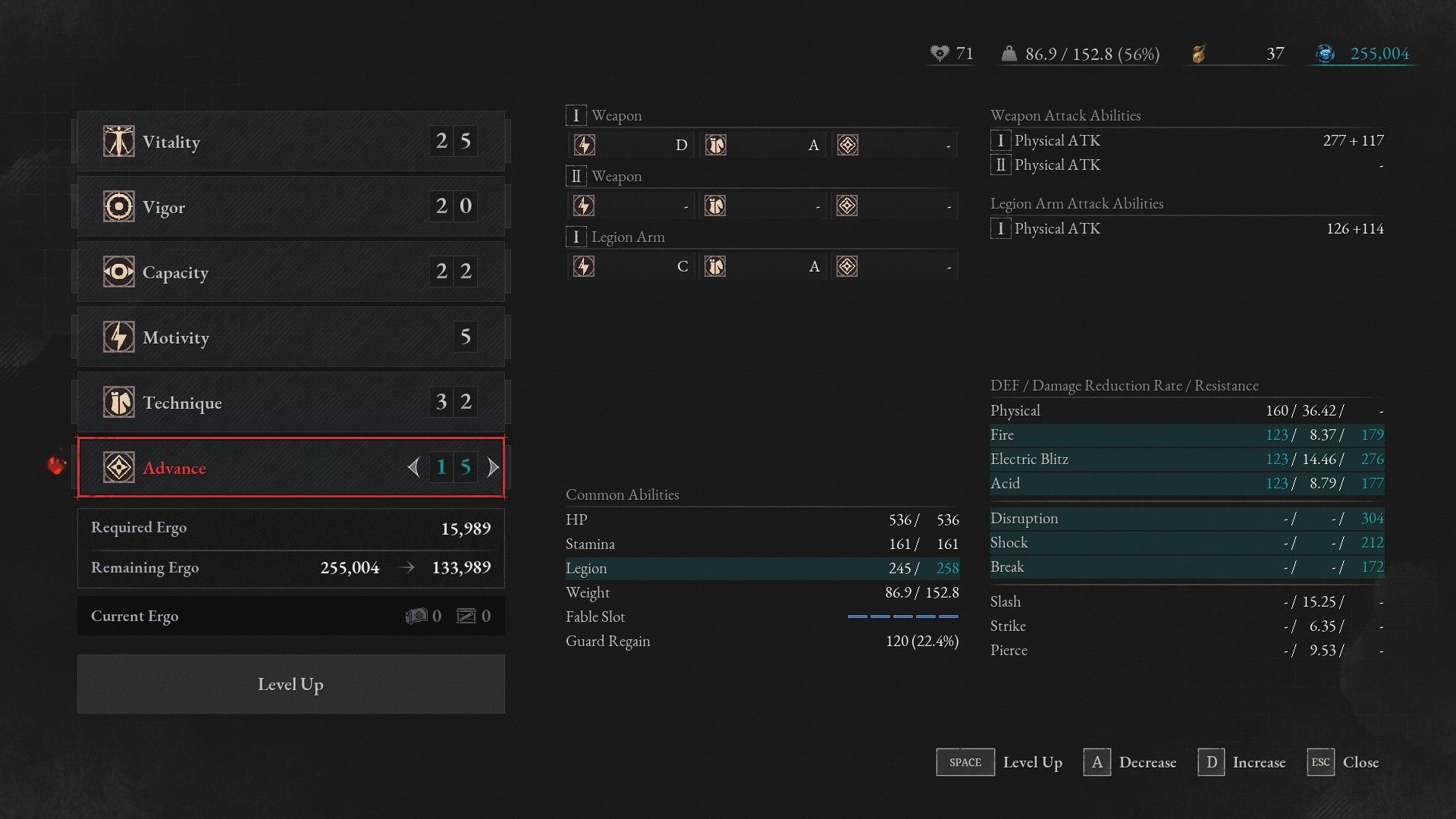 As you further yourself in the game, you will no longer need to focus on so much Vigor and instead dedicate yourself to Capacity and Vitality where needed to increase your defensive stats – especially keeping your equipment load at Normal or Slightly Heavy. Technique can be given more points intermittently as damage is required.
The soft caps for your stats are approximately every ten levels, and you'll start feeling them especially around 30 points in any stat (with a hard cap at 63). Therefore, focus on your other stats if your Technique has reached 30 and the other stats have not yet reached their goal threshold.
There is an included "Alternate Version" that boosts your Advance at the expense of health (almost 100HP or a near 20 percent reduction). Going this route almost doubles the amount of defenses against non-physical damage, your resistance to status ailments, and slightly increases the uses of Legion Arm. Vigor versus Advance will be up to the your style and tastes.
Best Weapons For Technique Builds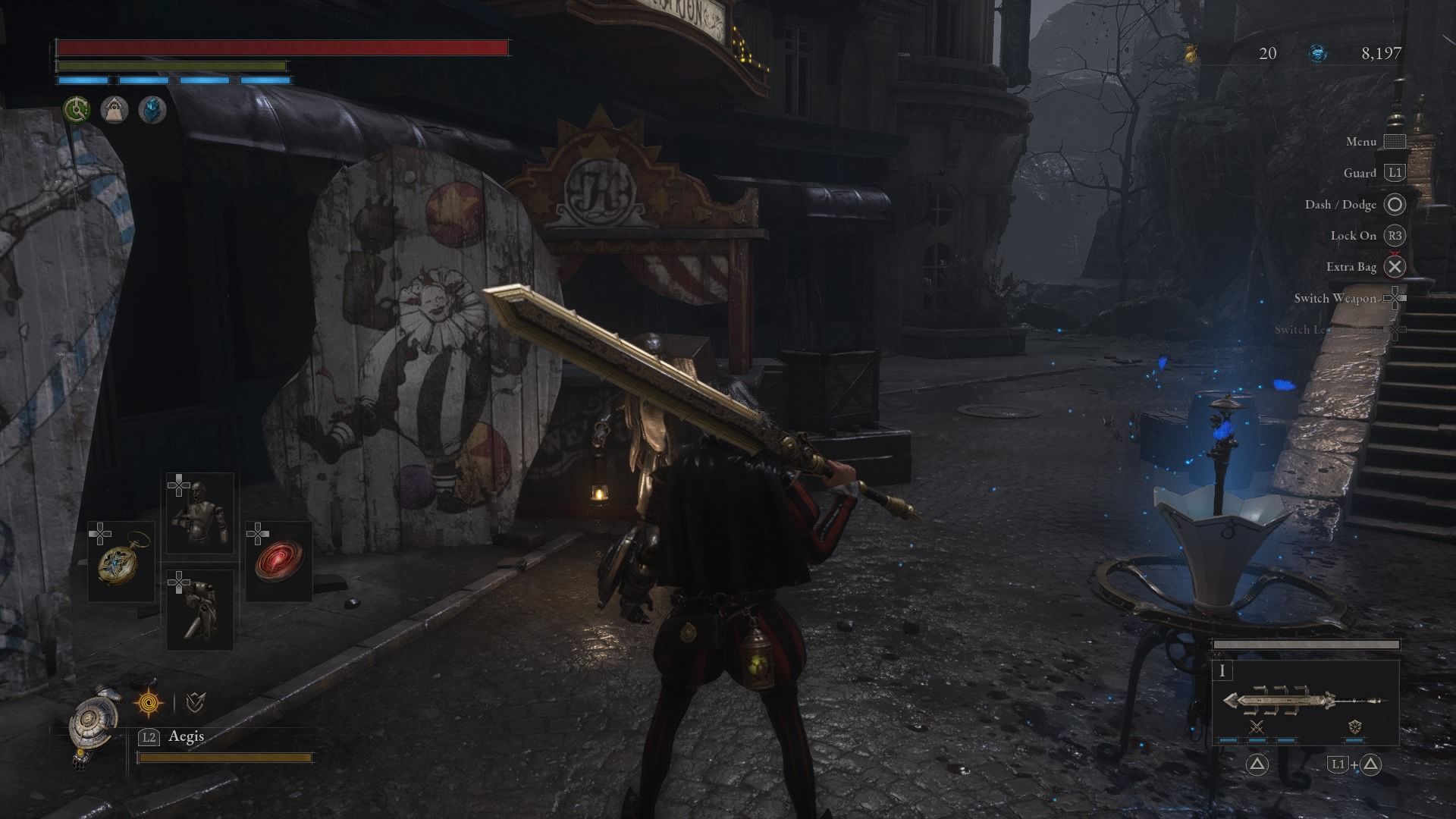 | | |
| --- | --- |
| Beginning Weapon | Puppet's Saber (bought) |
| Second Weapon | Salamander Dagger or Booster Glaive |
| Third Weapon | Dancer's Curved Blade + Booster Glaive Handle |
| Fourth Weapon (Optional) | Puppet Ripper |
| Fifth Weapon (Optional) | Live Puppet's Axe Blade + Booster Glaive |
| Final Weapon | Two Dragons Sword |
When beginning, you'll be given the Wintry Rapier, but we recommend you buy and switch this weapon for the Puppet's Saber from the Wandering Merchant on Cerasani Avenue. This will give you better damage, stagger power, and guard.
This can be outfitted with the Fireman's Axe Handle at Venigni Works for increased damage, but it isn't necessary to waste your resources on this unless you prefer the moveset.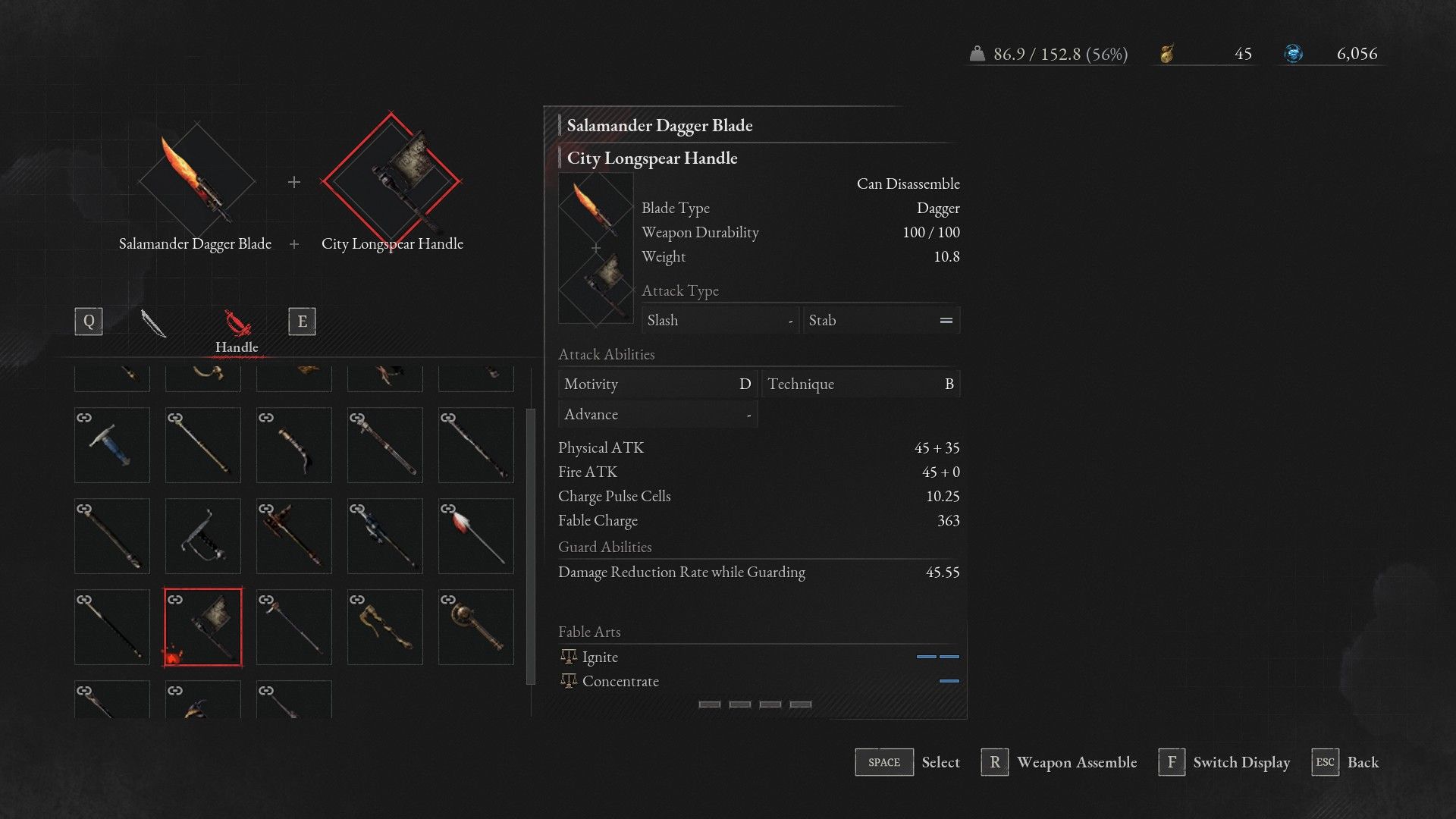 At Venigni Works, you'll be rewarded with the Salamander Dagger and Booster Glaive. To find both, please refer to our walkthrough guide.
Either can be used with this build.
Salamander Dagger will be great against the Fallen Archbishop boss (but should be reforged with a longer handle).
Booster Glaive will have larger reach but no Fire damage without a Fire Abrasive.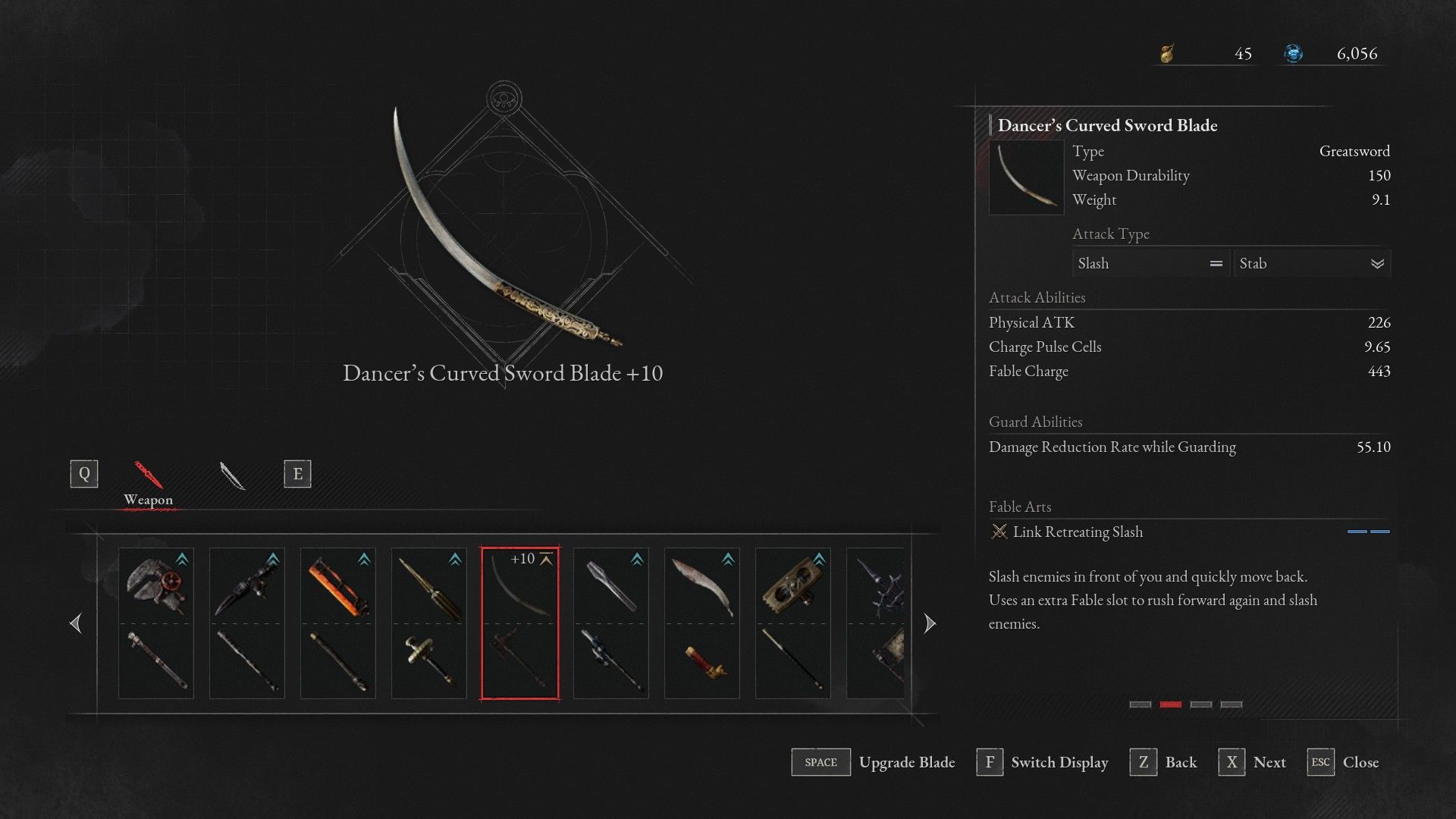 After reaching Rosa Isabelle Street, you should seek out the Dancer's Curved Blade (shortly before the White Lady fight). Take this blade and attach it to the Booster Glaive Handle.
These two together will grant a very effective moveset, nice damage, a good Fable Art, the boost from the glaive handle, and exceptional range. This concoction works very well against the fight with the King of Puppets, Romeo.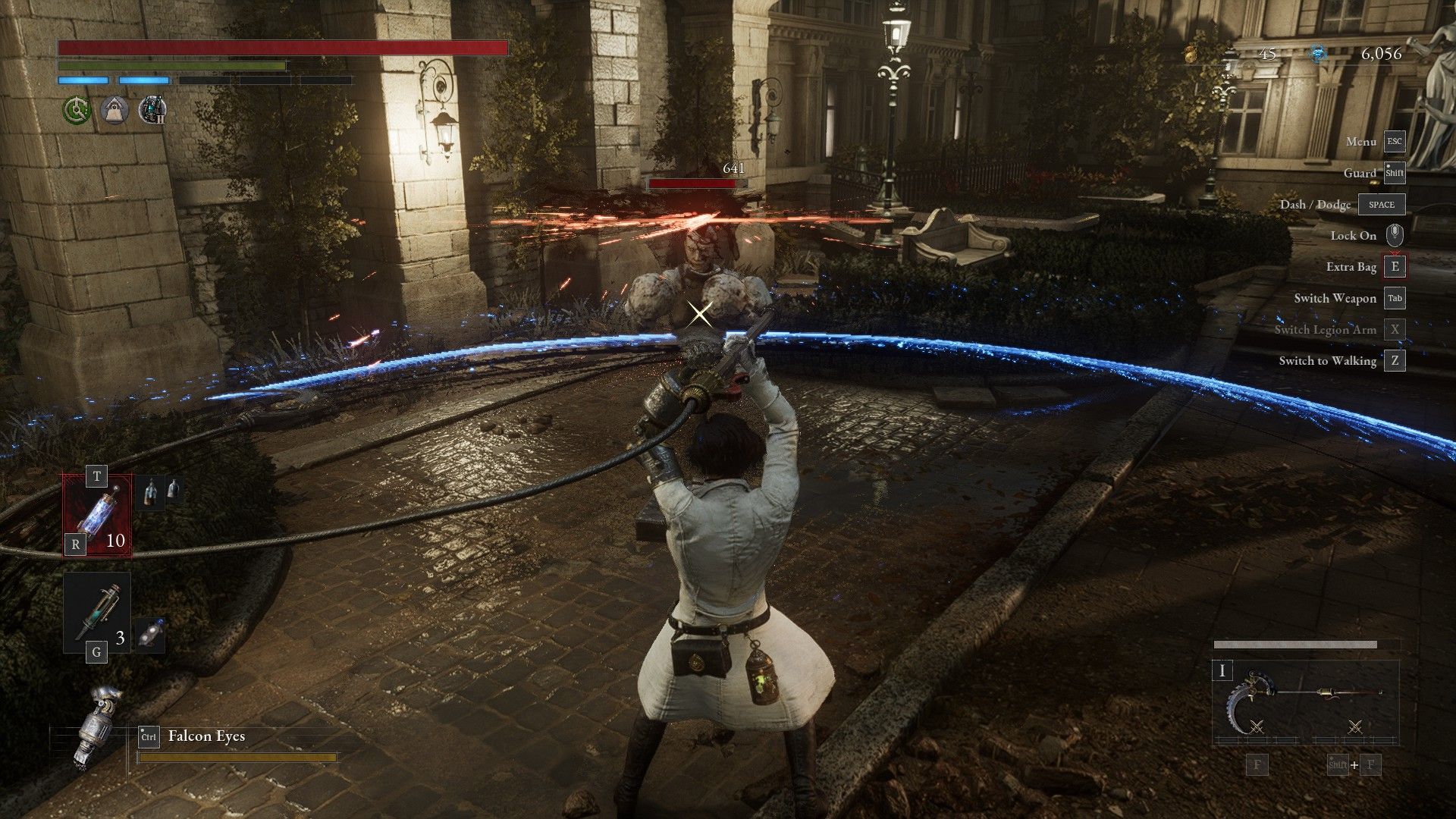 After the Estella Opera House, you will have the option of taking one of two weapons on the way or sticking with your current weapon combo:
The Puppet Ripper (Romeo's Ergo trade) has fantastic range and the ability to strike enemies through walls as well as fantastic Fable Arts.
The Live Puppet's Axe and Booster Glaive combo (available from the Barren Swamp) is a Technique build tradition with some of the highest gross damage in the game.
While the L.P.A. and Glaive combo is a staple in the Technique meta, it functionally operates more like a Motivity build in the speed of its normal attacks. This may be highly unpopular with those who took a Technique build path for the feel of speed and dance in combat. Its bulkiness can also block camera view in rare instances.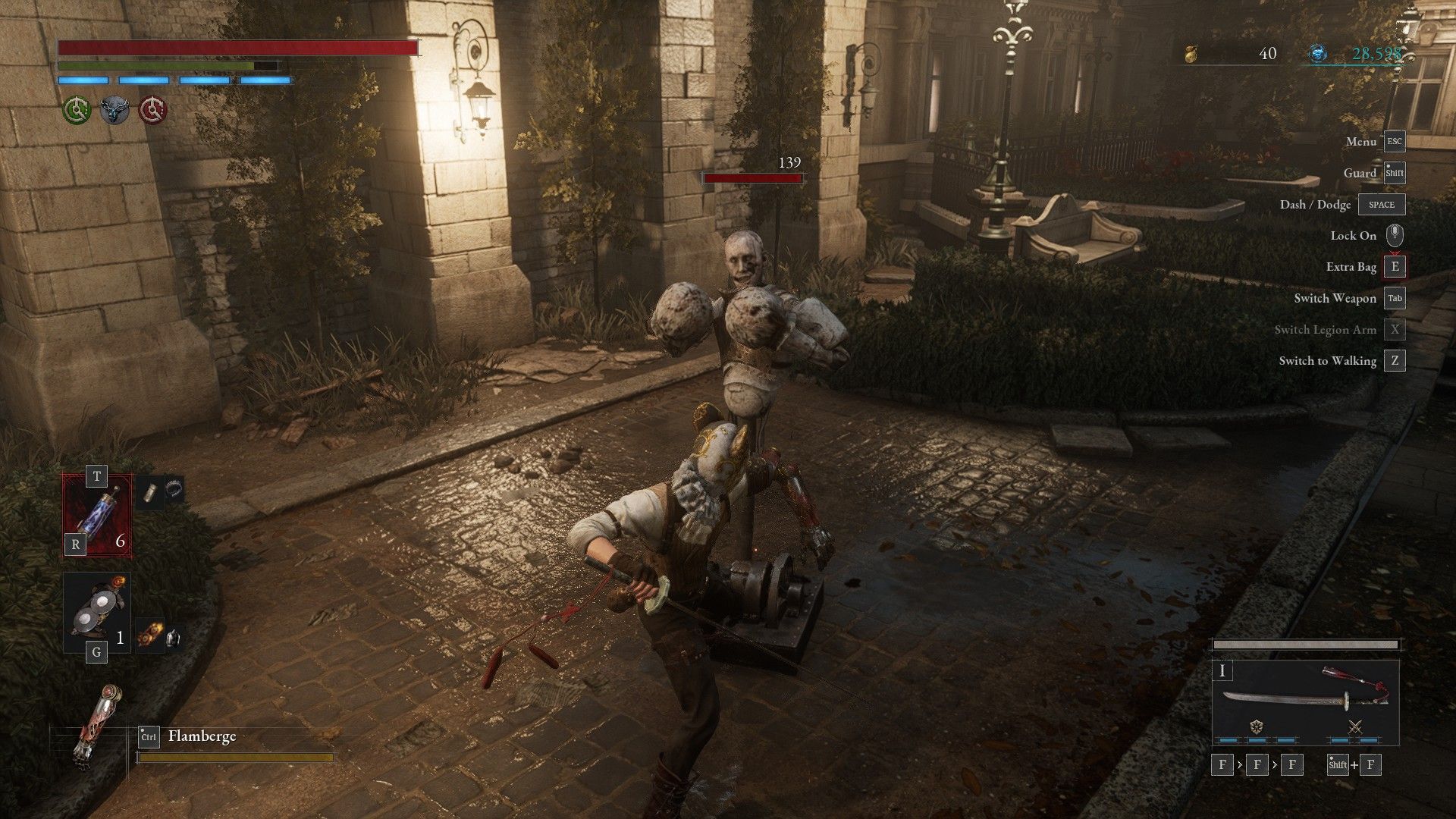 The goal weapon for this build is byfar the Two Dragons Sword. This weapon can scale to S in Technique with the use of a Technique crank, allowing it to take full use of your stats while also providing an extremely fluid and quick moveset.
Gained by defeating the Green Monster, its Fable Arts are effective at melee and range, but the most important aspect of this weapon is its charged strong attack. This attack is a Parry attack, giving you another option for Perfect Guarding while also attacking.
This sword in every way is the perfect Technique weapon, and when its Parry is mastered, you'll feel like the most skilled player to have ever challenged Lies of P.
RELATED: Lies Of P: Where To Find Alidoro
Best Legion Arms For Technique Builds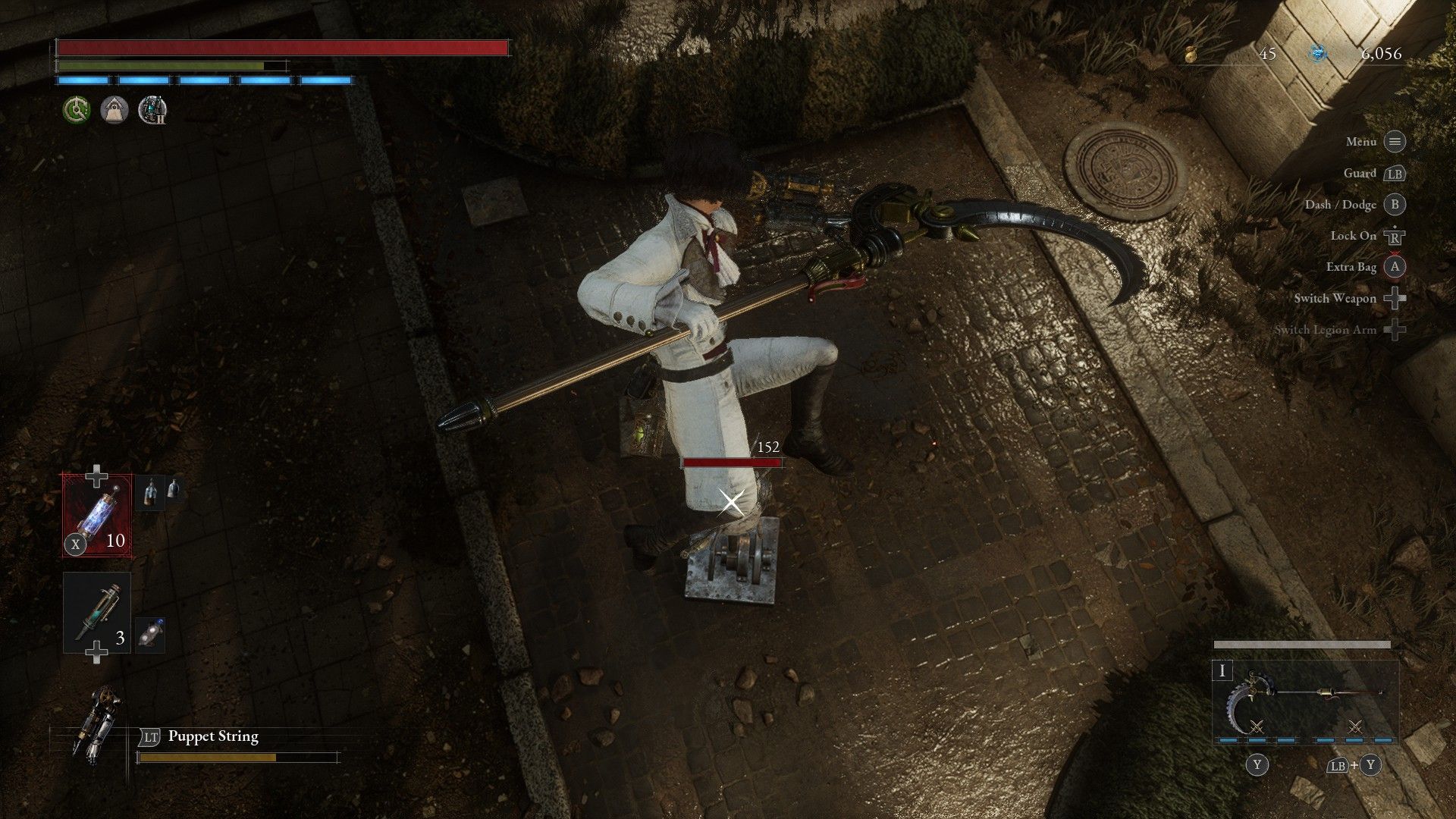 Keeping this nice and short for you, the best arms are byfar the Puppet String and Falcon Eyes Legion Arms.
Puppet String operates much like the Booster Glaive in allowing you to close distances quickly and take advantage of windows of opportunity you might otherwise not have reached. Additionally, the final upgrade opens a range of combo chains and nuanced opportunities not comparable to other arms.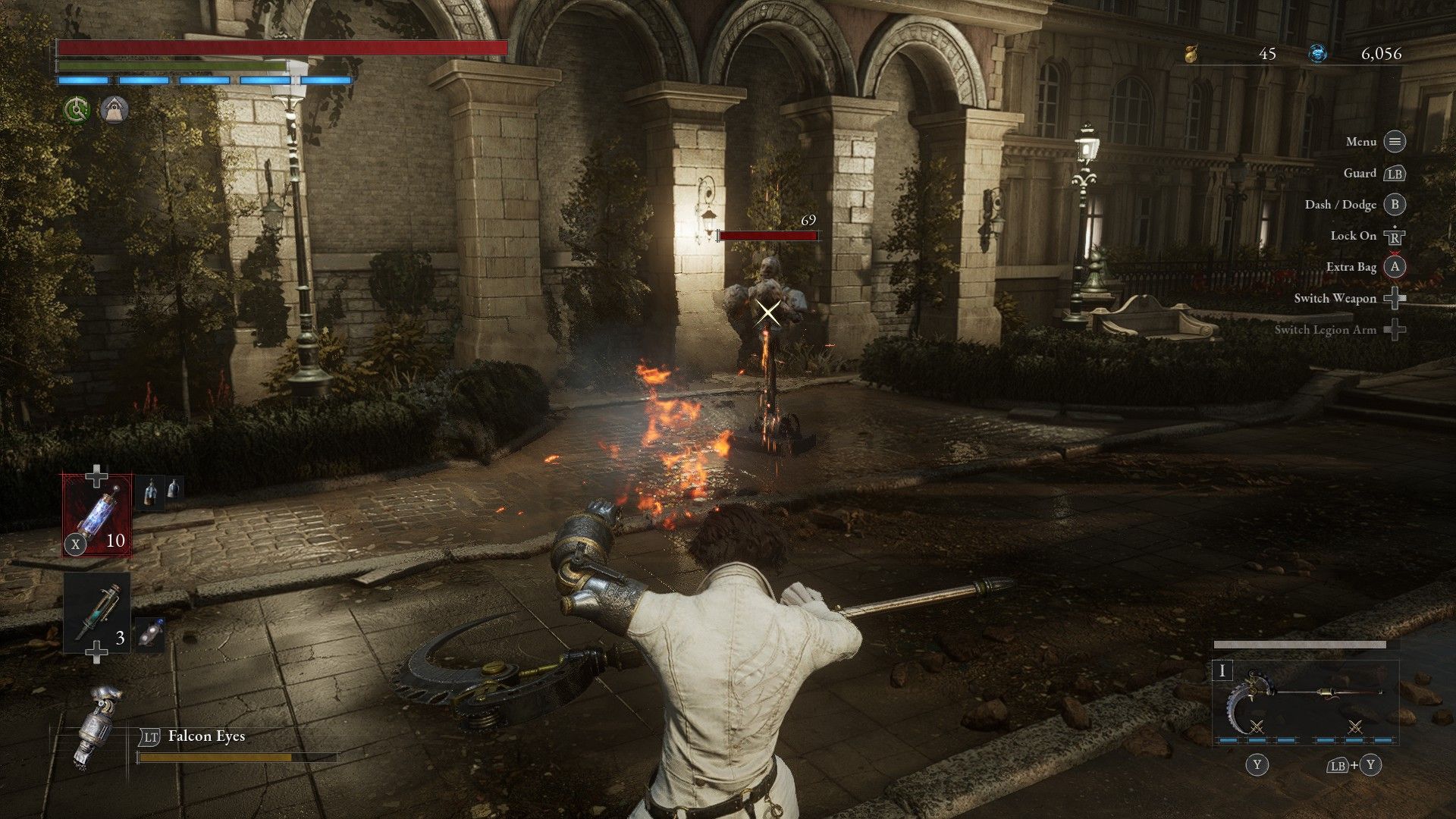 Falcon Eyes will allow you to do damage near equal to your weapon attack without getting close. This is especially nice for bosses or enemies that like to retreat from your melee range, allowing you to punish them for their cowardly sins.
We recommend upgrading this only after you've fully upgraded your Puppet String. Switch between the two as necessary for fights.
RELATED: Lies Of P: All Legion Plug Locations
Best P-Organ Upgrades For Technique Builds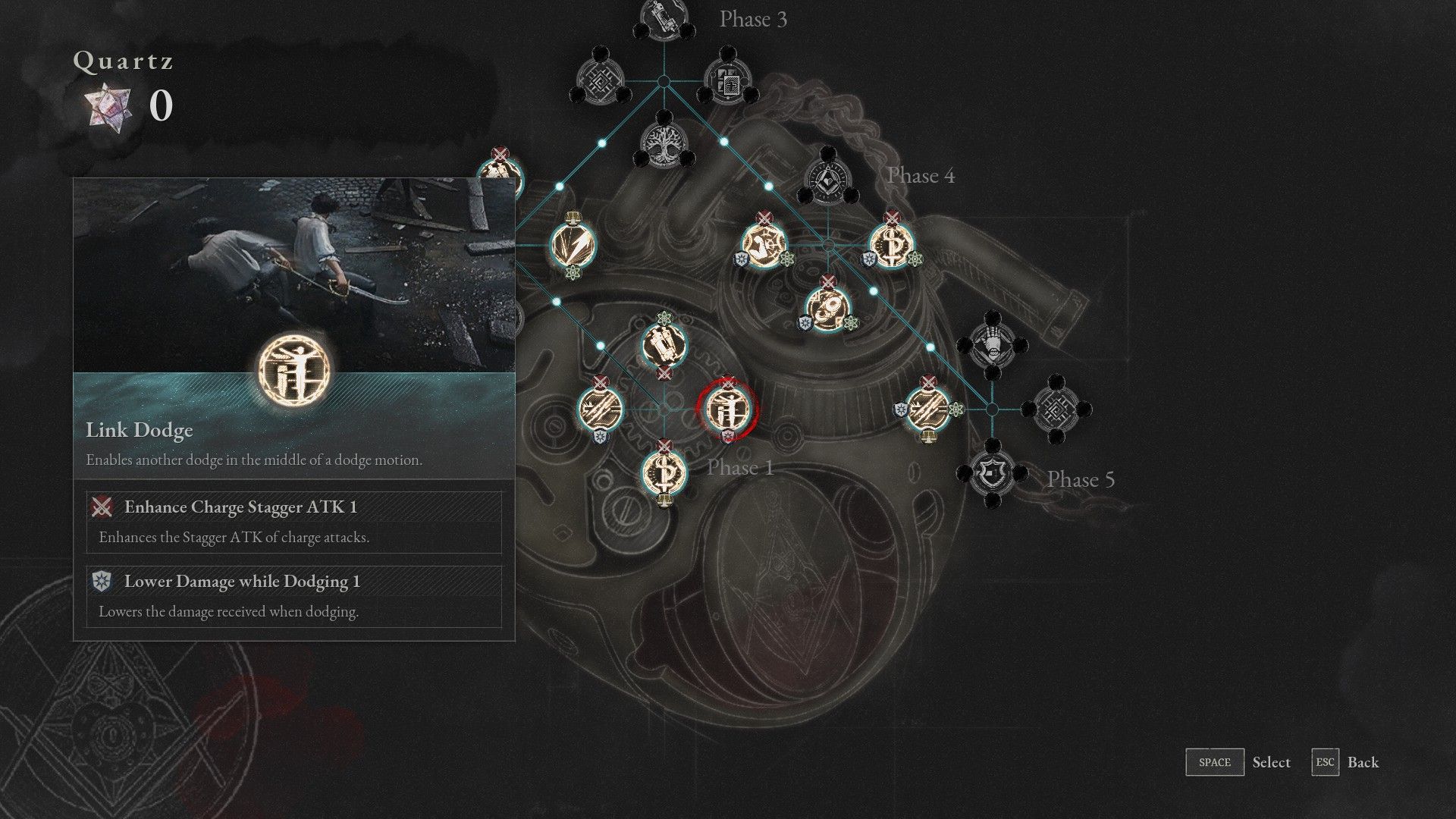 Though the November patch has given all players Rising Dodge innately, the Link Dodge in Phase One of the P-Organ remains a staple must-have for any Technique Build.
Similarly, for this build especially, we also recommend taking:
All Phase One P-Organ Upgrades
Increase Grindstone Uses
Perfect Guard Stiffness
Increase Amulet Slots
Add Fable Slots 2
All Phase Four P-Organ Upgrades
Increase Staggerable Window (Phase Five)
In New Game Plus, get Light Weird and Add Amulet Slots.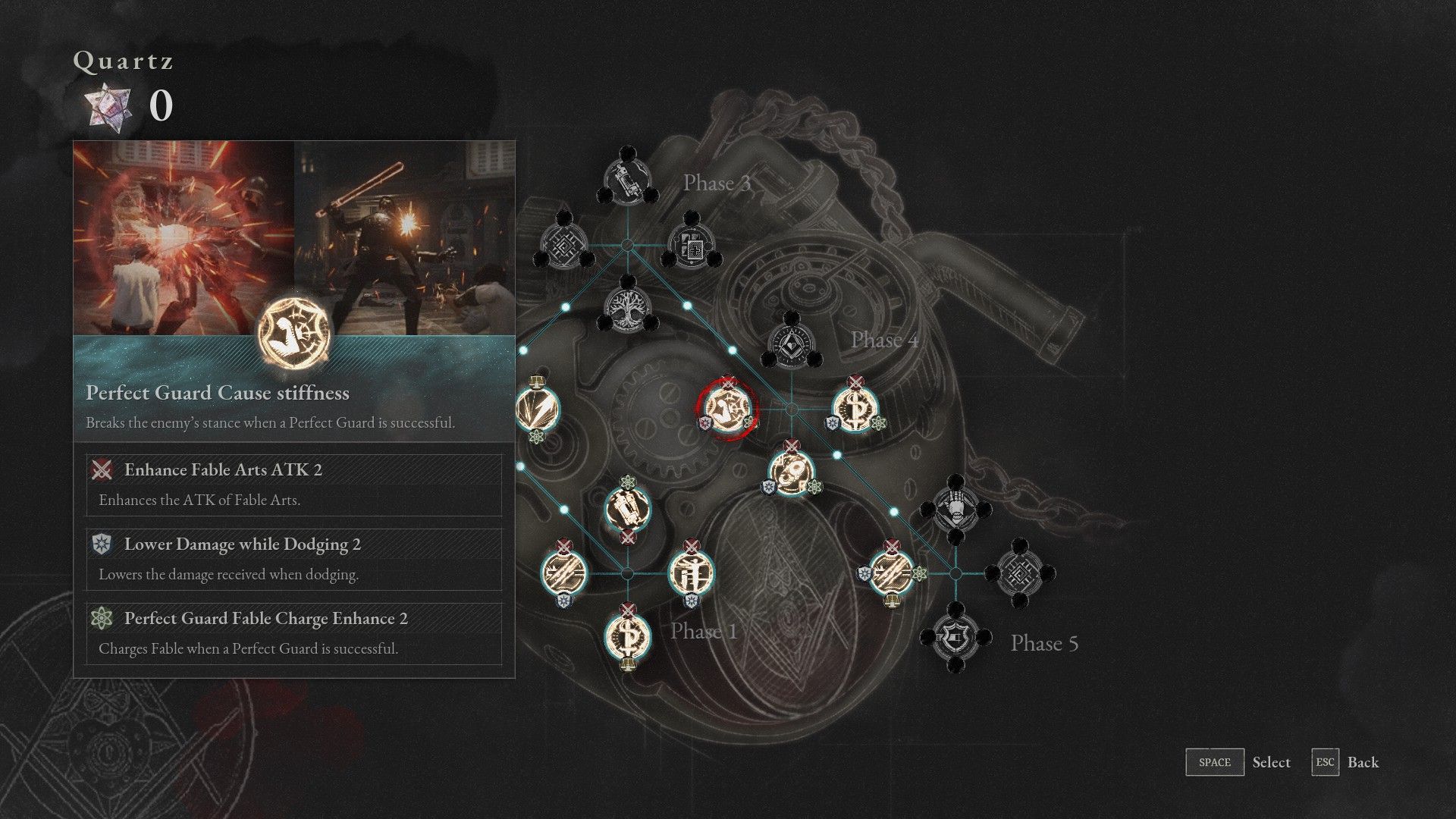 Your slots, beyond those that give the special type bonuses), should prioritize Attack and Survival Types. Namely, the best attributes to take include:
Enhance Charge Stagger
Increase Fatal Attack and Fable Arts Attack
Increase Stagger Duration and Stagger Damage
Lower Dodge Damage
Guard Regain Reduction
Perfect Guard Regain Recovery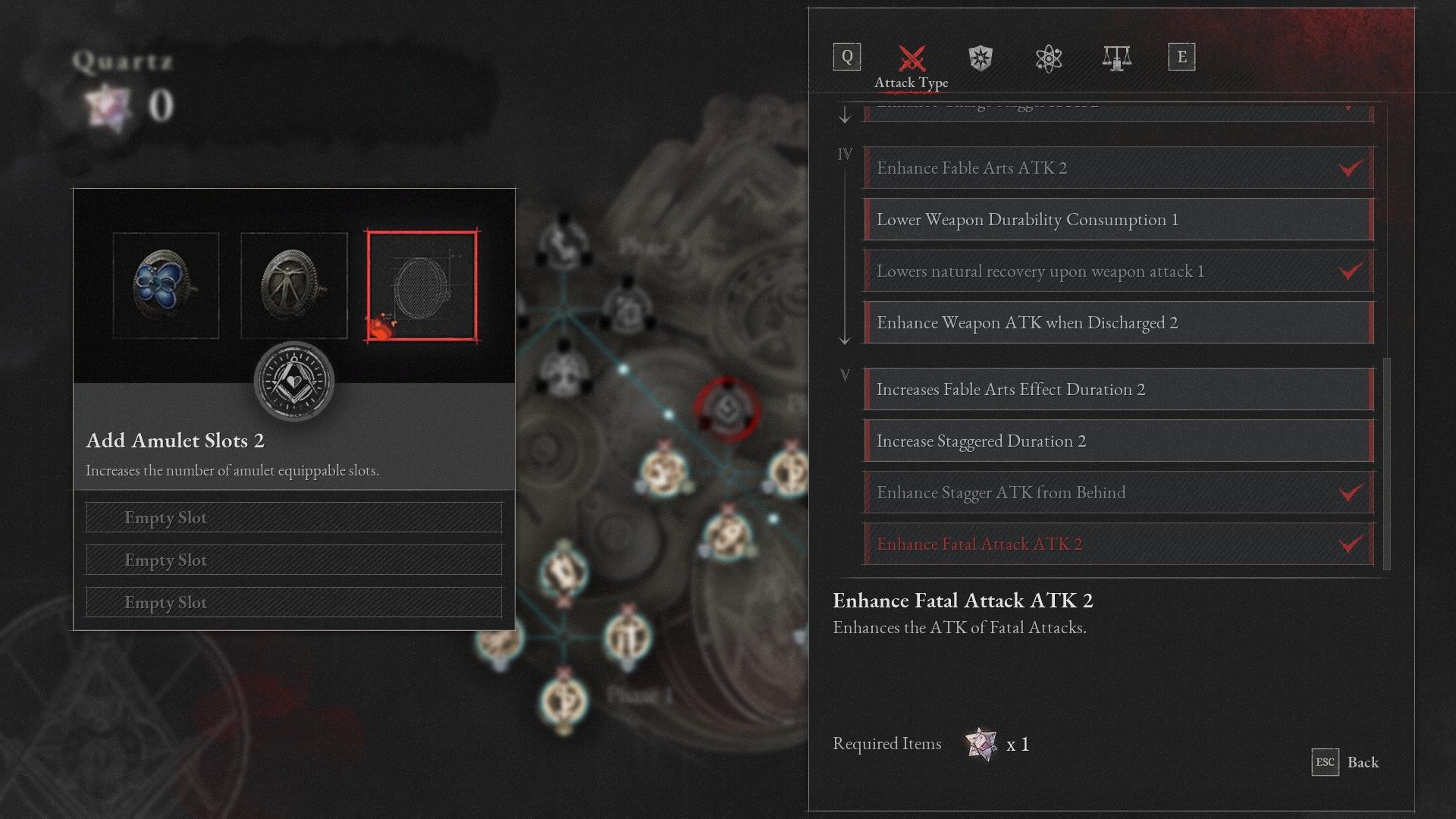 Ability types such as these are also very useful:
Reduce Stamina From Dash
Special Grindstone Weapon Recovery
Auto Charge Legion
Lower Charge Attack Stamina Consumption
We additionally recommend taking at least one slot for improving Ergo drops from enemies to help speed things along for a standard playthrough, increasing levels quickly and allowing farming for bought items to progress faster.
Best Amulets For Technique Builds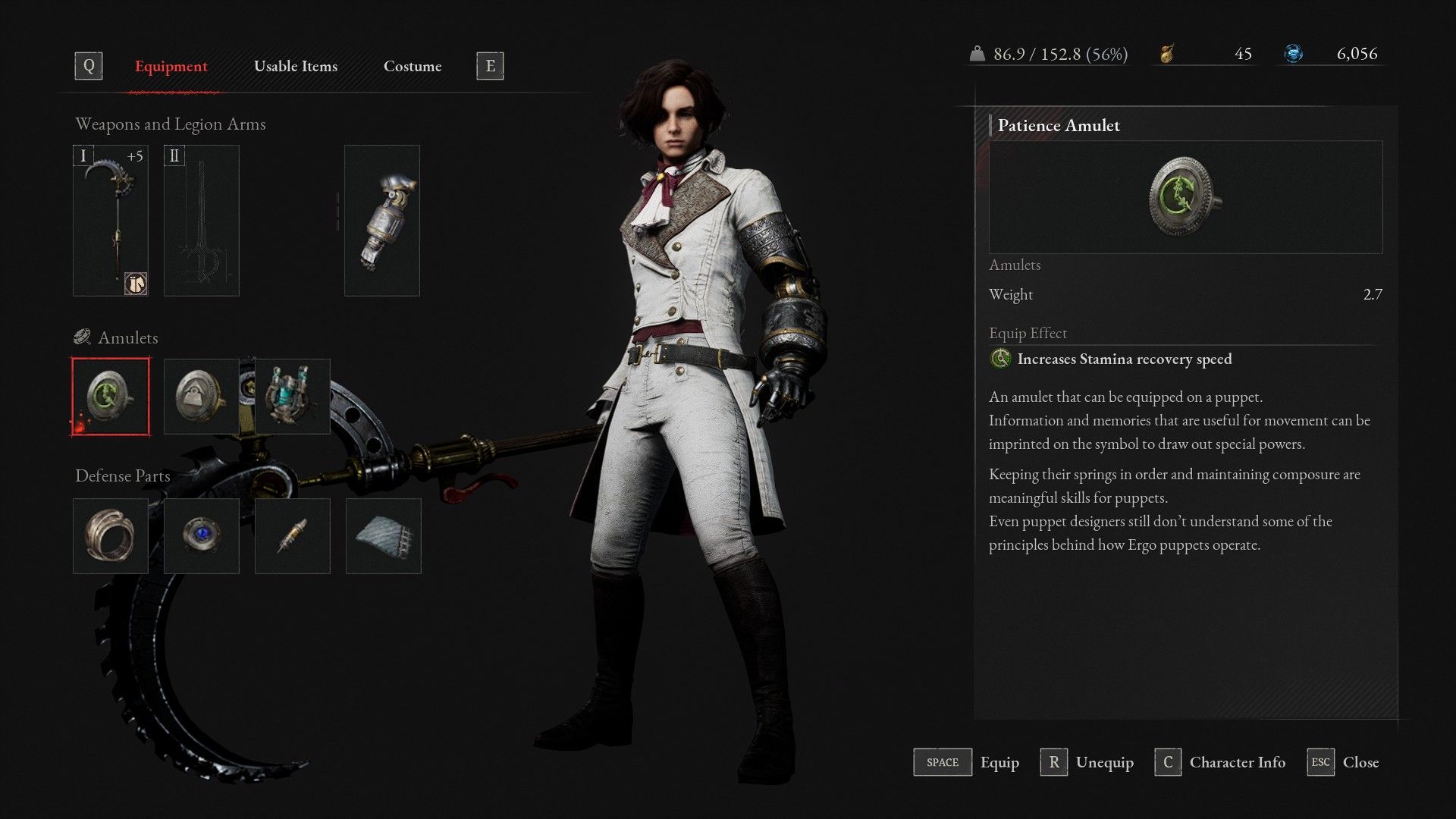 | | |
| --- | --- |
| Slot 1 | Patience Amulet |
| Slot 2 | Carrier's Amulet (0 and +1) |
| Slot 3 | Conquering Amulet |
| Slot 4 | Arm of God |
The best amulet for this build is the Patience Amulet, hands down. Taken from a miniboss in the Malum District, it allows rapid Stamina recovery and doesn't take up the capacity that most other powerful amulets might ask for.
This amulet also helps mitigate the slight debuffs from the Slightly Heavy condition. While we preferred not having that debuff at all, this build is more than functional at a 60-79 percent capacity load.
With low investment and high return, the Patience Amulet is generally a solid choice no matter the build. But for the Technique build on an average Tuesday, it's the way to keep up with rapid dodging and attacking.
When using the Two Dragons Sword in the late game, it's absolutely crucial for its combo-chains and parry move.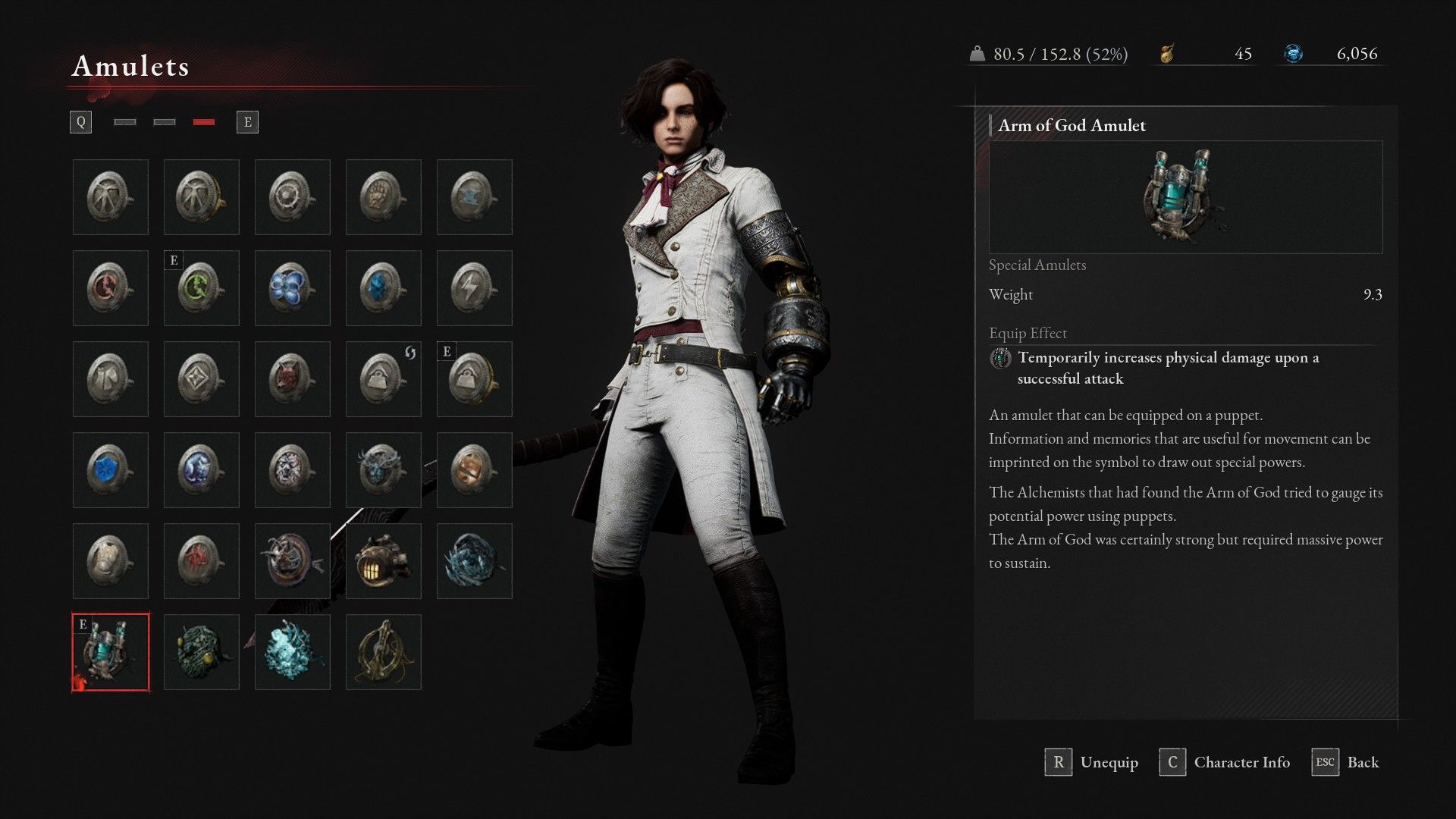 Otherwise, the Carrier's Amulet (+1) for increased Capacity is a huge help in keeping yourself in the low weight category.
While what you choose for defensive parts does not matter and should only include those parts that you can fit without exceeding the 80 percent weight limit, we equip this amulet so you can keep good defensive parts on while preparing for the next two heavy, but important amulets for this build:
Conquering Amulet
Arm of God
The first will grant you the ability to follow up Perfect Guards with more damage, great for a build that specializes in quick attacks and aggressive combat.
The second will further boost the damage percentage by rewarding you for that aggressive style, increasing your attack by up to 15 percent for each successive strike. This stacks with the first amulet.
NEXT: Lies Of P: Krat Central Station Walkthrough