The true final boss in Lies of P will ask you to apply everything you've learned in a two-phase trial of patience and skill. The Nameless Puppet is no joke, and nothing feels more satisfying than cutting its strings and putting a period to one of the hardest soulslikes in the market.
RELATED: Lies Of P: Upper Arche Abbey – Part Three Walkthrough
Struggling through this fight is a rite of passage for Lies of P players, but there are a few ways to mitigate the frustration of learning a new boss and get the upper hand. After countless hours of personal tests, discussions, and online research, we've narrowed down the tips you'll want to put an end to Geppetto's machinations and close the chapter on this tale for good.
Nameless Puppet Attacks: Phase One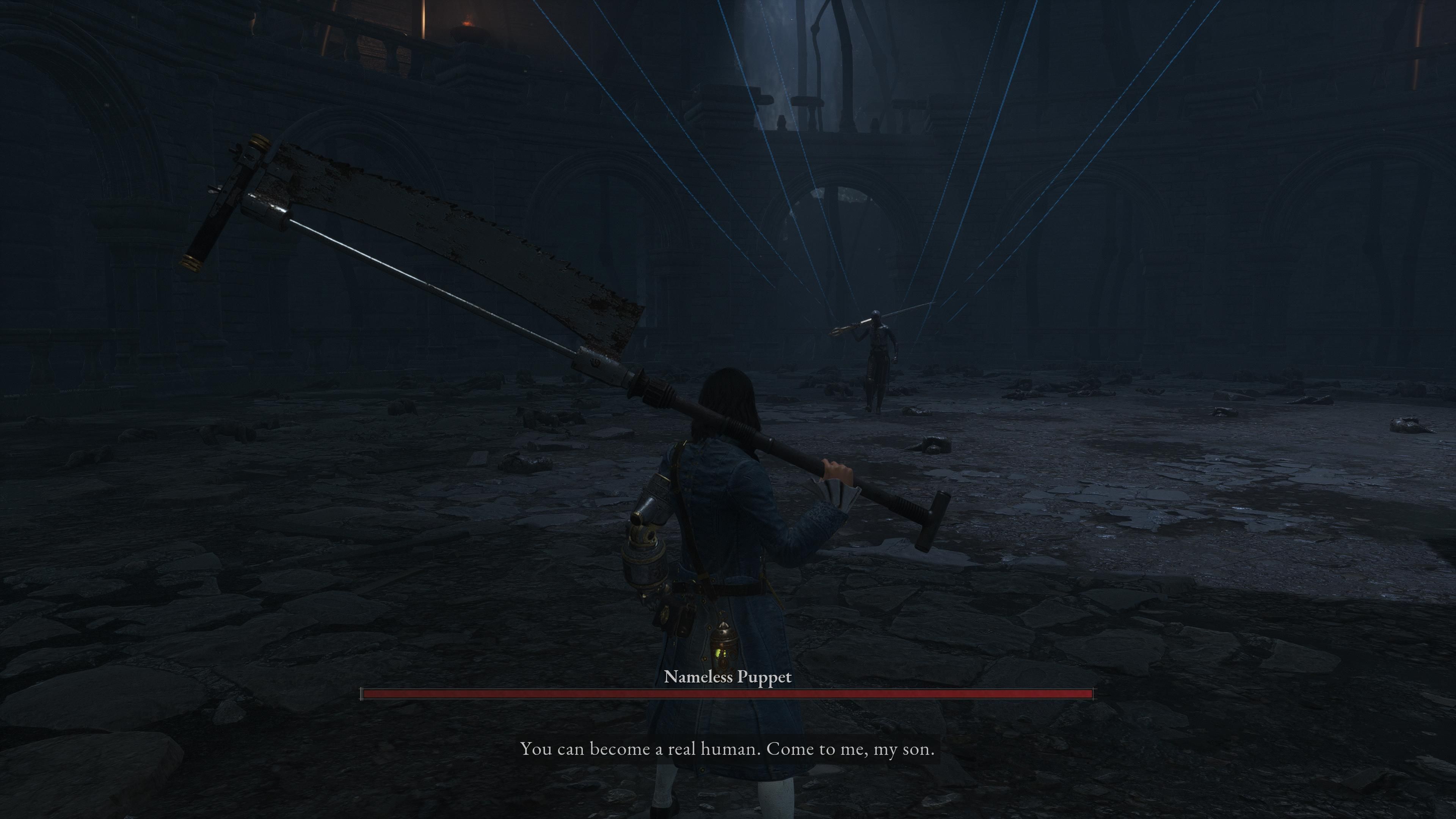 Possible Combo Chains

Attack

Wind-Up Tells And Attack Description

Suggested Counters

Bash-And-Slash

Shoulder Bash

Dragging the blade against the ground to its right, the Nameless Puppet bashes the player in a charge with its left shoulder, knocking them back a distance. This attack has a short jump distance before it hits, increasing possible range. The combo can end here.

Begin sprinting away and backward dodge before struck.

Powerful Slash

The puppet slashes from the ground on its right side in a horizontal slash at chest height across to the left.

Either dodge or Perfect Guard. Attack after.

Spinning Fury

Spinning Slash

Raising the blade over on its left side and turning for a large windup, the puppet releases a powerful slash from its left to its right as it spins and leads into a second attack.

Dodge backward once.

Spinning Slash Finale (Fury)

Turning red, the puppet completes the combo by diagonally slashing from above its head on its left and down to its right hip and back.

Perfect Guard as he comes back around.

Dancing Slashes

Standard Slash

Hopping forward a small distance, the Nameless Puppet puts the blade to the ground on its right and slashes upward diagonally. The puppet can end the combo here.

Dodge backward once.

Backward Slash

Following up the momentum of the first attack, the nameless puppet slashes in reverse along the same path as before.

Perfect Guard.

Over-And-Around Double Slash

Moving the blade over and around its head, the puppet comes to slash horizontally in a spin twice.

Perfect Guard both attacks or dodge the first and Perfect Guard the second.

Pirouette Combo

Pirouette Slash

Beginning to spin with the blade kept low and dragging, the puppet jumps into the air and raises the blade above its head to its left and brings it down in a diagonal right. This combo can end here. On very rare occasions, the remainder of this combination is switched for the Spinning Slash combo.

Sprint away. If combo ends here, attack. If not, prepare to guard.

Upward Slash

Following up its downward momentum, the Nameless Puppet strikes up in reverse direction from the previous attack.

Perfect Guard.

Powerful Slash (Left)

The puppet brings the sword to its left and unleashes a powerful, wide-arcing slash horizontally from its left to its right.

Forward dodge and attack.

Crouching Combo

Crouching Strike

Crouching, the puppet pulls the sword back near its head and to the left. It then unleashes a diagonal strike from its left to its right and keeps spinning for a follow-up.

Dodge back.

Crouching Footsweep

With its foot sticking out, the puppet continues to spin and unleashes a second, more powerful sweeping attack with its blade. It ends with a crouch and a hand on the ground.

Dodge forward and attack.

Quick Strikes Combo

Standard Quick Strikes

The puppet quickly rears back the blade to the right of its head and unleashes a three-strike quick combo (right-left-right). This combo is completed by a Pirouette Slash (move-only).

Dodge backward and keep a distance.

Snake Strike

Dashing Strike

After crouching, the Nameless Puppet begins to sprint with its arms behind it in an S-shape pattern. It then releases its attack in an upward, diagonal strike from the puppet's right to its left.

Prepare to Perfect Guard.

Quick Slash

Following up very quickly in this combo, the puppet slashes horizontally from its left to its right.

Perfect Guard or dodge forward. Attack.

Non-Combo Moves

Retreat

With a golden sparkle about him, the Nameless Puppet will backflip a large distance away and end a crouch.

There is nothing you can do here; either wait or play aggressively to close distance.

Retreating Slash

With a slight crouch, the puppet pulls the sword to its chest and to its right before unleashing a powerful sweep. With that momentum, it jumps backward a large distance away.

Forward dodge.

Forward Dodge

This is a non-damaging attack that closes distance and precedes a number of combos. Namely, it prefers to precede the Dashing Strike and the Standard Quick Strikes combos.

Prepare for the follow-up; don't attack.

Pulse Cell

The puppet uses a Pulse Cell to regain health. This only occurs once the puppet has neared 1/3 of its health.

Close distance quickly and attack; stay on the offensive to prevent usage or mitigate recovered health.

Lance

N/A

Transform Sword – Lance

This belongs to a separate moveset. When this move is used, only the following two attacks are ever used before the sword transforms again into its blade form with the same animation: a golden sparkle as the blade is elongated/shortened. This can only happen once the puppet nears half of its health.

Wait for next attack; be patient. Heal if needed.

Lance Thrust

Lance Thrust

This is a two-attack combo where the puppet lunges forward with the lance on its right. It stabs forward a distance once and a greater distance on the second stab.

Dodge right twice. Attack.

Quick Thrusts

Quick Thrusts

The puppet unleashes a flurry of quick stabs with the lance in a forward direction.

Hold block or keep dodging right. Attack after.
The Nameless Puppet's first phase attacks are nothing particularly special. With most of his attacks centered on the ground and his combos nothing as long or flashy as some of the other bosses in the catalog (we're looking at you, Laxasia), he's a fair fight that asks you to dance with him.
Some of his combos can be cancelled at certain points or closely melded together with others. The most popular combos for sudden cancellation include:
Bash-And-Slash
Dancing Slashes
Pirouette Combo
The cancelled movesets are primarily there to get you used to his shortened combos so you get overly comfortable with their endings and start attacking too soon. Be aware of the full combos and attack only when you see his posture relax.
The pirouette attack is also the culprit of being added to a few of the existing combos above on rare occasions. Thankfully, this attack is heavily telegraphed and has a long wind-up. Once you see the tells, it won't pose much of an issue.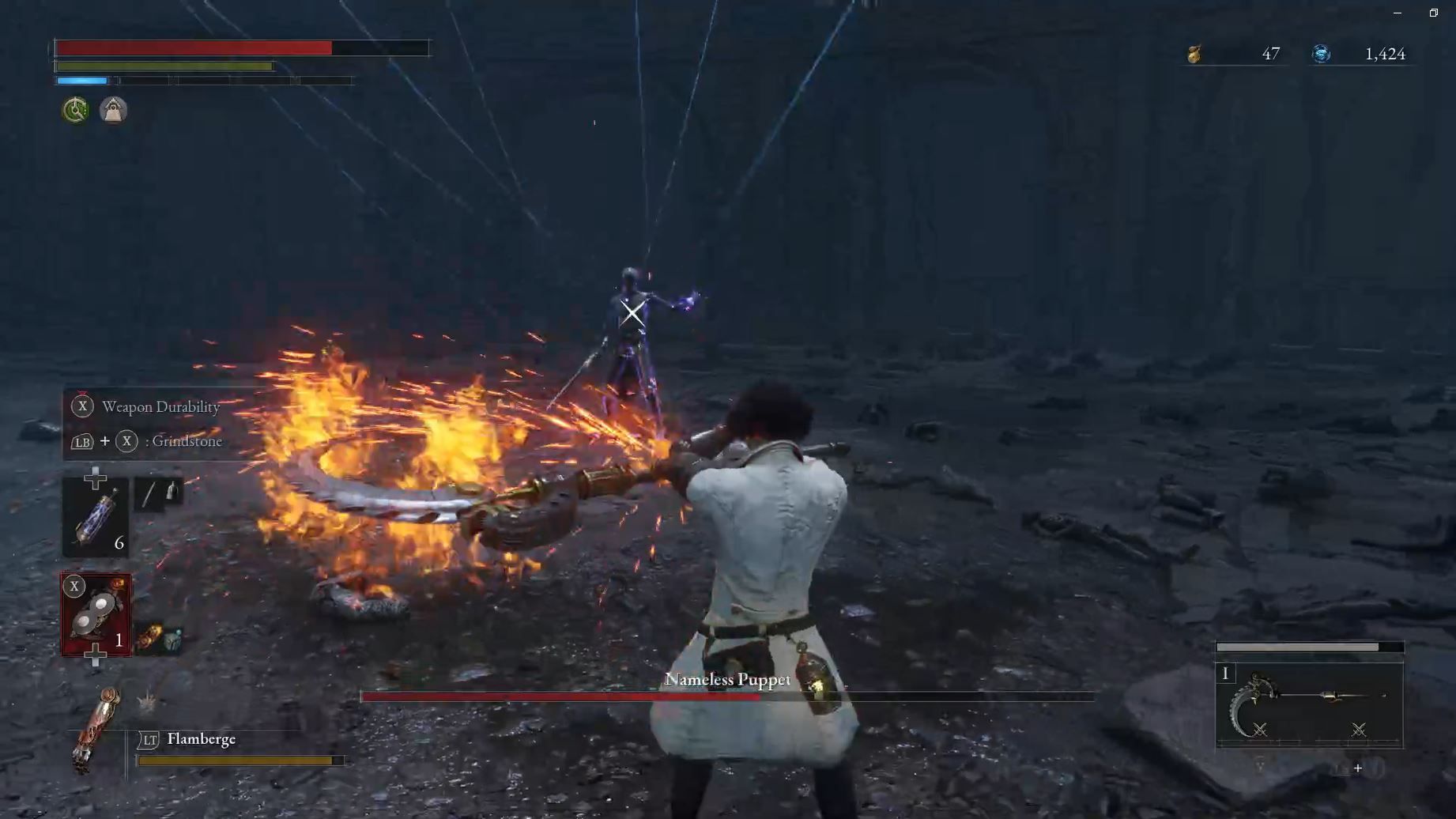 When you near the halfway point of his health in Phase One, he'll pull out the Lance-transformation. This is your best opportunity for attacks as he can only use stabbing attacks.
Keeping to his left or right will make his attacks completely miss and leave him wide-open to punishments from you.
Keep on the aggressive both during his transformation and as you get into the latter third of his healthbar and face the risk of his Pulse Cell recovery.
Nameless Puppet Attacks: Phase Two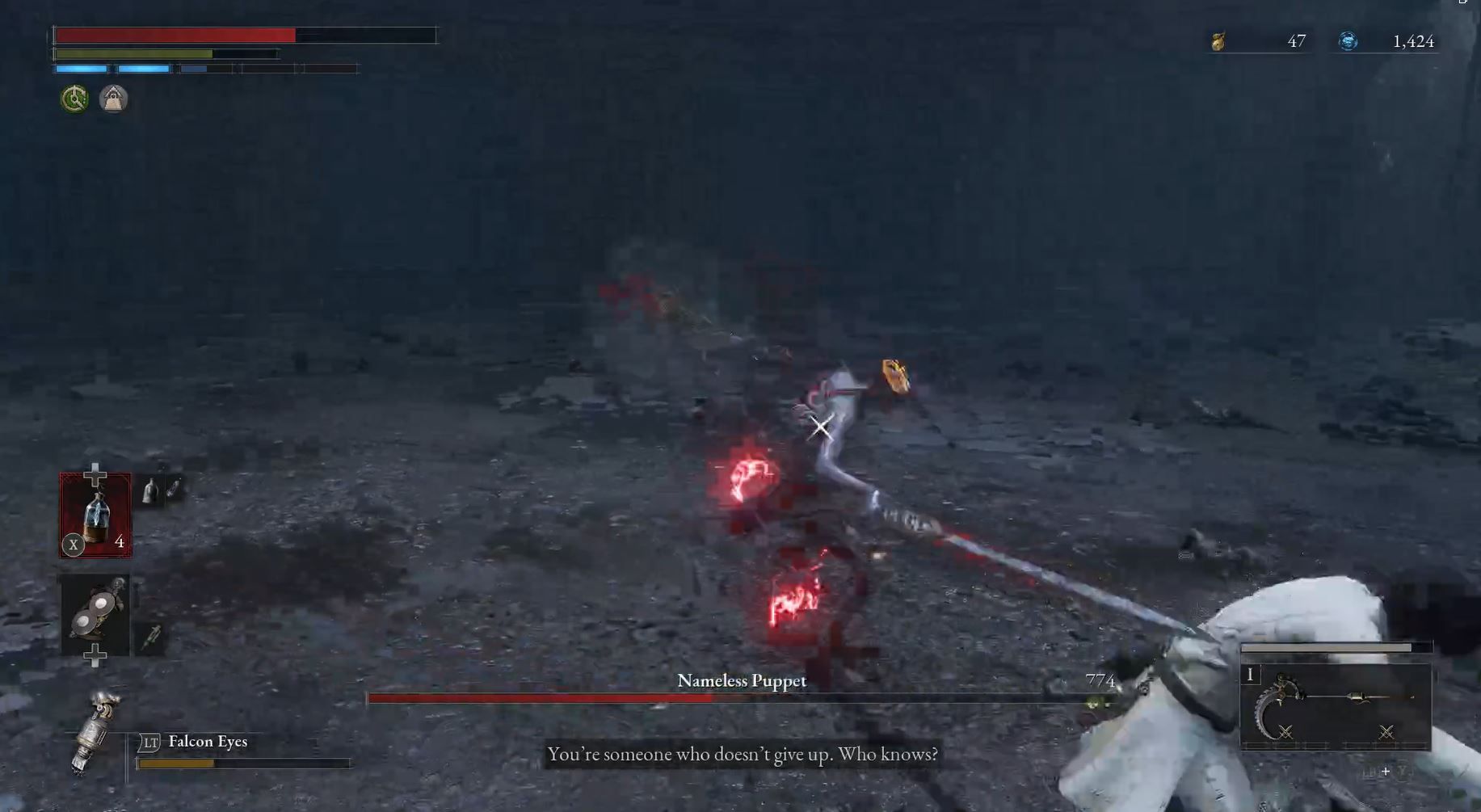 Possible Combo Chains

Attack

Wind-Up Tells And Attack Description

Suggested Counters

N/A

Crouching Fury

This will almost always be the first attack of the second phase. The puppet will crouch with its blades pulled inward and turn red. It tracks the player and then dashes forward at incredible speed to unleash an X-shaped slash in front of it. It may also be preceded by an X-shaped slash before the dash.

Continuously sprint in either the left or right direction. This will allow you to completely sidestep this attack.

Cyclone Slash

Cyclone Slash

With both swords split, the Nameless Puppet holds its right sword over its head and left sword behind it as it crouches. With both swords leaning first towards its left, it unleashes a flash cyclone-shaped spinning attack that ranges across the arena.

Dash forward and through this attack.

Aerial Cyclone Slash

Aerial Cyclone Slash

Leaping into the air with split blades, the puppet begins spinning in a cyclone maneuver forward (three rotations) and toward the player's position on the ground. When landed, it follows-up with a quick X-shaped slash.

Dodge forward. Do not attempt to parry as missing is too unforgiving.

Jumping Spins

X-Slash

Beginning this combo, the tips of the puppet's blades glow red as it holds its blades across its chest and then outward slashes in an X-shape.

Dodge forward.

Jumping Spin

Jumping into the air, the puppet unleashes two diagonal spinning slashes. On rare occasions, it can repeat this move in the combo or as a standalone move an additional two-to-three times.

Dodge right once and continue stepping (or dodge) right until the puppet stops. Attack.

Mantis Stance Jumping Spins

Mantis Stance Jumping Spin

This appears a lot like the Jumping Spin, but it is performed a total of three times for a six-hit combo run – the puppet's longest combo chain.

Can be Perfect Guarded in successful pairs for each two spins with visual cue starting when puppet looks at the ground. Otherwise, dodge through forward.

Quick Fiery Slashes

Quick Red Slashes

Crouching slightly, the puppet unleashes a flurry of quickly-succeeding attacks. It begins with a diagonal upward slash from its left hand and is closely followed by a downward diagonal slash from its right hand.

Dodge twice in quick succession.

Quick Red Spinning Slash

Following this combo chain, the puppet spins with momentum with both blades from its right side to the left in a wide horizontal slash. It spins a second time without dealing damage to prepare for the next attack.

Perfect Guard or dodge forward.

Quick Red Cross

Ending with blades across its chest, it unleashes a final X-shaped slash attack with both blades.

Perfect Guard or dodge forward. Attack.

Dashing Combo

Dashing Slashes

Launching himself forward, the puppet slashes horizontally from his left to his right.

Dodge in any direction (preferably toward the puppet if camera allows).

Dashing Jump Slash

Using the momentum of the slash, the puppet jumps high into the air and brings its left blade down in front of it (not a downward stab; horizontally held out to increase hitbox).

If this move is begun while standing against the puppet, you do not need to do anything. This move will automatically miss. Otherwise, dodge forward as camera positioning may make Perfect Guarding difficult.

N/A

Retreating Flame Slash

Jumping backward and in the air, the puppet holds its blade over its chest and shoulder. The blade glows red and takes on the appearance of fire. It unleashes a powerful, long-ranged arcing swipe in a near complete circle before landing.

Best to dodge backward out of it. Parryable, but hitboxes can be deceiving.

N/A

Blow Up

After completing a Fatal Attack (Critical Hit), the puppet will begin to twitch and then explode. He explodes just as his swords make a V-shape in front of him.

After completing your Fatal Attack, sprint away (not worth Perfect Guard risk).

Lance

N/A

Transform Blades

With a golden sparkle, the puppet can transform its blades to place them together or split them apart. This can happen while the puppet is standing still or in midair and can be accompanied by a retreating slash.

Always watch for the golden indicator to determine which moveset will be available. You can parry the retreating slash, but it is the fastest move in the puppet's moveset at an animation time of 0:07 milliseconds.

N/A

Impaling Thrust

Dodge-stepping forward once with the blade leveled forward, the puppet's eyes glow red before it shoots a great distance forward in a thrust attack. This attack will grab the player and fling them forward in the arena.

This attack is his most dangerous as it has the highest damage output. Either Perfect Guard as soon as the red eyes flash or begin sprinting and dodge at the last second to the right.

Lance Combo

Lance Shot

Dodge-stepping forward once with the blade leveled forward, the red energy grows in the blade instead of the puppet. It then releases in a thin, forward shot of red energy. This combo can end here.

Dodge right or left.

Lance-Shot Follow-Up

Dashing forward, the puppet shoots a second beam of red energy forward.

Dodge right or left with slight forward input.

Lance Pirouette

Leaping into the air, the puppet holds its lance above its head and comes down in a stabbing attack with a massive explosion of energy that creates a crater around it.

Attempt Perfect Guard or dodge forward as he lands. If not comfortable with this attack, change above counters to retreating dodges and sprint away as this jump begins, dodge back as he lands.

N/A

Lance Fire Wall (Fury)

Flashing red, the puppet holds the lance straight above its head. As it brings down the attack, it unleashes a tall red wave of energy in a line in front of it.

Perfect Guard or sprint left or right.

Lance Spread Combo

Lance Three-Blood Spread

The puppet slams their blade into the ground and then leaps into the air while glowing red. It comes back down to strike the ground in a stab and unleash three rays of energy in a cone shape that resembles a W. They shortly burst after the initial strike.

Sprint away (backward) or Perfect Guard twice – once as he comes down and a breath after to block burst (difficult in practice).
He has an entirely new moveset, and most are bright, flashing, and involved in long, extremely quick combos. Many of his combos in Phase Two are performed in half the frame-time of the first phase, so having a solid foundation of his speed in Phase One is necessary for speeding things up comfortably in Phase Two.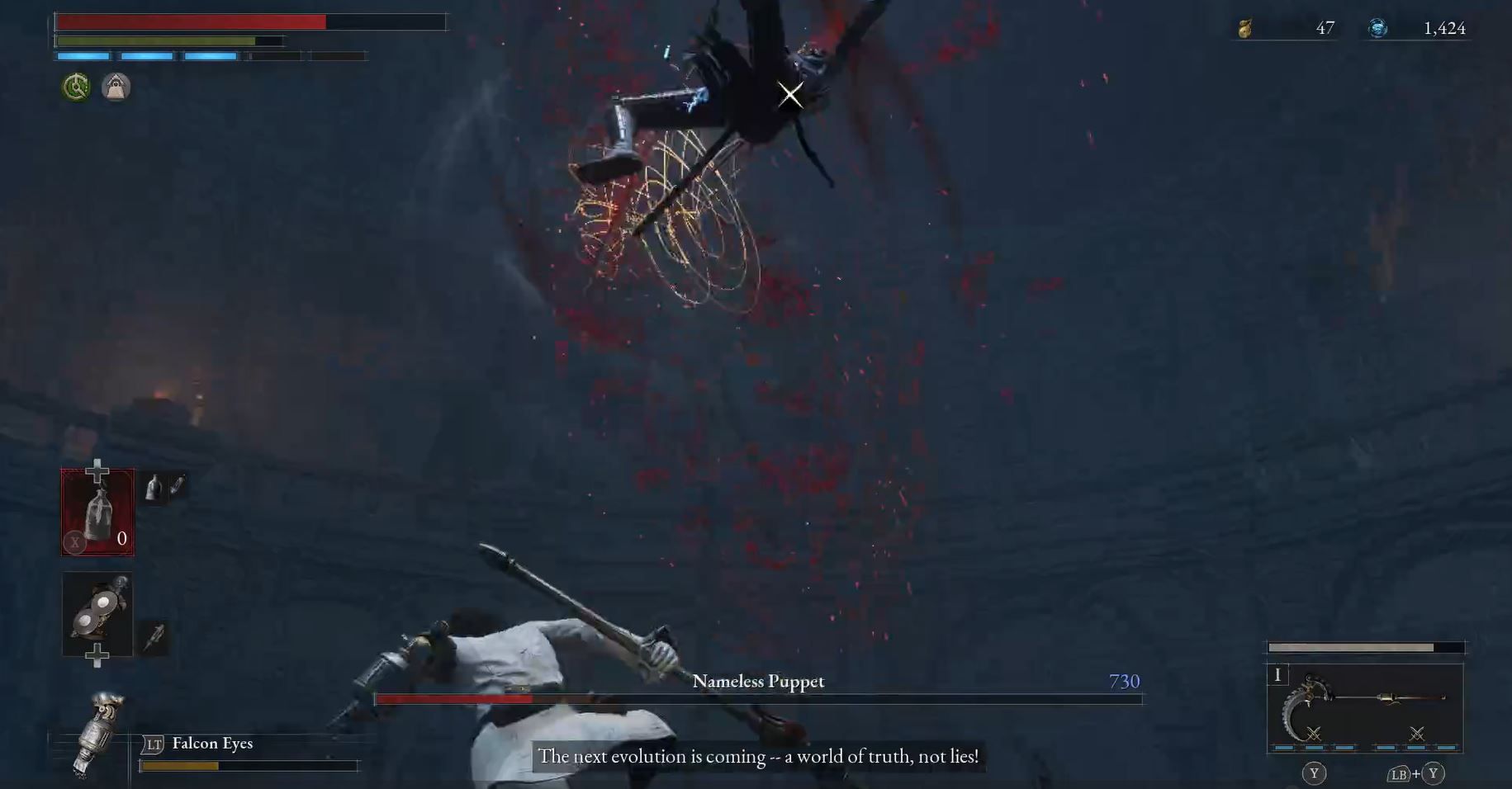 His fastest attacks are as follows:
Crouching Fury (at melee distance)
Impaling Thrust
Mantis Stance Jumping Combo
Aerial Cyclone Slash
The latter two are in the contention for the hardest combos to Parry in the game, and there are a few more on his moveset list that are just as quick, aggressive, and highly demanding in skill.
Both of his Cyclone Slashes should be dodged forward and through unless you're extremely skilled with Parry. Attempting to Parry unless you spam the block will often result in being heavily punished by the remainder of his rotations.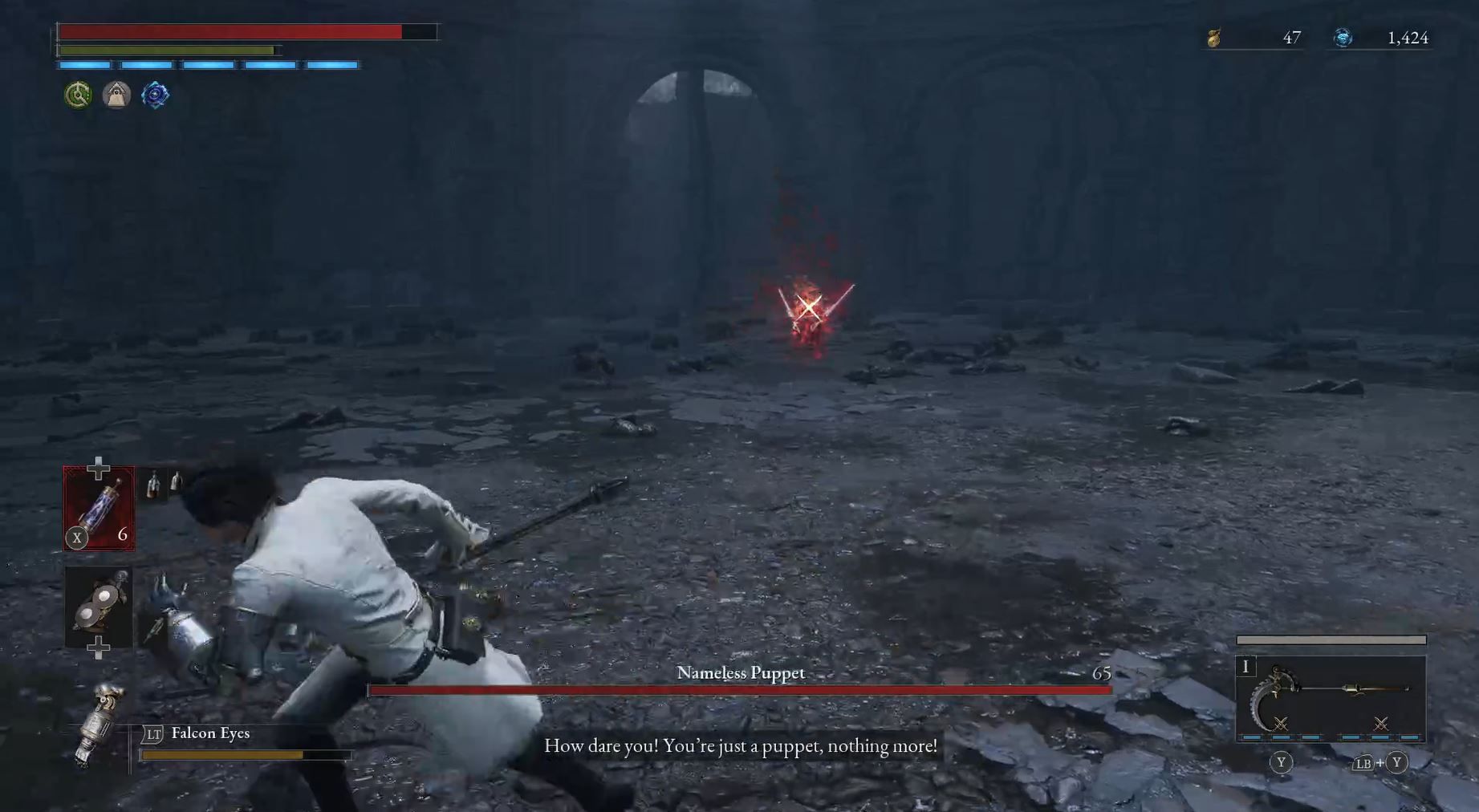 Thankfully, his Fury attacks are few in number and easy to counteract once you know the secret. The easiest to counteract is the Crouching Fury.
Although this move is very intimidating when you first encounter it, once you realize you can just run to one side to sidestep it entirely, it becomes the best move in his repertoire to punish.
You can also attempt to Parry this move by counting "One and" – block on the "and." This timing does narrow slightly as you get closer to him, so adjust accordingly.
Parrying the Crouching Fury at melee range is technically possible but requires immense practice and precision as the time between the release of his crouch and the strike is 0:02 seconds. For comparison, the average human reaction time is 0:25 seconds. To successfully do this, begin counting as he crouches. He strikes after one full second. Count "One" and immediately press block.
How To Defeat The Nameless Puppet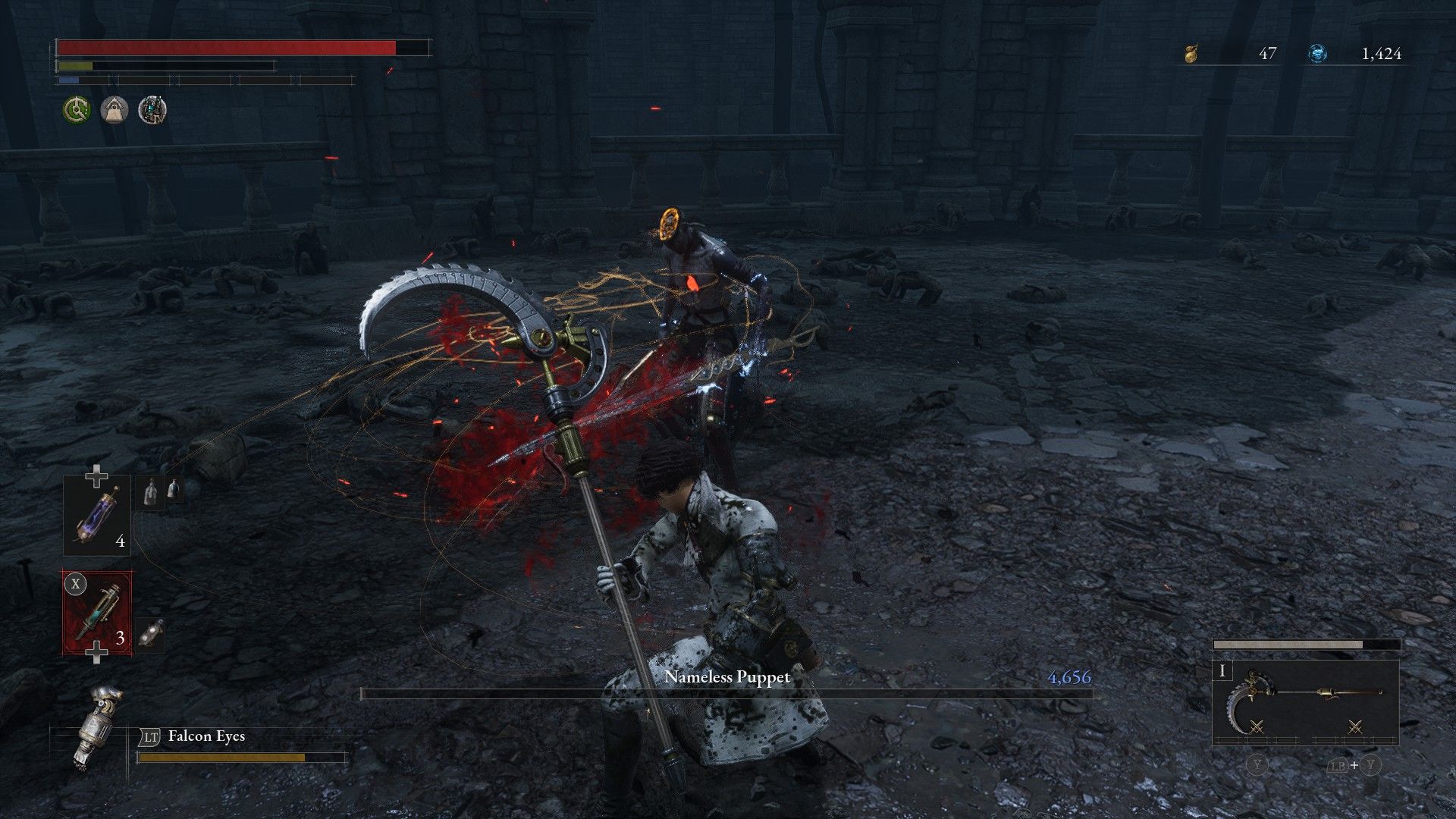 | | |
| --- | --- |
| Health | 12,000 (P1) – without Pulse Cell recharge, 15,000(P2) |
| Weak Against | Electricity |
| Recommended P-Organ Upgrades | Link Dodge, Rising Dodge, Increase/Enhance Pulse Cells, Increase Staggerable Window, Add Fable Slots, Retain Guard Regain |
| Recommended Amulets | Patience Amulet, Conquering Amulet, Arm of God Amulet, Puppet Destroyer's Amulet |
| Recommended Weapons | Falcon Eye (Legion Arm), Aegis (Legion Arm), Two Dragons Sword, Booster Glaive, Dancer's Curved Blade, Coil Mjolnir Hammer, Krat Police Baton |
Before fighting the Nameless Puppet, your gear should favor Electric Blitz-style equipment. Acid can also be helpful here, but Electric Blitz will deal the most damage.
Nameless Puppet is also heavily susceptible to staggering attacks like strong Fable Arts or strong attacks from heavier weapons. It has a special staggered animation with a large punishing window where you will likely get in the meat of your damage in either phase.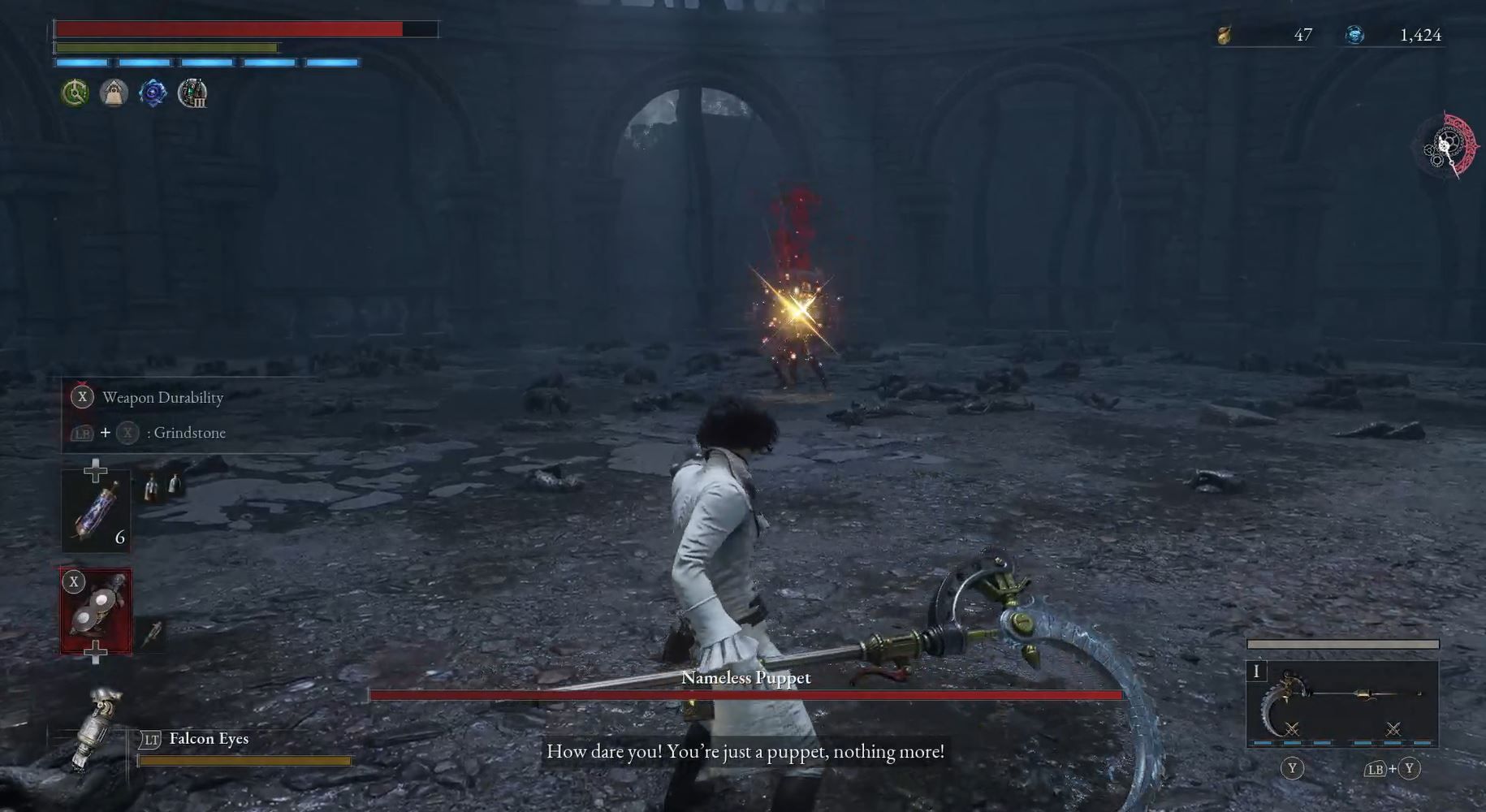 The nature of this fight will require a good balance of parrying and dodging, with emphasis on the latter half.
Technique builds will see far more success here than Motivity builds on average, and with the strength of its parry ability, the Two Dragons Sword reigns supreme as one of the best weapons to deal with the Nameless Puppet.
Aegis is a great standard option for this fight, but Technique builds may also benefit from the use of the Falcon Eye to punish the puppet's retreats and Pulse Cell regenerations.
Fable Catalysts and thrown items like Throwing Cells should be brought to this fight, especially for the latter half.
Strategy For Phase One
Phase One is the easiest part of the fight, but it requires intense study of the puppet's movesets. On our second playthrough of the fight (recorded above), primary incoming damage was done when we overestimated the end of combos or the puppet's recovery time.
Overstaying your welcome or being too eager or aggressive will lead to harsh punishments. So, if you're struggling with this phase, we recommend reviewing his attacks in the above section or entering the fight with block held to study his movesets.
Altogether: practice, practice, practice.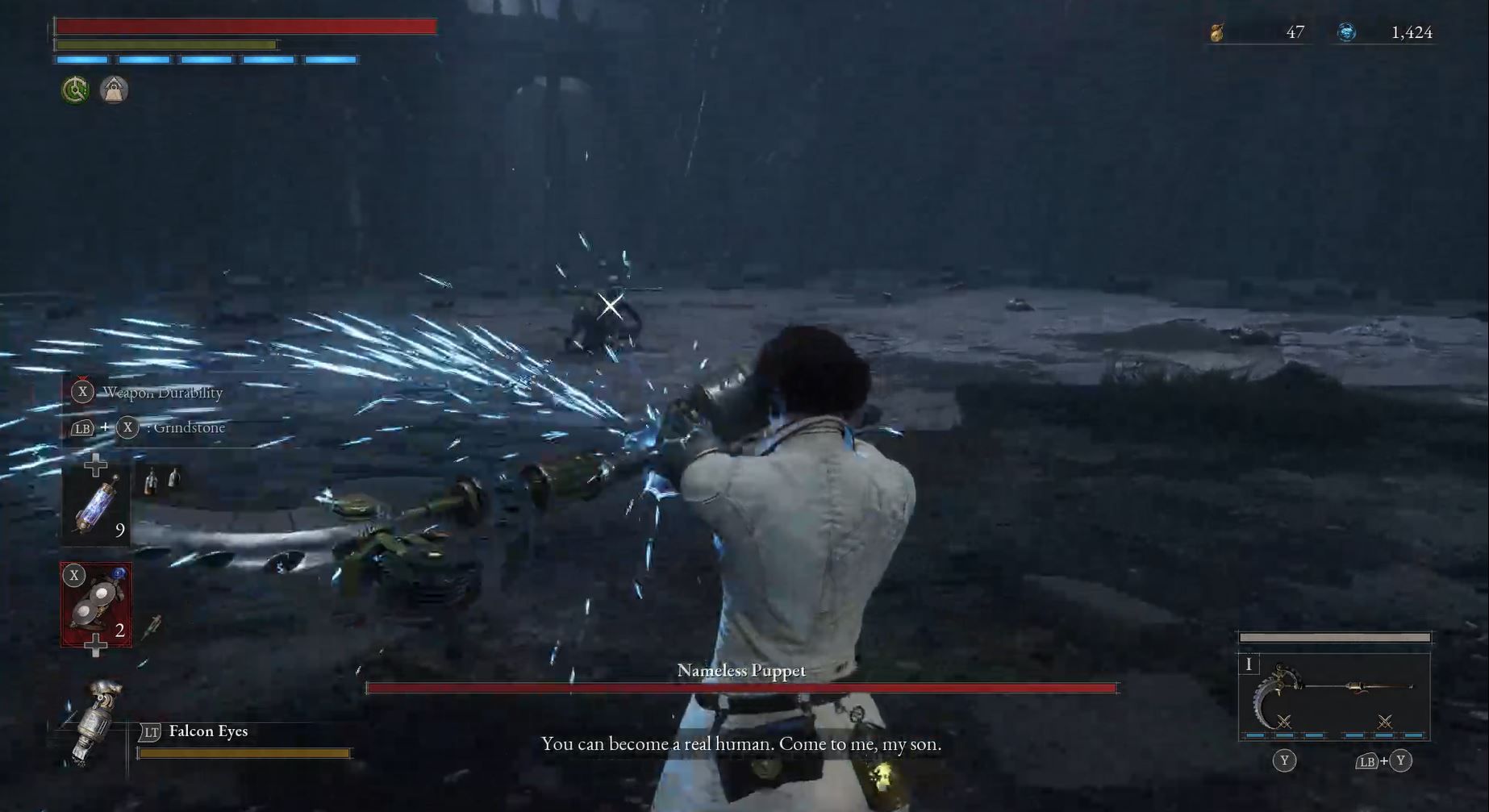 To get an edge on this fight, we do recommend using the Electric Blitz Grindstone as you enter the arena. He'll always rush to you as the fight begins with the same slash attack combo, so you'll need to be quick about applying your grindstone and dodging out of the way.
Punish his aggressive attack when he's finished and then back off to officially begin the dance.
If you are a souls veteran familiar with the Lady Maria fight from Bloodborne, this fight in the first phase (and doubly so in the second) is all about the dance. Play as if you were fighting Lady Maria without your gun.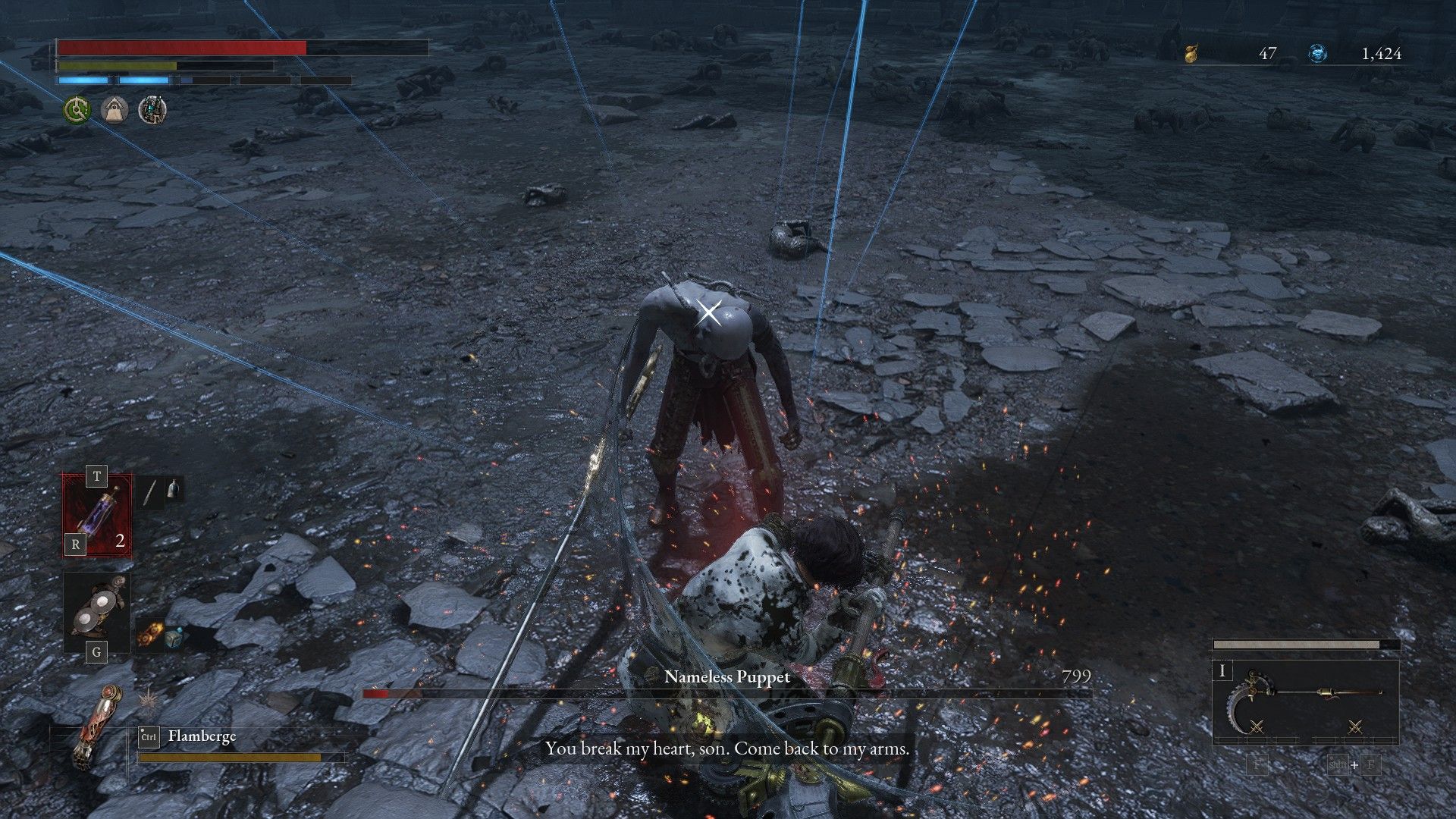 If you're carrying throwable items, do not use them in the first phase. These are best saved for the fast-paced and aggressive Phase Two.
Additionally, you'll eventually get a chance for a Fatal Attack against the Nameless Puppet near the bottom of its healthpool. This is the best time to heal or apply your final grindstone to prepare for the entry into the second phase.
Strategy For Phase Two
Phase Two often begins with the Nameless Puppet using his Crouching Fury attack unless the player makes a move toward the boss. It is not always the case, but it's consistent enough to be wary of as you enter the second half of the fight.
This means you can only get one of these in safely:
Grindstone application
Pulse Cell use
Falcon Eye shot
As the fight goes on, punish his retreats by throwing items like Throwing Cells or Carcass Body Fluid Bottles.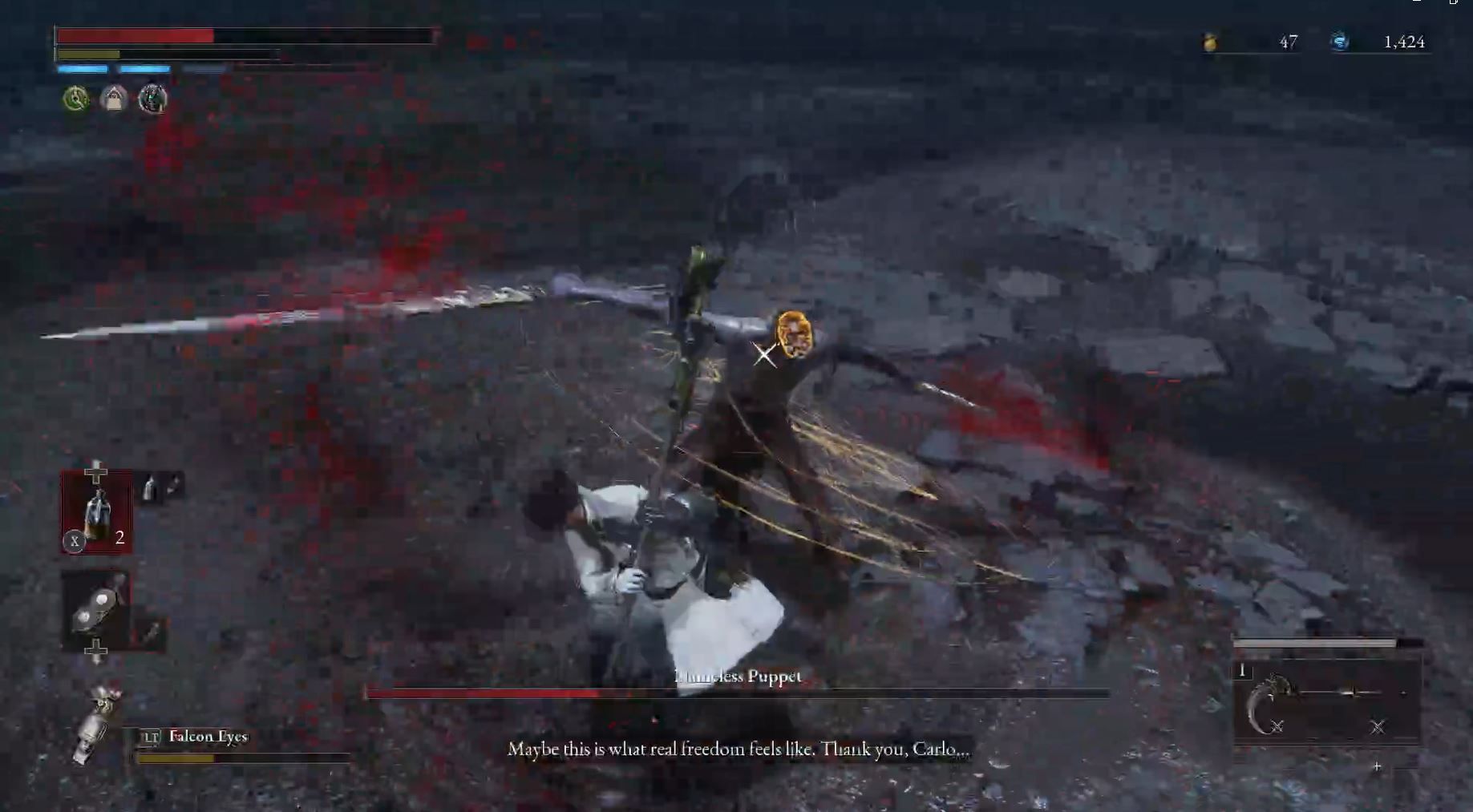 Depending on his weapon, your approach in dodging should differ slightly:
If he is using split blades, dodging forward is typically the way to go, allowing you to better set up attacks before he retreats again.
If he is using his "lance," dodging left or right and Perfect Guarding where comfortable will be best, building stagger and avoiding being caught in the hitbox as your I-frames end.
Sprint around the arena to bait out the combos you prefer to punish the best. While our style preferred to wait for his Quick Fiery Combo, dashing forward at the last strike and punishing then, and Crouching Fury, there may be other attacks you prefer more.
Altogether, remember to be patient and to wait for your openings. When you have those openings, use attacks like your Fable Arts to stagger him and punish those long windows with a flurry of strikes.
Consequences Of Defeating The Nameless Puppet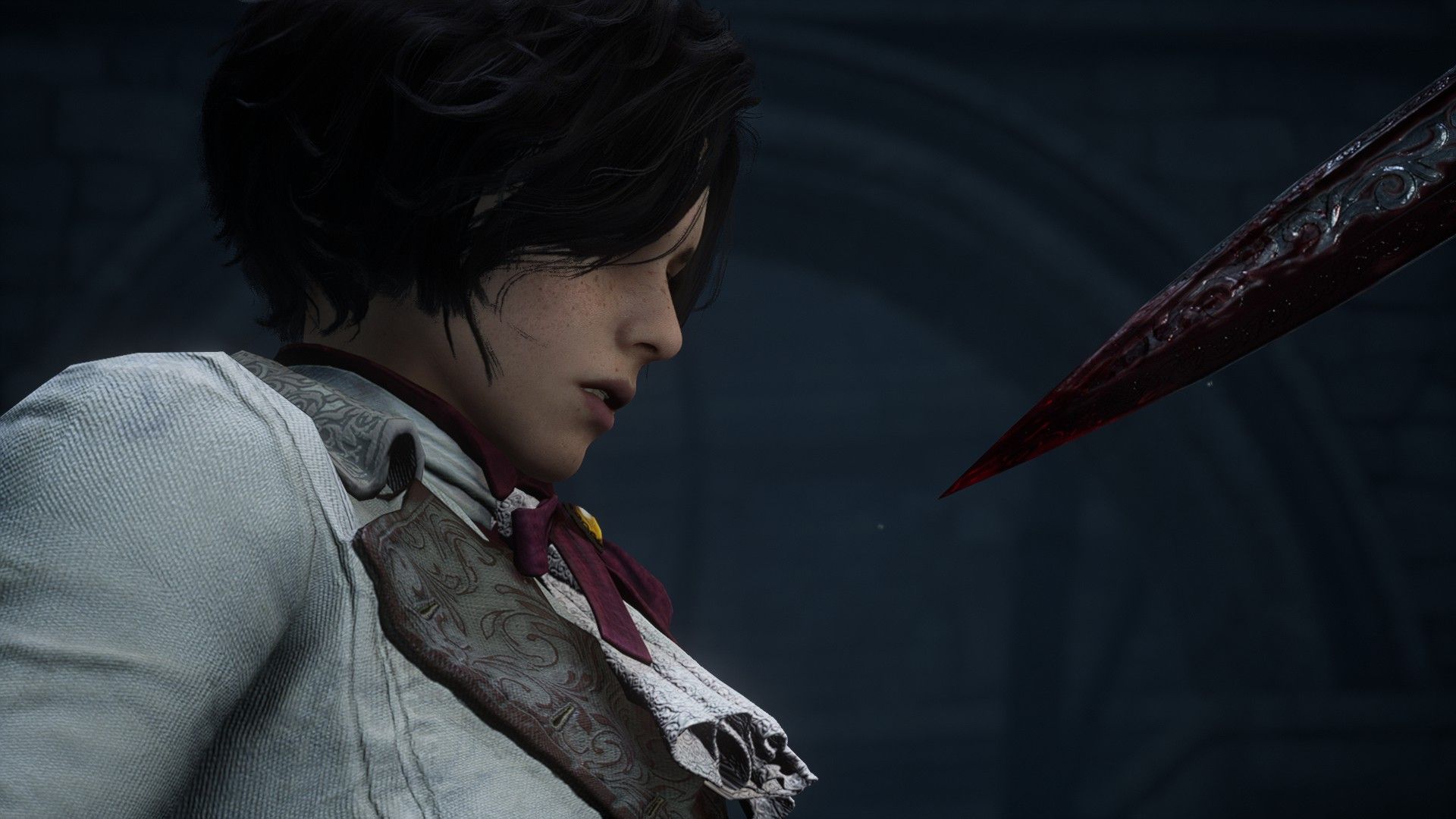 Nameless Puppet doesn't necessarily come with any rewards other than usual Boss Ergo. However, as you may expect, this Ergo is perchance the best Ergo you can exchange in the game.
If you speak with Alidoro (or Hugo), you may trade your Ergo for one of these rewards:
Proof of Humanity weapon (Motivity and Technique B)
Piercing Hatred Amulet (gives immunity to all status effects)
The latter is easily the best general amulet in the game for New Game+ as this will allow you freely venture anywhere without risk of building up status effects.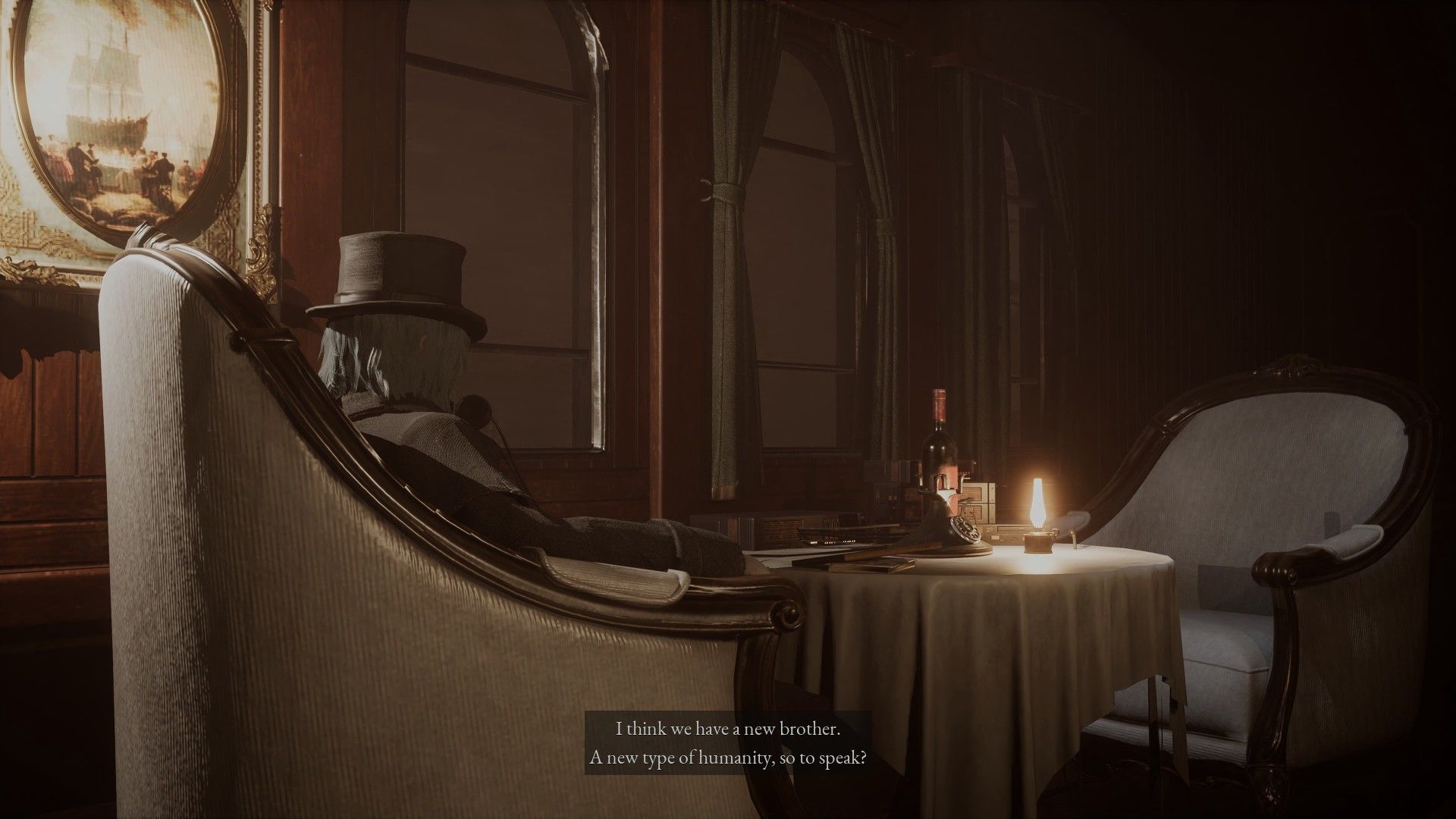 Secondly, completing the Nameless Puppet will open the door to one of two endings depending on your prior choices.
Completing this fight will also end the game and open the opportunity to begin New Game+ (or advance your pre-existing New Game+).
NEXT: Lies Of P: How To Respec