Quick Links
How To Make Water Out Of Dew
How To Get Water From A Dew Collector
In a desert environment, water is often scarce but incredibly important to survival. Much like in real life, water is one of your key resources in My Time At Sandrock: the majority of your machines need water to function properly, and you're going to need a lot of it.
RELATED: My Time At Sandrock: Complete Guide To Commissions
Without a steady source of water, your machines eventually cease to function, and you won't be able to use them again until they have more. In this guide, we'll show you not only where you can buy water but also how you can utilize naturally occurring Dew and even a few machines to produce your own water.
How To Make Water Out Of Dew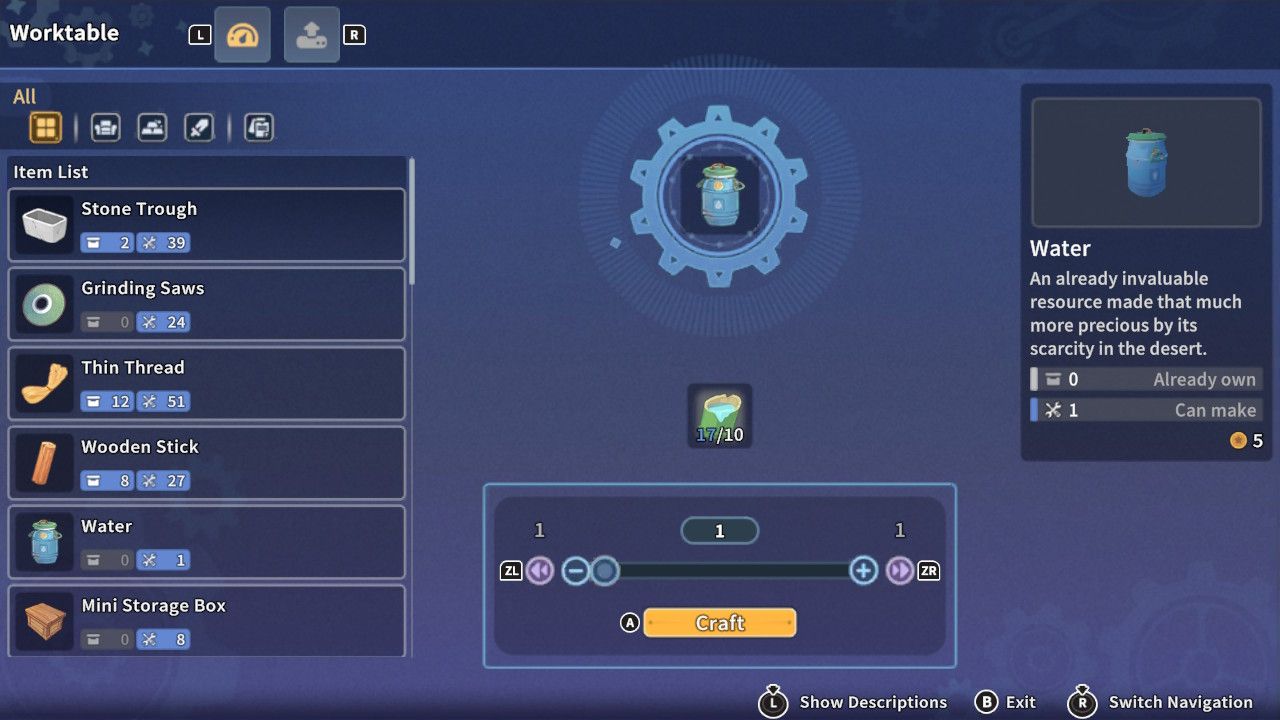 One way to gain water is by turning Dew into Water, and it's a slow but cheap way to obtain Water early on and isn't rationed.
Each time you gather from a plant, such as a Sandberry, harvest plants, and Ball Cactus with your axe, or even when breaking Gravel or Hard Rock with your Pickhammer, you have a chance to obtain Dew.
You'll generally obtain around one to three Dew if it does drop.
Ten Dew can be converted to one unit of Water at your workbench, and from there, you can deposit that Water directly into your Water Tank.
A single unit of Water added to your tank count adds between three and four percent to the total.
How To Purchase Water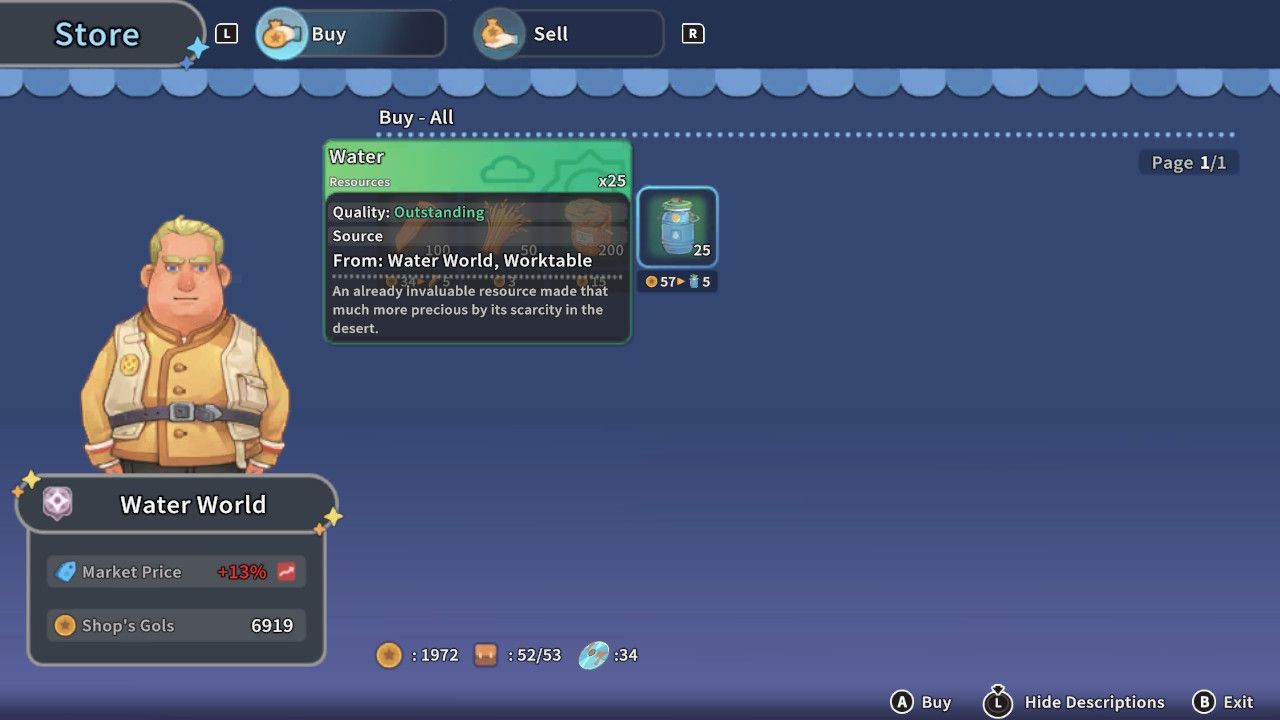 Alongside crafting Dew into Water, you can also purchase Water from the Water World store, located in the western corner of the town.
Burgess runs this store, and each day, you can purchase up to five units of Water at a reduced cost as part of the town's water conservation efforts, generally at X Gols per unit.
You can purchase more than five units, but the cost will drastically increase, generally double or triple the original cost, depending on the market rate.
Burgess only has a total of 25 units of water available per day, regardless.
Burgess also frequently rewards the player with one unit of Water when completing his quests.
How To Get Water From A Dew Collector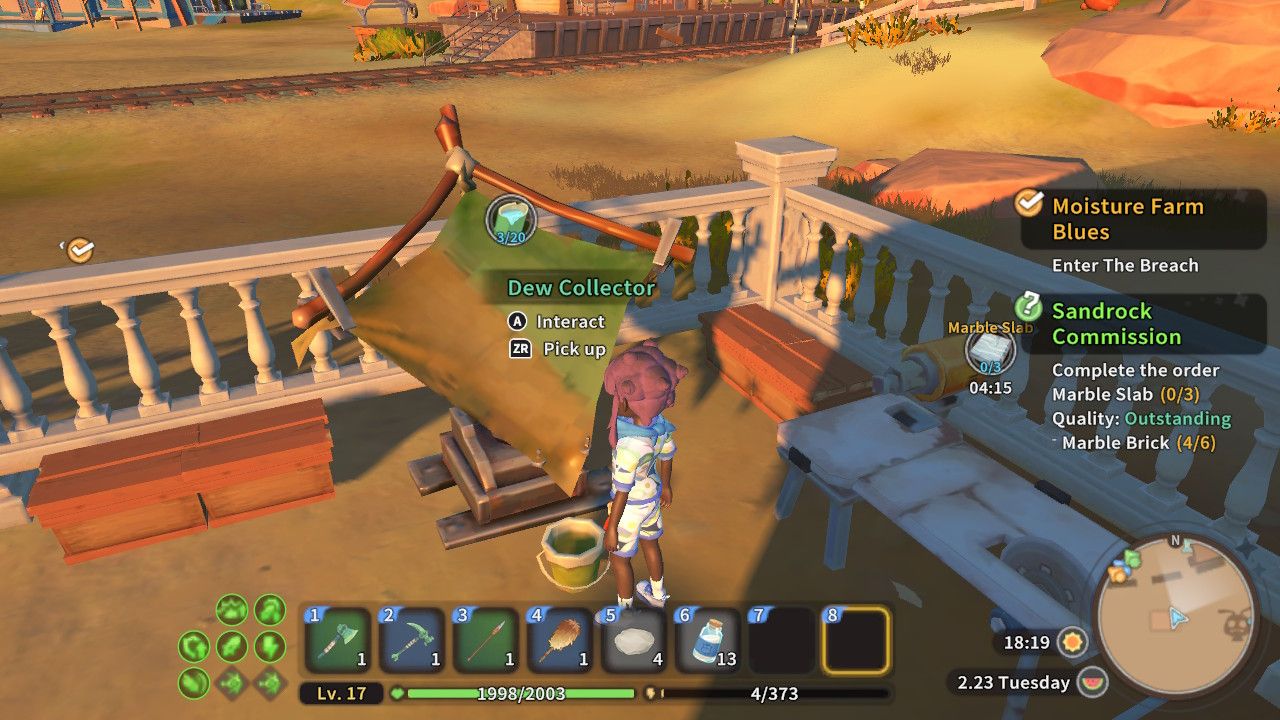 Once you unlock the ability to research new machines from Qi, you can unlock a way to passively generate Dew with the Dew Collector machine.
The Dew Collector takes 5 Data Disks to unlock, and you'll need four materials to make it: three Wooden Sticks, three Basic Leather, two Marble Bricks, and two Stone Troughs.
You'll also need to have unlocked the Furnace from Qi, and crafted a Bronze Pickhammer.
Material

How To Obtain

Wooden Stick x3

Crafted from Wood at a Workbench.

Basic Leather x3

Crafted from Raw Animal Skin and Sea Salt at a workbench.

---

Raw Animal Skin can be obtained by processing Damaged Animal Pelts at a Workbench. Damaged Animal Pelts can be obtained from defeating certain animals such as Wild Yakmel.
Wild Yakmel also has a chance to drop Raw Animal Skin itself.
Sea Salt can be purchased from Arvio's store By The Stairs for around 10 Gols each, depending on the market price.

Marble Bricks x2

Crafted from Marble at a Furnace. Marble can be obtained by mining Hard Rocks with a Bronze Pickhammer or better.

Stone Trough x2

Crafted from Stone at a Workbench.
Once you have a Dew Collector, all you need to do is place it in your yard, and it will passively generate four Dew per day.
A more advanced upgrade of the Dew Collector, the Super Dew Collector, can be researched at Qi's Research Center once the Dew Collector is unlocked.
It costs 18 Data Disks, and takes five days to research. It offers an increased Dew Capacity, as well as generating more Dew per day.
NEXT: My Time At Sandrock: The Church Of Light, Explained