Quick Links
Blood And Wine Best Ending – Both Sisters Live
Syanna Dies, Anna Henrietta Lives
Despite being such a prominent extension to the dark world of The Witcher 3: Wild Hunt, the Blood and Wine expansion is not as grim as the core game or Heart of Stone — depending on which ending you get. Regardless of whether you've played it before or not, knowing how to get any of the available endings to the main quest in this expansion will save you the potential headache of having something go wrong due to a seemingly irrelevant decision.
Related: The Witcher 3: Now Or Never Side Quest Walkthrough
Naturally, each of Blood and Wine's potential outcomes revolves around the fate of the two sisters with a complicated past. No matter which path you wish to take the culmination of events always begins with the quest 'The Night of the Long Fangs' when Dettlaff attacks the city with an army of vampires and related monsters. Your choices from here on will shape the ending in pretty significant ways, so let's go through all the possibilities.
Updated November 4, 2023, by Sean Murray: Looking to find the best ending in Blood and Wine? We've got you covered in this refreshed guide, now with improved formatting and more breakout tips to make achieving the best ending that much easier. We've also given this guide links to other helpful Witcher 3 topics.
Blood And Wine Best Ending – Both Sisters Live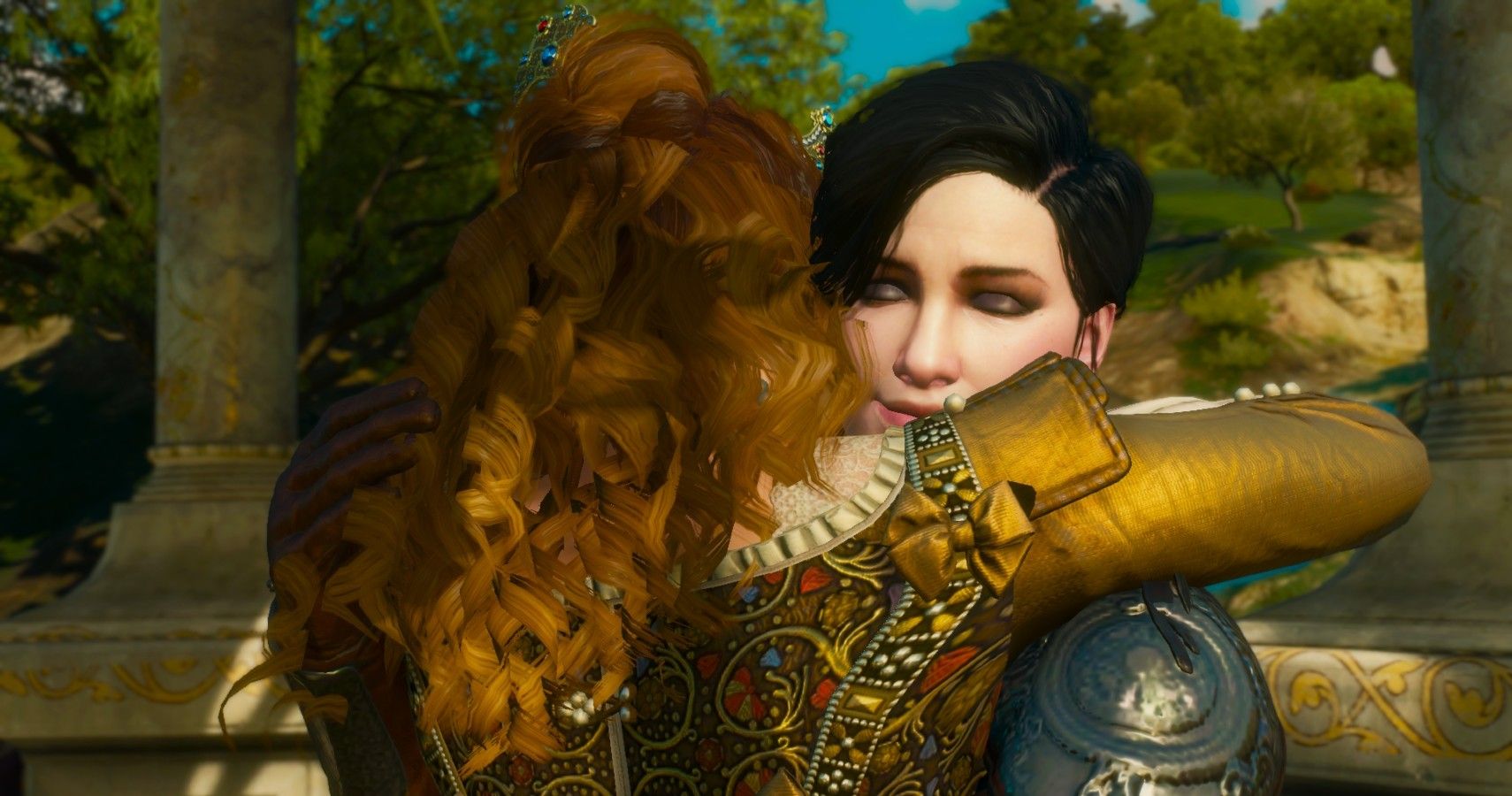 As you might expect, getting this ending is the most involved and requires you to do things in a very specific way. Starting off during 'The Night of Long Fangs' quest, you must choose to take Syanna to Dettlaff to allow the story to continue in the 'Beyond Hill and Dale' quest.
During Beyond Hill and Dale you need to accomplish several things. First is to make sure and read all the diary entries you find in the journal on the playroom's desk. Second is to get Syanna's ribbon from the vendor, and finally make sure to exhaust all of Syanna's dialogue options before moving forward.
The last set of requirements come in the 'Pomp and Strange Circumstance' quest. Here you need to make sure and visit Syanna before talking to Damien, which will trigger the ceremony to start. You will need to talk your way past a guard and then use the following dialogue options with Syanna:
"Cause she turned her back on you…"
"Ever thought to forgive her?"
"Might ask her that."
Once the ceremony starts and the duchess approaches you, tell her what you learned about Syanna. She will also ask your opinion on her, to which you should claim she is guilty but that they should be shown mercy. If you manage to do all of this right, the two will finally put the past behind them.
The fate of Regis and Toussaint is another story, and continued after this in the 'Be It Ever So Humble' quest, but at least this one relationship is a little better.
Related: The Witcher 3: Count Reuven's Treasure Main Quest Walkthrough
Syanna Dies, Anna Henrietta Lives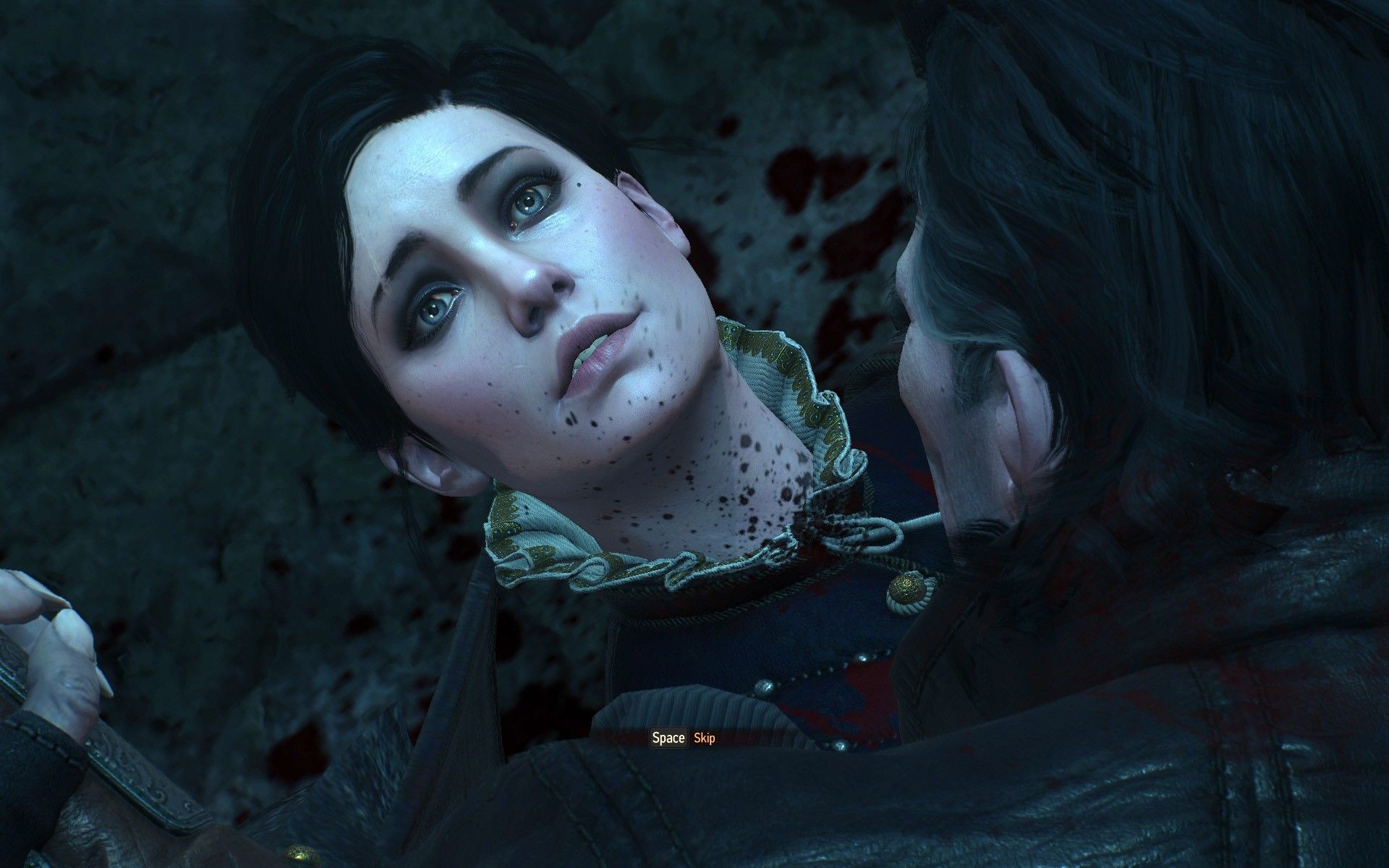 This may be either the neutral or the bad Blood and Wine ending (in which case the next ending is downright tragic), depending on how dear Syanna is to you. In 'The Night of the Long Fangs,' find Syanna, but do not get the ribbon in 'Beyond Hill and Dale.' This will get Syanna killed in Tesham Mutna by Dettlaff, and she and Henrietta won't get a chance to see each other.
Geralt will then have the option of fighting Dettlaff or not. If Geralt engages Dettlaff, Regis will join the battle — proving he's one of Geralt's best friends — and land the killing blow.
Later, Geralt will discover his friend's act of loyalty turned all the other vampires against him, which makes this a tragic outcome in its own right depending on how much Regis' friendship means to you.
Before that, Geralt will be thrown in jail for letting Syanna die, and you won't have the opportunity to undertake the 'Pomp and Strange Circumstance' quest — instead, you'll unlock 'Burlap is the New Stripe.' Don't worry, your old pal Dandelion will rescue you.
Related: The Witcher 3: Carnal Sins Side Quest Walkthrough
Both Sisters Die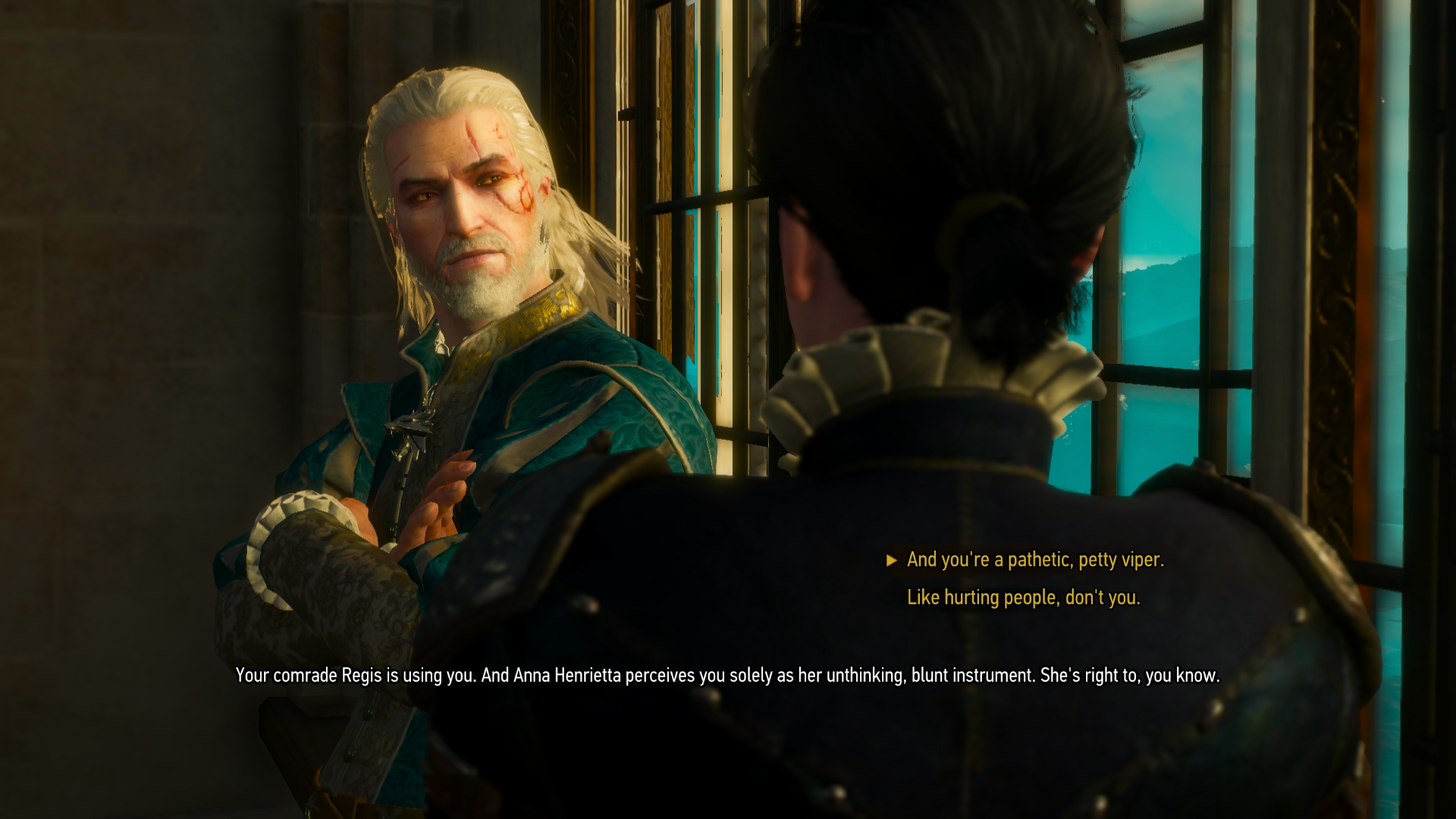 Regardless of whether you consider this ending merely bad or truly tragic, there are two methods to achieving it:
The 'Beyond Hill And Dale' Method
If you search out Syanna during 'The Night of the Long Fangs,' you will begin the 'Beyond Hill and Dale' quest. While in the Land of a Thousand Fables, Geralt still needs to obtain Syanna's ribbon from the Little Flint Girl, either by paying for it or beating her at Gwent. Afterward, there are multiple ways to get this conclusion.
Geralt can refuse to go to the bootblack when Regis asks.
Speaking to Syanna harshly during the conversation in the tower rather than applying sympathy and reason.
As a result, Syanna will kill Anna during her act of mercy, and in response, Damien will murder Syanna with a bolt to the throat.
The Unseen Elder Method
Alternatively, if you go to Orianna during 'The Night of the Long Fangs' and follow it through to meet the Unseen Elder, you get this ending no matter what. You can still go to the bootblack and find out that Anna is the fifth victim, but it doesn't stop Syanna from killing her sister and getting shot herself.
On a more positive note, the quest to see the Unseen Elder is among the best in the expansion, though it's easy to miss if you find yourself invested in Syanna's plotline. This is because you will likely feel the pull to find Syanna during 'The Night of the Long Fangs', which has caused some players to miss the 'What Lies Unseen' and 'Blood Simple' quests altogether.
Fortunately, for those of us who can't get enough Witcher lore, we don't have to miss out on Orianna's or Syanna's sub-plots. Players who want every bit of extra story content can feed their souls by going to Orianna first, then backtracking to find Syanna rather than seeking out the Unseen Elder when Regis asks Geralt's plan of action for a final time near the docks.
Of course, that doesn't mean these endings are easily achieved. Both the acclaimed worst and best endings require that Geralt defeat Dettlaff in battle and besting a higher vampire is no small feat. Dettlaff's power is demonstrated through how much effort it causes Regis to stave off his fellow vampires in their different encounters throughout Blood and Wine's storyline.
Next: The Witcher 3 Complete Guide And Walkthrough