The Badge system may quietly be the biggest innovation Nintendo makes to the familiar formula in Super Mario Bros. Wonder. Typically, the series has introduced one new big tool per game. In Super Mario Sunshine, it was F.L.U.D.D., Mario's backpack sprayer that let him clean up gunk, hover, and rocket above the ground like someone dumped some Mentos in a bottle of Coke then strapped the two-liter to his back. Super Mario Odyssey similarly introduced Cappy, which let Mario possess anything — animate or inanimate — that he could chuck his hat on like a platforming Pazuzu.
If we go by that same model of one new mechanic opening up multiple different abilities, then Mario Wonder has doubled the previous expectation. Wonder Seeds change the level around the plumber, and sometimes transform him into something else, too. And Badges let him equip a new ability.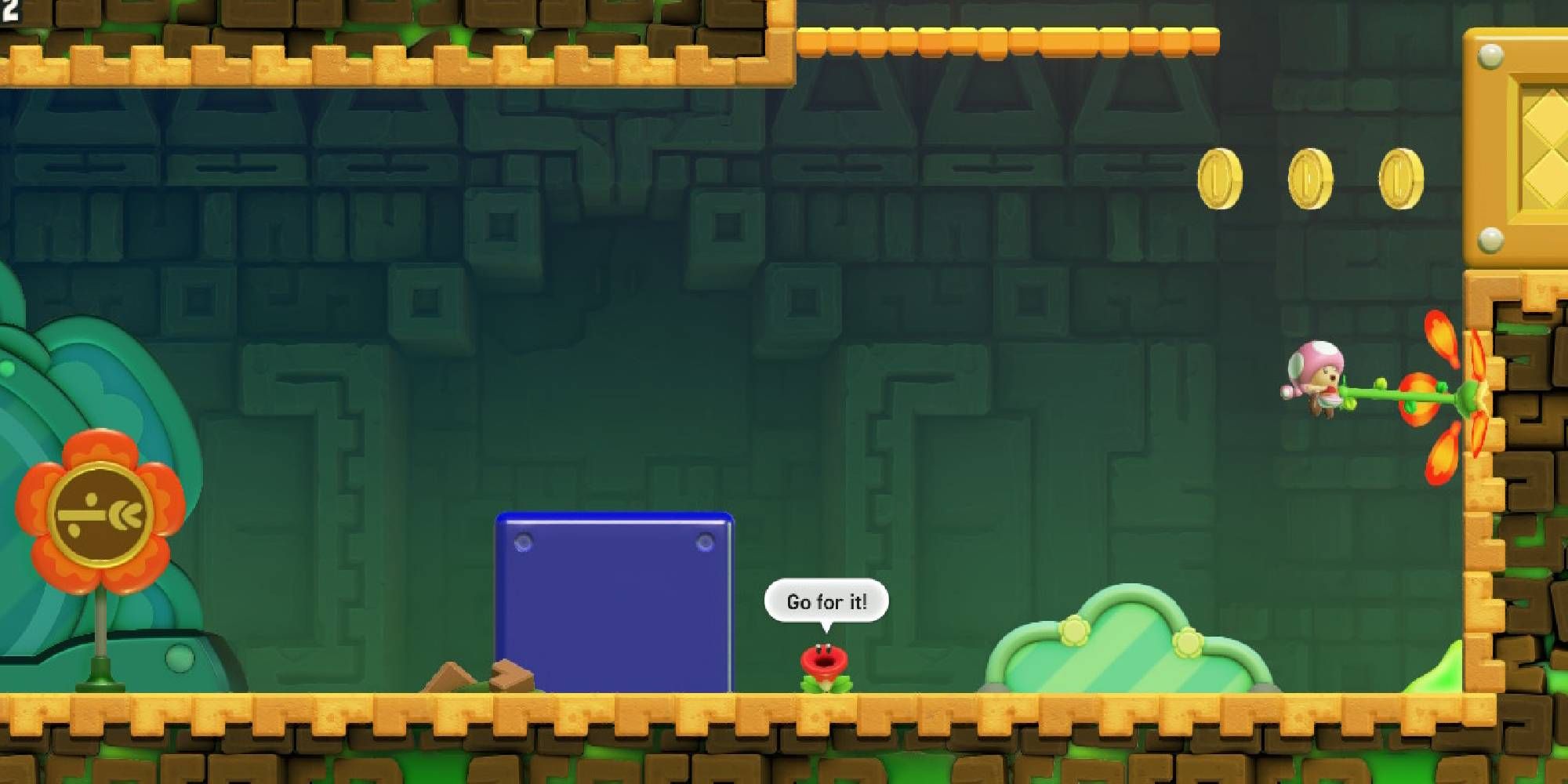 I've enjoyed a lot of these new skills. The first Badge I got turned my hat into a parachute, granting a little extra time in the air. Some of these things would feel like natural, permanent additions to Mario's move set. One Badge automatically gives you a Super Mushroom at the beginning of a stage, and to be honest, now that I've experienced it I would love to never start another level as tiny Mario again. Similarly, after experiencing a Badge that gave Mario a longer, taller, Luigi-like jump, his normal jump felt unusually stubby.
Wonder's grappling hook is one such addition. Once you've seen it in action, you can't believe it took this long to supplement the move set of the gaming's best feeling hero with gaming's best feeling tool.
Sure enough, I was instantly happy with how the Grappling Vine (as the Flower Kingdom-themed tool is officially titled) feels to use. The device's tutorial level has Mario grappling to moving surfaces and riding them quickly through the level, hopping back and forth between parallel walls that may be rushing in opposite directions. It's a ton of fun, and a full Mario game devoted to exploring this would be killer.
It's a mechanic that many players will use for a level or two and then trade out, which means the Grappling Vine doesn't feel as robust as it would if it were the focus of its own Mario game. You can only shoot it straight to the right or left which means it can't help you reach areas above Mario's head. And, you need to make sure that you time your jump precisely because you won't be able to angle the Grappling Vine once you're airborne. Plus, it only sticks to surfaces, not enemies, so you can't use it as a weapon or a tool to bring far off koopas closer to you.
With each new Badge, Mario unlocks the ability to harness new powers. Turns out our favorite plumber is just like a Pokemon trainer.
Nintendo tends to build mainline Mario games around big ideas. What if Mario was a baby and you actually played as his babysitter, Yoshi? What if Mario was in 3D? What if Mario went to outer space and every level was its own planet? What if Mario could become any object in sight? On the opposite extreme, some Mario games don't really have a big new idea other than, "it's been a while since there was a new Mario game," which seemed to be the organizing idea behind the New Super Mario Bros. titles. It's rare that Mario introduces one, relatively minor but fun mechanic, and explores it to its fullest. But, after messing around with the Grapple Vine, that's exactly the kind of game I want.
NEXT: Super Mario Bros. Wonder's Terrible Online Play Turns It Into Sonic