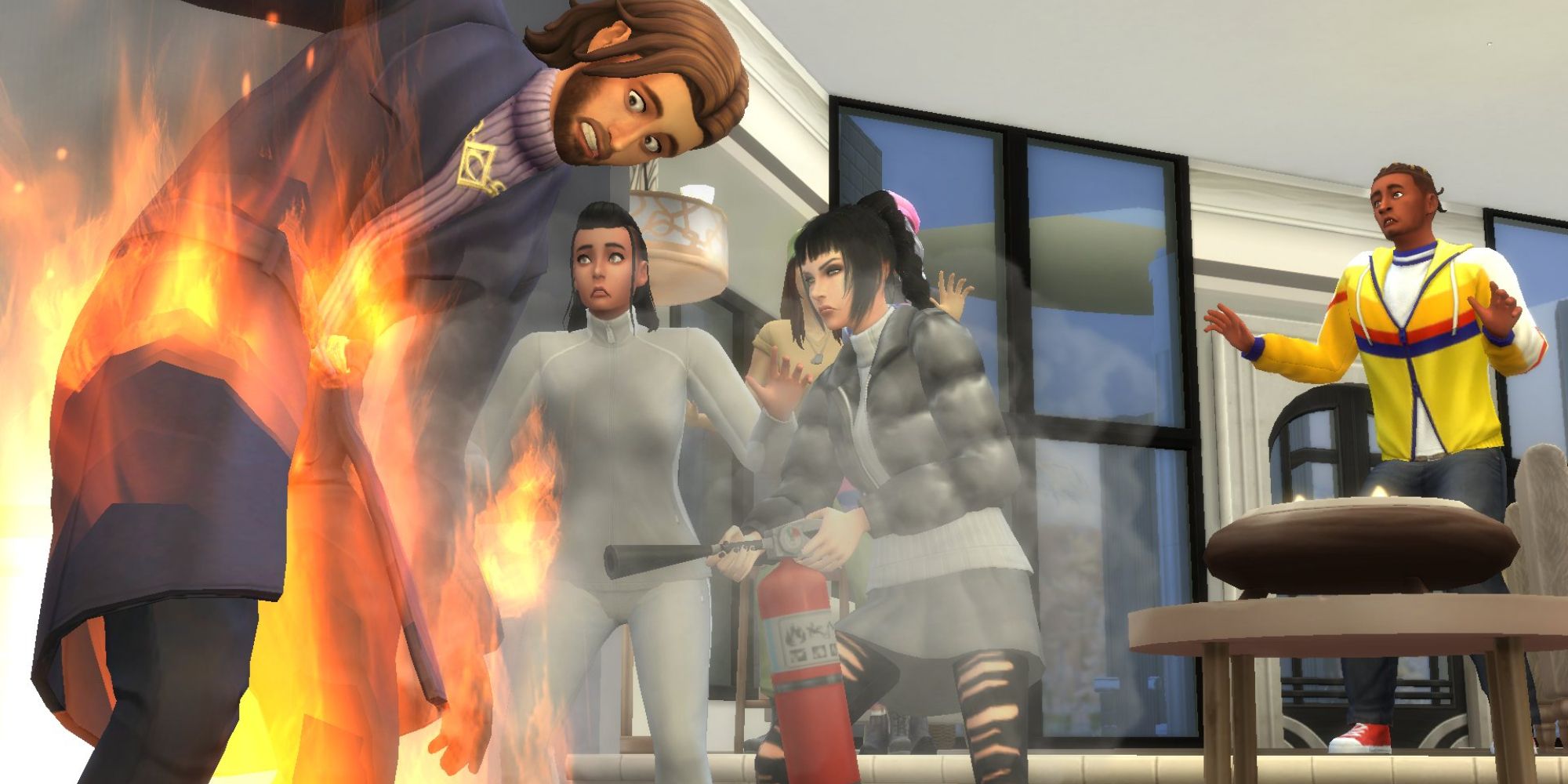 Highlights
Baldur's Gate 3's characters create a dysfunctional family in a Sims 4 household, with clashes and murder attempts.
Necromoss brought eight popular characters from Baldur's Gate 3 into the Sims 4, including Lae'zel, Shadowheart, Astarion, and Gale.
The Sims 4 version of the characters stay true to their original personalities, with Shadowheart extinguishing Gale when he sets himself on fire.
Baldur's Gate 3's biggest strength is its wonderful cast of characters, which can at times feel like one big extremely dysfunctional family depending on how you play things. There's a wide range of personalities and preferences among party members, meaning you'll often get clashes, spats, and the odd murder attempt here and there. Sounds like the perfect family to plop into a normal neighborhood and recreate in The Sims 4.
That's exactly what Twitter user Necromoss did a few days ago, painstakingly bringing eight of Baldur's Gate 3's most popular characters and giving them a house to call home to see what happens (thanks GamesRadar). Of the many characters Necromoss could have brought over, they went for Lae'zel, Shadowheart, Astarion, Gale, Minthara, Wyll (for some reason), and Karlach, albeit without her fiery red skin.
Lae'zal is the only character with a more exotic race to have their actual skin color thanks to The Sims 4's inclusion of Aliens, though you may not want to call her that to her face.
Necromoss shared an image of their dysfunctional Baldur's Gate 3 family on their Twitter page earlier this week, and has been regularly issuing updates on how they're doing and what kind of hijinks they're getting up to. Kind of like if Larian decided to host a series of Big Brother, except with a lot less minigames and a lot more real-world problems.
In true Shadowheart fashion, our favorite Shar worshipper took an almost immediate disliking to Astarion, though if our first encounter with him in Baldur's Gate 3 is anything to go by, maybe she has good reason for her mistrust. Astarion himself is also very on brand in this household, who develops a desire to flirt with Wyll pretty swiftly, although it's quite surprising he doesn't have a desire to flirt with absolutely everyone.
Unlike in Baldur's Gate 3, everything seemed to be going quite well between the group, up until another update from Necromoss that came a day later. Making sure that everyone in that household stayed true to their original character, Gale somehow managed to set himself on fire. Whether it was an accident or a deliberate bit of malice from Necromoss, we'll never know, but luckily Shadowheart was there with a handy fire extinguisher to save Gale.
Necromoss hasn't provided any other updates since then, which could be down to the fact they've sadly been getting a bit of grief from other Baldur's Gate 3 fans about certain aspects of each character's design. Gale setting himself on fire does feel like a fitting end to the playthrough though, and one which almost everyone saw coming from a mile away.
Next: Neil Newbon On Becoming Astarion In Baldur's Gate 3