Highlights
Each shiny Eeveelution has its own unique appearance and battle potential, with some being more useful than others.
If you're a Pokemon Go pro, you've probably made it part of your mission in the game to collect all the Eeveelutions. Along with the normal evolutions of Eevee, you'll want to capture the shiny Eeveelutions, too. With eight shiny Eevee evolutions plus Eevee itself, collecting them all in Pokemon Go can be a time-consuming task.
RELATED: Pokemon GO: How To Trade Pokemon
The best shiny Eevee evolution combines a beautiful appearance with good max CP, stats, and potential in battle. Luckily, as you hunt, you'll discover that Pokemon Go is perhaps the most rewarding game to hunt in for these extraordinary shiny Eeveelutions.
Updated on November 4th, 2023 by Andrew Scariati: The shiny Eeveelutions represent some of the most polarizing alternative color palettes across the entire series. Each of the shiny Eevee evolutions undergoes either a very slight shade change or completely changes their major color scheme with little room in between.
Starting with shiny Eevee itself, these are the best shiny Eeveelutions in Pokemon Go.
9
Shiny Eevee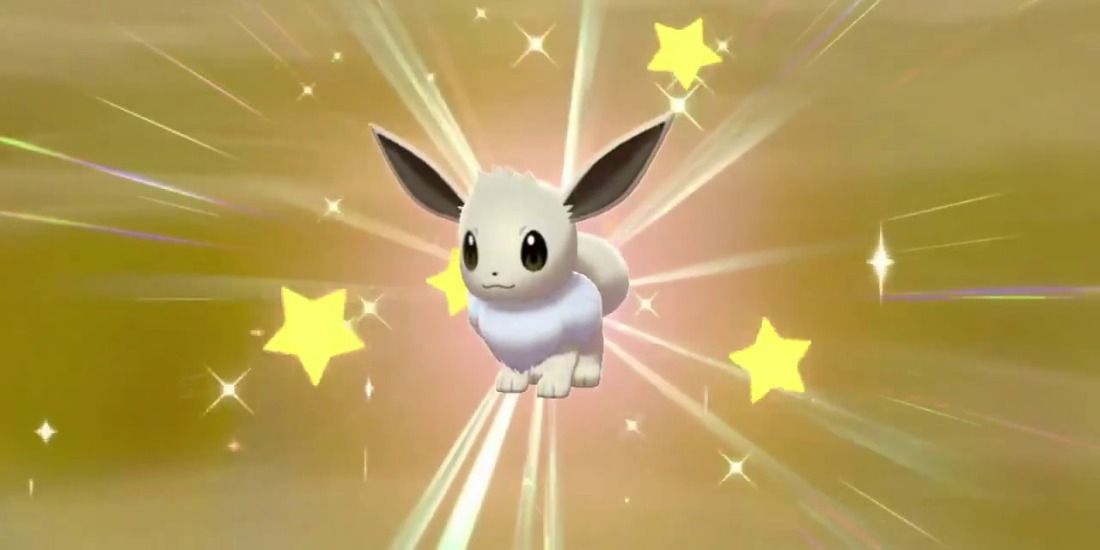 | Max CP | Max CP (Level 40) | ATK | DEF | STA | Nickname |
| --- | --- | --- | --- | --- | --- |
| 1,210 | 1,071 | 104 | 114 | 146 | N/A |
While Eevee isn't an Eeveelution in the technical sense, it is the start of it all. Shiny Eevee is pretty neat, muting out the vibrant brown of regular Eevee for more of a pale gray. The colors are washed out and give a more subtle look to this fan-favorite.
Even though it has a nice shiny variant, it will, of course, rank the lowest because it's virtually unusable in most battle formats. If you're looking to evolve shiny Eevee, you'll want to make sure their stats are maxed out to get the most powerful versions that you can.
How To Get A Shiny Eevee
You'll need to catch a Shiny Eevee in the open world. If Eevee is featured in a Community Day, you'll have an even better chance of catching a Shiny.
The Eeveelutions can be evolved from an Eevee via a few different methods, but one special evolution method is to change their nickname in-game to something specific.
This only works once per account per nickname.
8
Shiny Leafeon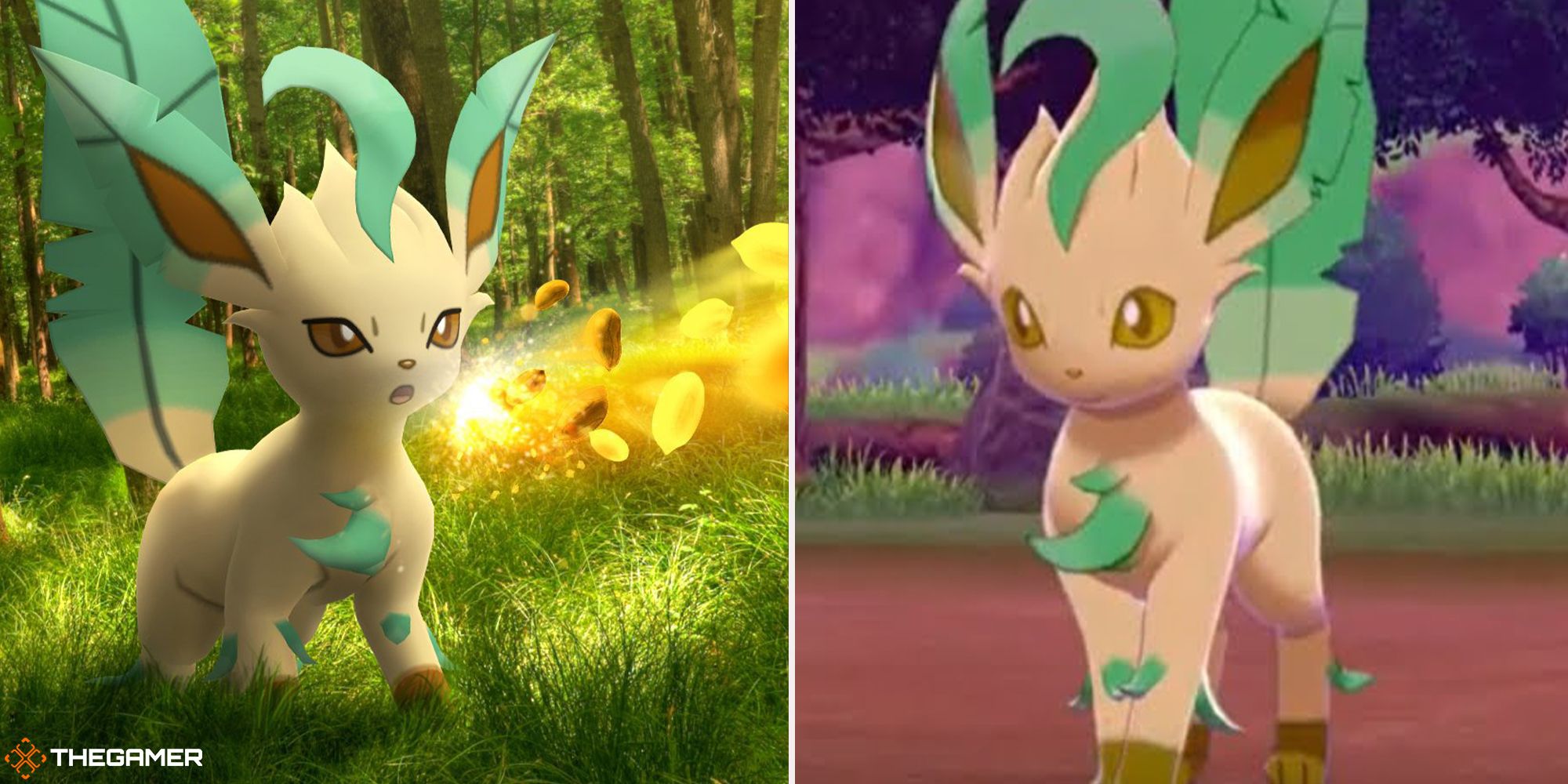 | Max CP (Lvl 40) | Max CP (Lvl 50) | ATK | DEF | STA | Nickname |
| --- | --- | --- | --- | --- | --- |
| 2,944 | 3,328 | 216 | 219 | 163 | "Linnea" |
Leafeon is one of the newer additions to the game as far as Eeveelutions are concerned. This is the Grass-type evolution and has a max CP of 3,328 (level 40: 2,944). While its max CP is lower than Flareon's, Leafeon isn't necessarily that much worse. The problem is, Grass-types don't have a place in the PvE meta, though they aren't useless.
Shiny Leafeon is more than a little subtle. The colors become a bit darker and more vibrant, which is a nice differentiation from the normal manila-yellow that so many Pokemon are. However, it's almost unnoticeable, making it pretty underwhelming.
How To Get A Shiny Leafeon
One time, you can nickname your Shiny Eevee "Linnea" and evolve it to get a guaranteed Leafeon. To evolve a Shiny Eevee into a Leafeon without using the nickname, you need to use 25 Candies to evolve the Eevee while standing near an active Mossy Lure Module.
7
Shiny Flareon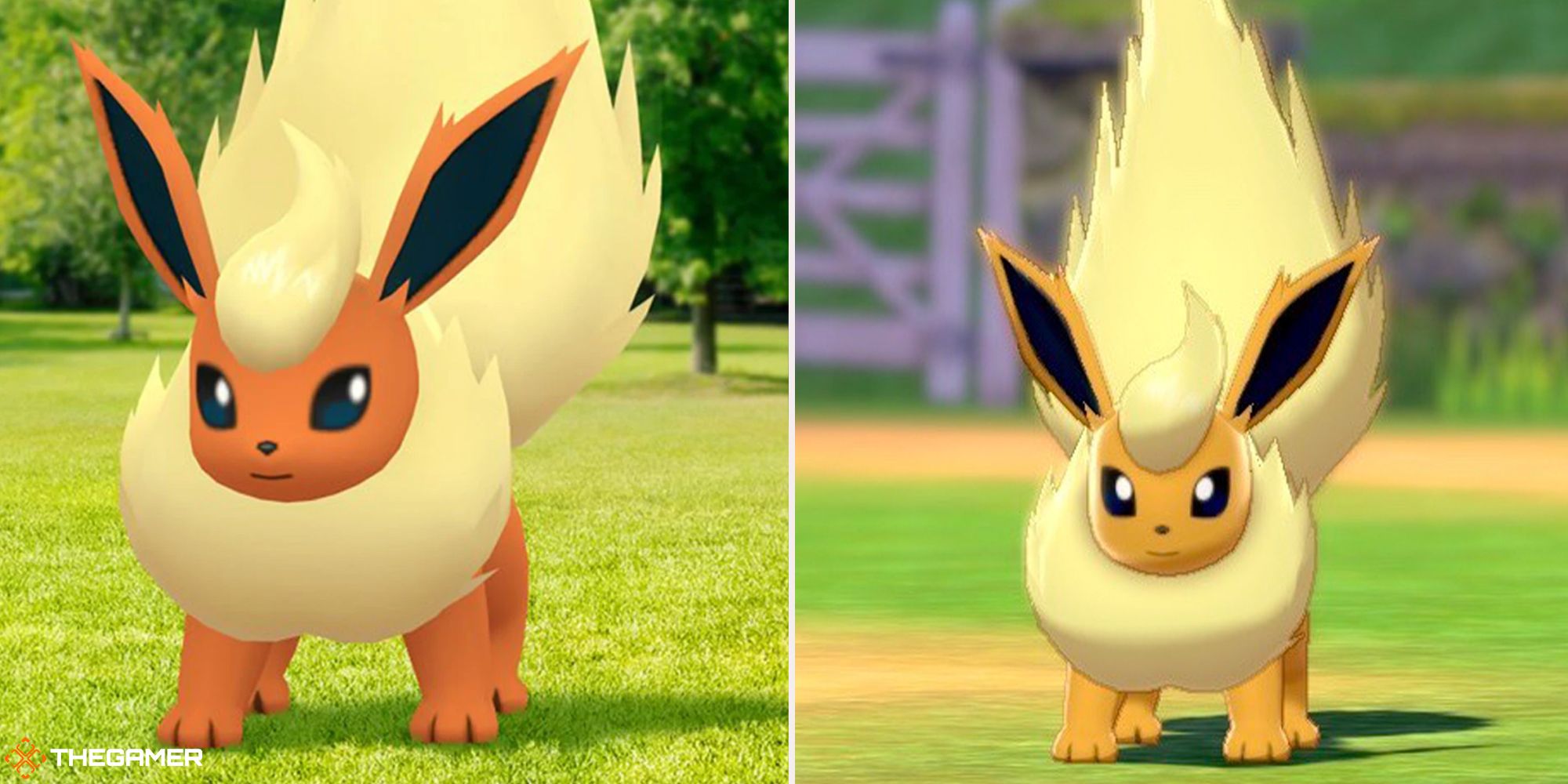 | Max CP (Lvl 40) | Max CP (Lvl 50) | ATK | DEF | STA | Nickname |
| --- | --- | --- | --- | --- | --- |
| 3,029 | 3,424 | 246 | 179 | 163 | "Pyro" |
Flareon was once one of only three shiny Eevee evolutions Pokemon GO had to offer, alongside Vaporeon and Jolteon.
Flareon is a decent Pokemon for when you need a Fire-type, but it pales compared to others, like Moltres, Heatran, Entei, Reshiram, and more.It doesn't have access to a fantastic array of moves but, since it isn't a Legendary, it can be much cheaper to power up a Flareon than many of the other top Fire-types.
RELATED: Pokemon Go: How To Get Yellow Flower, Red Flower, And Blue Flower Flabebe
Flareon's spawn rate is boosted by sunny weather, which is good to note if you're trying to battle with your shiny Eevee evolutions.
Regarding appearance, the shiny Flareon is mostly just a muted version of the original. The coat is a more gold-tan color than the brighter orange and red that the original has.
How To Get A Shiny Flareon
Just one time, you can change a Shiny Eevee's name in Pokemon Go to "Pyro" and evolve it to get a guaranteed Flareon. Otherwise, you get a Flareon by evolving a Shiny Eevee with 25 Candies (so long as the conditions to evolve the Eevee into a different Eeveelution haven't been met). There is no way to guarantee that you will get a Flareon; this method either turns out a Vaporeon, Jolteon, or Flareon.
6
Shiny Jolteon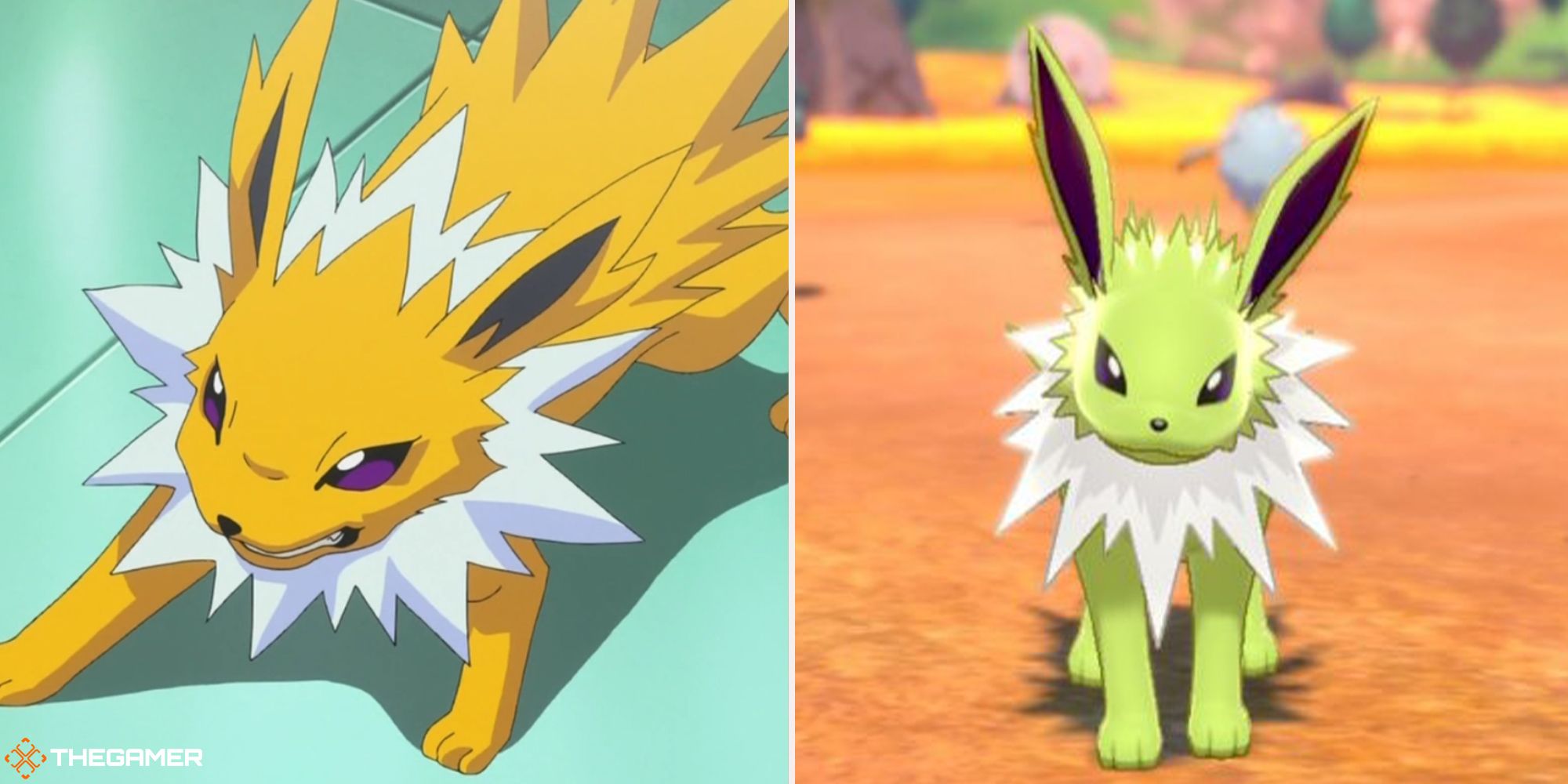 | Max CP (Lvl 40) | Max CP (Lvl 50) | ATK | DEF | STA | Nickname |
| --- | --- | --- | --- | --- | --- |
| 2,888 | 3,265 | 232 | 182 | 163 | "Sparky" |
Jolteon is the Electric-type Eeveelution, introduced in Generation One with Vaporeon and Flareon. The shiny version of Jolteon is not for everyone unless you love green, as Jolteon's coat changes from a bright yellow-gold to lime green. It's not the most appealing color ever, but it is a fun change that's much less subtle than other Eeveelutions.
Jolteon packs a punch but is a bit of a glass cannon; Jolteon was once the ruler of Electric-types, but it has since been outclassed by other Pokemon, like Electivire and Raikou. However, it still has some use in PvP, especially the Ultra League. Its max CP is 3,265 (2,888 at level 40).
How To Get Shiny Jolteon
If you give your Shiny Eevee the nickname "Sparky," it is guaranteed to evolve into Jolteon (only once per account). Without the nickname, there is no guaranteed way to get Jolteon.You have a 33 percent chance of getting it while evolving a Shiny Eevee with 25 Candies, as long as no other conditions for other Eeveelutions have been met.
5
Shiny Vaporeon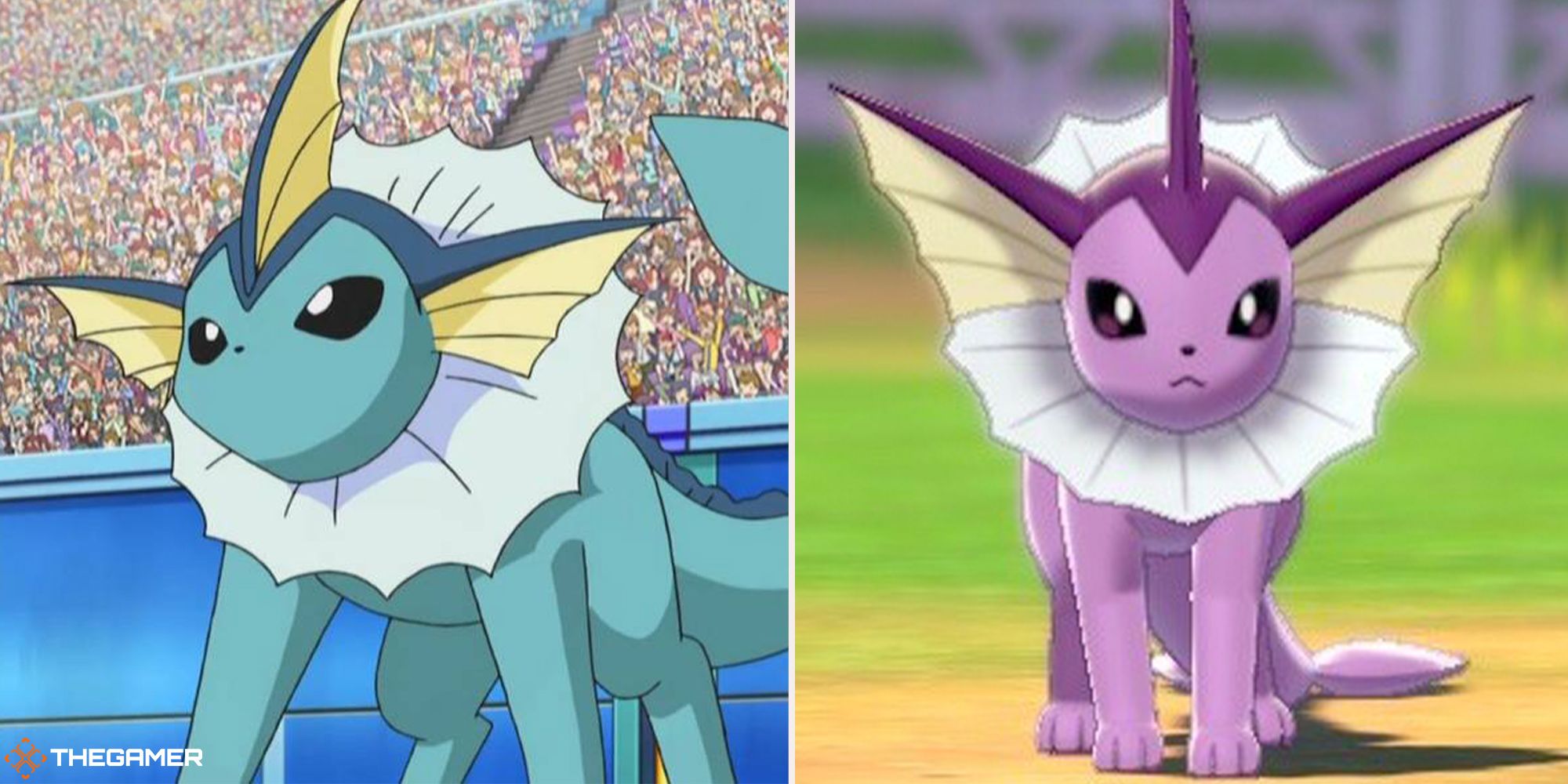 | Max CP (Lvl 40) | Max CP (Lvl 50) | ATK | DEF | STA | Nickname |
| --- | --- | --- | --- | --- | --- |
| 3,114 | 3,521 | 205 | 161 | 277 | "Rainer" |
Vaporeon was one of the original Eeveelutions and has a max CP of 3,521 (level 40: 3,114). If you've been around since Pokemon GO's release, you might remember a time when ol' Vaporeon was the undisputed champion of the game, easily being the best attacker against gyms. However, those days are long past, and Vaporeon has been knocked down the tier list several times, blow-by-blow.
Nowadays, it's a nice budget option, but it's significantly outclassed by Kyogre, Gyarados, Palkia, Swampert, and many more.It sees some use in the GO Battle League, with middling potential. However, it's once again outclassed by other options in every league.
As for its shiny version, Vaporeon's new magenta coloring is eye-catching. It's probably one of the most drastic changes of any Eeveelution between the normal and shiny variants and is one of the more appealing swaps.
How To Get Shiny Vaporeon
The nickname that you can give a Shiny Eevee that will always result in it evolving into Vaporeon is "Rainer." As always, it only works once per account. Like Flareon and Jolteon, Vaporeon is the third and final Pokemon that cannot reliably be evolved. There is a 33 percent chance whenever you evolve a Shiny Eevee with 25 Candies and no other special conditions.
4
Shiny Glaceon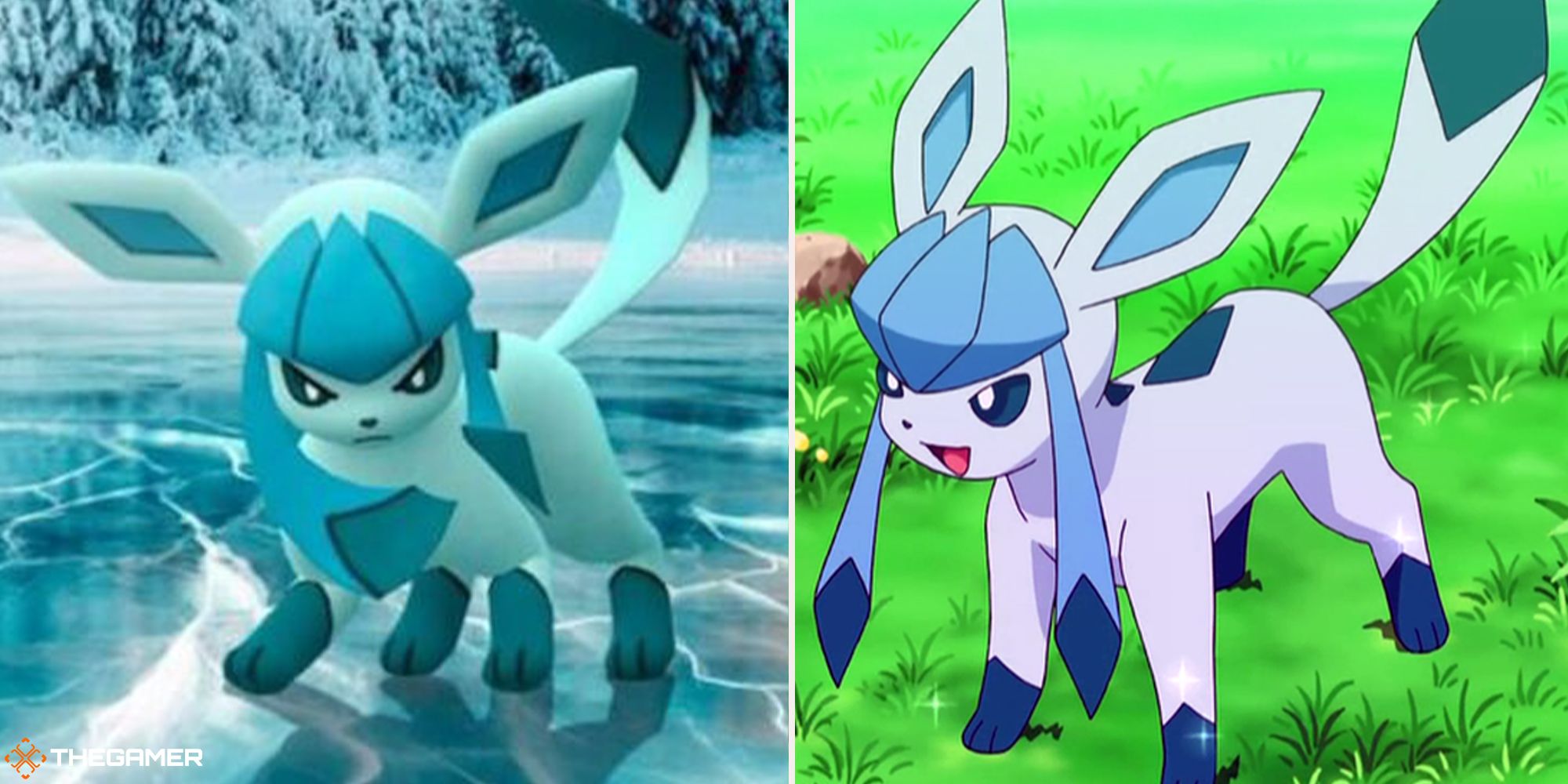 | Max CP (Lvl 40) | Max CP (Lvl 50) | ATK | DEF | STA | Nickname |
| --- | --- | --- | --- | --- | --- |
| 3,126 | 3,535 | 238 | 205 | 163 | "Rea" |
Glaceon is the Ice-type Eeveelution, added to the game at the same time as Leafeon. Glaceon's max CP is 3,535 (level 40: 3,126), which is superb. Glaceon is a fantastic choice in PvE – sure, it'll be outclassed by Ice-types like Mamoswine and Weavile, but it is a fantastic addition if you don't have six of the top Ice-type attackers.
PvP is another matter, as it doesn't shine in the big leagues.The Ultra and Master league is littered with intimidating opponents, including powerful shiny legendary Pokemon like Giratina and Groudon. Glaceon is pretty solid, but Ice isn't great defensively, and Glaceon doesn't have a lot of bulk.
RELATED: Pokemon Go: How To Obtain Mew
As for shiny Glaceon's design, the Ice-type isn't winning any awards, but it is very pretty. It's probably one of the most subtle changes on the entire list of shiny Eevee evolutions, swapping out the teal for a slightly bluer and lighter color. It looks icier in its shiny version, so that's nice.
How To Get Shiny Glaceon
You can nickname a Shiny Eevee "Rea" and evolve it, and you're guaranteed to get a Glaceon (once per account). Otherwise, the only way toevolve a Shiny Eevee into a Glaceon is to do itwhile you're standing near an active Glacial Lure Module, which uses 25 Candies.
3
Shiny Sylveon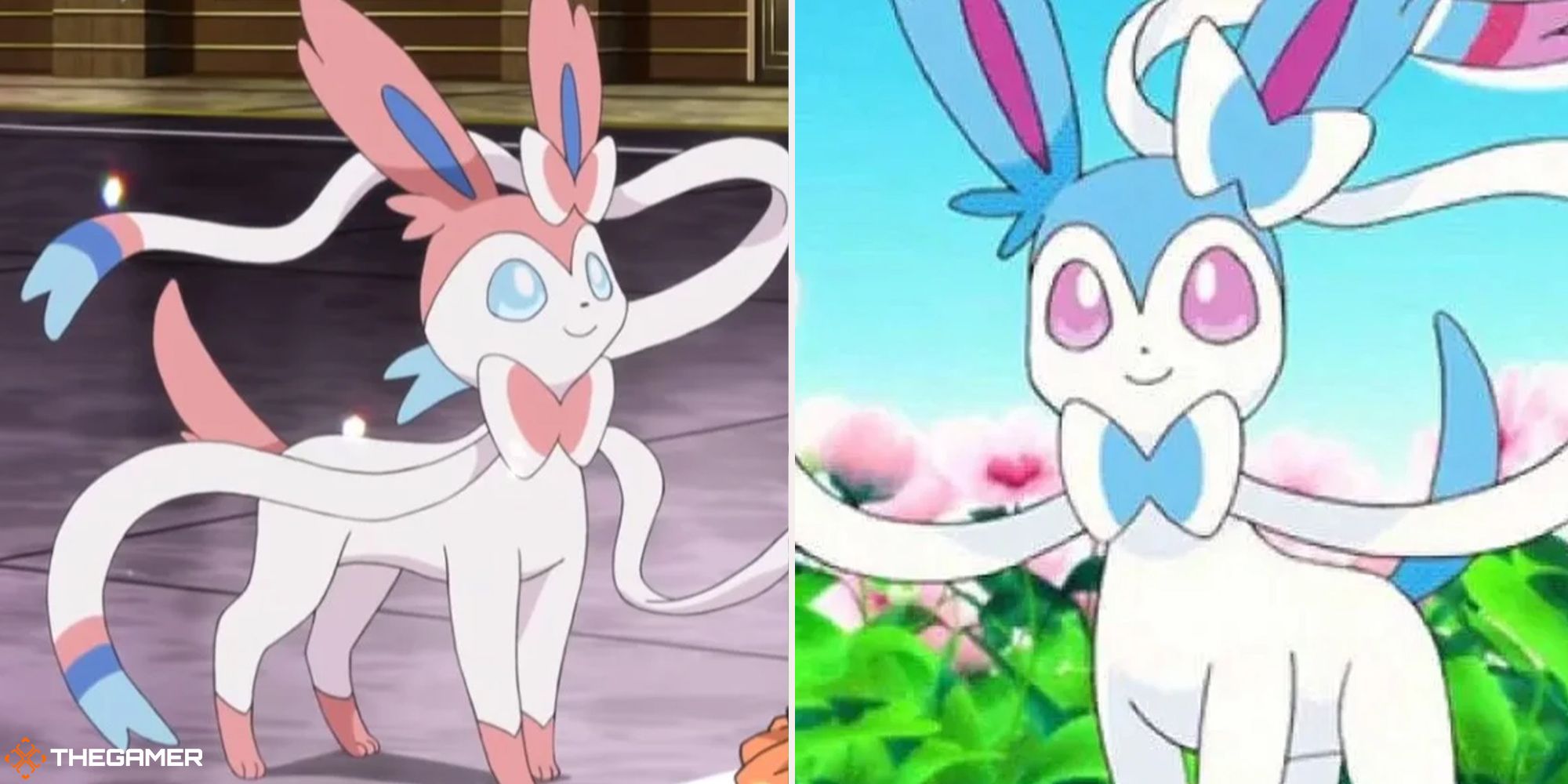 | Max CP (Lvl 40) | Max CP (Lvl 50) | ATK | DEF | STA | Nickname |
| --- | --- | --- | --- | --- | --- |
| 3,069 | 3,470 | 203 | 205 | 216 | "Kira" |
Sylveon's battle potential is on par with Vaporeon and Jolteon, but it ranks higher than them, thanks to its fantastic shiny form. Swapping out its pink for blue (and bits of blue for pink), Sylveon's shiny is a standout that perfectly matches its normal coloring.
As for its combat potential, Sylveon is okay; it's a decent option for a Fairy-type attacker, especially when you're on a (Candy) budget. It just can't measure up to other Fairy-type attackers like Togekiss and Gardevoir.
It'll do alright in PvP, especially since it's a good check on commonly-used Pokemon like Giratina and Dialga, but it still doesn't measure up to Togekiss in higher leagues or Wigglytuff/Clefable in lower ones.
How To Get Shiny Sylveon
As with the other Eeveelutions, you can nickname a Shiny Eevee "Kira" and it will always evolve into a Sylveon, as long as it's your first time using this nickname on your account. Without the nickname, the method for evolving a Shiny Eevee into a Sylveon might take you a while; you need to earn 70 hearts with the Eevee as your buddy, first.
2
Shiny Espeon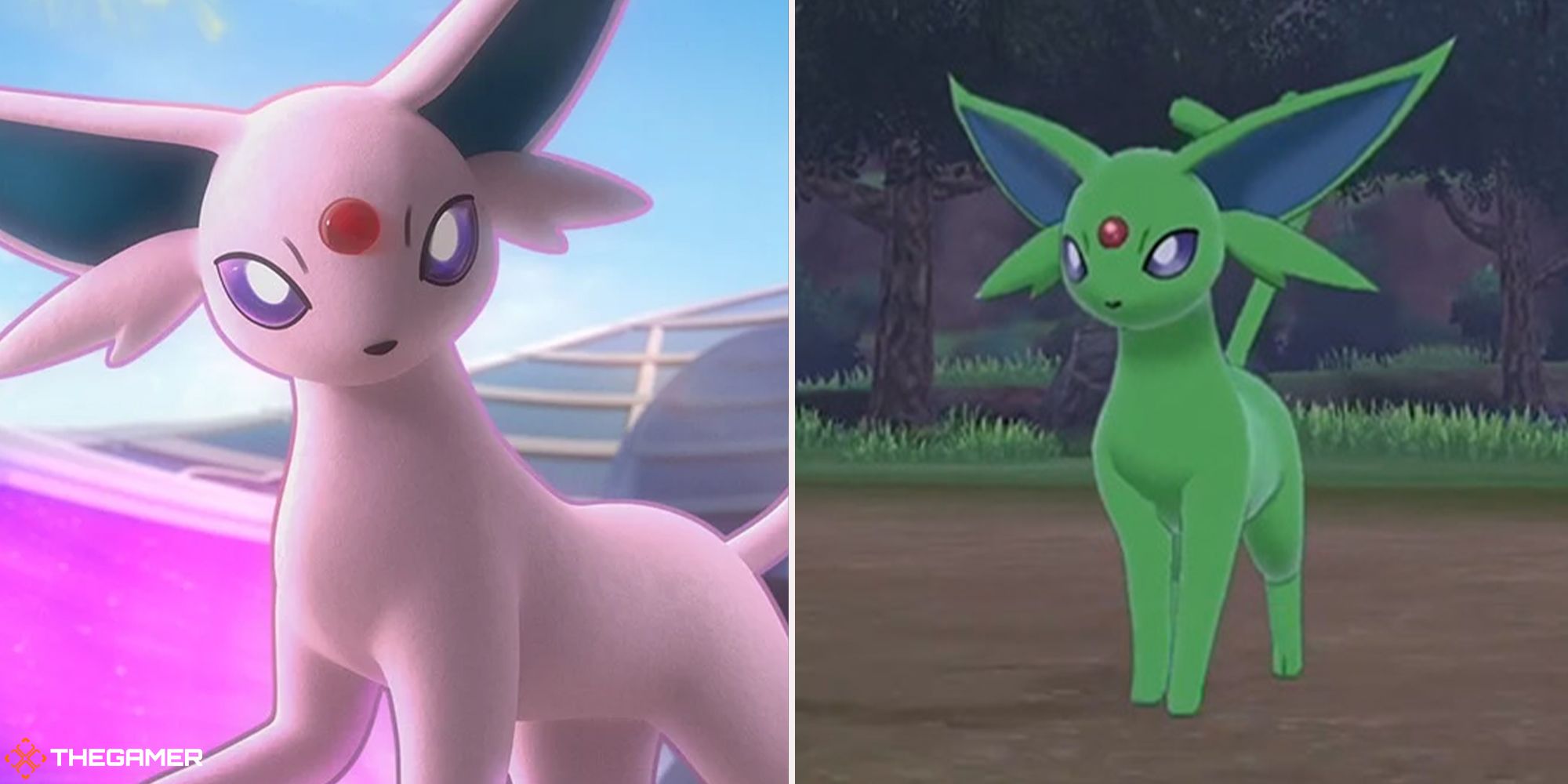 | Max CP (Lvl 40) | Max CP (Lvl 50) | ATK | DEF | STA | Nickname |
| --- | --- | --- | --- | --- | --- |
| 3,170 | 3,583 | 261 | 175 | 163 | "Sakura" |
Espeon is one of the most elegant looking of the Eevee evolutions, but the shiny version is quite different from the original. The regular Espeon has a light purple-pink coat, while the shiny Espeon has a bright green shiny form, perfect for Halloween.
While shiny Espeon might be a bit strange-looking, this Psychic-type is easily the best Eeveelution in PvE battle.
It dominates against Fighting- and Poison-type raids and gym defenders like Machamp and Venusaur. Its max Attack stat is the second-highest of any Eeveelution stat (just behind Vaporeon's max of 271 in Stamina), placing it just behind the absolute behemoths of the Psychic-type like Mewtwo and Latios.
Like Glaceon, it's a fantastic B-team choice, but it can make its way onto the A-team easily, especially given how much more obtainable it is than other Psychic-type top-tiers.
As for PvP; let's not talk about it – it's bad. However, if you're looking to battle with your shiny Eeveelutions in general, shiny Espeon is the best in PvE, no contest.
How To Get Shiny Espeon
To get a Shiny Espeon, you could evolve a Shiny Eevee. First, you could use Espeon's special nickname. If you nickname your Shiny Eevee "Sakura," you're guaranteed to get an Espeon the first time. Without the nickname, you'll need to do a little work.
The Shiny Eevee must be fed 25 Candiesduring the daytime after walking ten km as your Buddy.
1
Shiny Umbreon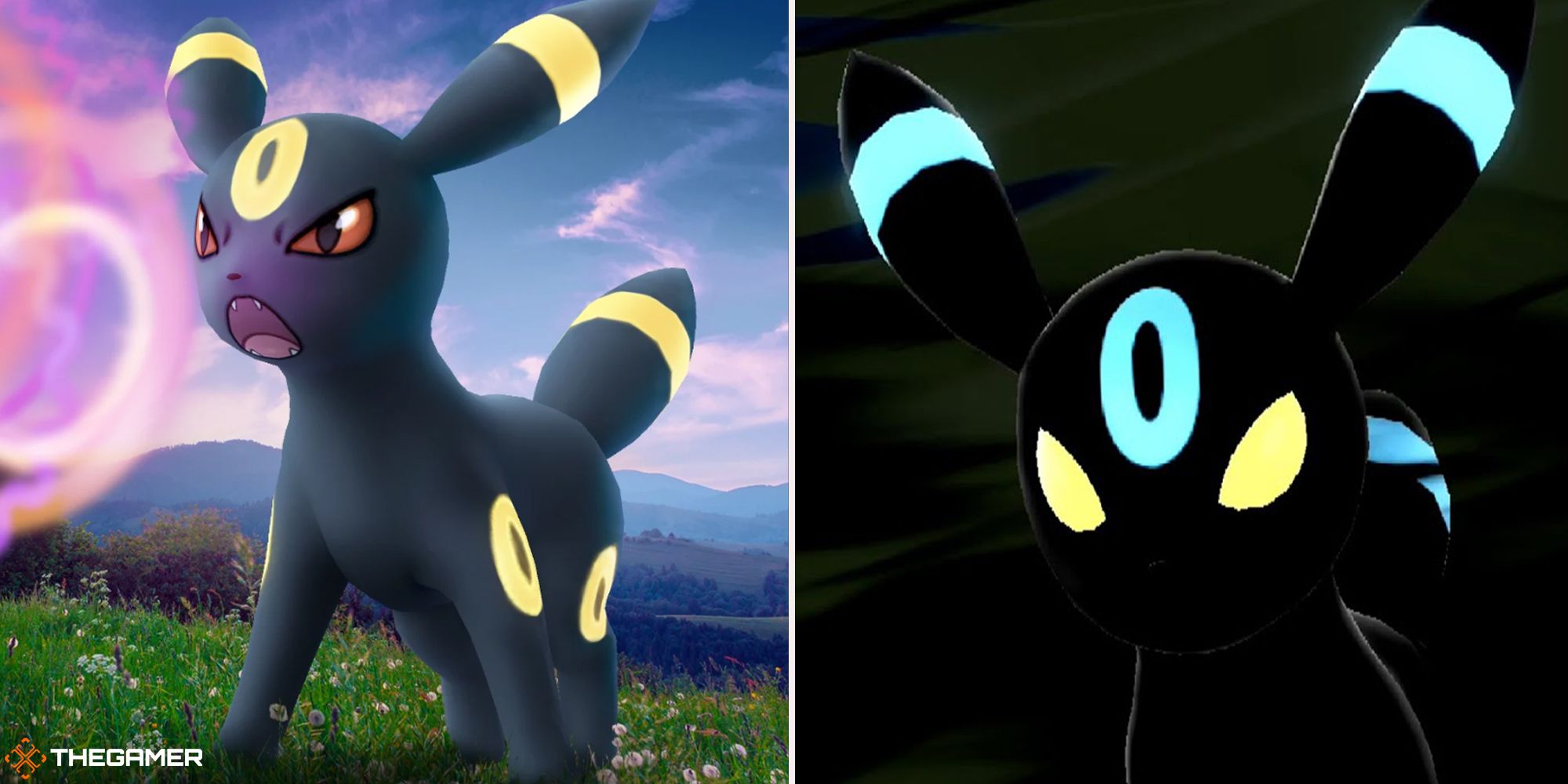 | Max CP (Lvl 40) | Max CP (Lvl 50) | ATK | DEF | STA | Nickname |
| --- | --- | --- | --- | --- | --- |
| 2,137 | 2,416 | 126 | 240 | 216 | "Tamao" |
Umbreon might be one of the most sleekly designed Eeveelutions; its Shiny Form is just different enough to be a standout while being subtle enough to not be garish. While Umbreon's black and yellow design is iconic and screams night-sky-with-stars, the shiny also gives off a nightfall vibe, but one that's a bit more romantic and subdued with the black and blue.
As for its battle potential, before the introduction of PvP, Umbreon was among the lower ranks of Eeveelutions due to its low CP and Attack. Now, though, it excels in both the Great and Ultra leagues, ranking in the upper tiers of all Pokemon.
With a max CP of 2,416 (level 40: 2,137), Umbreon is a solid defender in gyms, but not great as an attacker.
In the Battle League, though, it's one of the best. Due to its low Attack and high Defense, it'll stay standing for a long time against most attackers, save for Fighting-types. It never used to be that great in the Ultra League, but with the Best Buddy boost, it'll be a massive tank and check common opponents like Giratina.
How To Get Shiny Umbreon
Shiny Umbreon can be evolved from Shiny Eevee if you give it the nickname "Tamao." This only works once per account; after that, you'll need to feed the Shiny Eevee 25 Candies, walk with it for ten km as your Buddy, and evolve it during the night.
NEXT: Pokemon Go: Rarest Shinies From Go Fest 2023