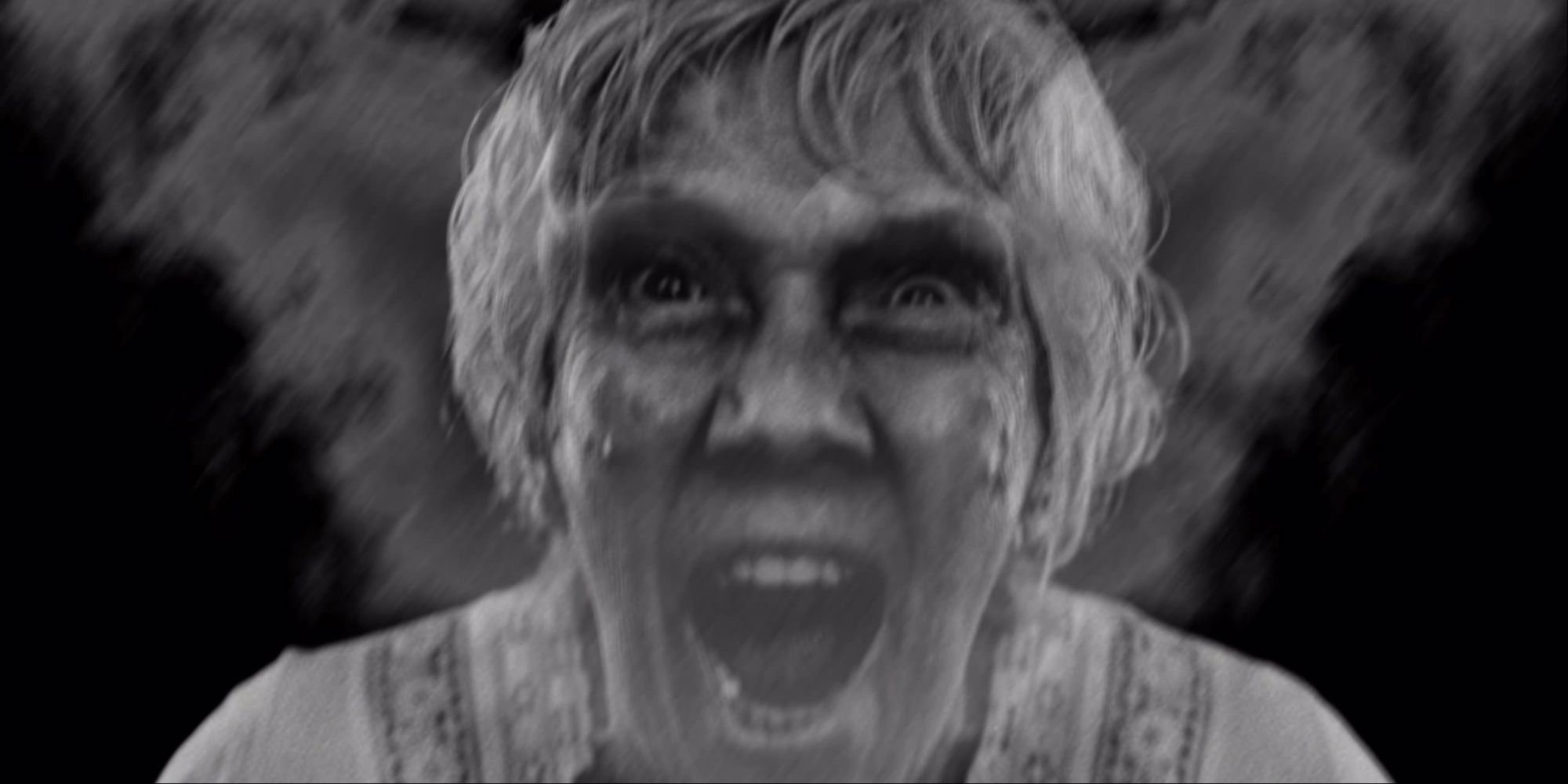 We all know the spooky little girl trope in horror. The tradition of juxtaposing innocence and fragility with murderous intent is as tried and true convention in horror movies dating back to 1956's The Bad Seed, and continuing on every decade since in films like Children of the Corn, The Exorcist, The Ring, The Omen, The Shining, M3GAN, and countless others. The horror genre has gotten a lot of mileage out of creepy kids.
As popular as that trope is, it has long perplexed me why its geriatric older cousin, the scary old lady, has so little representation by comparison. A few examples spring to mind. Shaymalan's The Visit is all about a couple of octogenarian child-eaters. Movies like Drag Me To Hell, Shutter Island, Army of Darkness, and It Chapter 2 all have spooky grandma scenes. The Taking of Deborah Logan is probably the closest thing that we have to an elderly Exorcist, which says a lot about the sub-genre – or lack thereof.
Related: Quantum Break Was Hiding An Alan Wake 2 Easter Egg For 7 Years
Spooky grandmas have a lot in common with creepy kids, but they require storytellers to walk a fine line. What makes an elderly monster interesting is the way they reflect our own fears and insecurities about aging back at us, but so often the image of an old person is used to elicit fear in and of itself. If you just want to scare your audience with pictures of a thin-skinned, wrinkly old person because old faces are inherently creepy, you're missing the entire point.
Alan Wake 2 tackles gerontophobia (that's the fear of old people) and it does so in a nuanced way that doesn't resort to ageism or mean-spirited depictions of the elderly. The chapter titled Return 5 – Old Gods takes place entirely within both a nursing home and the broken psyche of a woman named Cynthia Weaver.
Cynthia is one spooky lady
If you played Alan Wake, you'll know Cynthia as the Lamp Lady, an eccentric that lives in the power station and helps Alan fight the Dark Entity by protecting the Clicker. In Alan Wake 2, Cynthia has retired to Valhalla Nursing Home and, at some point, becomes a Taken. While searching for Tor, Saga learns that Cynthia has trapped him in a nearby overlap, forcing Saga to confront the old woman in order to rescue him.
Cynthia is a compelling villain right from the start. As soon as you first encounter her in the retirement home, lurking in a corner before inexplicably disappearing, you know you're going to be dealing with some terrifying shit. And while she technically doesn't show up again until her boss fight, Cynthia is the most present of all the monsters in Alan Wake 2. Her whispers and giggles follow you through the house, the clinic next door, and the flooded cellar. Her tragic story of despair and longing for Thomas Zane is explored in deeper detail, and her jump scares – sudden appearances of her screaming face that take over the entire screen – are relentless.
The entire level is a master class in building tension, but what makes it stand out even more is its thoughtful approach to the themes of aging. This is first teased when we meet Tor and Odin in the trailer park, two of Brightfalls only holdouts to the influence of the Dark Presence, but because of their advanced age, are becoming vulnerable to the shifting reality of the town. Indeed, the residents of Valhalla (except Ahti) are particularly susceptible to distortions in reality, just as they would be in a normal world that isn't being reshaped by a demon from a hell dimension.
If you had a problem with the number of jump scares in this sequence, check out this article so you can find out why you're wrong.
There's a connection between the Taken and the natural deterioration of the human mind that Remedy does a great job pointing at without beating us over the head with it. The idea of losing control over one's mind, falling into a false reality and getting trapped there, is a very real fear that, unfortunately, many will experience eventually. Alan's battle against the dark place takes many forms, and Cynthia presents us with a way to read it as an allegory for degenerative mental conditions like Alzheimer's Disease and Dementia.
Valhalla itself is designed to tap into our fear of aging too. Removed from Bright Falls proper, the nursing home sits by itself a distance from town, easy to be forgotten and ignored. Its narrow halls and dormitory-style living quarters evoke warehousing as well, each person conveniently put away in their little storage container until they're gone. In this house full of relics from the past, there's a pervasive sense that this will be everyone's last stop. It's notable that Old Gods has the least number of actual threats of any of Alan Wake 2's chapters and yet it's the scariest one of all thanks to its sense of dread. Even if nothing bad happens, everyone here is going to die.
Though full of death, horror very rarely confronts mortality head on. Creepy little girls and axe-wielding clowns are just a lot more fun than actual, real life terrors like senility and spending your twilight years alone and lonely. For Old Gods, Alan Wake 2 pivots it's Eldritch horror, creating a commentary for something more horrifying than any cult, doppelganger, or shadow monster – and it doesn't rely on our disgust for sagging skin and sunken eyes to do it.
Next: Alan Wake 2 Has The Meanest Jump Scares I've Ever Seen