Once you have climbed his tower and worked your war through his goons, you will finally be able to confront Lies Of P's final boss: Simon Manus. Naturally, given what you already know about this game, you have probably realized that Simon is another two-fer. So, don't be surprised if this fight ends up being a bit of a war of attrition, as you are going to want to defeat his first form with as much life as possible before starting round 2.
Related:Lies Of P: Upper Arche Abbey – Part Three Walkthrough
What stands out most about Mr. Manus is how he takes the parrying mechanic, which so much of the game has been built around, and completely nullifies its utility. That's right, you are going to almost never want to block against this antagonist. Instead, you are going to have to do your best Bloodborne impression and prepare to roll. Lies Of P ending with a Bloodborne boss is oddly fitting, isn't it?
Simon Manus, Arm Of God's Attacks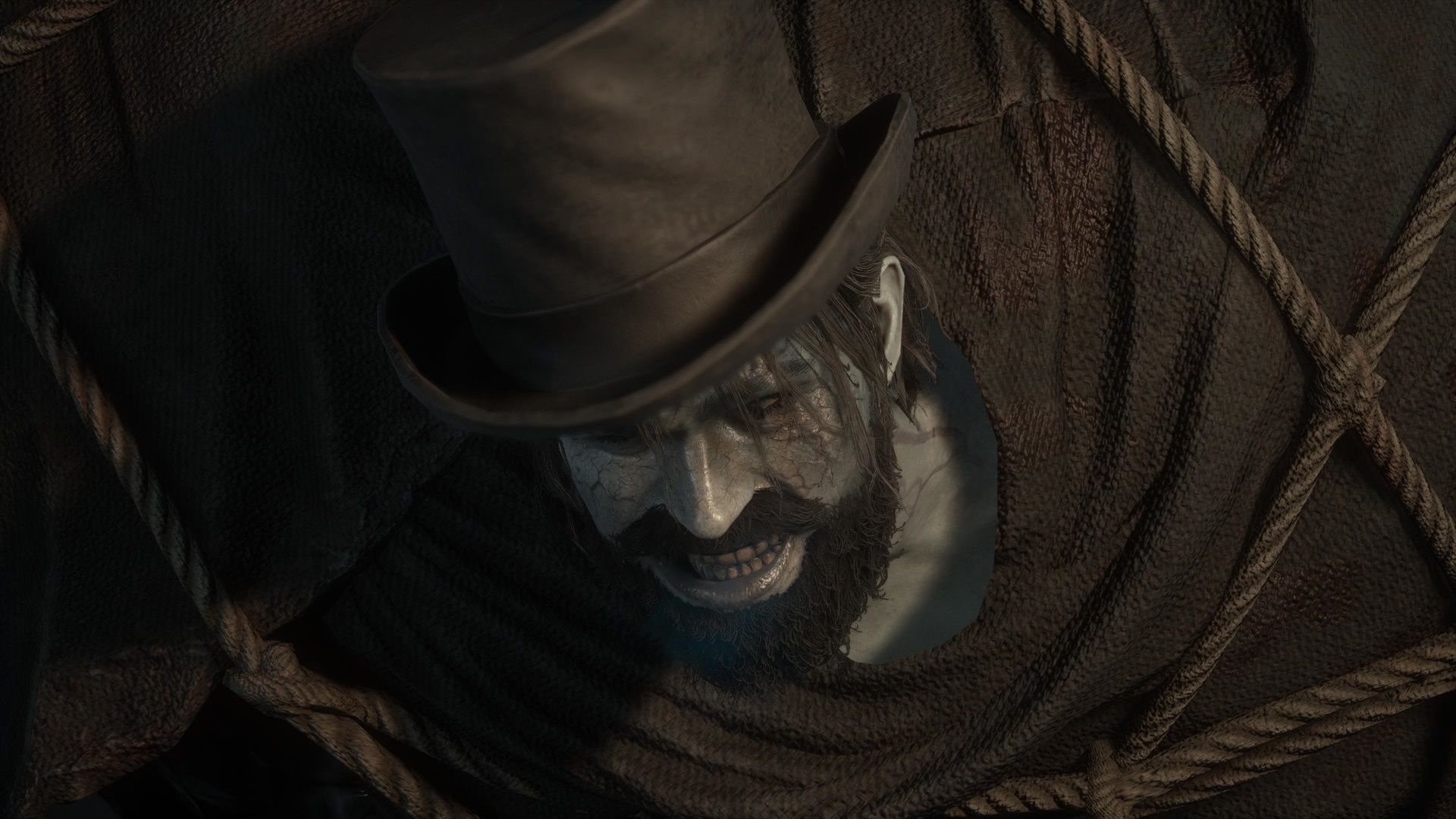 Simon's primary attacks consist primarily of wide swings from his gigantic mace. These attacks are always highly telegraphed, as the mace will rest on the ground before he swings it around. The amount of pushback on these wide-swinging attacks is ginormous, even if parried, so the most efficient method for dealing with them is to roll right through them.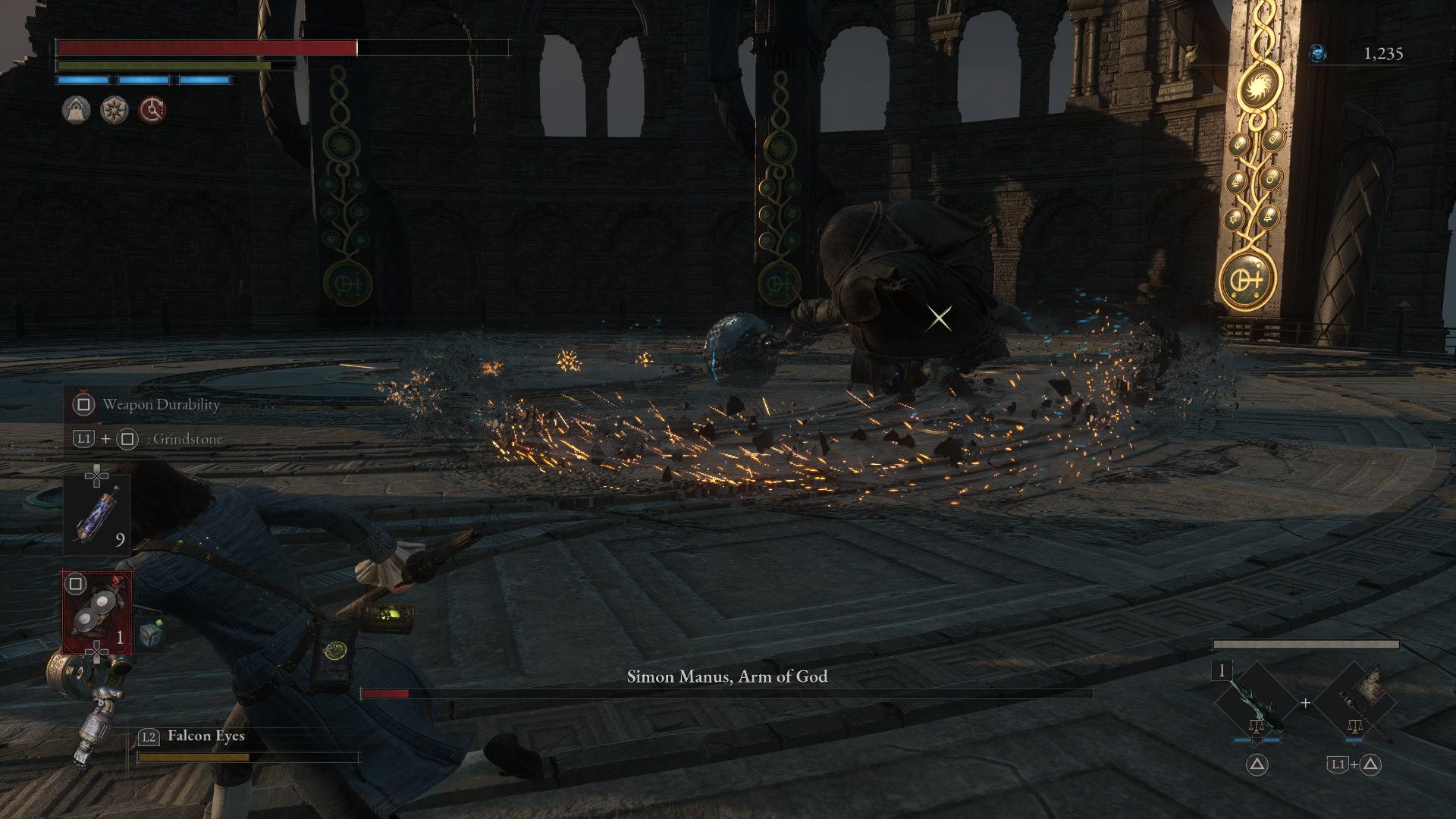 Simon also likes to slam the ground with the top of his mace. He will thrust the mace directly into the ground when performing the attack. Before slamming the mace down, he will rest it on his shoulder. So, when you see him do that, prepare yourself. Much like his other mace attacks, you are going to want to roll through this one.
If Simon thrusts his mace into the ground and just leaves it there, he is going to cause a giant explosion of electricity to burst from the ground, just run behind him when he does this.
Simon Manus, Arm Of God's Furious Attack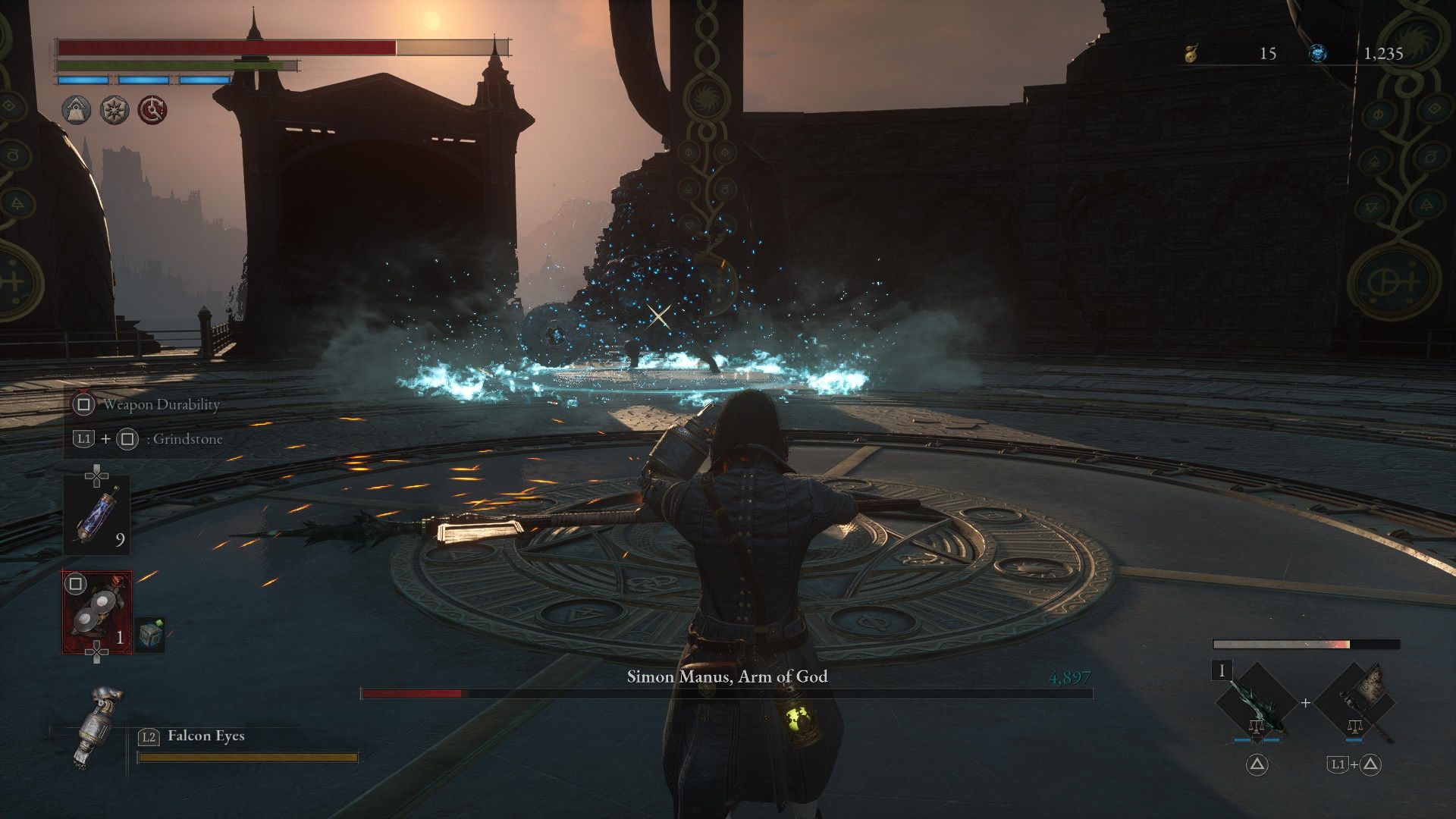 Simon's Furious Attack will see him thrust his mace directly into the ground, at which point he will launch himself into the air. You can do one of three things…
You can prepare to Perfect Guard this attack.
You can run straight toward where he last was, causing him to leap over you.
Or you can run in a circle, which will often cause him to miss.
Simon Manus, Awakened God's Attacks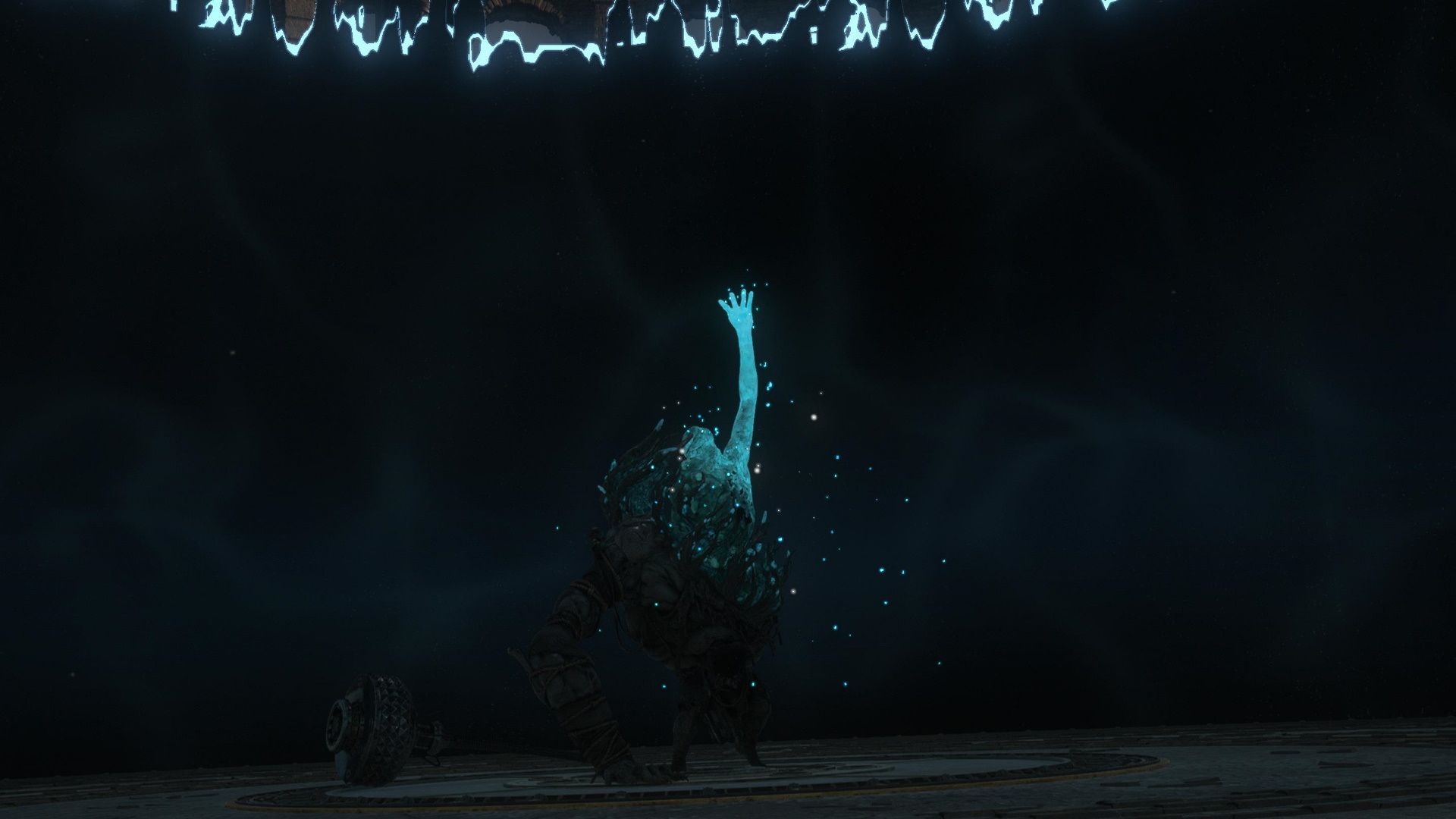 Simon's second form is also entirely different from his first. He still has the giant mace, and he will still take wide swings at you with it. However, the cadence of these attacks is completely different, and they cover considerably more distance. Your approach will stay the same, though. You will want to dodge through these attacks.
He will also have a startlingly fast thrusting attack. When he rears back, be prepared to dodge through it. This isn't a slow attack, so don't dawdle. Also, make sure that once you have dodged through the attack you are not on the same path as the thrust, as he will yank his mace backward and catch you if you are. So circle him once you dodge the thrust.
Simon will also use a giant overhead swing. This attack is very linear, so if you are strafing him it will typically miss.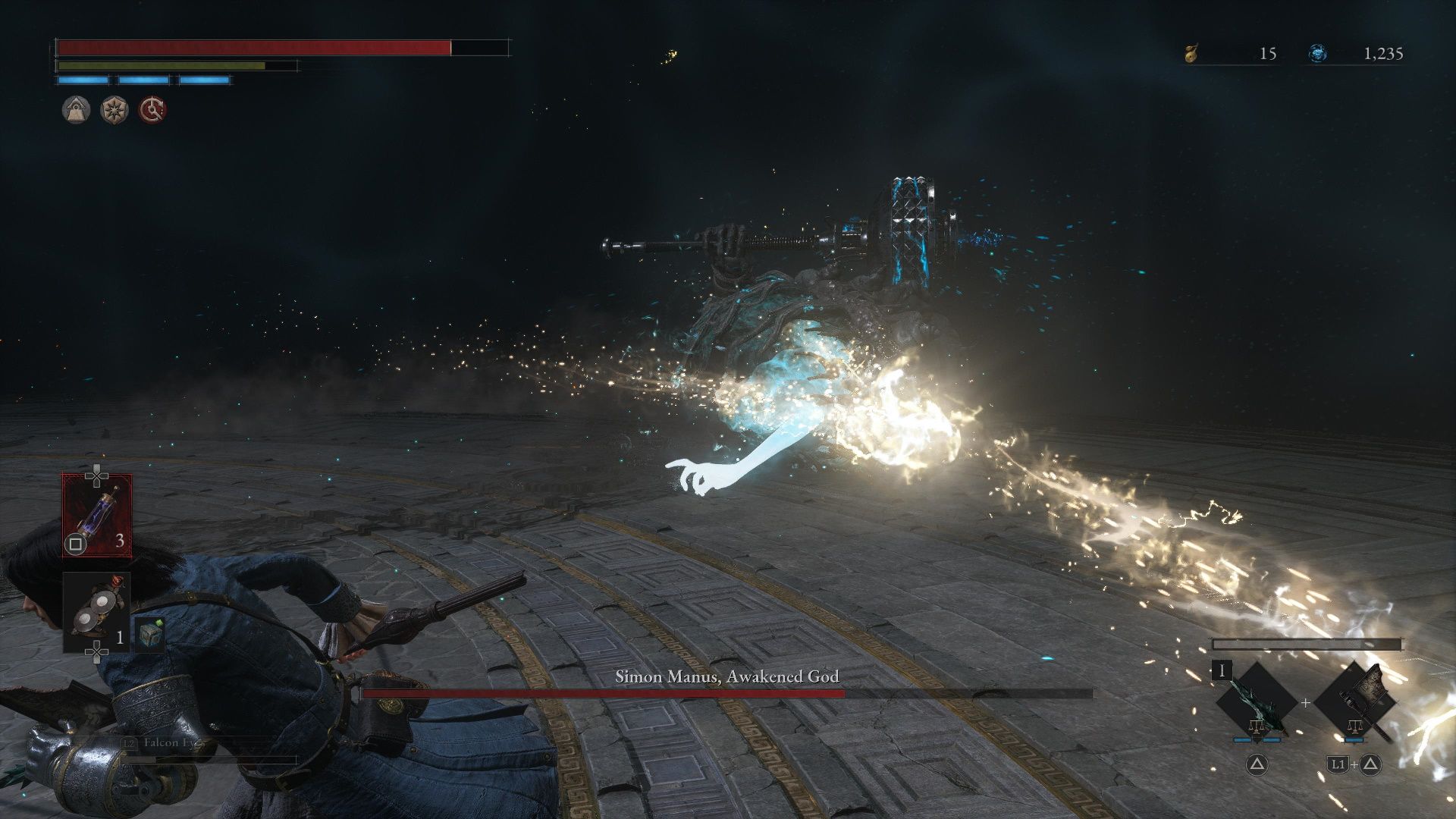 When Simon raises his glowing arm, prepare for him to throw a wave of energy at you. You will want to dodge through this wave.
If Simon summons a golden orb, prepare for it to fire a steady string of projectiles. Just run to the side and these will all miss you.
When Simon swipes his glowing arm at the ground, there will be an eruption of energy that will appear under your feet. You will need to deal with three of these eruptions. As long as you are running they will never hit you.
Finally, when Simon sends out a wave of projectiles, they will travel across the screen, then hover, and after a few seconds, they will all converge on you. Like the other projectiles, the secret is to stay in motion and run.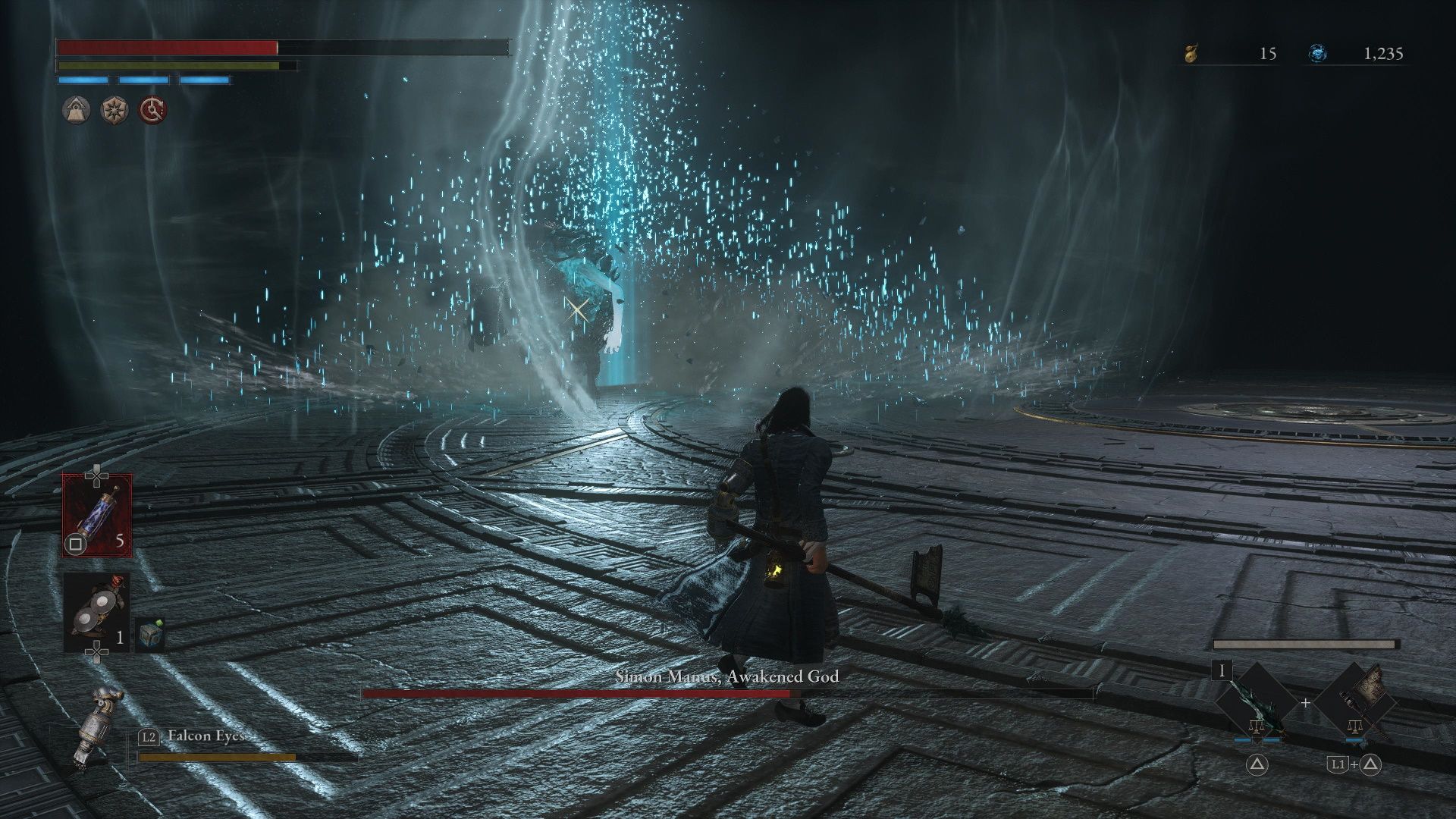 Finally, once you have damaged Simon enough, he will start to summon a giant, celestial hand that will touch down and deal massive damage. This attack has incredible range and will hit about half of the arena. That being said, you are given plenty of forewarning, as the spot in which it will touch down will glow. As soon as you see this happening get your distance. Don't dillydally. You don't want to mess with that hand.
Simon Manus, Awakened God's Furious Attack
His furious attack is largely the same as it was in the first fight, but it is considerably faster. You can still run under it, but we actually found that the most consistent approach was the Perfect Guard it.
Simon Manus, Arm Of God Strategy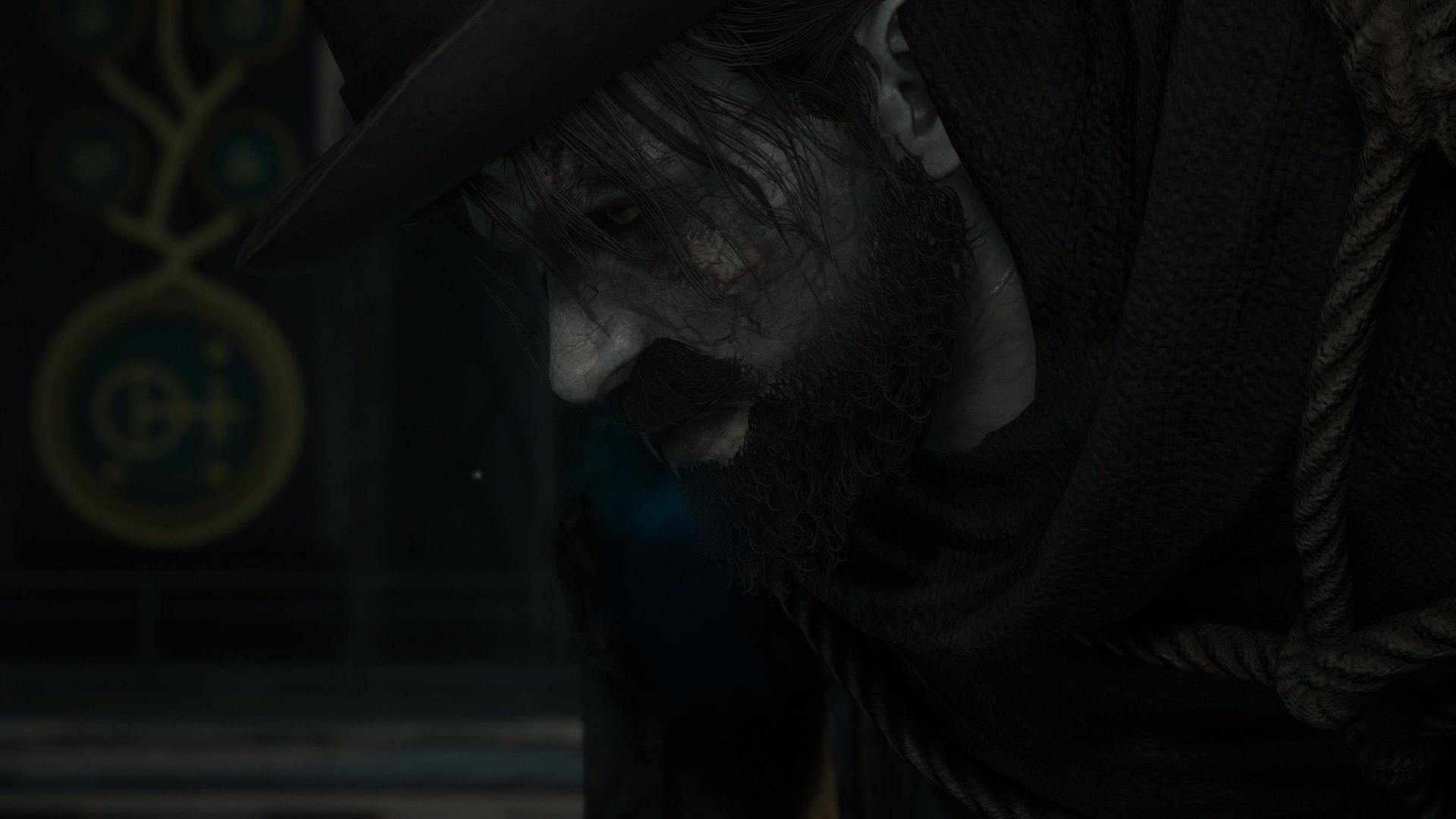 The name of the game here is dodging and slamming Simon with charged heavy attacks. When possible, you are going to want to stick pretty close to Manus. Some of his wide swings will even miss you if you are right next to him. Whenever he is gathering his composure after a few whiffed attacks, charge up and force-feed him a heavy attack.
Keep in mind that outside of his Furious Attack, there is literally not a single move in Simon's arsenal that you should be blocking. The pushback of all these attacks is quite simply too severe for it to be worth your time to block anything he does.
Whenever he plunges his club directly into the ground, and charges the electric explosion, roll right past him, and you will be able to land a fully charged attack.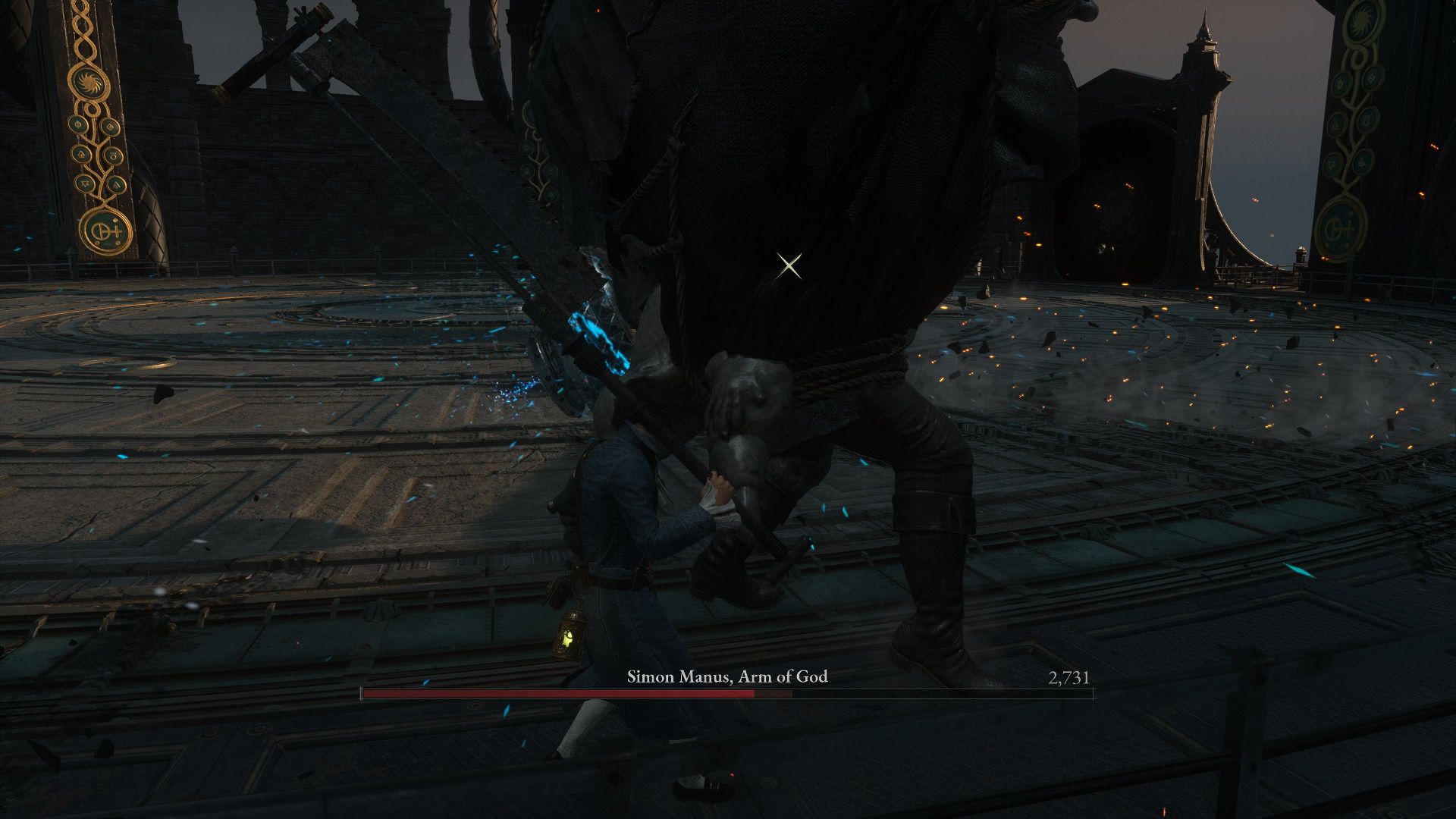 You will have time to land a slash with your weapon whenever you dodge through one of Simon's wide-swinging attacks. Typically, after missing a few swinging attacks, he will use a big overhead swing, which will miss you if you are close, or he will slam the head of his mace into the ground (which you should dodge through). Both of these attacks should leave him vulnerable for a long enough time for you to land a fully charged attack.
Simon Manus, Awakened God Strategy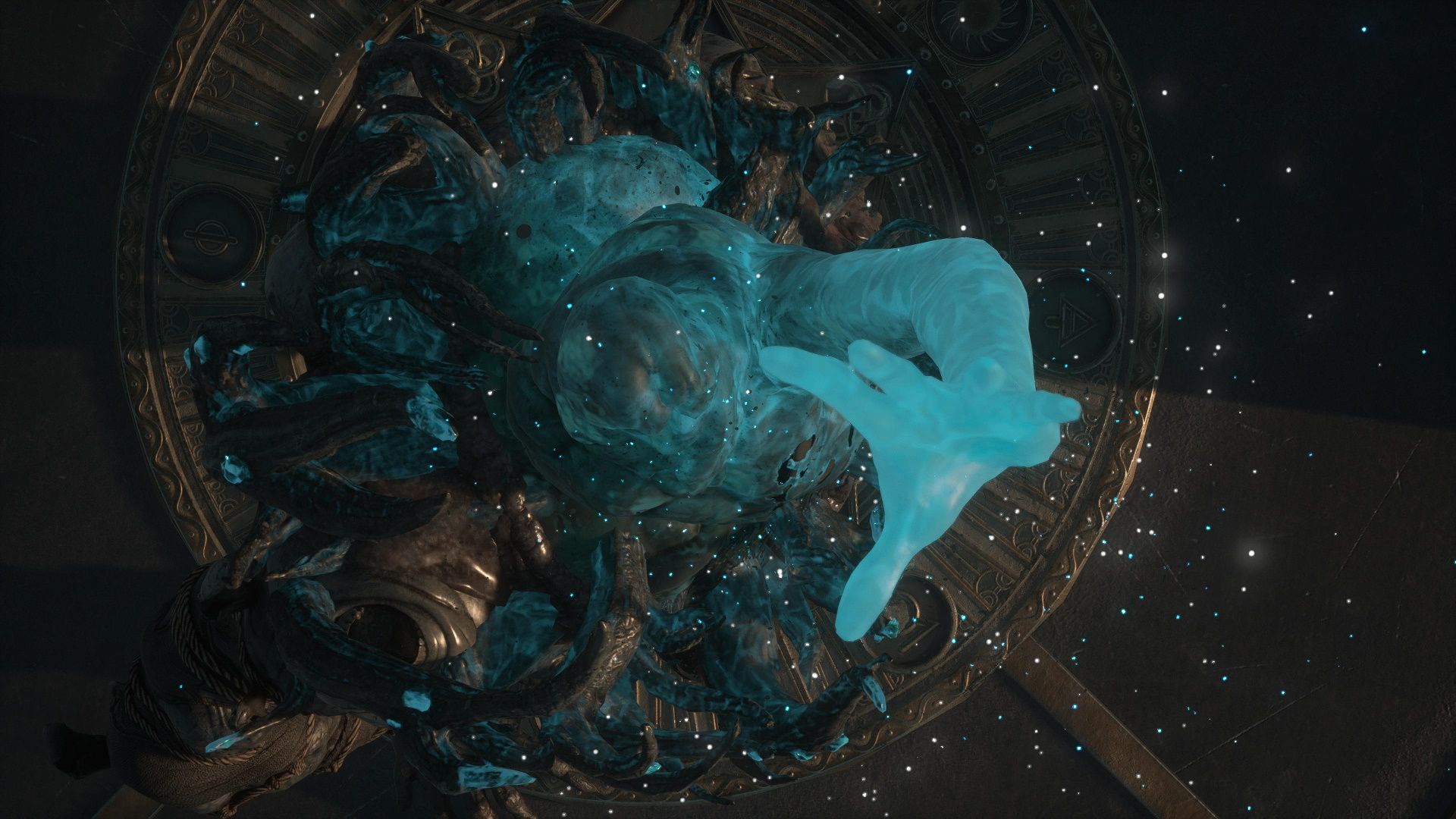 This phase will feature quite a few new attacks. That includes a number of ranged attacks. Thankfully, most of these attacks can be dealt with in the same manner. Simon's string of fireballs he fires from a staffing dodge, the wave of fireballs that pause before homing in on you, and, finally, the geysers of energy he sends after you can all be outrun. If you simply run in a straight line to the side, every last one of these attacks will miss you.
The most bothersome projectile he has is his wave of energy. The best approach for this one is to roll through it. You can sometimes outrun it as well, but you will need to have a fair amount of distance in order to be able to do so.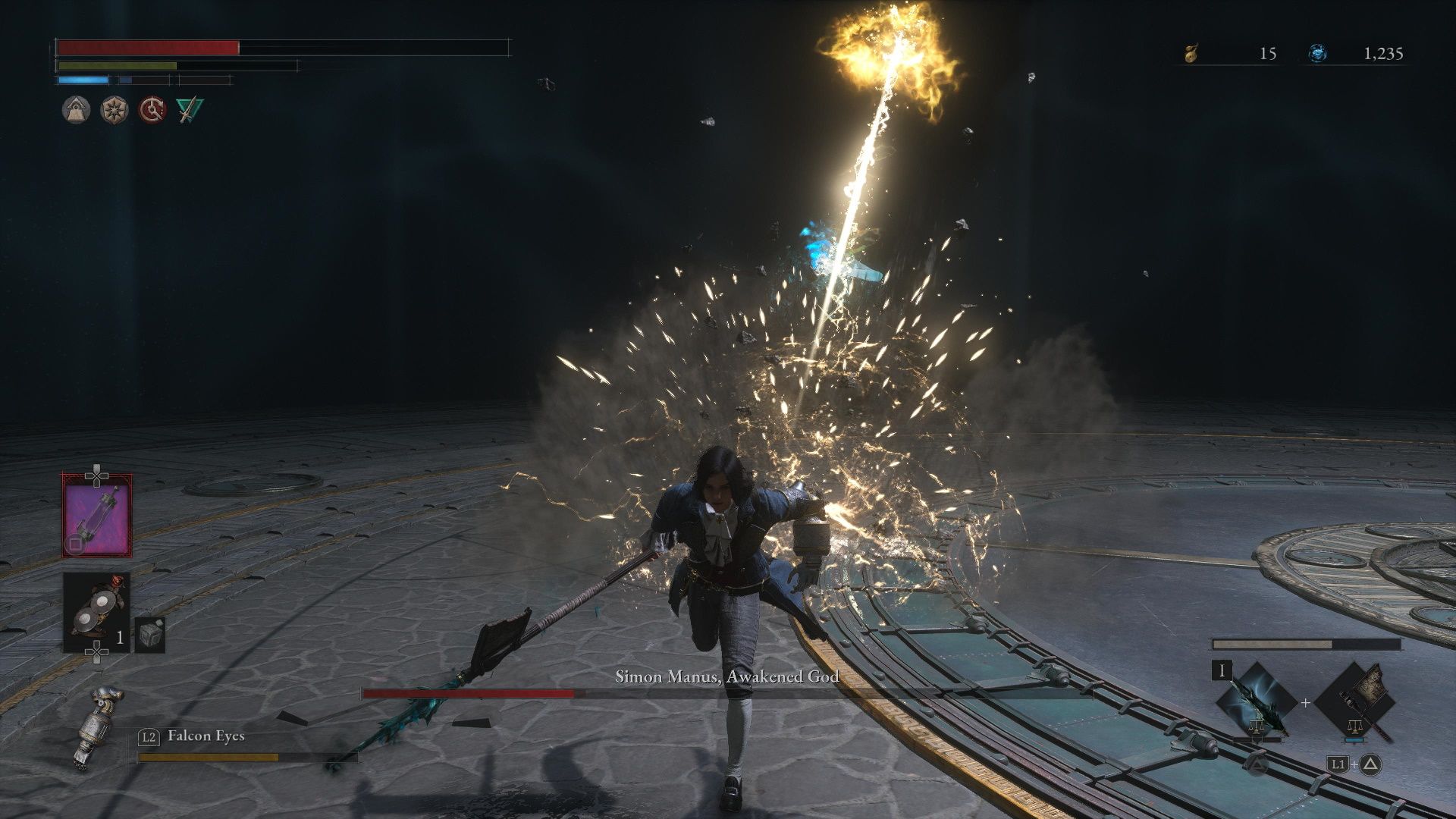 His big attack, where the hand from the sky touches down is extremely damaging, but it gives you so much notice before it touches down that you should never be hit by it. Just run away from the giant, pulsing spot and get as much distance as possible.
Outside of Simon's new exhaustive set of ranged attacks, he is a pretty similar fight to the first form. The big difference is that the wide swings of his mace will travel WAY farther, meaning that you will always have to consider them a threat. The timing of these attacks is also awkward, as he will hold them for multiple beats before throwing them out. Just hold out on dodging until you see those wide swings actively coming. Don't try to predict them.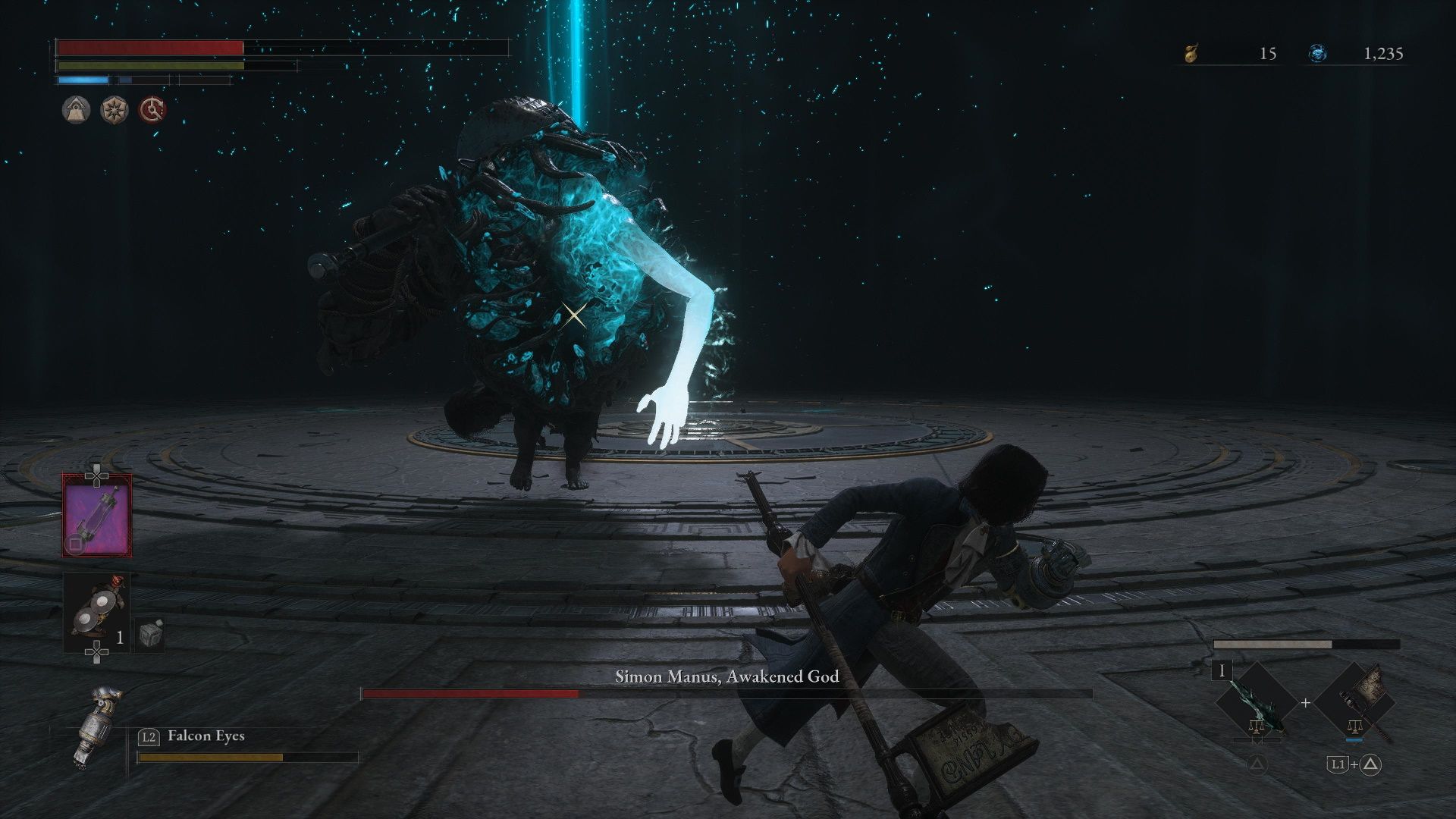 He still has his leaping attack, though it is faster now. Still, you can run under and past him to beat it. So, just like before, you are going to dodge through those swings of his mace and lay into him with a charged attack once he is recovering. He still thrusts the head of his mace into the ground as well. Just like in the first fight, this is a great opportunity to attack his back.
Sticking close to him will pay off once again, as his wide mace attacks will sometimes miss you. Just keep chipping away, and you will eventually put this so-called god down once and for all.
Rewards For Slaying Simon Manus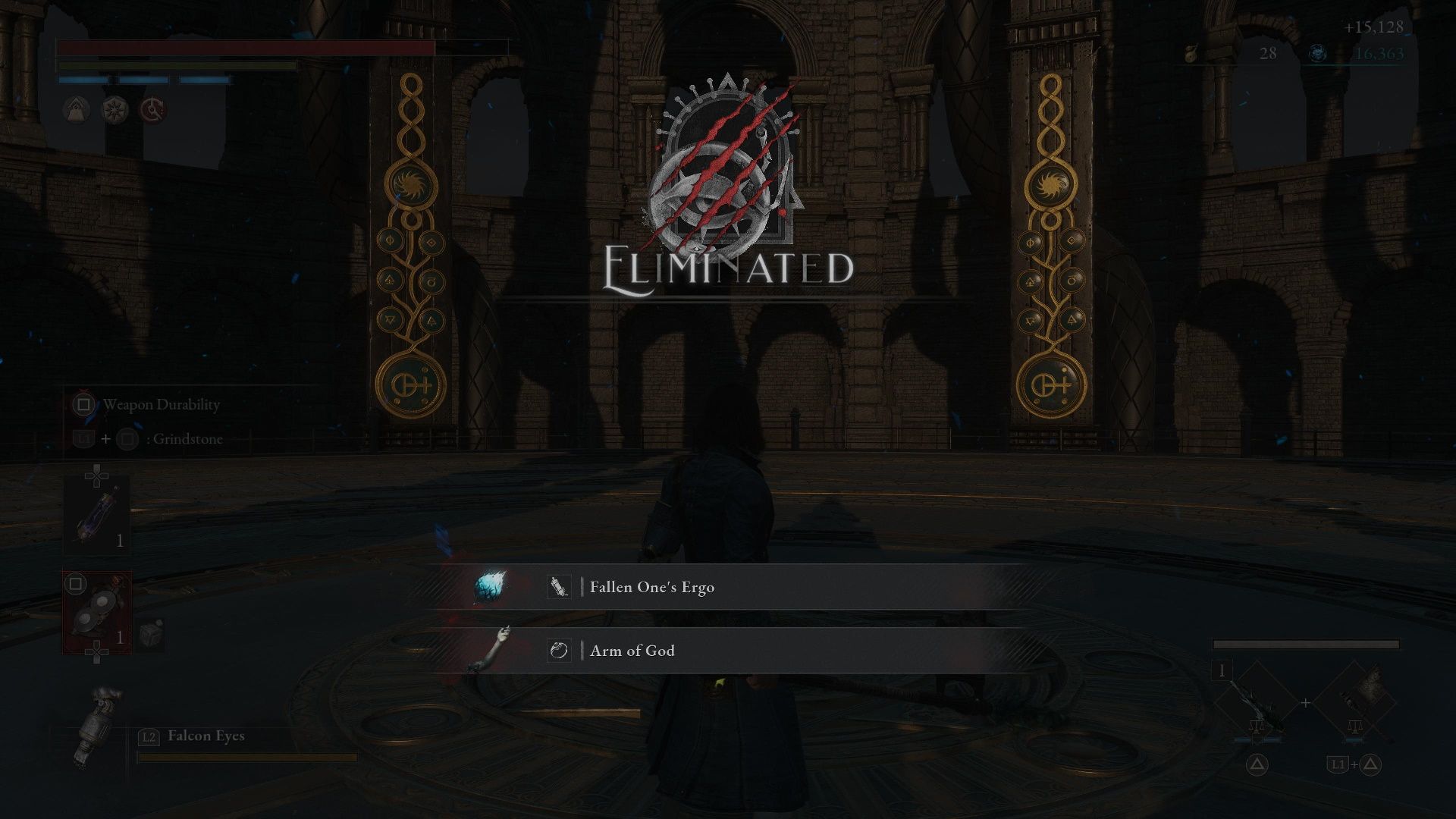 Slaying Simon will not only let you complete the game, but it will also earn you the Fallen One's Ergo as well as the Arm of God!
Next: Lies Of P: All Quartz Locations