Smoke grenades are incredibly important in Counter-Strike: Global Offensive. They play a massive role, not just for blocking enemy lines of sight, but also for extinguishing fire grenades and more. Smokes are incredibly important, especially when you start playing in competitive lobbies where the players are far more serious than usual.
Related: CS:GO – Best SG 553 Skins, Ranked
Smokes really can make the difference between winning and losing in CSGO, and if you're unsure of your smokes' trajectory, throw distance, or the locations where you should be throwing them, you will lose grenades. This is why practicing all of your throws and shots is incredibly important before you actually go in and start shooting people in a match. So, let's check some CSGO Smoke Practice Commands and see how to train in an ideal environment.
This guide will be using the information set out by Moabel in this YouTube video, which is old but still works. It'll be perfect for you to understand how to use smokes, the best locations for them, and more.
Updated November 3, 2023, by Sean Murray: If you're looking to set up a private server to practice your grenade tossing in CS:GO, this guide is your one-stop-shop. We've refreshed this guide with improved formatting and more tips for other helpful Counter-Strike: Global Offensive topics.
How To Set Up A Custom Server To Practice Smokes In CS:GO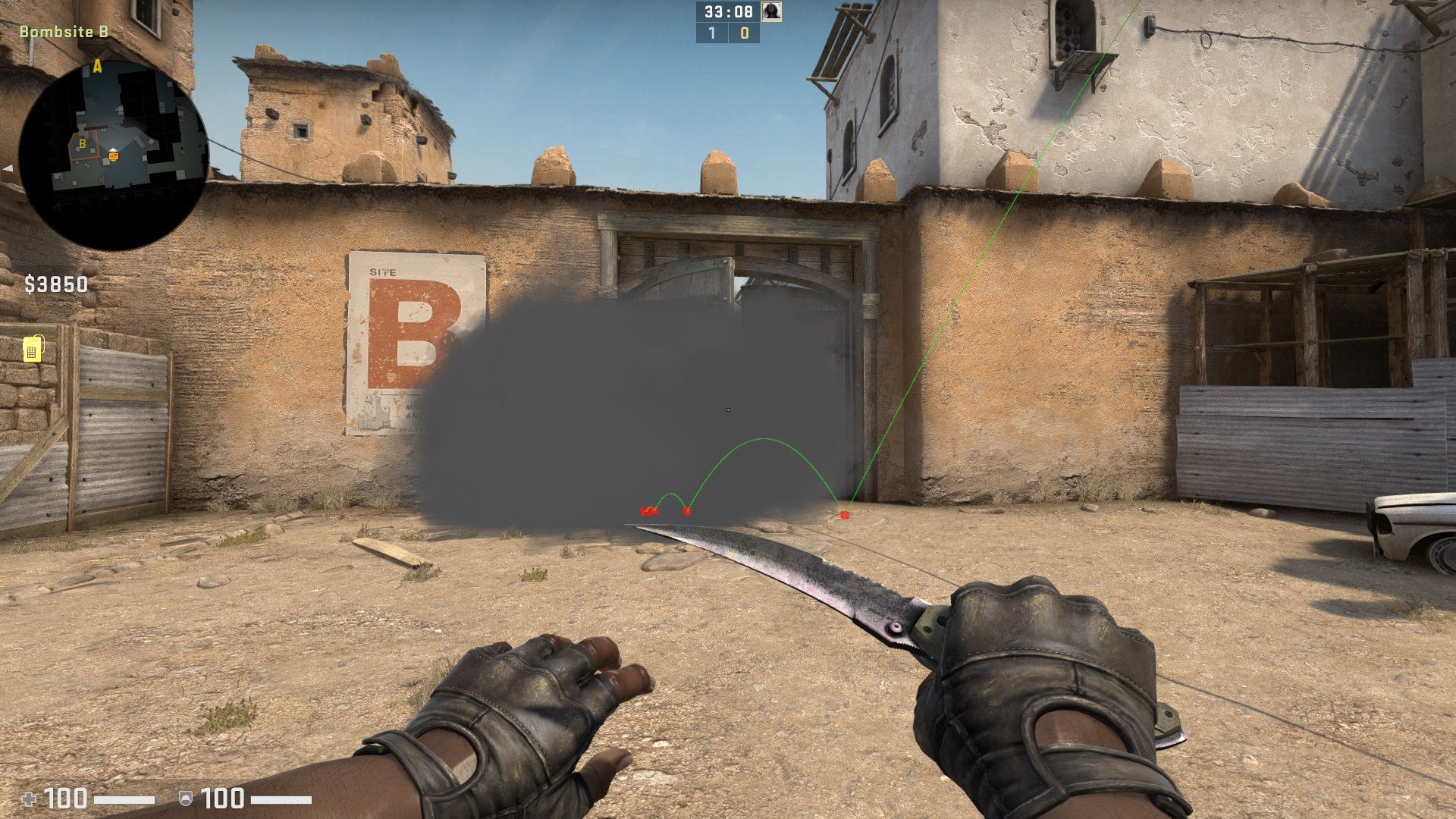 The first thing you will need to do is head into your game settings and toggle "Enable Developer Console" to "Yes". Now we can set a bunch of custom settings that will make things ideal for smokes practice.
Next, load up whichever map you wish with no bots. Your console key will be just below your Escape key on your keyboard, and we'll be using this a lot. Slap the console key; we're going to enter a whole bunch of commands, and we'll explain what they do.
First, enter "sv_cheats 1" which will enable cheat commands.
Next, enter "mp_roundtime_defuse 60" which will set the match time to one hour, giving you plenty of time to practice.
Now we'll use "mp_freezetime 0" which will start rounds immediately as you begin.
And finally, use "mp_restartgame 1" to restart the game, and you'll find you have immediate control.
Now you've got the basic game settings done, time to edit some other things.
First, use "sv_infinite_ammo 1" to turn on infinite ammo.
Now, enter "give weapon_smokegrenade" and you will have infinite smoke grenades to practice with. Nice.
Finally, we're going to let you see the trajectory of thrown grenades, so enter "sv_grenade_trajectory 1" and that will give you a green trail behind your thrown grenades.
After following all these steps, you will find yourself in an empty competitive map of your choice, with infinite smoke grenades, and the ability to see the trajectory of everything you throw.
Use this combination of settings in whichever map you desire, and you'll be able to practice different grenade throws. You'll see where they land each and every time, giving you the edge compared to any player who hasn't put the time and effort in.
Next: CS:GO – Best Galil AR Skins, Ranked