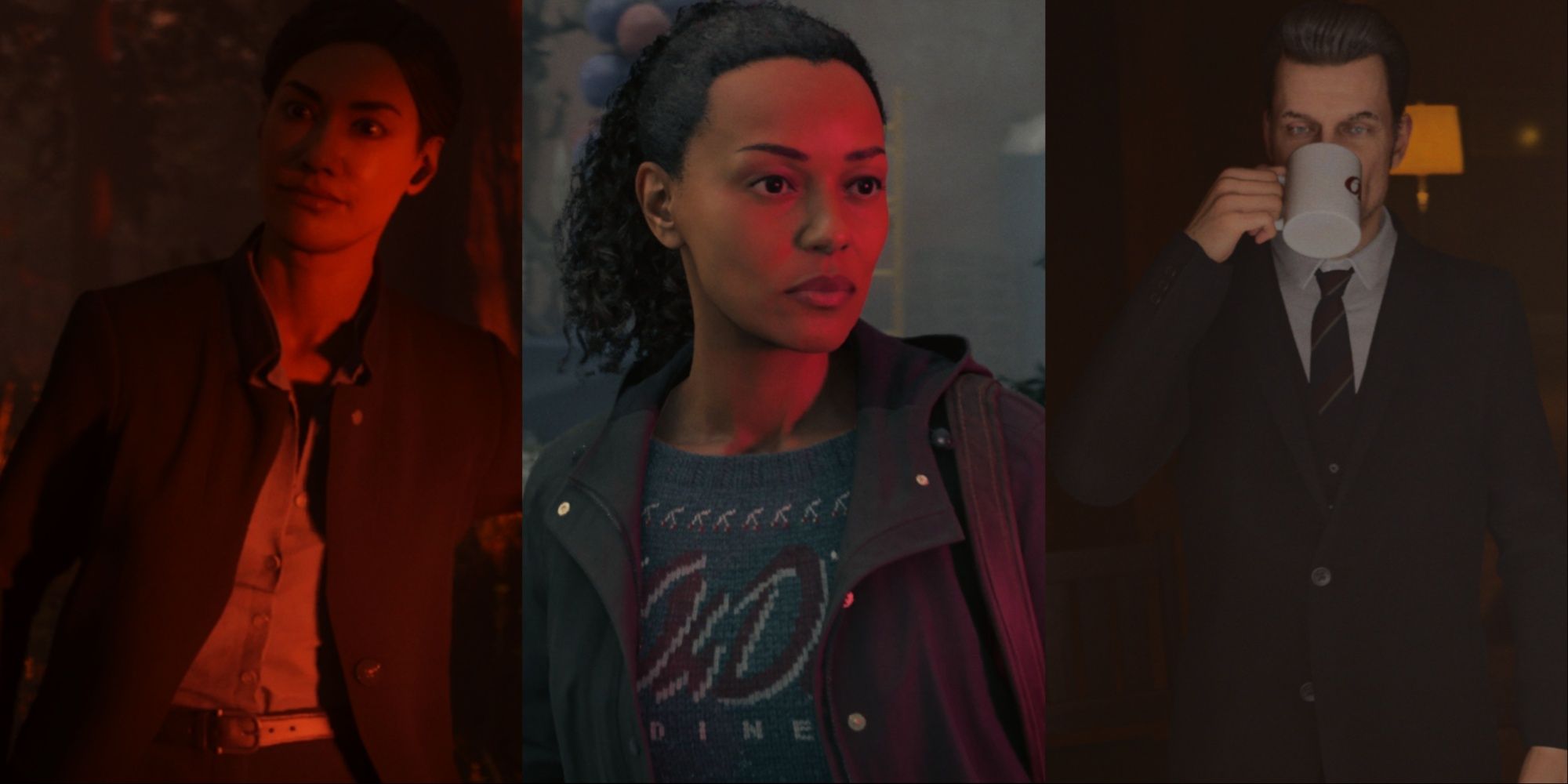 While there are plenty of gameplay elements you might want to prepare for before journeying into the Dark Place, you may also want to find out who's voicing the compelling characters within these terrifying worlds. And you'll find that the cast of Alan Wake 2 comes with a few reprisals, familiar Remedy faces, and many other notable stars.
RELATED: Games To Play If You Like Alan Wake 2
While we know our main protagonists are Alan Wake, Saga Anderson, and Alex Casey, there are plenty more characters returning from the first game and new ones created for Alan Wake 2. Here are just some of the talented actors behind the excellent performances.
Important characters like Mr. Warlin Door, played by David Harewood from CW's Supergirl, or Alice Wake, played by actress Christine Cole from the TV show Suits, and games like Call of Cthulhu and FF16 are not mentioned since they only appear in live-action segments.
1
Saga Anderson – Melanie Liburd
Saga Anderson is the new protagonist and playable character in Alan Wake 2, whose story intertwines with Alan Wake's as she faces many paranormal and supernatural challenges of her own outside the Dark Place. Playing this FBI agent caught in between all the horror and mystery is Melanie Liburd.
While you may not have seen Liburd in any previous games, as this is the first character she's portraying in that realm, she's been in plenty of familiar television shows. You may recognize her as Stansfield professor Carrie Milgram from the Power Universe spin-off Book 2: Ghost, Zoe Baker from This is Us, or Nyx Harper from Dark Matter. She's also starred in Netflix's Gypsy and HBO Max's The Idol.
2
Alan Wake – Matthew Porretta
The titular character and sole protagonist of the original 2010 game, Alan Wake, is reprised by voice actor Matthew Porretta. His face model and live-action counterpart is Bordertown (Sorjonen) star Ilkka Villi, but the voice is always Porretta. And since Alan Wake 2 shares many Easter eggs and connections with Control (Remedy's previous game), he's also reprising the voice of Dr. Casper Darling.
RELATED: Alan Wake 2: The Best Words Of Power Upgrades
Outside of Remedy projects, Matthew Porretta has voiced characters Marco Graziani and Mooch in Bethesda's Starfield and has additional voice credits in Homefront, Red Dead Redemption 2, and Grand Theft Auto 5. In TV and film, you may have seen him in Mel Brooks' Robin Hood: Men in Tights, The New Adventures of Robin Hood, or Beverly Hills: 90210.
3
Alex Casey – James McCaffrey
Alex Casey is supposedly Saga Anderson's coffee-loving FBI partner, but he's also the fictional detective character Alan made much of his writing career off of. His character model may match the game's creative director, Sam Lake, but his voice is done by James McCaffrey, who's previously voiced another hard-boiled detective, Max Payne, in Remedy's Max Payne series. So it's not the first time he's got Sam's model to work with.
In the Remedy world, he was previously also Thomas Zane in the first Alan Wake and former Federal Bureau of Control director Zachariah Trench in Control. His other notable video game role includes private investigator protagonist Edward Carnby in 2008's Alone in the Dark. McCaffrey has also been in various shows, such as Suits, Revenge, Rescue Me, and Jessica Jones.
4
Sheriff Tim Breaker – Shawn Ashmore
Another Remedy Entertainment reunion happening in Alan Wake 2 is with the sheriff of Bright Falls, Tim Breaker, who mysteriously disappears into the Dark Place. That's because he's played by Shawn Ashmore, the time-manipulating protagonist Jack Joyce of 2016's Quantum Break. Since Quantum Break featured an Alan Wake Easter egg, this casting in Alan Wake 2 is a neat callback.
Shawn Ashmore has been in some huge Hollywood projects. You might remember him as Bobby, or Iceman, from the X-Men movies and most recently, the supe known as Lamplighter from The Boys, and his character Wesley Evers from ABC show The Rookie. Ashmore is also no stranger to horror, playing Conrad in The Dark Pictures: Man of Medan and starring in the films The Ruins, Aftermath, and Mother's Day.
5
Robert Nightingale – Doug Cockle
You start the game off surprisingly not as Alan Wake or Saga Anderson, but as nude FBI agent Robert Nightingale spit out from Cauldron Lake and falling right into the hands of the Cult of Tree. His death becomes the subject of the investigation, and he's a sinister presence from thereon, even being the first boss fight in the game.
RELATED: Alan Wake 2: Every Weapon Upgrade, Ranked
The actor behind this grotesque, vengeful agent is Doug Cockle, a veteran video game voice actor widely known for the role of Geralt of Rivia in CD Projekt Red's The Witcher series. He also had a small role in the show Band of Brothers as Father John Maloney and was the narrator for games like Tails of Iron, The DioField Chronicle, and SpellForce 3.
6
The Koskela Brothers – Peter Franzén
You'll see them in person, and you'll see them on TV providing comedic relief with their hilarious infomercial segments about adventure tours and coffee. They're the Koskela brothers, of course, twins Ilmo and Jaakko Koskela. Similarly to Ewan McGregor in Fargo Season 3, both brothers are portrayed by the same actor – Peter Franzén.
Like co-star Melanie Liburd, Peter Franzén is new to video games and is much more active in film and television. Being from Finland, you'll see him in a lot of Finnish cinema, but he also has some American action movie projects, like The Gunman and Black Lotus. His most notable role is on the TV show Vikings, where he was King Harald Finehair.
7
Agent Kiran Estevez – Janina Gavankar
Actress Janina Gavankar is contributing her talents more and more to video games. In 2023 alone, not only does she voice FBC agent Kiran Estevez, who's looped into the case with Saga in Alan Wake 2, but she voiced Freddie in Stray Gods: The Roleplaying Musical, Shroud in Redfall, and Tanta Sila in Forspoken. And you may recall she was also Star Wars protagonist Iden Versio in Battlefront 2.
Aside from video games, Gavankar has portrayed just as many characters in numerous television shows, like Ren Bhullar in Big Sky, Alison Namazi in The Morning Show, Meredith Bose in The Mysteries of Laura, Diana Thomas in Sleepy Hollow, and Luna Garza in True Blood. She also starred in the films Blindspotting and basketball drama The Way Back with Ben Affleck.
8
Ahti – Martti Suosalo
Ahti from Control returns to his extradimensional custodial duties as a janitor first encountered in the Dark Place by Alan Wake inside Mr. Door's Studio and then appearing throughout. And reprising this BAFTA-winning silly enigmatic character who says phrases like "The more cooks the worse soup" is Martti Suosalo.
RELATED: How Are Control And Alan Wake Connected?
Like Ilkka Villi and Peter Franzén, Martti Suosalo is a Finnish actor who's only been in international Finnish movies and TV shows. If you enjoy Nordic Noir, perhaps you've seen Suosalo in the Netflix Finnish detective series Deadwind, where he played Poteri. He also got to play Bilbo Baggins in the 1993 Finnish miniseries adaptation of The Lord of the Rings called Hobitit.
9
Tammy And Ed Booker – Nneka Okoye And Leemore Marrett Jr.
Also part of Saga's investigation into the events transpiring in Bright Falls is the husband and wife duo Tammy and Ed Booker, who are there to document evidence for a true crime novel on Alan Wake's disappearance. Playing Tammy is actress Nneka Okoye, and playing her husband Ed is actor Leemore Marrett Jr.
You might've seen Okoye before in other video game sequels like Dead Island 2 as Dez, in Horizon Forbidden West as Litakka, and in Baldur's Gate 3 as Arka, and also in live-action in Prime Video's Riches and Paramount+'s Halo.
Leemore Marrett Jr. has also been in Baldur's Gate 3 as characters Acolyte Belub, Beastmaster Zurk, and Bedi, The Crew 2 as Wade, and starred in shows like Netflix's The Sandman, BBC's Death in Paradise, Holby City, and Silent Witness.
10
Rose Marigold – Jessica Preddy
In the same diner where Saga interviews the Bookers at their booth, she also meets Rose Marigold, who's got her same uniform and is still there at Oh Deer Diner but with a new voice actress. Their first interaction is strange and chilling, and what's unique about her character in Alan Wake 2 is that there's a bit of a Forbidden West reunion here.
Rose is voiced by Jessica Preddy, who co-starred alongside Tammy's actress Nneka Okoye in Forbidden West as Litakka's friend Jekkah, whose brother Aloy needed to find. In addition to blockbuster series like Horizon and Alan Wake, Preddy has also been a part of the Xenoblade Chronicles, voicing Vale and Zenobia in Xenoblade Chronicles 2 and Moebius X in the third game.
11
Deputy Mulligan – Mark Heenehan
Playing the quirky Fargo-esque deputy greeting Saga and Alex Casey before they enter the woods and venture off to the crime scene is Mark Heenehan, who voiced the purple Teletubby Tinky Winky. Yes, a Teletubbies star is in the cast of Alan Wake 2! And he delivers one of the best quotes in the game – "We reckon there are some, uh, organs that are currently outside the victim's, uh, person, when they should be, you know, inside."
While Tinky Winky might be Heenehan's most iconic character out of all his projects, he's also had the opportunity to play former US President Lyndon B. Johnson in CNN's First Ladies series and character Darrell in HBO's space comedy Avenue 5. Some other video game voice credits of his include Alien: Isolation and Star Wars: Battlefront 2.
NEXT: TV Shows And Movies To Watch If You Liked Alan Wake 2