Warframe's Abyss of Dagath update made sweeping changes to the companion system. All loyal companions, both robotic and organic, will no longer die when they reach zero HP. They will instead enter a recovery period that players can accelerate through specific means, notably by installing bond mods.
Related: Warframe: Top Companions, Ranked
Bond mods are companion-specific upgrades that create powerful synergies between your Warframe and companion. These buffs range from shortened ability cooldowns to the occasional free ability cast. Today, we will rank all 14 bond mods released in the Abyss of Dagath update from worst to best, ranking them based on their utility and impact on Warframe's companion meta.
14
Restorative Bond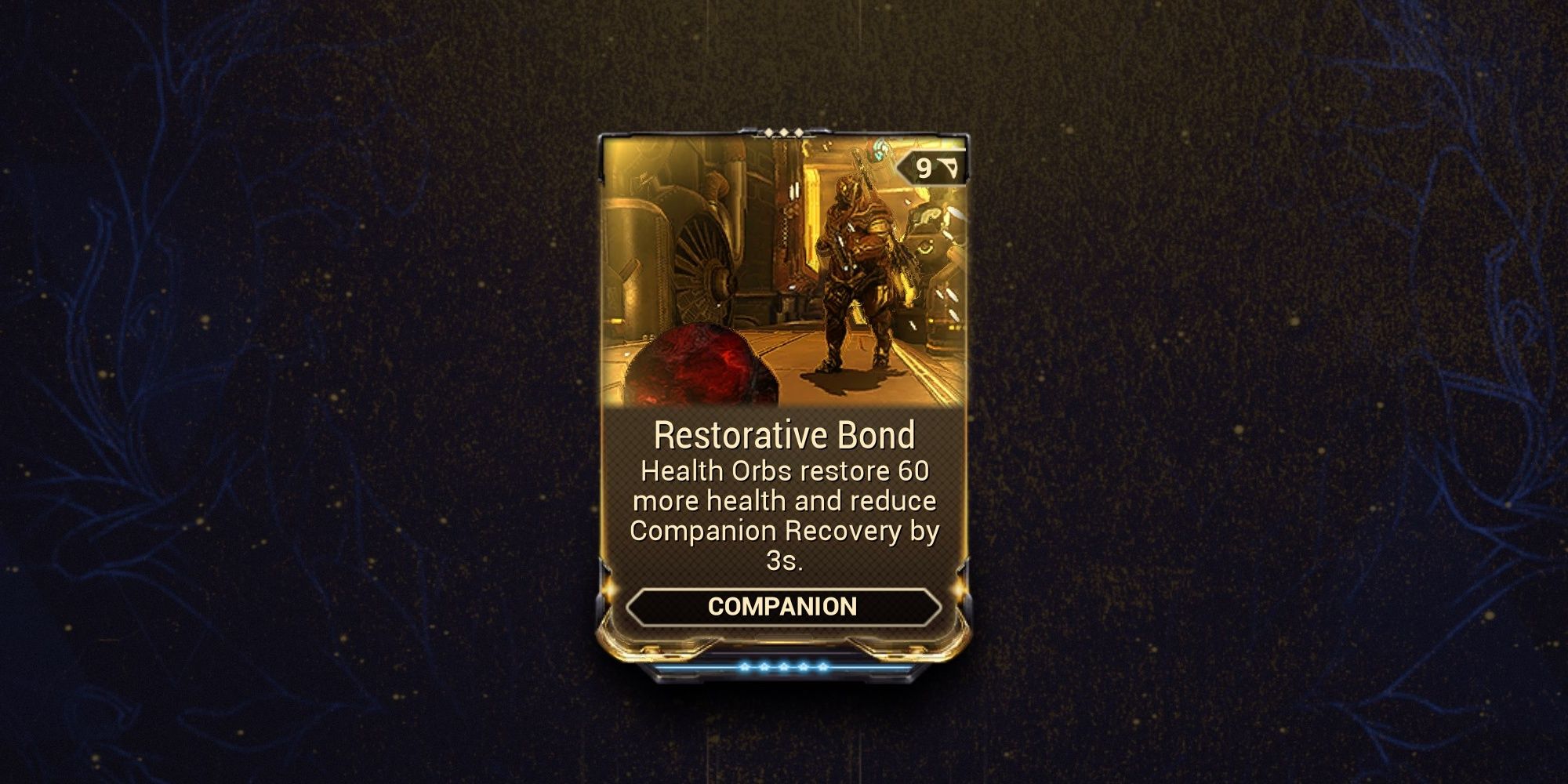 | | |
| --- | --- |
| Companion Type | Any |
| Mod Effect | Health Orbs restore 60 more HP and reduce Companion Recovery by 3s. |
| Source | Master Teasonai (Cetus) |
Health Orbs are surprisingly common in Warframe, especially if you equip the Synth Deconstruct mod on your companion for reliable Health Orb generation. The problem with this mod is twofold:
The bonus HP does not work with Equilibrium and similar conversion mods.
There are better ways to reduce Companion Recovery.
The former means Restorative Bond has no notable synergies with Equilibrium builds outside of lowering your Companion Recovery timer. Even then, there are arguably better ways to reduce your Companion Recovery timer through other mods—Primed Regen paired with Momentous Bond, Tenacious Bond, Aerial Bond, etc.
13
Covert Bond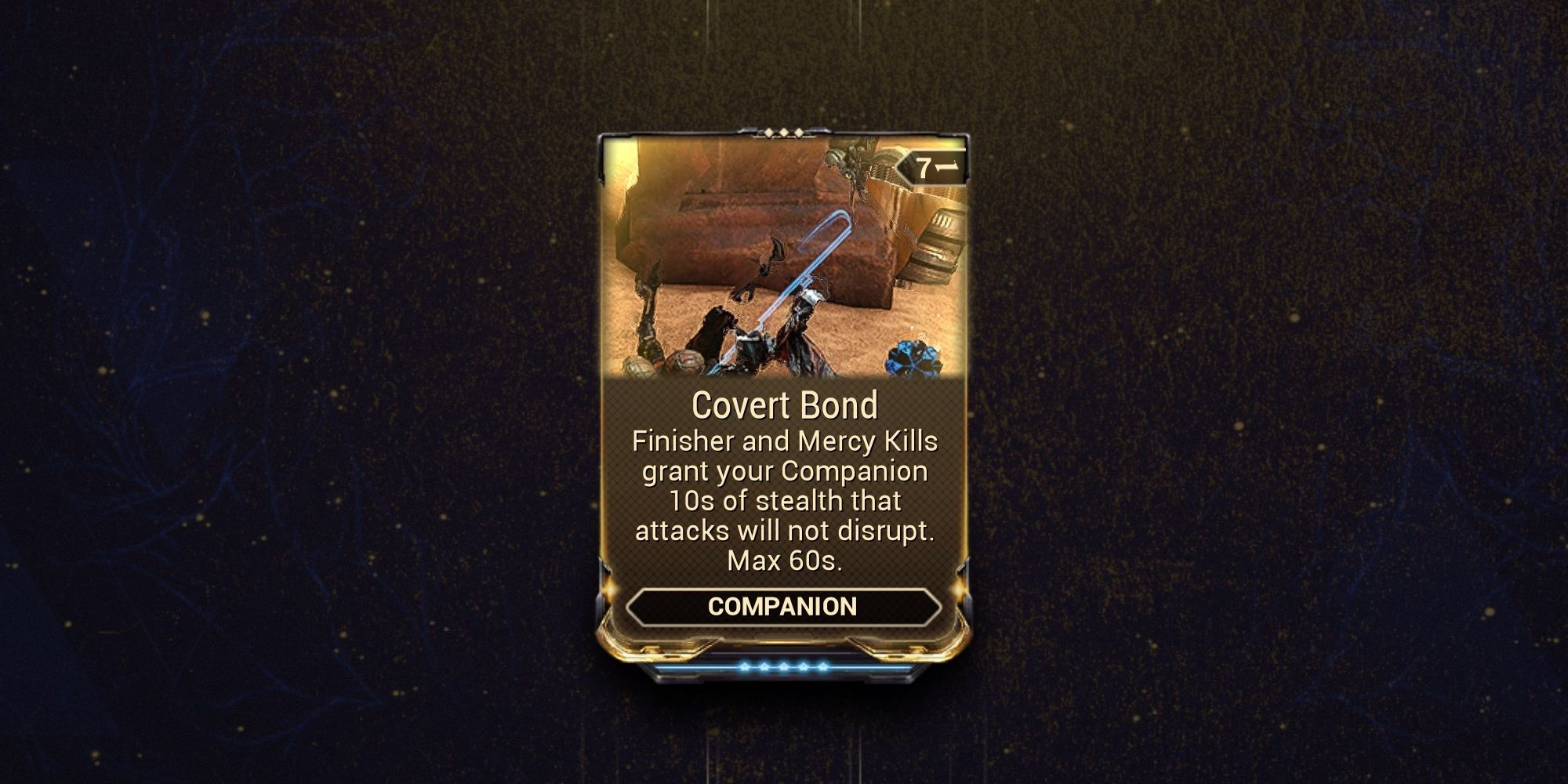 | | |
| --- | --- |
| Companion Type | Any |
| Mod Effect | Finisher and Mercy kills grant your companion 10s of stealth that attacks will not disrupt. Max 60s. |
| Source | Master Teasonai (Cetus) |
Covert Bond will grant invisibility to your companion upon performing a finisher or Parazon finisher, lasting up to 60 seconds. While this sounds powerful on paper, companions can be made fairly durable thanks to the pet balance changes that occurred in the Abyss of Dagath update. And in the event that your faithful companion does catch a stray bullet, it's easier than ever to revive them through mods like Momentous Bond and Primed Regen. Covert Bond is by no means a bad option, yet the utility it offers is pitiful when compared to other companion mods.
12
Aerial Bond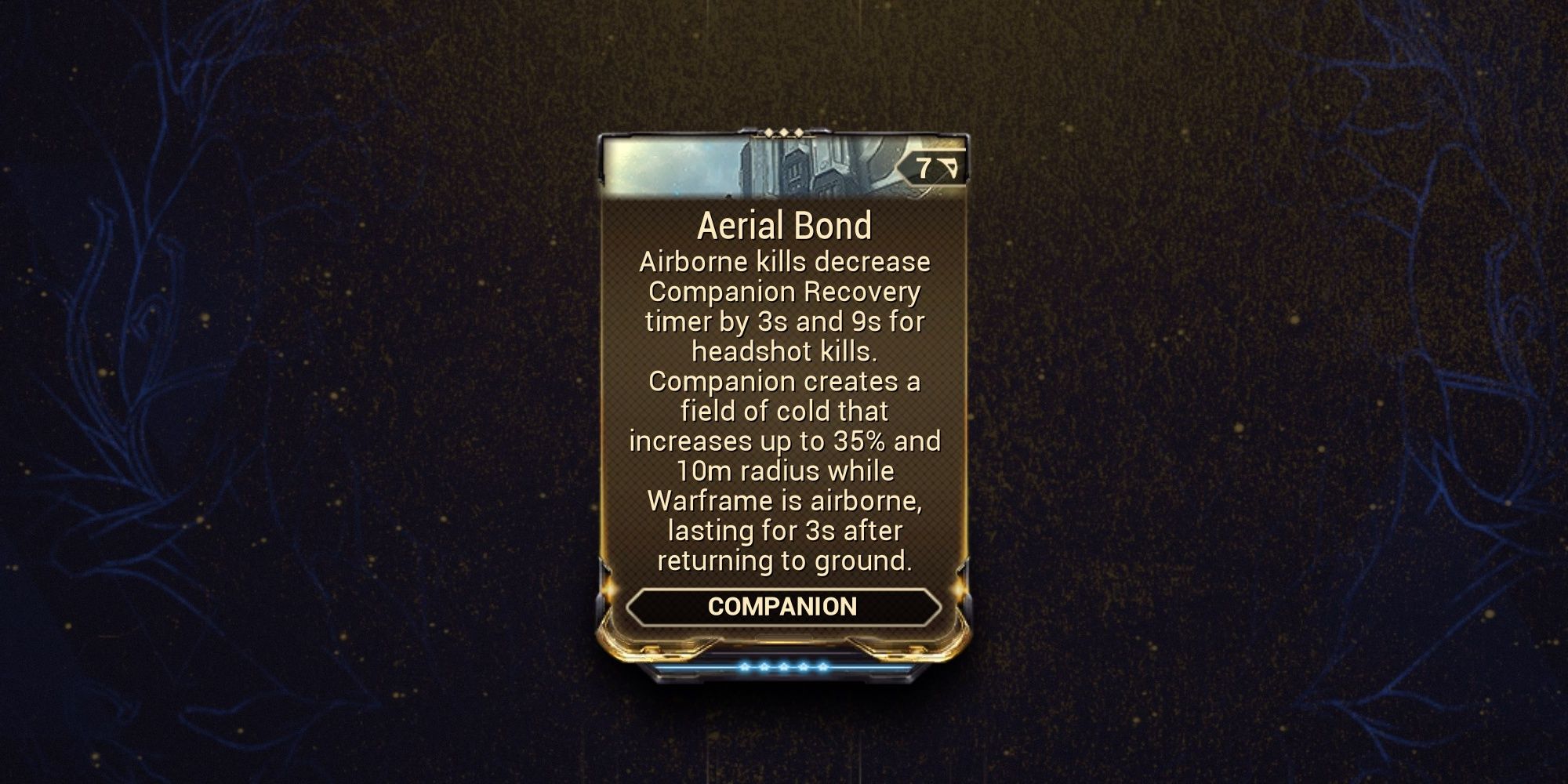 Companion Type

Any

Mod Effect

Airborne kills reduce Companion Recovery by 3s, 9s for headshot kills.

---

While airborne, your companion creates a field of cold that follows you, growing each second

---

Covers 10m with a 60% chill at max charge. Persists for 3s after landing.

Source

The Business (Fortuna)
Aerial Bond might have the most confusing description out of any companion mod, but the actual properties of Aerial Bond are fairly easy to understand. In essence, this mod is doing two things:
Airborne kills reduce Companion Recovery time by 3s, improved to 9s if it was a headshot.
While airborne, your companion projects a slow AoE that gradually grows. Landing will stop the growth for 3s before it vanishes. Jump to reset the timer.
The first part of Aerial Bond is the main reason to use it, as landing headshot kills while aim gliding is surprisingly easy with a high multishot weapon. Even if you land bodyshot kills, reducing your Companion Recovery for every kill adds up quickly.
It's the second half of Aerial Bond that makes it painful to recommend. The slow AoE works identically to Sevagoth's Gloom, minus the life steal. That sounds amazing on paper, but the issue is the aura projects a bright blue sphere that cannot be changed through color channels. This means that whenever you decide to bullet jump or aim glide, your Warframe will have a snowstorm following them, complete with all the visual clutter you'd expect. Considering Warframe can already be a visually busy game, adding more screen clutter completely offsets the otherwise excellent Companion Recovery reduction. If Digital Extremes makes the AoE colorable, Aerial Bond will become an excellent alternative to Tenacious Bond for most builds.
11
Astral Bond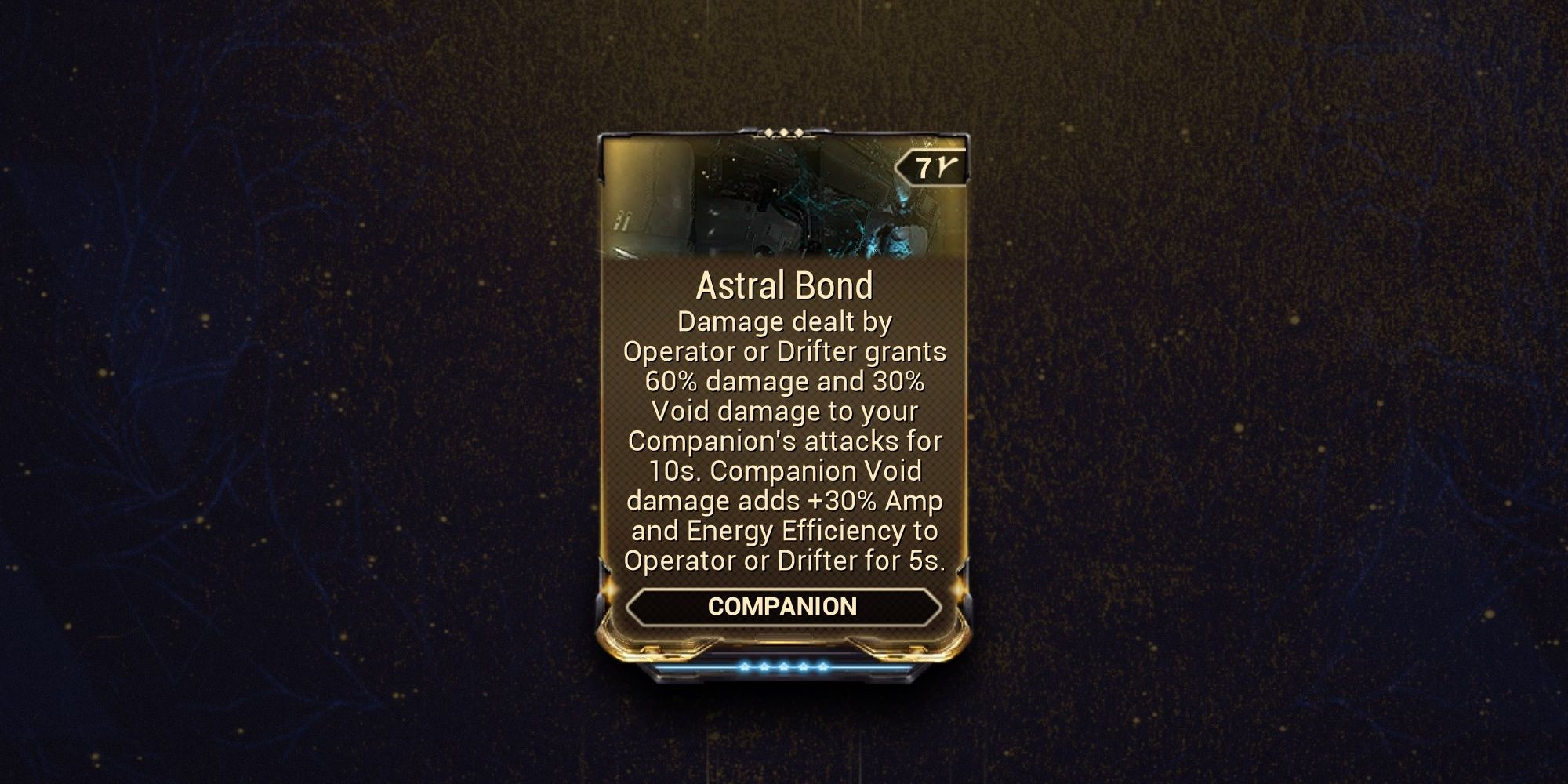 Companion Type

Any

Mod Effect

Damage dealt by Operator or Drifter grants 60% damage and 30% Void damage to your companion's attacks for 10s.

---

Companion Void damage adds +30% Amp and Energy Efficiency to your Operator or Drifter for 5s.

Source

The Business (Fortuna)
Astral Bond is great for one thing and one thing only: Eidolon Hunts. This mod will infuse your companion with Void damage whenever your Operator/Drifter deals damage. That alone isn't useful since all sources of non-Amp Void damage don't damage Eidolon shields, but this allows the second half of Astral Bond to trigger.
Once your companion attacks something, your Operator/Drifter will gain 30% Amp and Energy Efficiency for a short duration. This makes it easier to spam your Amp's primary or secondary fire mode to quickly break an Eidolon's shield. It's unneeded for optimized groups that can perform 3×7 runs per night cycle, but for more casual players looking to hunt down a Hydrolyst on their own, Astral Bond will certainly come in handy. It's also your only means of buffing Amp efficiency outside of Operator Arcanes.
10
Tandem Bond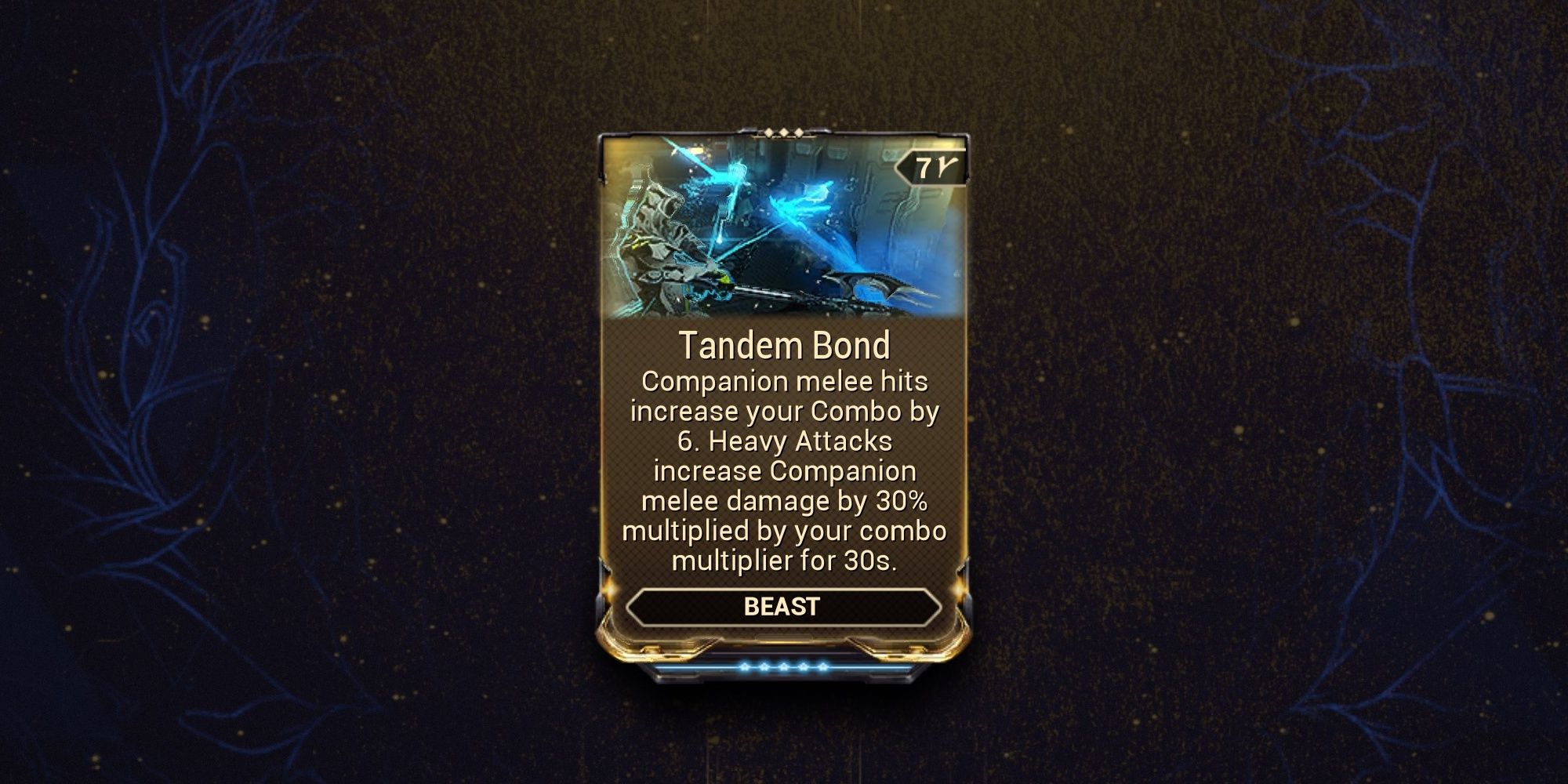 Companion Type

Beast

Mod Effect

Companion melee hits increase your Combo by 6.

---

Heavy attacks increase your companion's melee damage by 30% multiplied by your Combo for 30s.

Source

Master Teasonai (Cetus)
If you want to make your beast companion deal some damage, look no further than Tandem Bond. Landing a heavy attack will cause your companion to deal significantly more damage, scaling with your melee weapon's Combo value. To ensure your Combo doesn't quickly decay, your companion will grant a small amount of Combo whenever it hits something.
Related: Warframe: A Complete Guide To Companions
The Combo from companion hits is a nice bonus, but the real reason to use Tandem Bond is for the bonus companion damage. Equipping this alongside Bite and elemental mods can make Kubrows, Kavats, and their Infested variants viable for Star Chart content and Sorties. Steel Path missions will require a means of armor strip, either from your Warframe or Vicious Bond, but Tandem Bond nevertheless makes pet melee builds a viable option.
9
Contagious Bond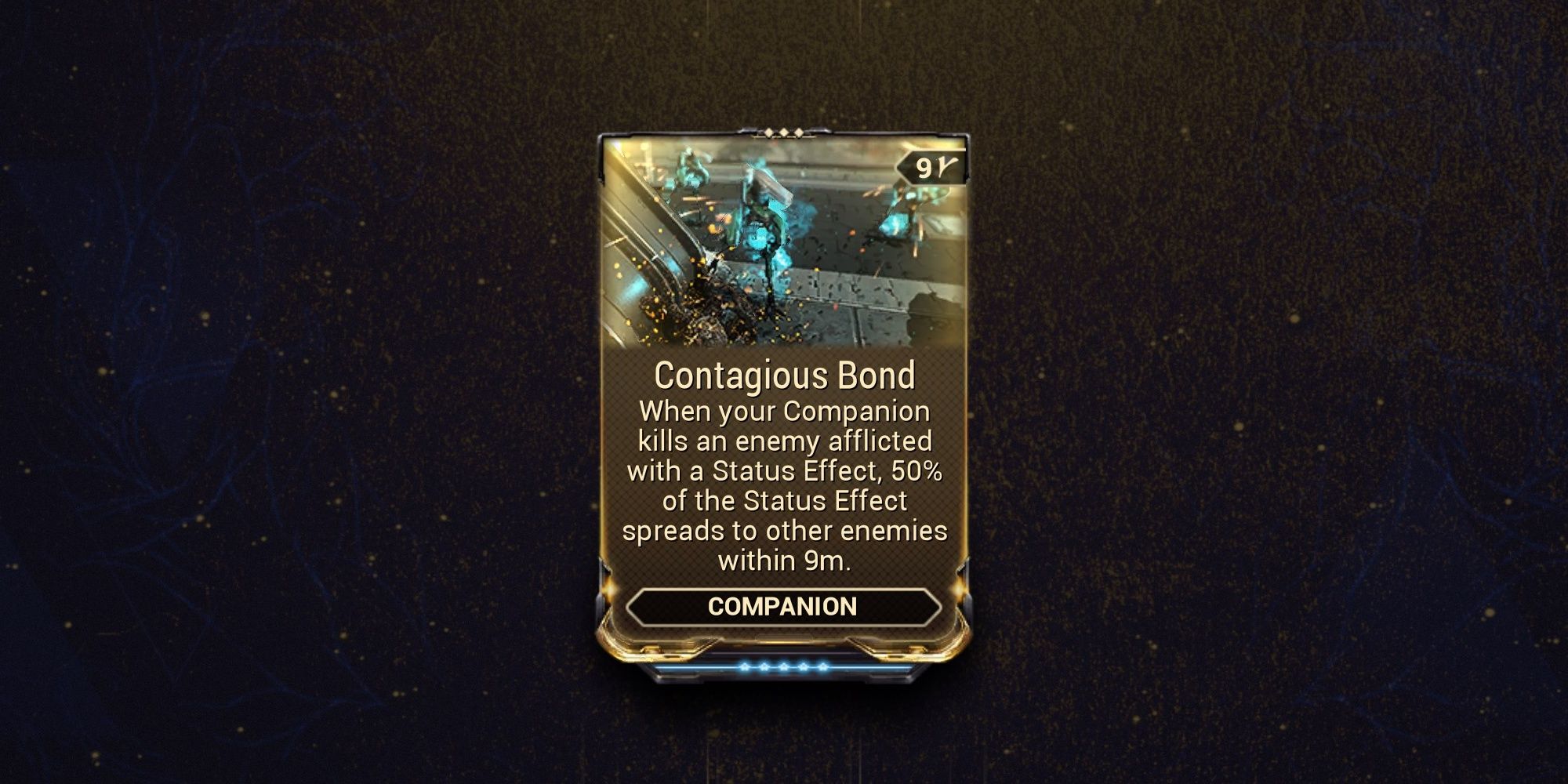 | | |
| --- | --- |
| Companion Type | Any |
| Mod Effect | When your companion kills an enemy afflicted with a status effect, 50% of the status effect spreads to other enemies within 9m. |
| Source | Son (Necralisk) |
Contagious Bond causes your companion kills to spread the slain target's status effects to nearby enemies. If the status effect had multiple stacks, that number would be cut in half and rounded down. Considering how powerful Voruna's second ability is, a Warframe ability that behaves identically to this mod, you might expect Contagious Bond to be an S-tier choice.
Unfortunately, this mod also halves the damage of spread damage-over-time status ailments. This means Slash, Heat, and Gas procs won't deal any noticeable amount of damage unless you have an exceptionally powerful companion build, one that you could easily match by equipping the Mecha set. It does count as dealing damage for assist mods—including Synth Deconstruct and Dethcube's Energy Generator augment—so Sentinels like Dethcube can get some use out of Contagious Bond. However, if you want to make your companion deal great AoE damage, you have better options.
8
Duplex Bond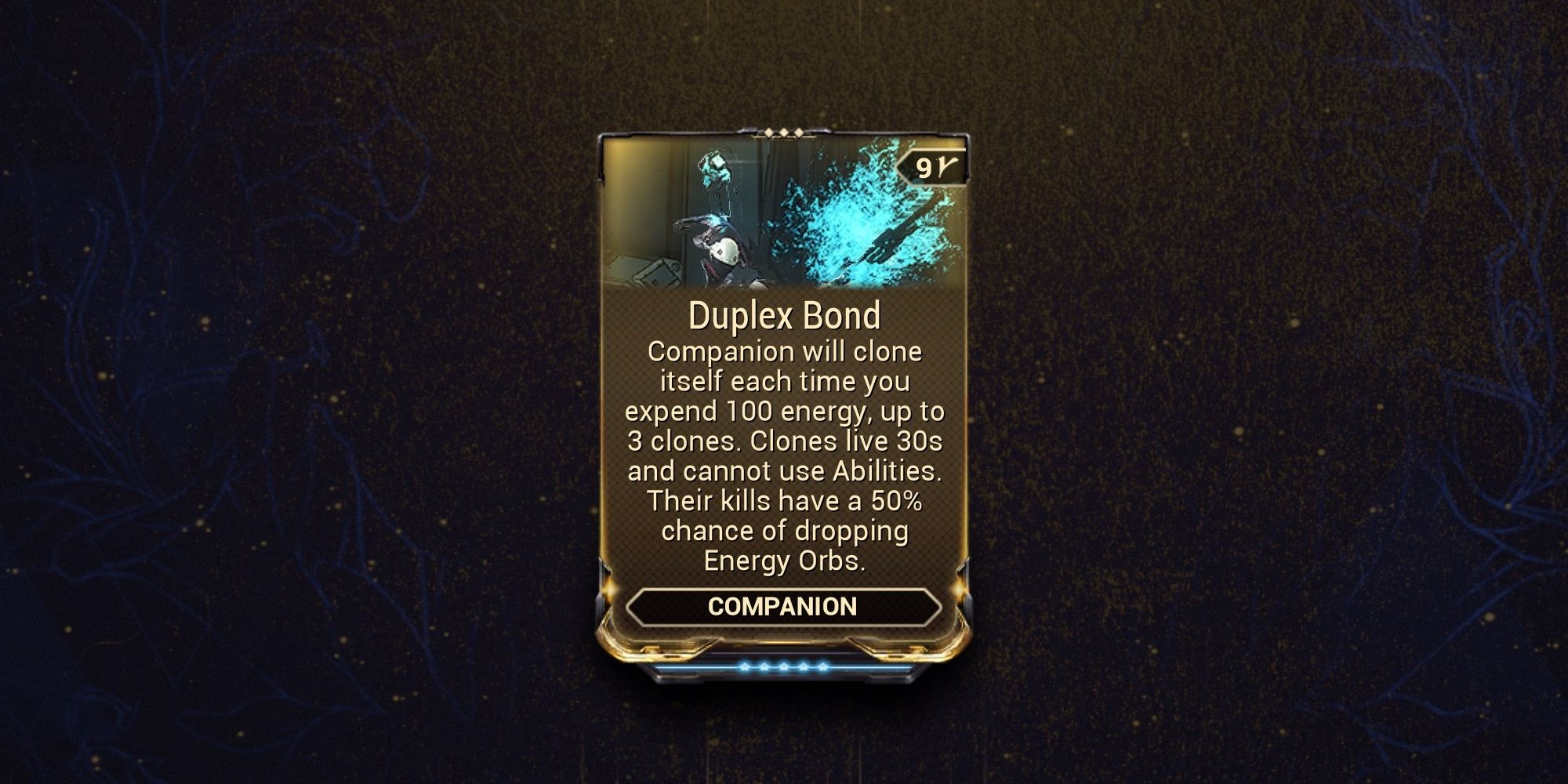 Companion Type

Any

Mod Effect

Companion will clone itself each time you spend 100 energy, up to 3 clones.

---

Clones live for 30s and cannot use abilities. Clone kills have a 50% chance of dropping Energy Orbs.

Source

Son (Necralisk)
Duplex Bond allows anyone to fulfill the power fantasy of becoming a beast master or a robot overlord. Every time you spend 100 Energy, a copy of your companion will spawn beside you and persist for 30 seconds. You can have up to three clones at a time, and this mod works for both Robotic and Beast companions.
These clones come with some major caveats, however. Chief among them is their inability to use any preset mods installed on your companion. Clones can't trigger abilities, bond mods, or even passives like Deathcube's Energy Generator mod. The clones may attack targets and share your companion's damage mods. This means that if you build your companion to deal heavy damage, you can make three copies of them to clear out a room of targets. Their lack of bond synergies limits what you can do with the clones, yet the added firepower on offer makes Duplex Bond at least worth using for Sentinels like Helios.
7
Seismic Bond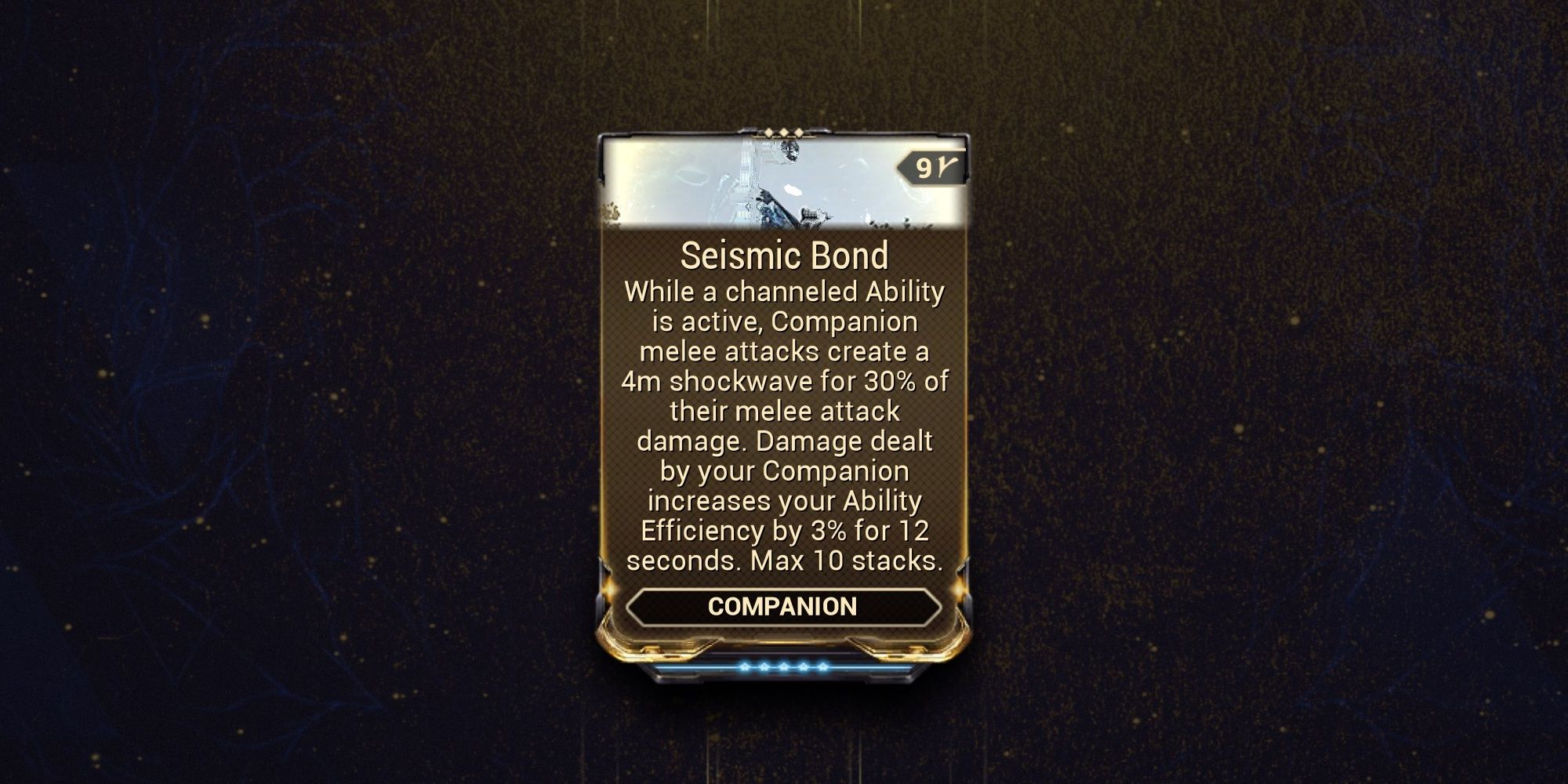 Companion Type

Any

Mod Effect

While a channeled ability is active, your companion's melee attacks create a 4m shockwave for 30% melee damage.

---

Enemies hit by the shockwave grant 3% Ability Efficiency to your Warframe for 12s. Stacks 10x times.

Source

Son (Necralisk)
It's best to disregard the first half of Seismic Bond, as the shockwave itself is fairly small and deals insignificant damage. What makes this mod worth using is the second property. Each enemy hit by your companion's melee shockwave will grant Ability Efficiency, up to 30% at ten stacks. This allows you to drop Streamline on certain builds in place of a different mod. It's not the most exciting effect, but gaining a free 30% Ability Efficiency is nothing to scoff at.
6
Reinforced Bond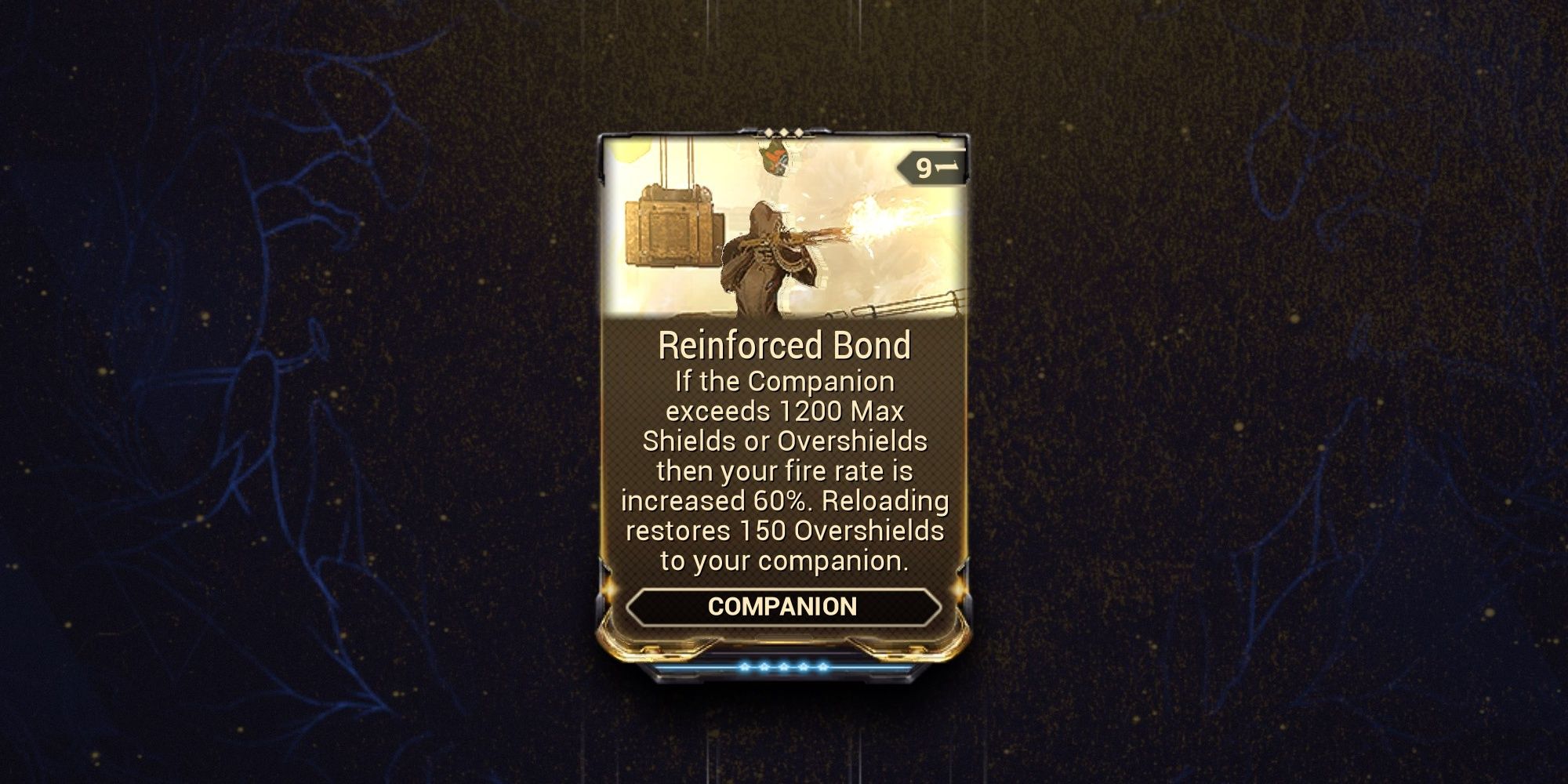 Companion Type

Any

Mod Effect

If your companion exceeds 1,200 max shields or overshields, your fire rate is increased by 60%.

---

Reloading restores 150 overshields to your companion.

Source

The Business (Fortuna)
Reinforced Bond gives your primary and secondary weapons a 60% fire rate bonus if you manage to give your companion 1,200 shields or overshields. If the companion has 1,200 maximum shields, then the buff will always be active. However, if your companion can't reach such a high shield capacity through modding, you can temporarily activate this bonus by reloading your weapon, granting your companion 150 overshields for every reload.
While this mod does force you to spec your companion for shield capacity, doing so is absolutely worth it for weapon-focused loadouts. Equip a Link Redirection mod on your companion, and you should have little issue keeping this bonus permanently active.
5
Mystic Bond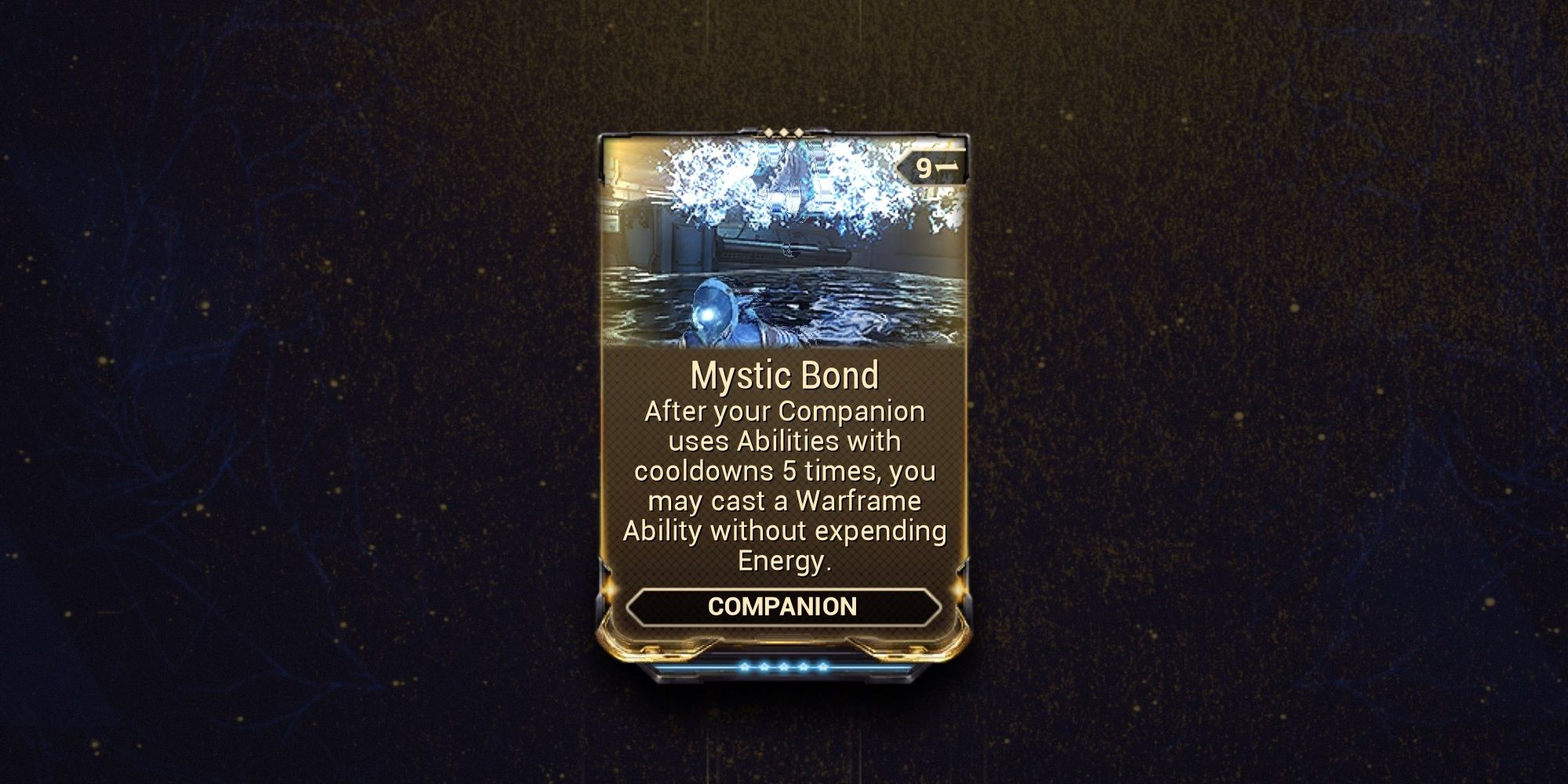 | | |
| --- | --- |
| Companion Type | Any |
| Mod Effect | After your companion uses abilities with cooldowns 5 times, you may cast a Warframe ability without expending Energy. |
| Source | Master Teasonai (Cetus) |
Mystic Bond's efficacy relies heavily on what companion you install this mod onto. Beast users can expect a free ability cast once per minute, acting as a moddable variant of Zenurik's Inner Might passive. Unlike Inner MIght, Mystic Bond can be turned into a plentiful source of free energy when used with Robotic companions.
This is due to Manifold Bond, a Robot-exclusive bond mod that reduces companion ability cooldowns when defeating enemies with three or more unique status ailments. You can easily prime targets with a Sentinel weapon like the Helstrum, so you can consistently trigger five or more abilities in a matter of seconds. Nautilus, Diriga, and most Hounds can more or less spam their abilities when you set this combo up correctly, which in turn will allow you to spam your abilities far more often. Pair this with Diriga's Arc Coil ability to create an infinite ability engine.
4
Vicious Bond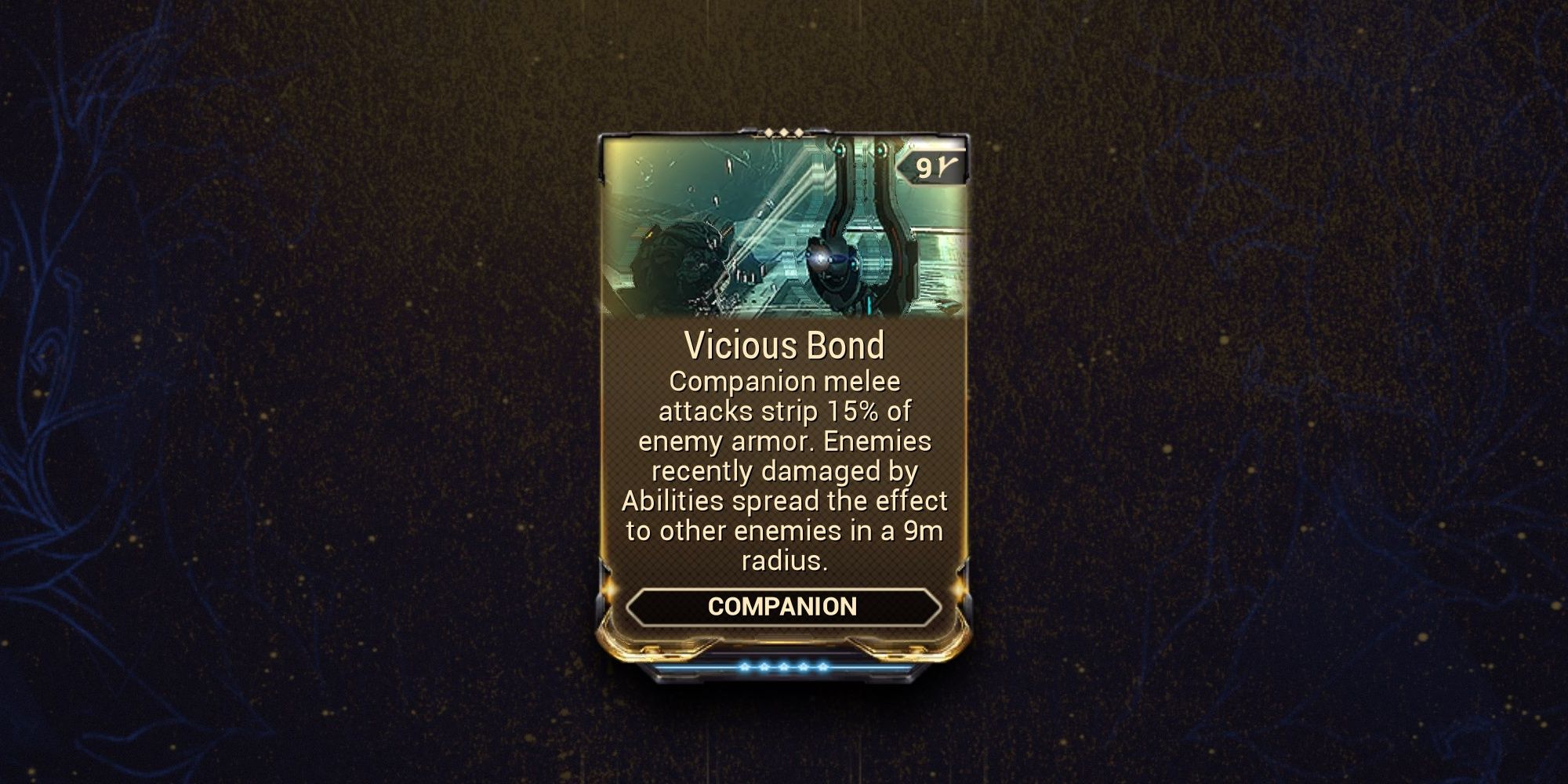 Companion Type

Any

Mod Effect

Companion melee attacks strip 15% of the target's armor.

---

Enemies recently damage by abilities spread the effect to other enemies within 9m.

Source

Son (Necralisk)
Vicious Bond has been a transformative mod for Helios and most beast companions. This mod allows your companion to strip armor with melee attacks. If the target was recently hit by an ability, either from your Warframe or the companion itself, then that armor strip will apply to every nearby enemy.
Related: Warframe: The Best Warframe Augment Mods
Armor is a critical defensive layer to strip when playing on Steel Path difficulty. Having your companion strip enemy armor for you is not just useful, but it makes companion DPS builds viable in hard content. You can place this on Helios to buff its Deconstructor glaive to make it arguably the strongest Sentinel weapon in the game, or you may opt to place it on a beast for some free armor strip. Vicious Bond will never match the reliability of an armor-stripping Warframe ability, but giving your companion the ability to strip armor can prove quite helpful.
3
Manifold Bond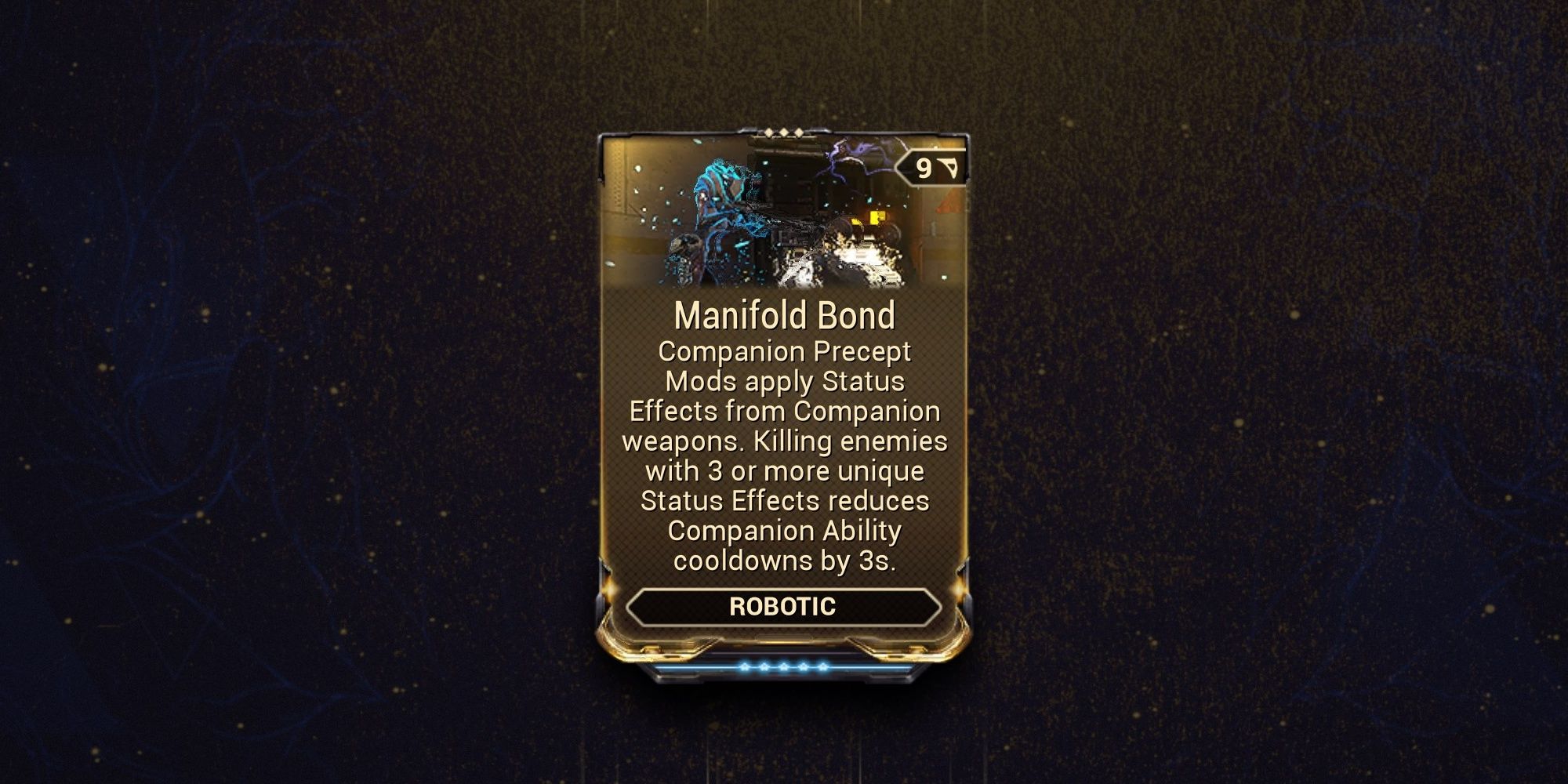 Companion Type

Robotic

Mod Effect

Companion precept mods apply status effects from companion weapons.

---

Killing enemies with 3+ status effects reduces your companion ability cooldowns by 3s.

Source

Master Teasonai (Cetus)
Manifold Bond is arguably the most transformative bond mod in the game, single-handedly revitalizing the robotic roster of companions. Whenever you kill an enemy with three or more unique status ailments, your companion's cooldowns are all reduced by three seconds. This mod doesn't have a cooldown and affects nearly every robotic ability in the game—excluding Wyrm's Negate augment and Shade's Cloak preset. If the ability deals damage, it will also spread status effects modded on your companion's equipped weapon, making it relatively easy to proc Manifold Bond's cooldown reduction.
The cooldown reduction from Manifold Bond has made nearly every Sentinel and Hound viable for all content. One such standout is Nautilus' Cordon ability, pulling targets into a tight cluster every 15 seconds. Thanks to this mod, you only need to kill five targets to reset Cordon's cooldown. Throw on a good status weapon on your companion, and you can effectively remove cooldowns from your companion altogether. If it weren't for the robotic requirement of this mod, Manifold Bond would easily be the strongest companion mod in the game. As it stands, it's an excellent choice if you opt to use Sentinels or Hounds.
2
Tenacious Bond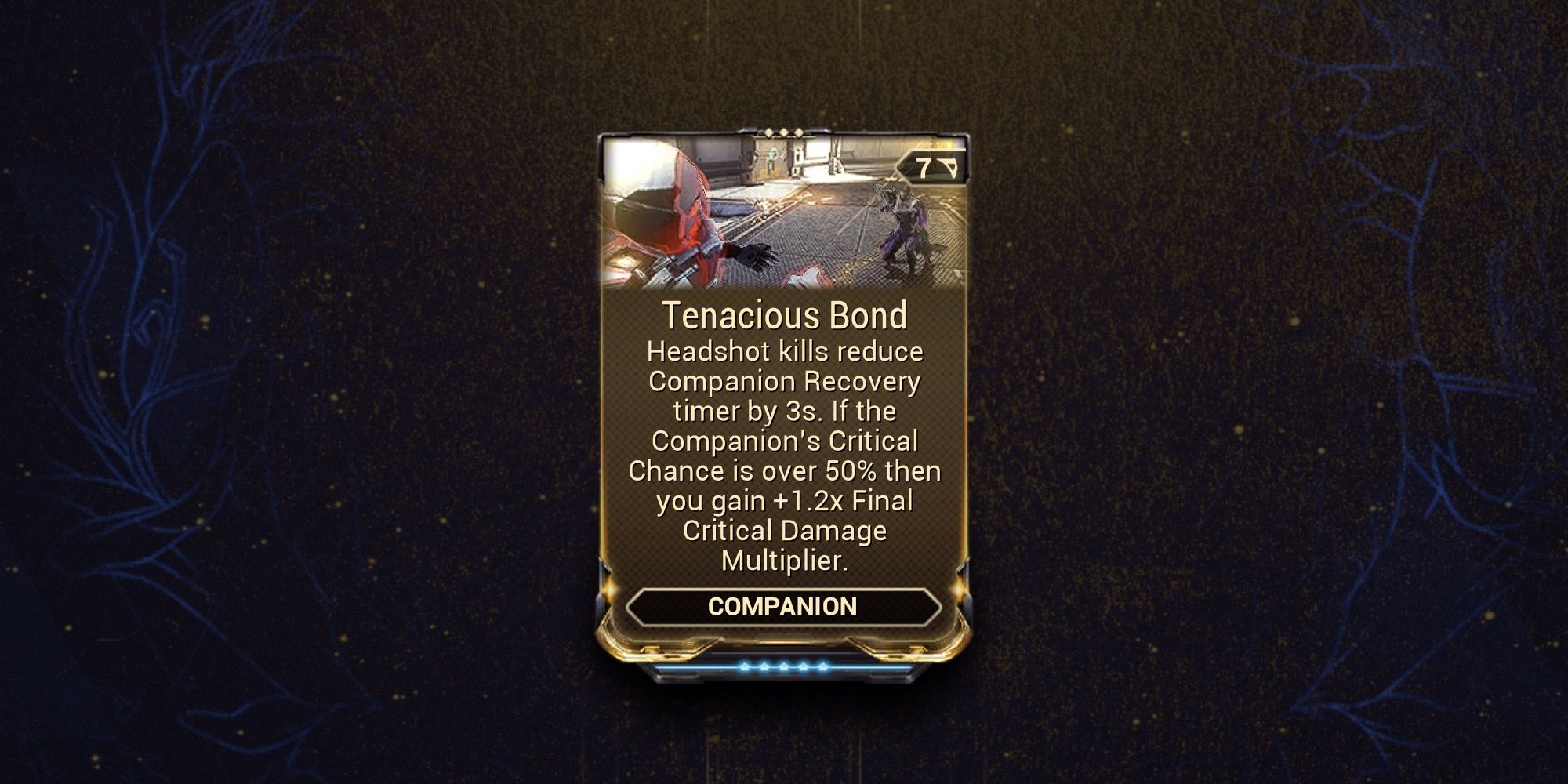 Companion Type

Any

Mod Effect

Headshot kills reduce Companion Recovery by 3s.

---

If your companion's critical chance is over 50%, you gain +1.2x critical multiplier

Source

The Business (Fortuna)
Tenacious Bond is a simple yet effective bond mod that virtually every build can benefit from. Landing precision kills will reduce your Companion Recovery timer by three seconds. This doesn't have a cooldown, so a player that can land multiple headshot kills can quickly resuscitate their downed companion.
But the main reason you use Tenacious Bond is for the free critical multiplier. Buffing your companion's critical chance to 50% is surprisingly easy. Sentinels and MOAs can equip the Vulklok and the Point Strike mod, while most beast companions will hit 50% critical chance if you equip the Bite mod. Place a little thought into your companion builds, and you can benefit from a permanent critical multiplier bonus on every weapon.
1
Momentous Bond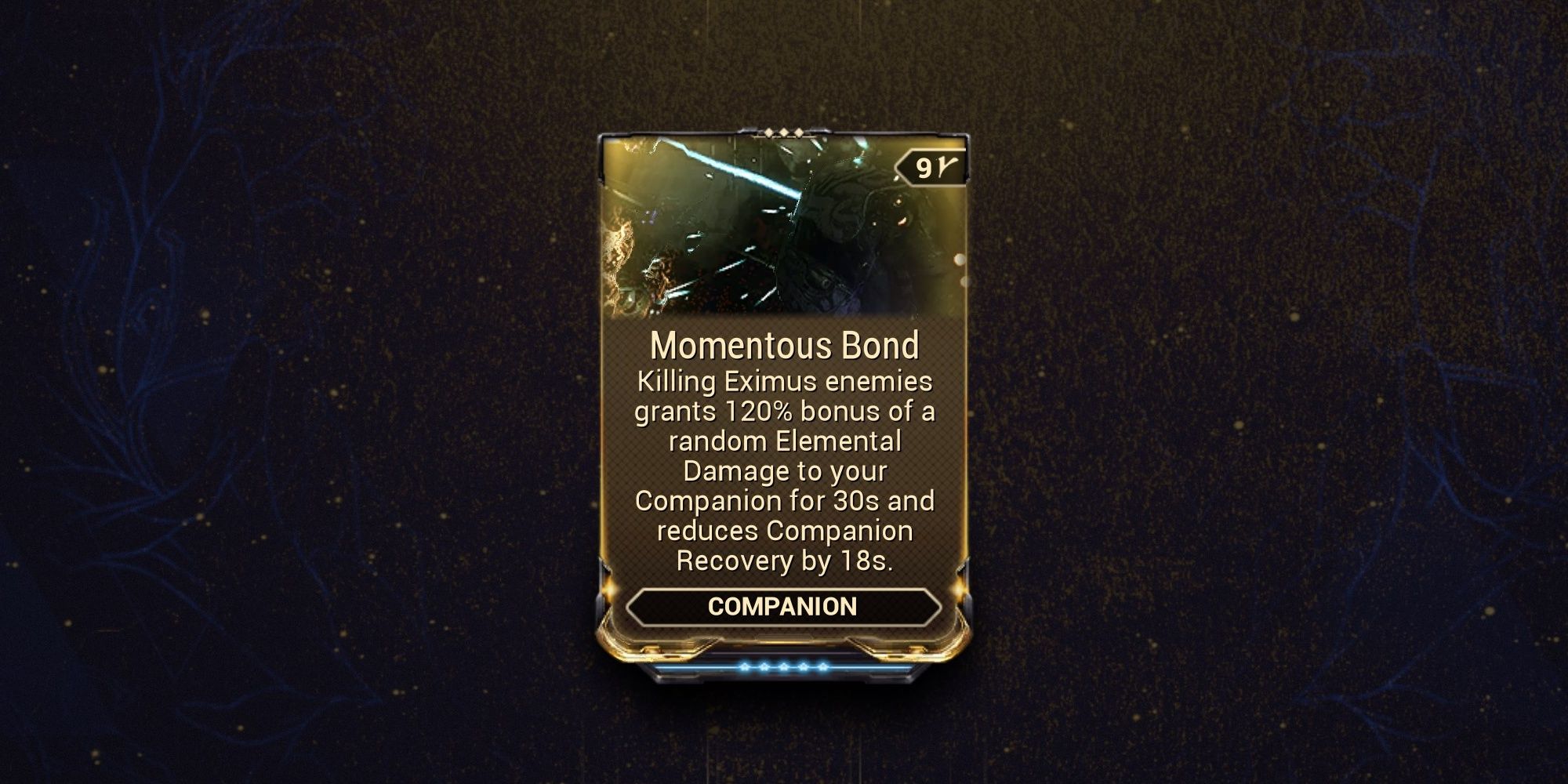 Companion Type

Any

Mod Effect

Killing Eximus enemies grants 120% bonus elemental damage of a random type to your companion, lasting 30s.

---

Killing an Eximus target reduces your Companion Recovery by 18s.

Source

The Business (Fortuna)
Momentous Bond is the best companion recovery mod in the game. Every Eximus target you kill will reduce its recovery timer by 18 seconds, a massive reduction compared to nearly all other bond mods. Eximus targets are quite common in difficult activities like Steel Path and Archon Hunts, so you can reliably activate this effect in most missions. Pair this mod with Primed Regen, and you only need to kill two Eximus targets to revive your companion.
If that wasn't enough, Momentous Bond provides a massive damage bonus to your companion whenever you slay an Eximus target, and this bonus can stack on itself. If you kill four Eximus targets in rapid succession, your companion will gain this bonus four times, not just once. Regardless of your build, Momentous Bond is an easy S-tier pick for virtually every companion in Warframe.
Next: Warframe: The Most Powerful Warframes, Ranked