Meta's Horizon Worlds might not have been the metaverse hit Mark Zuckerberg envisioned we'd all flock to, but that doesn't mean its journey into VR is over. Far from it. Although officially announced earlier this year to get the jump on Apple's Vision Pro, the Quest 3 was officially shown off today during Meta Connect 2023. The next generation of Meta's VR headset retails for $499.99, starts shipping on October 10, 2023, and you can place a pre-order for it through the links below right now.
Three years on from the launch of the Quest 2, and just a year after the arrival of the Quest Pro, the Quest 3 naturally builds on both in some very significant ways. Perhaps most notably its display. Boasting a 2064 x 2208 LCD display and a field of view that covers 110 degrees horizontally and 96 degrees vertically, the Quest 3 is a significant step up from its predecessors in that department. However, perhaps most exciting of all when it comes to what exactly you can see when wearing the Quest 3 is its passthrough video capability.
RELATED: Best VR Headsets
Passthrough video is the ability to see the world around you while still wearing the headset. Pretty handy for making sure you don't crash into anything while using the Quest 3, and a feature that is quickly becoming a standard with VR headsets. Meta was also keen to show off the Quest 3's mixed reality during the Connect, and with good reason. When in blended mode, the user can keep an eye on their real-life environment without having to leave their virtual one. Quite literally the best of both worlds.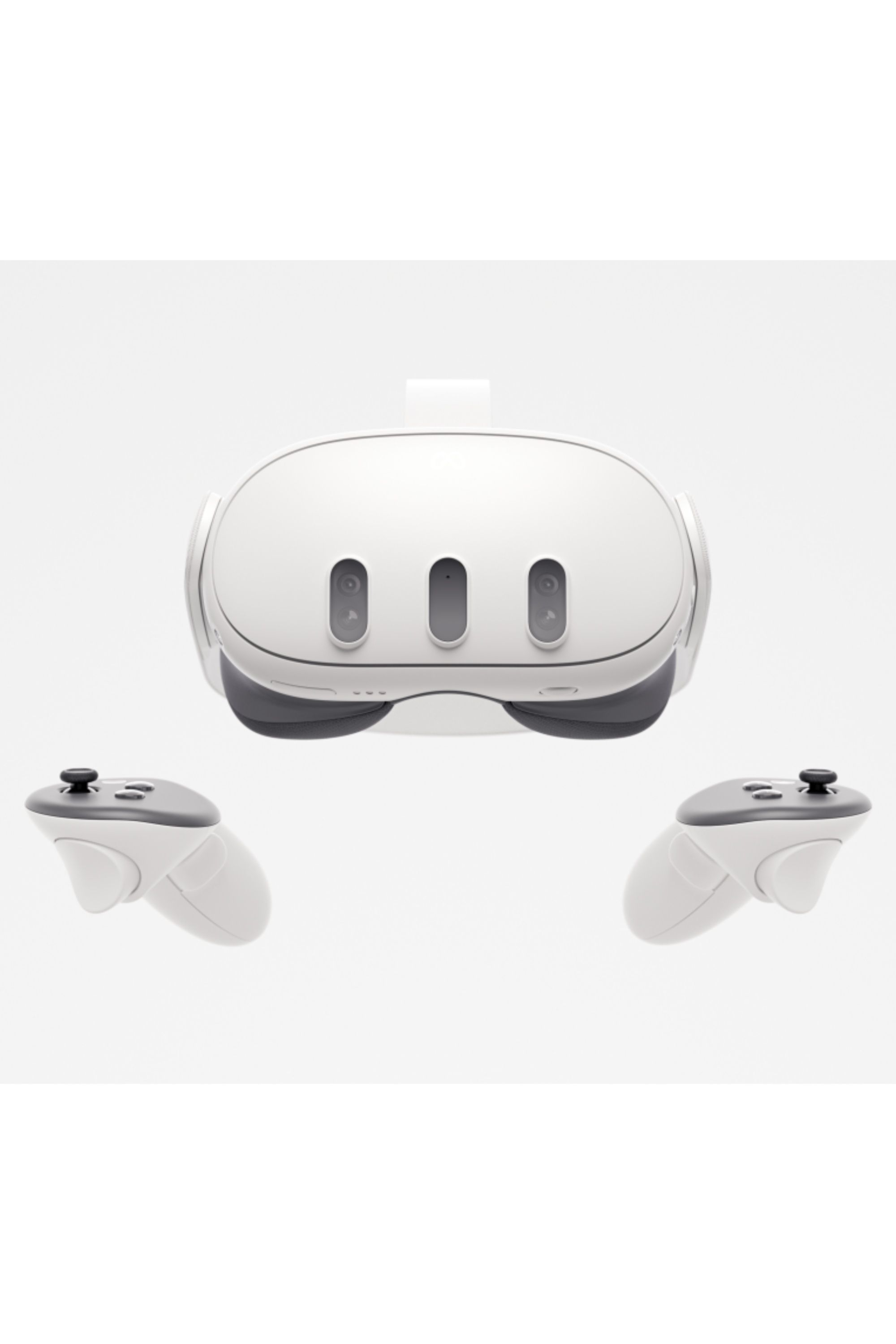 Meta Quest 3
Meta's Quest 3 is the company's next generation of headset, building on the Quest 2 and the Quest Pro. The Quest 3 has an improved display which includes a "blended" mode, allowing the user to see the real world around them without leaving their virtual one. There are two models available, one with 128GB of storage, and another with 512GB.
There are two Quest 3 models available, and the amount of storage you desire will determine how much you'll have to pay. The model available to pre-order through the link below comes with 128GB of internal storage. However, if you really want to push the boat out and quadruple that amount, taking your headset's storage up to an impressive 512GB, then you can do that, but it's going to cost you $649.99 to do so.
Meta seemed eager to highlight what it believes is better than, or at least on par with, the Vision Pro, especially since its own headset is a staggering $3,000 cheaper than Apple's. However, it has a significant plus when compared to the PlayStation VR2 as well. Backward compatibility. Everything you can play on the Quest 2 can also be played on the Quest 3, and Xbox Cloud Gaming will also be available through the headset.
NEXT: The Atari 2600+ Will Be Here On November 17 And Is Available For Pre-Order Now