The Dapplewood is a large forest near town in Paleo Pines, filled with new dinosaurs to meet.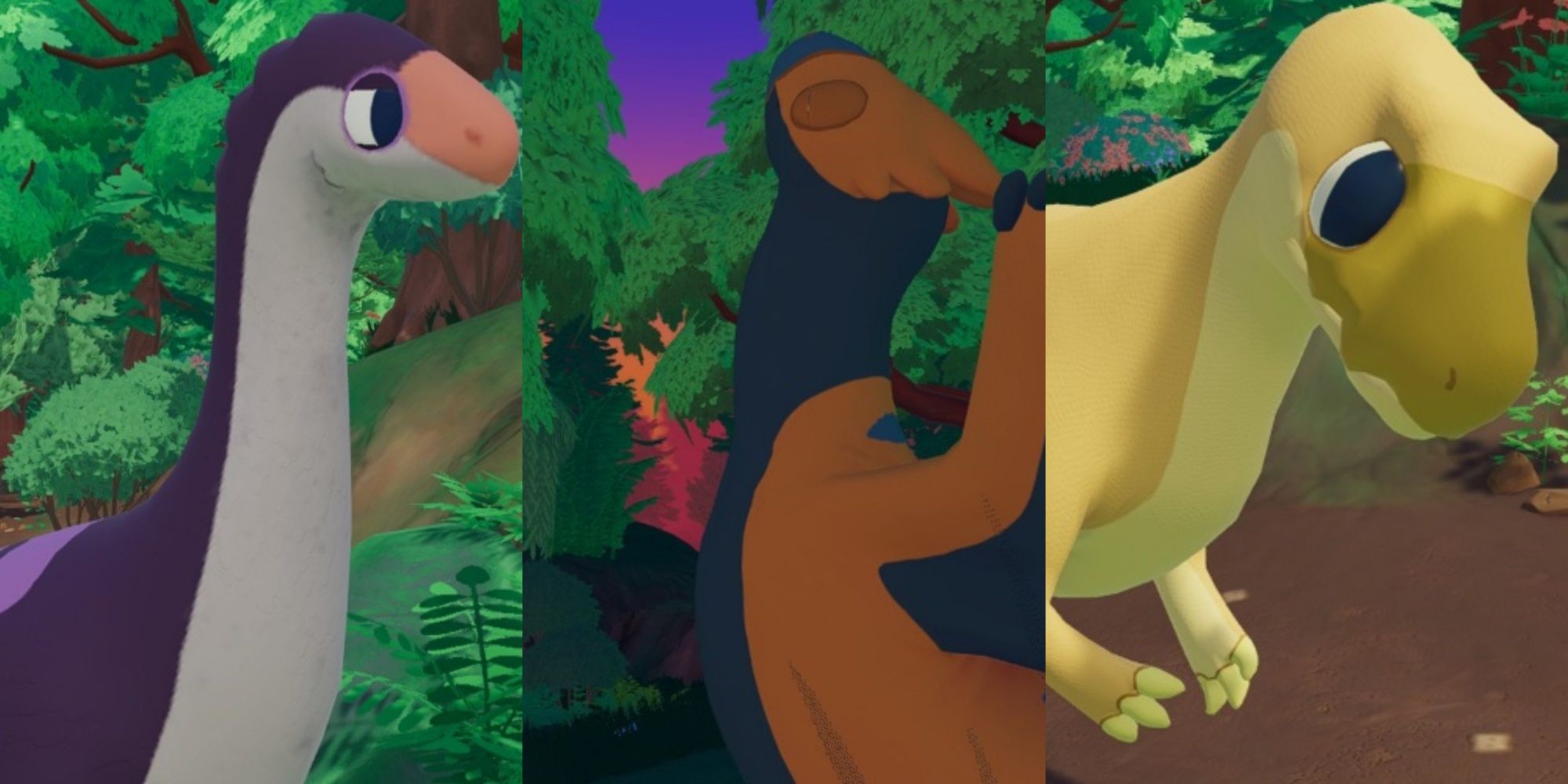 Paleo Pines has three large areas for you to explore, filled with characters to talk to, resources to find, food to forage, and, yes, dinosaurs to meet. You might even say that the dinosaurs are the main attraction, given that you can tame them, make them your helpers, and ride them!
RELATED: Paleo Pines: How To Open The Path To The Dapplewood
Once you've smashed open the boulder blocking your way to the Dapplewood, you'll be able to meet all the arboreal dinosaurs who live within, and if you're lucky, tame a few of them. Of course, going in forewarned is forearmed, so here's all the information you'll need to tame these fearsome creatures.
All Dapplewood Forest Dinosaurs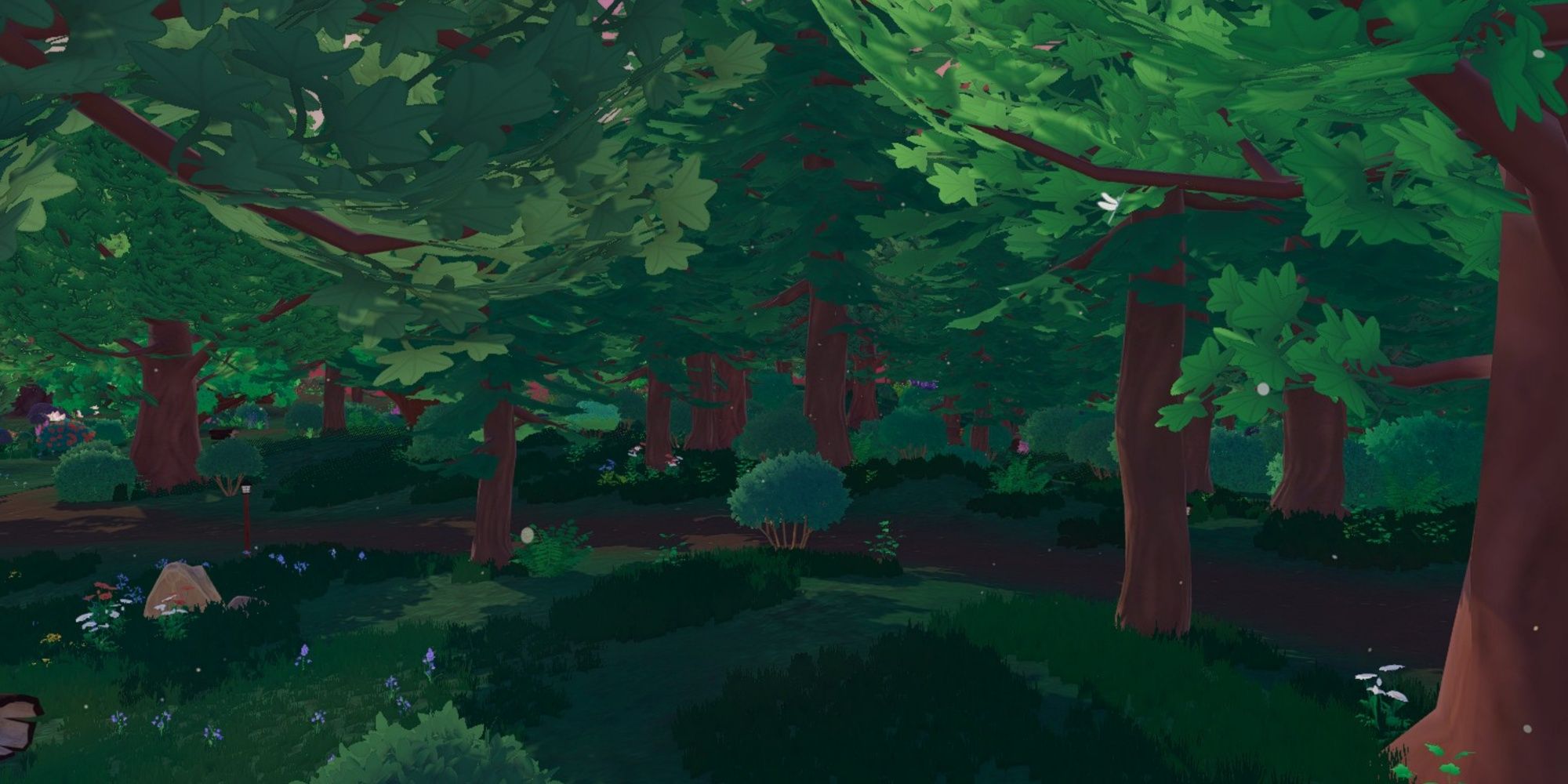 The table below contains all the important information about the dinosaurs found in the Dapplewood, which includes the following:
The skills they possess, both on and off the farm.
The types of food they eat, and their preferred treat and Poppin tastes.
What sort of pen they'll need in terms of size and penmates.
Underneath the skills and stats, the dinosaur's Friend Call is listed. This is the song that you'll need to play to tame the dino. The numbers refer to how long you need to hold the notes for.
Dinosaur

Skills

Diet

Taste

Social

Area

Therizinosaurus

---

Skills & Stats:

Harvester

Slasher

Herbivore

Fragrant

Pack

50m²

Friend Song:

Blue 2, Yellow 2, Red 3, Blue 1, Red 3, Purple 1, Purple 3

Megalosaurus

---

Skills & Stats:

Waterer

Sprinter

Carnivore

Earthy

Loner

50m²

Friend Song:

Blue 3, Red 1, Blue 3, Purple 1, Blue 3, Red 1, Blue 3

Kentrosaurus

---

Skills & Stats:

Harvester

Slasher

Herbivore

Fragrant

Herd

25m²

Friend Song:

Yellow 2, Blue 1, Red 2, Yellow 1, Blue 2, Yellow 2, Red 1, Red 1

Stegosaurus

---

Skills & Stats:

Harvester

Slasher

Herbivore

Earthy

Pack

50m²

Friend Song:

Purple 2, Yellow 1, Blue 2, Red 1, Yellow 3

Centrosaurus

---

Skills & Stats:

Tiller

Smasher

Herbivore

Juicy

Herd

25m²

Friend Song:

Yellow 2, Blue 2, Purple 1, Red 3, Yellow 3

Tyrannosaurus Rex

---

Skills & Stats:

Waterer

Stomper

Carnivore

Fragrant

Loner

50m²

Friend Song:

Yellow 3, Blue 3, Red 2, Purple 1, Purple 1, Blue 1, Red 3

Deinocheirus

---

Skills & Stats:

Waterer

Sprinter

Omnivore

Spicy

Pack

50m²

Friend Song:

Blue 3, Yellow 1, Yellow 1, Blue 3, Red 1, Yellow 1, Blue 3

Baryonyx

---

Skills & Stats:

Waterer

Sprinter

Carnivore

Fragrant

Loner

25m²

Friend Song:

Blue 1, Yellow 1, Red 3, Yellow 1, Purple 2, Red 1, Yellow 1, Red 3

Deinonychus

---

Skills & Stats:

Tender

Discoverer

Carnivore

Juicy

Pack

12m²

Friend Song:

Purple 1, Yellow 2, Purple 1, Yellow 2, Blue 3

Compsognathus

---

Skills & Stats:

Tender

Discoverer

Carnivore

Earthy

Pack

12m²

Friend Song:

Red 3, Blue 1, Yellow 1, Purple 1, Red 3

Troodon

---

Skills & Stats:

Tender

Discoverer

Omnivore

Juicy

Pack

12m²

Friend Song:

Purple 2, Purple 2, Red 3, Yellow 1, Purple 2

Ouranosaurus

---

Skills & Stats:

Clearer

Sprinter

Herbivore

Earthy

Pack

50m²

Friend Song:

Yellow 1, Red 1, Blue 1, Purple 2, Blue 2, Yellow 2

Oviraptor

---

Skills & Stats:

Tender

Discoverer

Omnivore

Crunchy

Pack

12m²

Friend Song:

Yellow 1, Yellow 1, Yellow 1, Yellow 1, Purple 2

Archaeopteryx

---

Skills & Stats:

Tender

Discoverer

Carnivore

Fragrant

Pack

12m²

Friend Song:

Purple 2, Blue 2, Yellow 1, Yellow 1, Yellow 1, Yellow 1, Yellow 1

Microraptor

---

Skills & Stats:

Tender

Discoverer

Carnivore

Spicy

Pack

12m²

Friend Song:

Blue 2, Yellow 1, Purple 1, Yellow 1, Purple 1
NEXT: Paleo Pines: Beginner Tips