Veridian Valley is filled with some of Paleo Pines' most adorable dinos. Here's everything you need to know.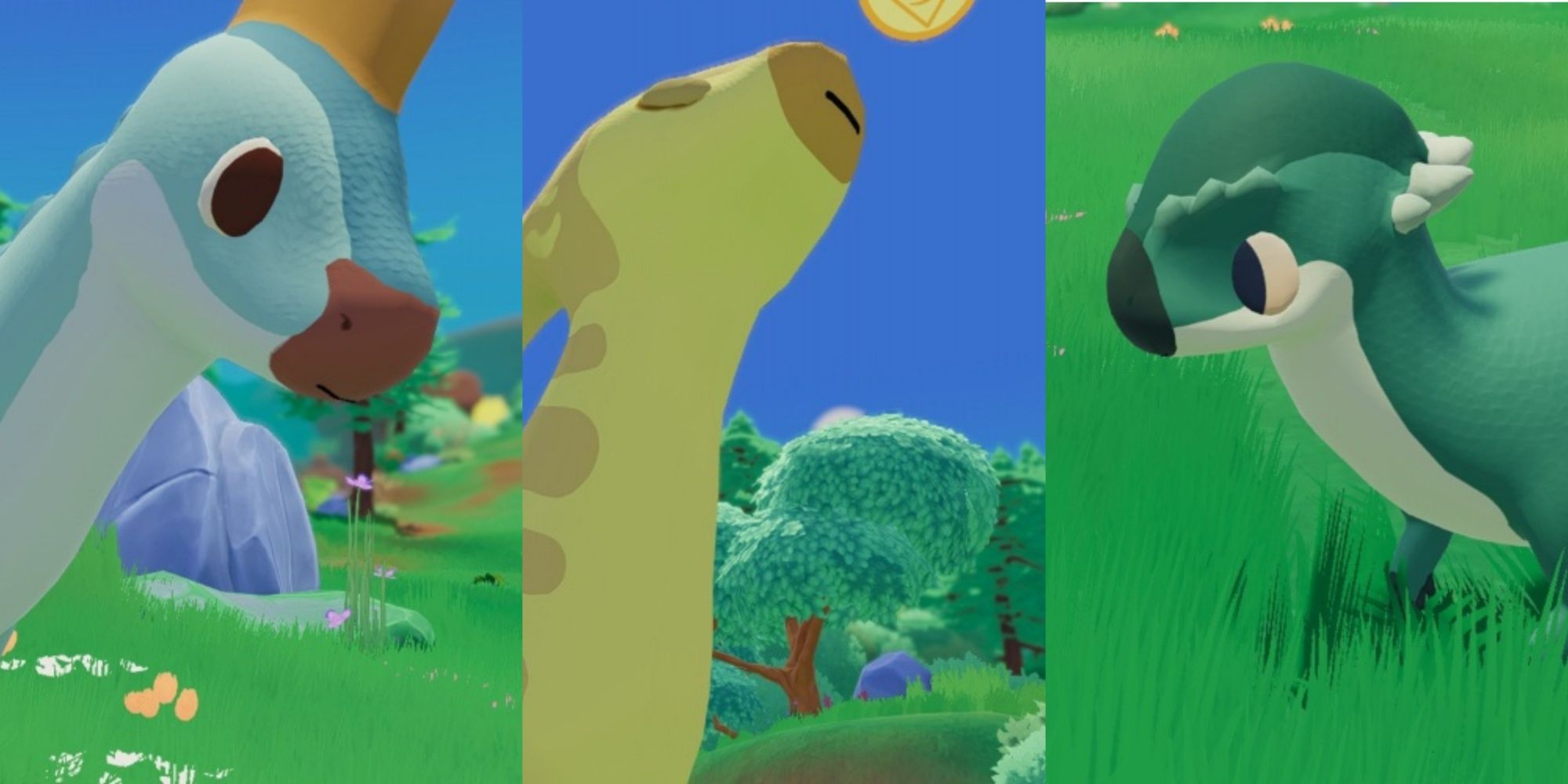 Paleo Pines has rather a lot of dinosaurs to find, tame, and make friends with. To do this, you'll have to travel around the open world, finding out where they live, what food they like to eat, and what sort of company they enjoy. Naturally, you'll end up with a farm filled with dino pals.
RELATED: Paleo Pines: Beginner Tips
Veridian Valley, the first area that you have access to at the beginning of the game, is home to some of the game's most adorable creatures. From the teeny tiny Psittacosaurus just outside town to the rare yet iconic Ankylosaurus that lives far away from civilization, it's worth exploring the valley for these friends.
All Veridian Valley Dinosaurs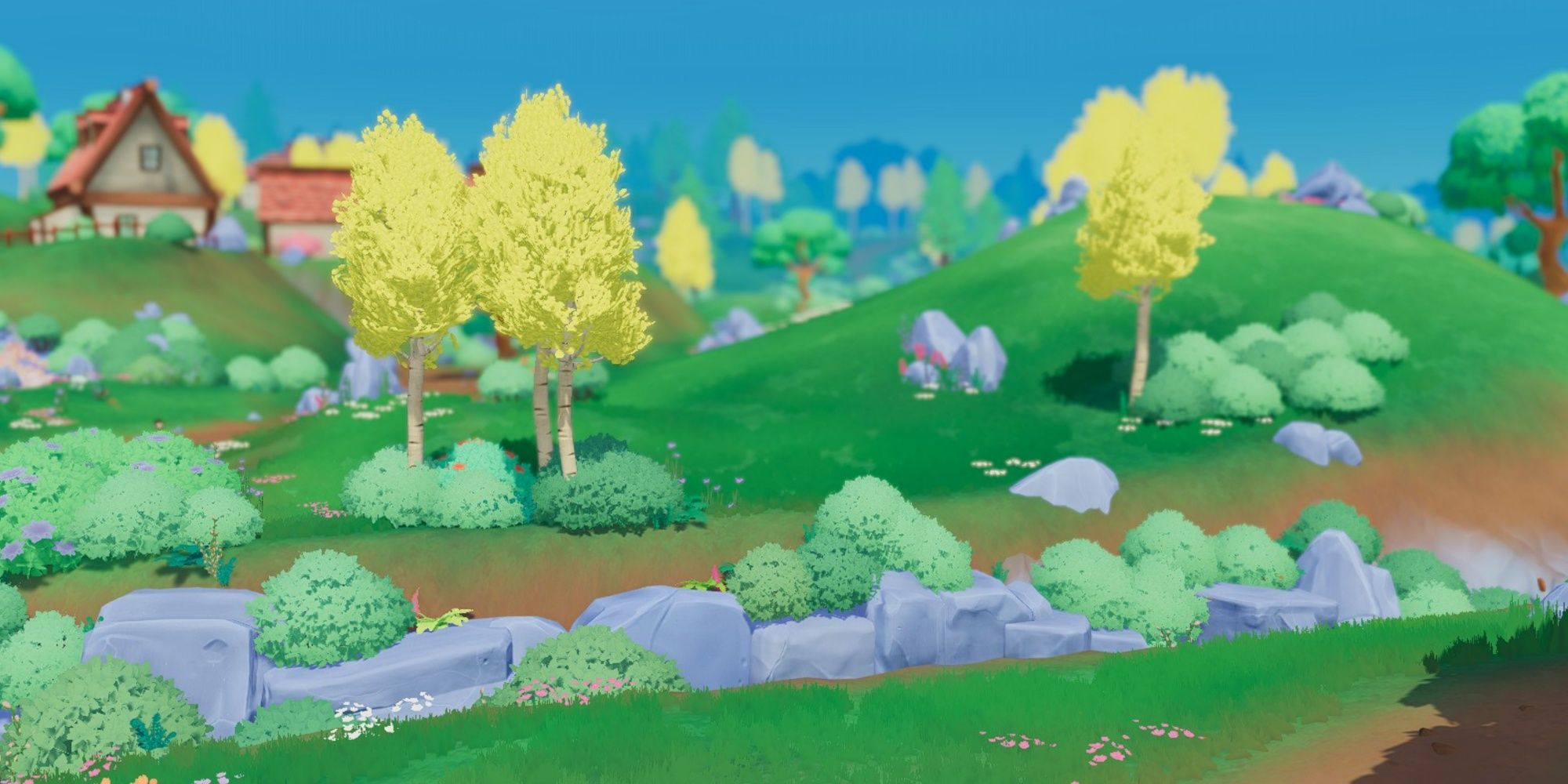 The table below contains all the relevant information about the dinosaurs found in Veridian Valley, including the following:
The skills they use, both on the farm and to help with clearing areas and unlocking new parts of the game.
The type of food they eat and their preferred treat and Poppin tastes.
What sort of pen they'll need in terms of size and penmates.
Underneath the skills and stats, the dinosaur's Friend Call is listed. This is the song that you'll need to play to tame the dino. Numbers refer to how long you need to hold the notes for.
Name

Skills

Diet

Taste

Social

Area

---

Styracosaurus

Skills & Stats:

Tiller

Smasher

Herbivore

Juicy

Herd

25m²

Friend Call:

Red 3, Yellow 2, Blue 1

---

Pachycephalosaurus

Skills & Stats:

Waterer

Smasher

Omnivore

Spicy

Pack

25m²

Friend Call:

Red 1, Blue 1, Yellow 1, Red 1, Purple 2, Purple 3

---

Psittacosaurus

Skills & Stats:

Tender

Discoverer

Herbivore

Crunchy

Pack

12m²

Friend Call:

Blue 2, Yellow 1, Purple 2

---

Coelophysis

Skills & Stats:

Tender

Discoverer

Carnivore

Juicy

Herd

12m²

Friend Call:

Yellow 2, Blue 1, Purple 1, Blue 1, Blue 1, Purple 1

---

Triceratops

Skills & Stats:

Tiller

Smasher

Herbivore

Crunchy

Pack

50m²

Friend Call:

Yellow 2, Red 3, Purple 1, Blue 1, Yellow 1, Red 3

---

Corythosaurus

Skills & Stats:

Clearer

Sprinter

Herbivore

Fragrant

Herd

25m²

Friend Call:

Red 3, Blue 3, Yellow 1, Blue 1, Purple 3

---

Wuerhosaurus

Skills & Stats:

Harvester

Slasher

Herbivore

Earthy

Pack

50m²

Friend Call:

Purple 2, Purple 1, Blue 2, Red 2, Blue 2, Red 3

---

Gallimimus

Skills & Stats:

Waterer

Sprinter

Omnivore

Crunchy

Pack

25m²

Friend Call:

Red 1, Yellow 1, Blue 1, Purple 1

---

Ankylosaurus

Skills & Stats:

Waterer

Stomper

Herbivore

Crunchy

Pack

50m²

Friend Call:

Blue 2, Blue 1, Blue 3, Red 1, Yellow 1

---

Postosuchus

Skills & Stats:

Waterer

Sprinter

Carnivore

Juicy

Loner

25m²

Friend Call:

Red 2, Blue 2, Blue 1, Red 2, Blue 1, Red 3

---

Desmatosuchus

Skills & Stats:

Clearer

Sprinter

Herbivore

Spicy

Pack

25m²

Friend Call:

Purple 1, Red 1, Purple 1, Red 1

---

Parasaurolophus

Skills & Stats:

Clearer

Sprinter

Herbivore

Crunchy

Herd

50m²

Friend Call:

Blue 1, Yellow 1, Purple 2, Yellow 1, Purple 2, Red 1, Yellow 1, Purple 2

---

Scelidosaurus

Skills & Stats:

Tender

Discoverer

Herbivore

Juicy

Herd

12m²

Friend Call:

Purple 3, Yellow 2, Purple 3, Blue 2
NEXT: Best Games Featuring Dinosaurs, Ranked