Since Minecraft is sandbox game where you can build whatever your heart desires out of different blocks, it's no surprise that various creators have constructed horrifying houses to channel the spirit of Halloween. Whether you want to recreate a famous location from your favorite horror movie, or are constructing a map for your friends to play on, you should consider searching online to get build tips and inspiration.
Related: Creepy Horror-Themed Minecraft Maps
Luckily, a great deal of content creators have posted in-depth tutorials on how to build these ghoulish creations, so you can closely follow along without having to worry about your building expertise. If you are interested in some of the best tutorials available to create a horrific creation in Minecraft, then check out the list below.
10
Michael Myers' House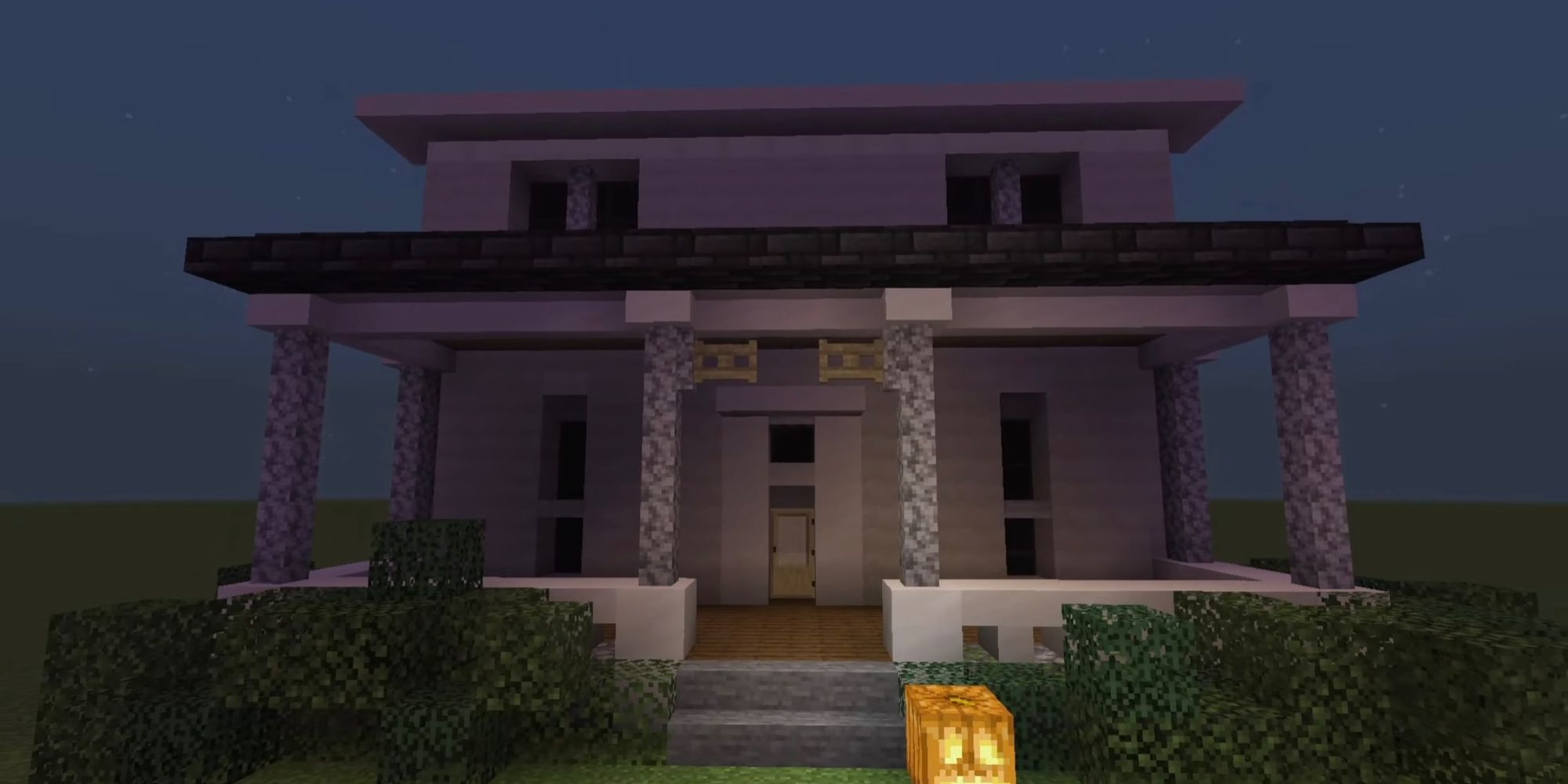 Every horror fan knows that Halloween is Michael Myers' favorite time of the year, as he typically begins his killing spree on the night of this haunted holiday. By following JuicyTaz201's building tutorial, you can construct the Myers' family home straight out of the fictional town Haddonfield.
For those that don't know, Halloween is an older horror series that follows characters as they are hunted down by a murderous man in a creepy white mask. All the horror of the film can be brought directly into Minecraft, as this famous suburban house of horrors fits perfectly with the game's blocky style.
9
Witch's Hat Haunted House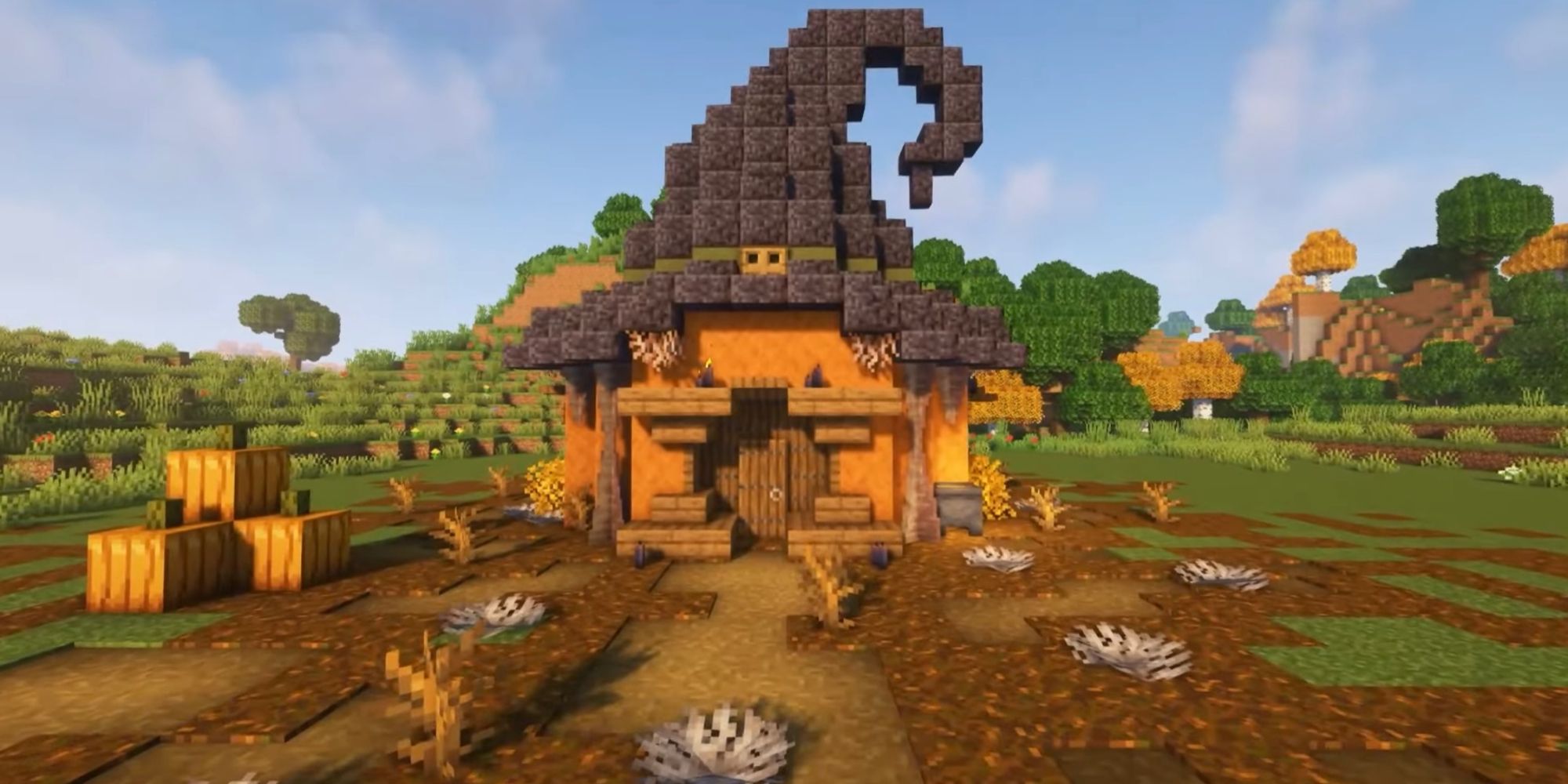 Not every haunted house needs to be terrifying — just look at this Witch's Hat home for example. The base of this house is constructed with orange concrete to resemble a pumpkin, and is adorned with a large witch's hat which also serves as a roof.
If you want to construct this whimsical house in your very own Minecraft world, then keep in mind that you'll need to travel to the Nether to complete this build, as the hat itself is made out of black stone. Furthermore, you may want to enchant a pickaxe or shovel with silk touch to collect coral and podzol, as these blocks will really help decorate the ground around the pumpkin.
8
Glowing Haunted House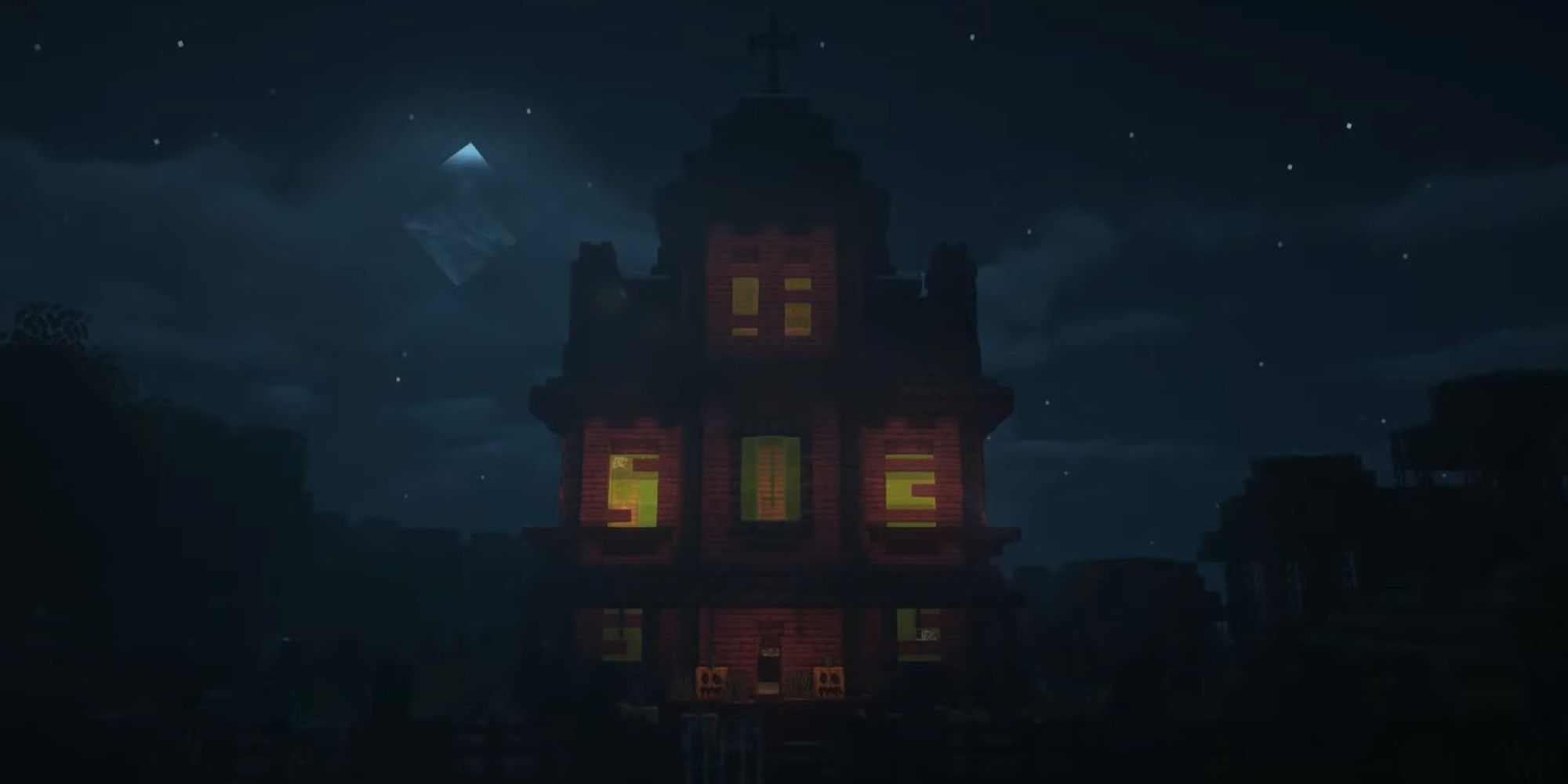 While this house truly shines with a shader pack installed, it can still emit a spooky glow in any Minecraft World. To build this shining mansion, you should head to the nether to collect crimson planks, as they make up the walls of the house.
Related:Minecraft: Best House Ideas
Then, simply dye the glass lime green and backlight the windows with a source of light, so you can see the glow from outside the haunted house at night. Keep in mind that this build works better as an exterior decoration only, since the lights inside the house take up a lot of furniture space.
7
Classic Haunted House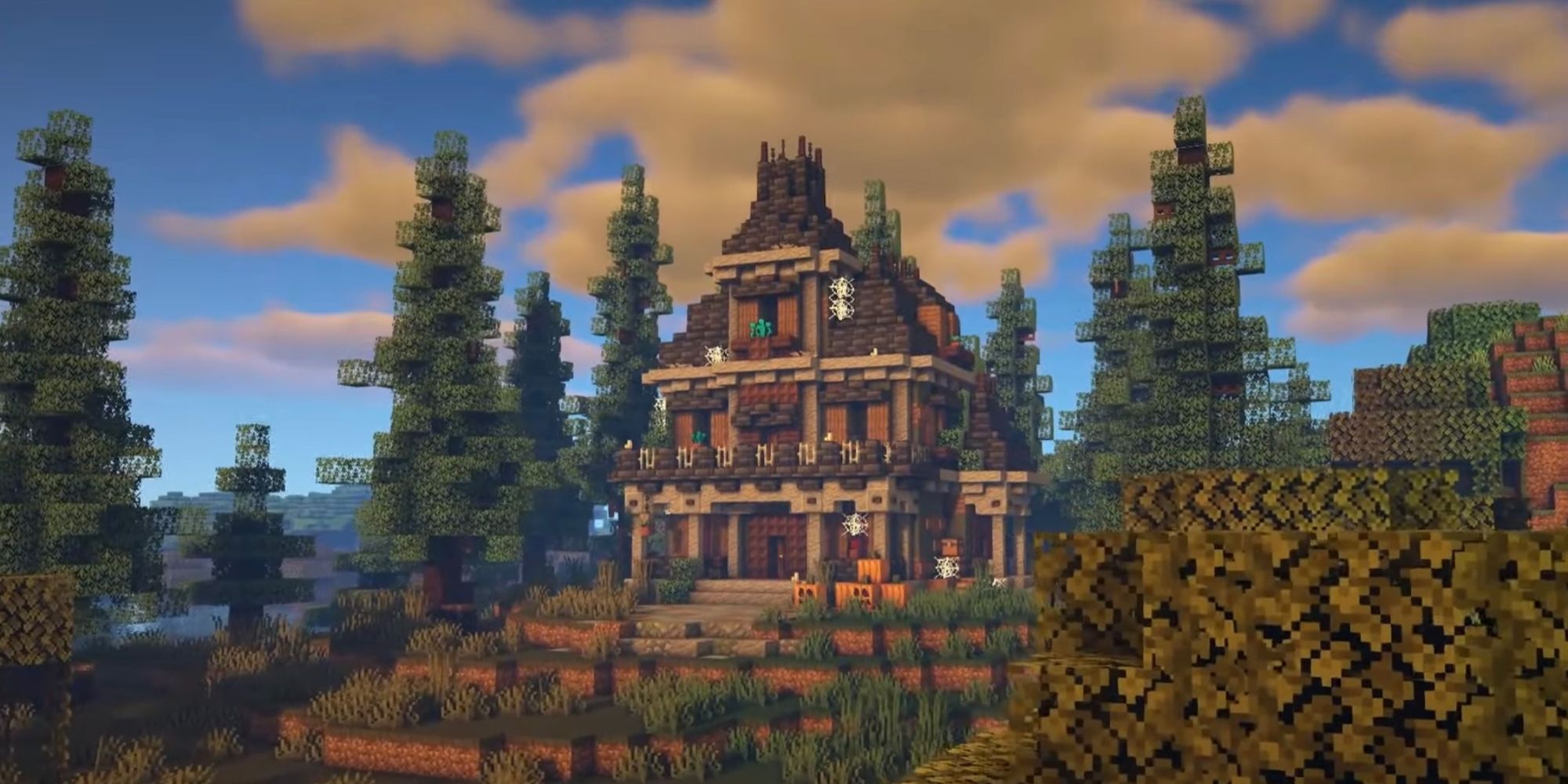 If you are looking for a haunted house that is not too hard to construct, then check out BrokenPixelSK's build, as it is fairly straightforward and provides everything a horror fan desires. Specifically, this house is modeled somewhat after a Victorian aesthetic, complete with pumpkins and cobwebs that provide extra decoration.
The house itself is made up of mostly stone brick, spruce wood, and cobbled deep slate, so collecting the materials before you build should not be too difficult. We also recommended collecting some bamboo before starting to construct the house, as scaffolding can assist you when you are building roofs that are hard to reach.
6
Dark Haunted House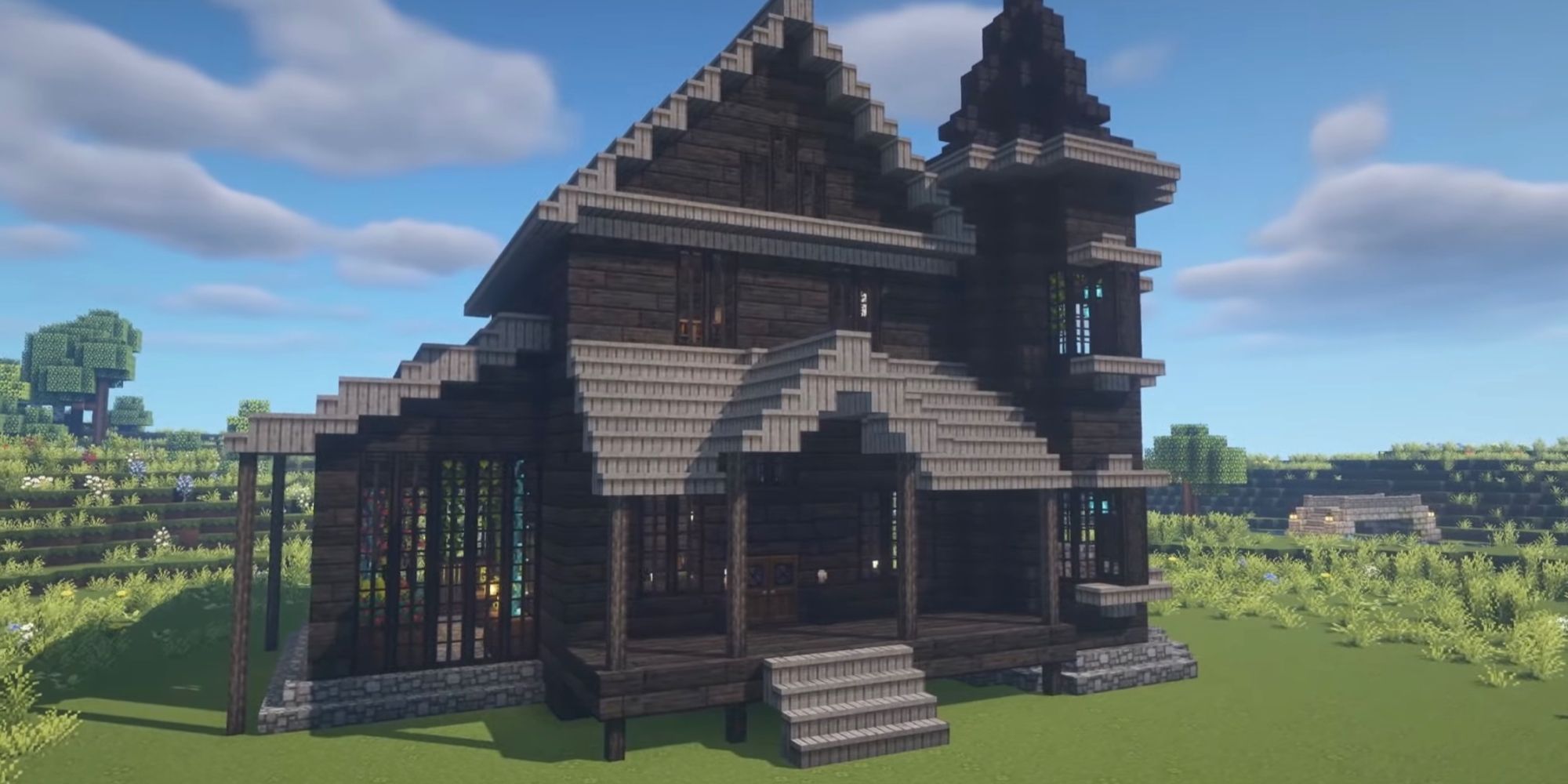 With the right texture pack, you can build Kelpie The Fox's Haunted House, which is made completely out of dark wood and stone. The great thing about this build is how it can serve multiple purposes depending on the time of year.
During months like October, you can decorate the home to be more spooky to fit the Halloween aesthetic. For other times of the year, the all-black home will still stand out, but it can be decorated to be more modern, instead of dilapidated and haunted.
5
The Conjuring House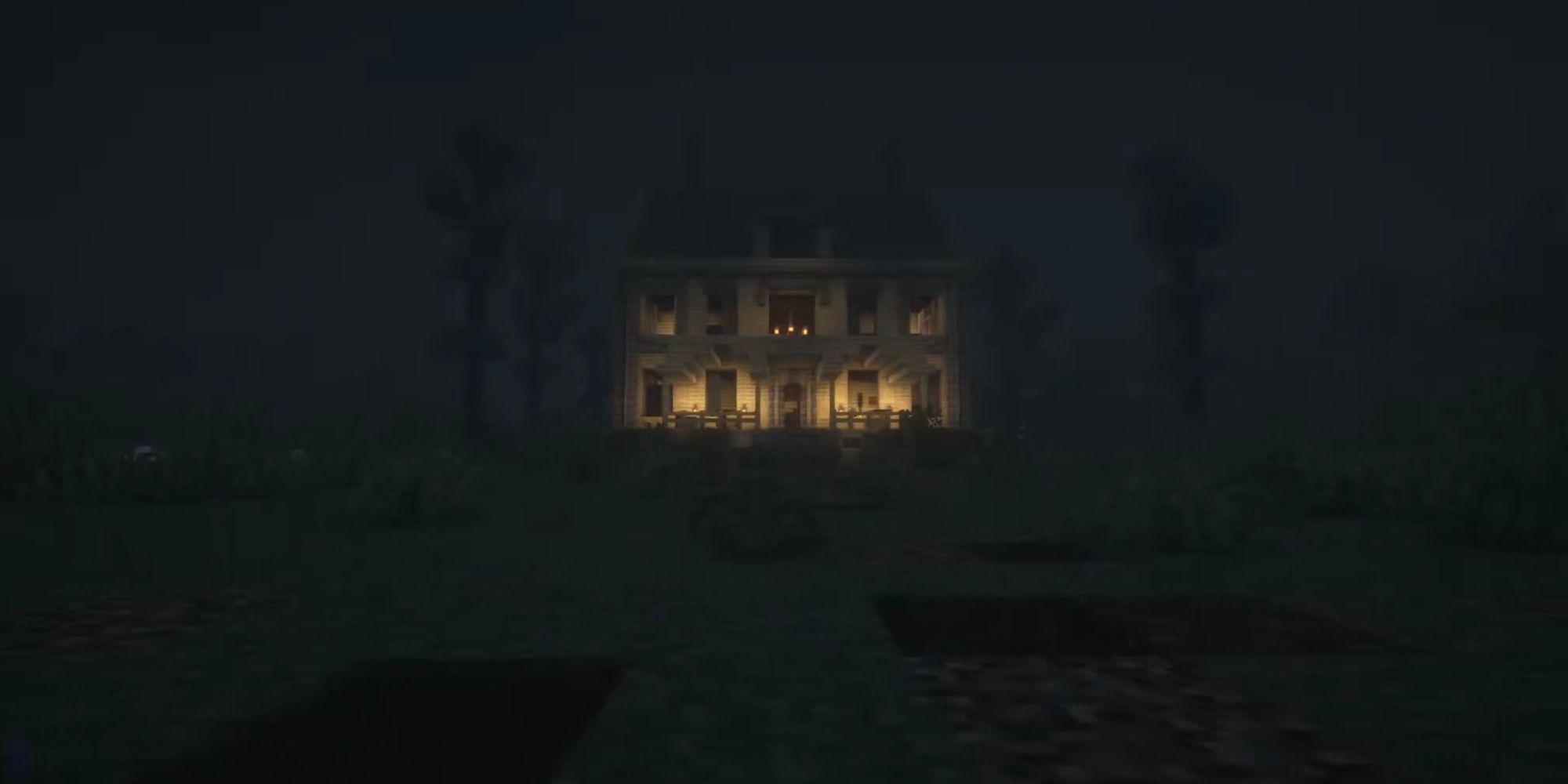 Commonly known as one of the scariest horror movies of all time, The Conjuring follows a family as they move into a new home only to discover a dark spirit also resides there. Sky Blue Creation has gone out of their way to recreate this famous house of horrors in Minecraft, and now you can too.
This house is inspired by classic southern architecture, with a sweeping porch and large pillars that hold up the roof. Before you start creating this haunted house, make sure that you save enough room to include a large basement, as this is one of the most important and terrifying rooms of the entire house.
4
Coraline-Inspired Gothic Mansion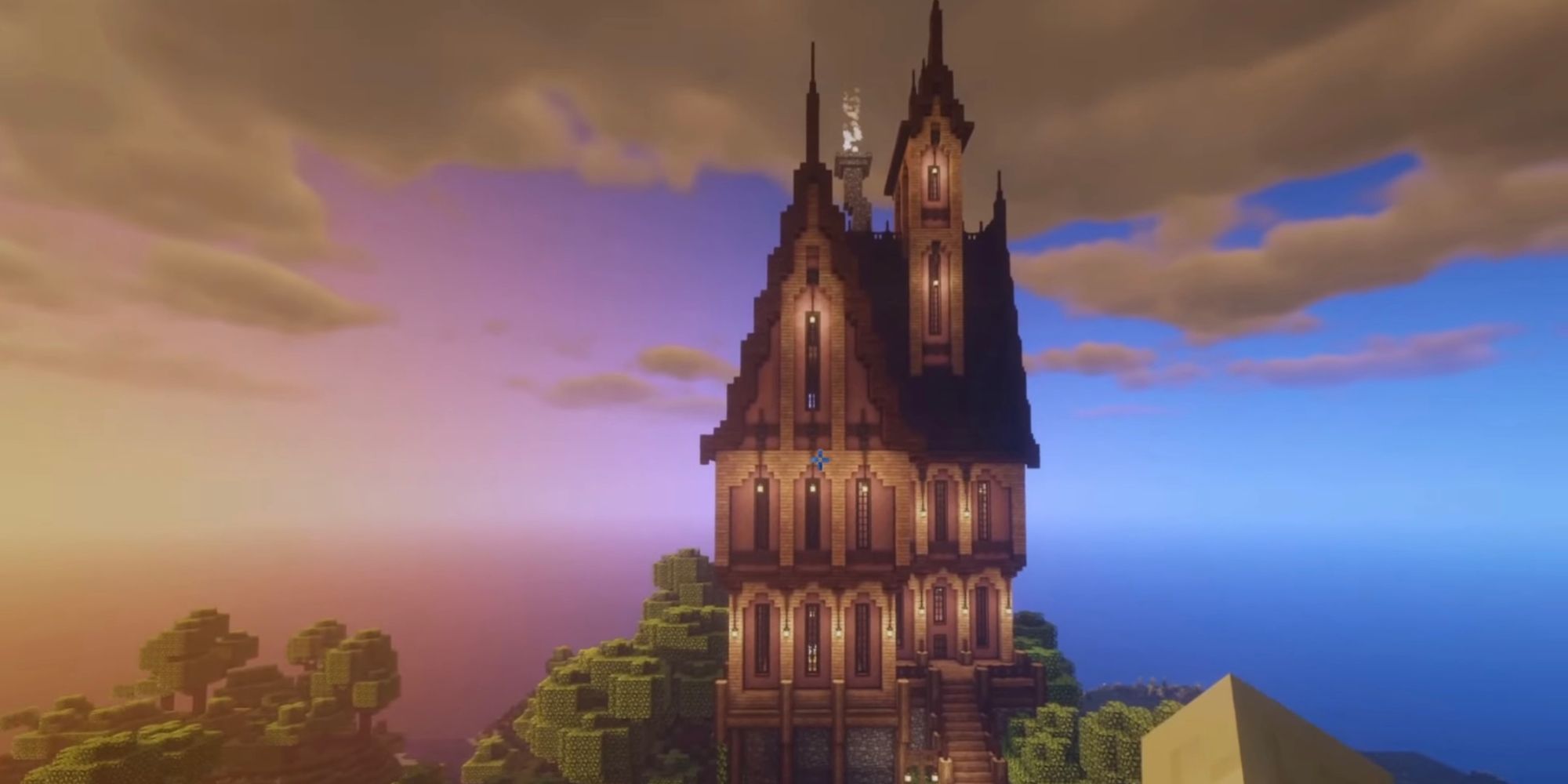 While this build is not a one-for-one recreation of a famous house of horrors, this extremely tall gothic mansion is inspired by the creepy and whimsical animated movie Coraline. Unlike other slasher houses, this build is significantly more fantastical, as the entire house quite literally reaches into the sky with large peaked roofs and massive walls.
For this build, you can either use mangrove or cherry wood planks to build the walls, and use black stone or cobbled deep slate to create a massive black roof. Keep in mind that this structure is made to be vertical, so you'll need some scaffolding to ensure you don't fall to your death if you are building in survival.
3
Victorian Haunted Mansion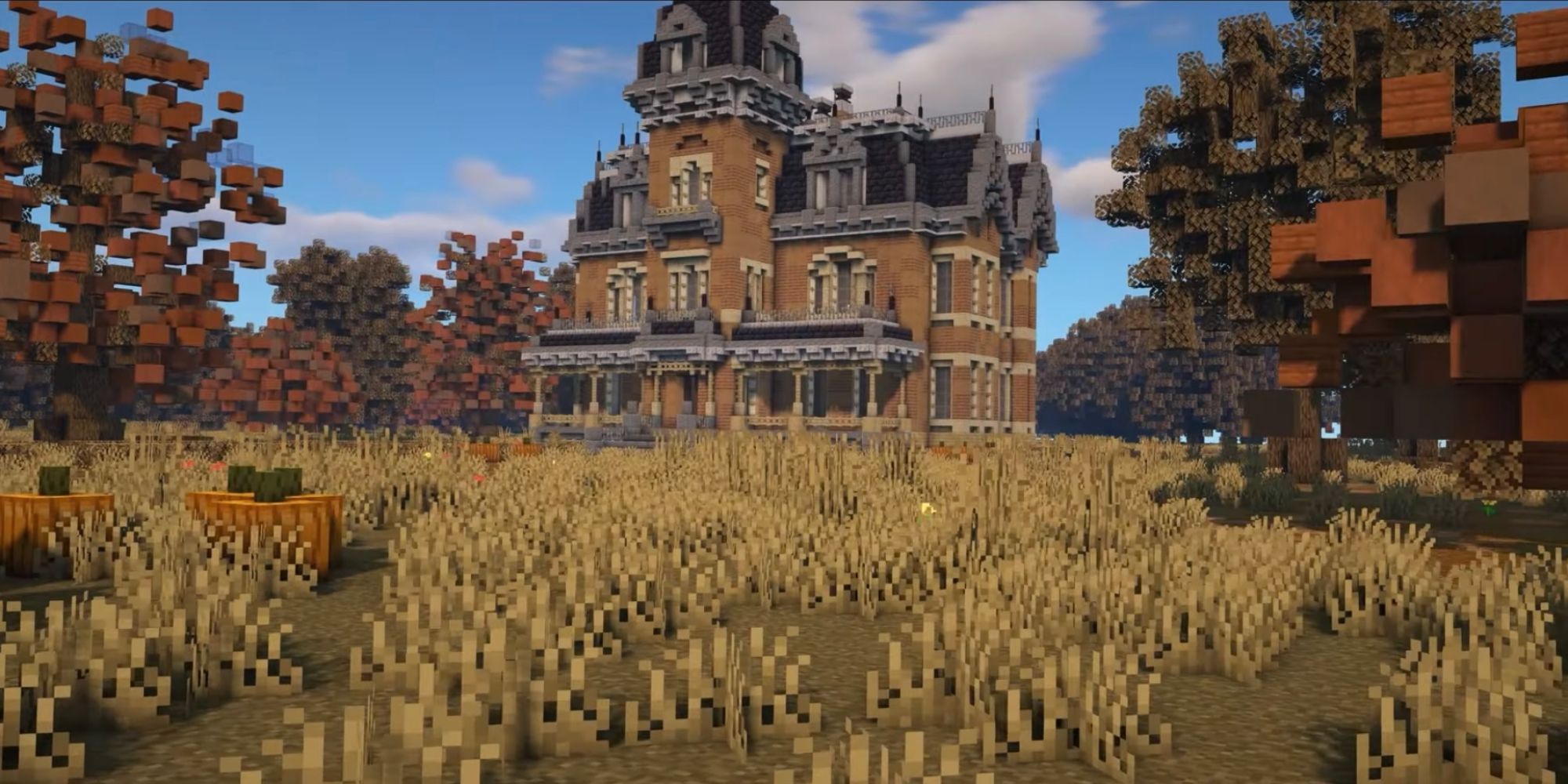 There is just something not quite right with an abandoned Victorian house, and this daunting architecture translates perfectly into the blocky world of Minecraft. By following WBC Builds' tutorial, you can have your very own Victorian mansion within the game to decorate however you like.
Related:Minecraft: Best Castle Build Ideas
Keep in mind that this house suits a very specific environment, so you may want to clear out a Dark Forest or a Savanna before you start to build. Also, remember to collect a massive amount of concrete, wood, black stone, and stone, because you will need every block you can get your hands on to build this mansion.
2
Addams Family Home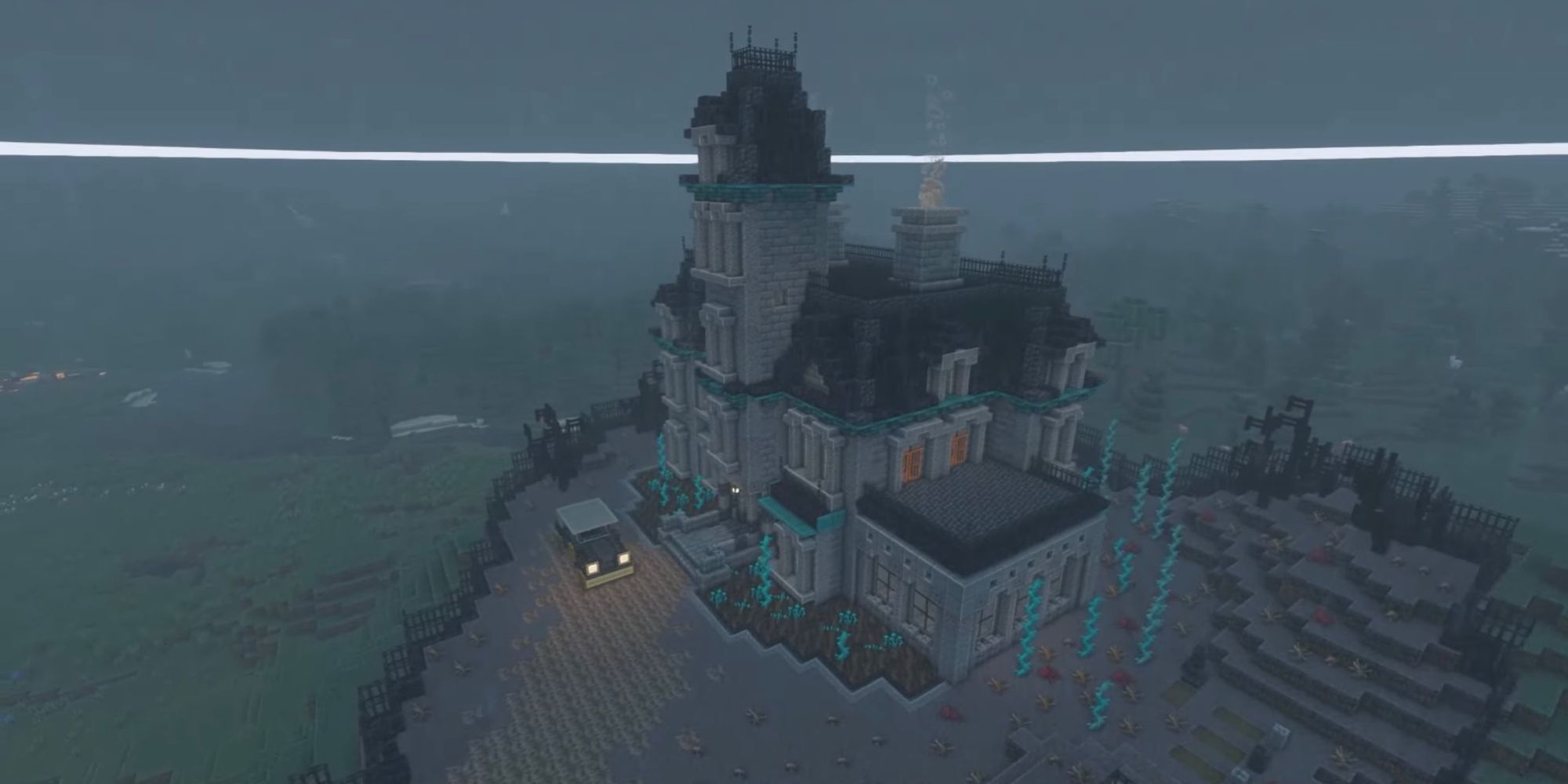 With the success of the Netflix show Wednesday, the Addams Family have been thrust back into the public spotlight. So what better way to celebrate this famous horror family than by constructing their family home atop a Minecraft cliff?
This mansion is also made with a Victorian aesthetic, but is mostly made out of stone and cobbled deep slate blocks. Furthermore, if you really want this house to blend in with the environment, you could replace the grass with podzol or mycelium and fill any extra space with plants from the nether.
1
The Haunted Mansion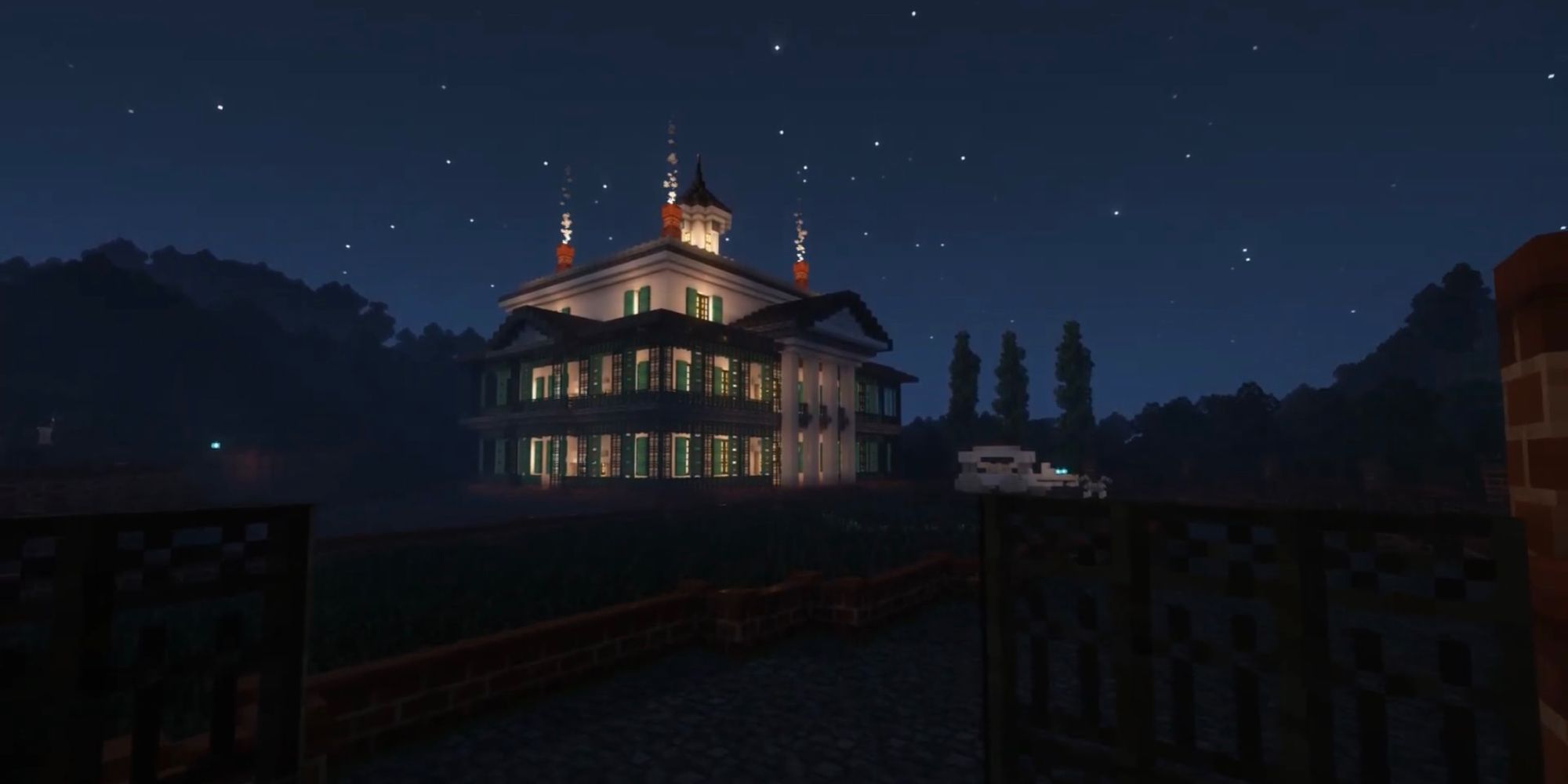 With its own feature film and an amusement part ride, the Haunted Mansion is one of the most famous haunted houses of all time. Filled with a variety of spirits, this house is the perfect project to showcase your building prowess or create a fun horror-themed map for your friends to play.
To truly pull off this build, you'll need to clear out a massive space to set the house within, so creative mode might be the best way to build. Furthermore, ensure that you have enough lighting outside the house, so you can see the structure glow during the middle of the night.
Next:Minecraft: Best Mods To Make The Game Harder