Even though there are special edition versions of the PS5 and Xbox Series X available, both console creators have gone in a slightly different direction when it comes to jazzing up your systems this generation. The PS5 has covers that can be removed and replaced, allowing owners to completely change the looks of their console, and Xbox has started to roll out wraps, kicking things off with a very nice-looking Starfield design.
There are also third-party options for both consoles, and Mighty has a number of skins available on Amazon right now. One Mighty design, in particular, has been receiving a lot of attention for a number of reasons. Among them are its description, that it's on sale, and above all else, its eye-catching design. It's Mighty's durable Jesus skin. A cover for your Series X that plasters Jesus imagery on all four sides of your console.
RELATED: Best Xbox Series X|S Games Of 2023
Mighty's Series X skins usually retail for $25, but if you buy the Jesus variant through the link below right now, you can give your Xbox the holiest of makeovers for just $18.20. The description, most notably the color, has also been getting a lot of attention. You'd have thought Mighty would have simply put "pink" in that box since every part of the skin, aside from Jesus's face, is pink, but no. Under color, Mighty went with Jesus.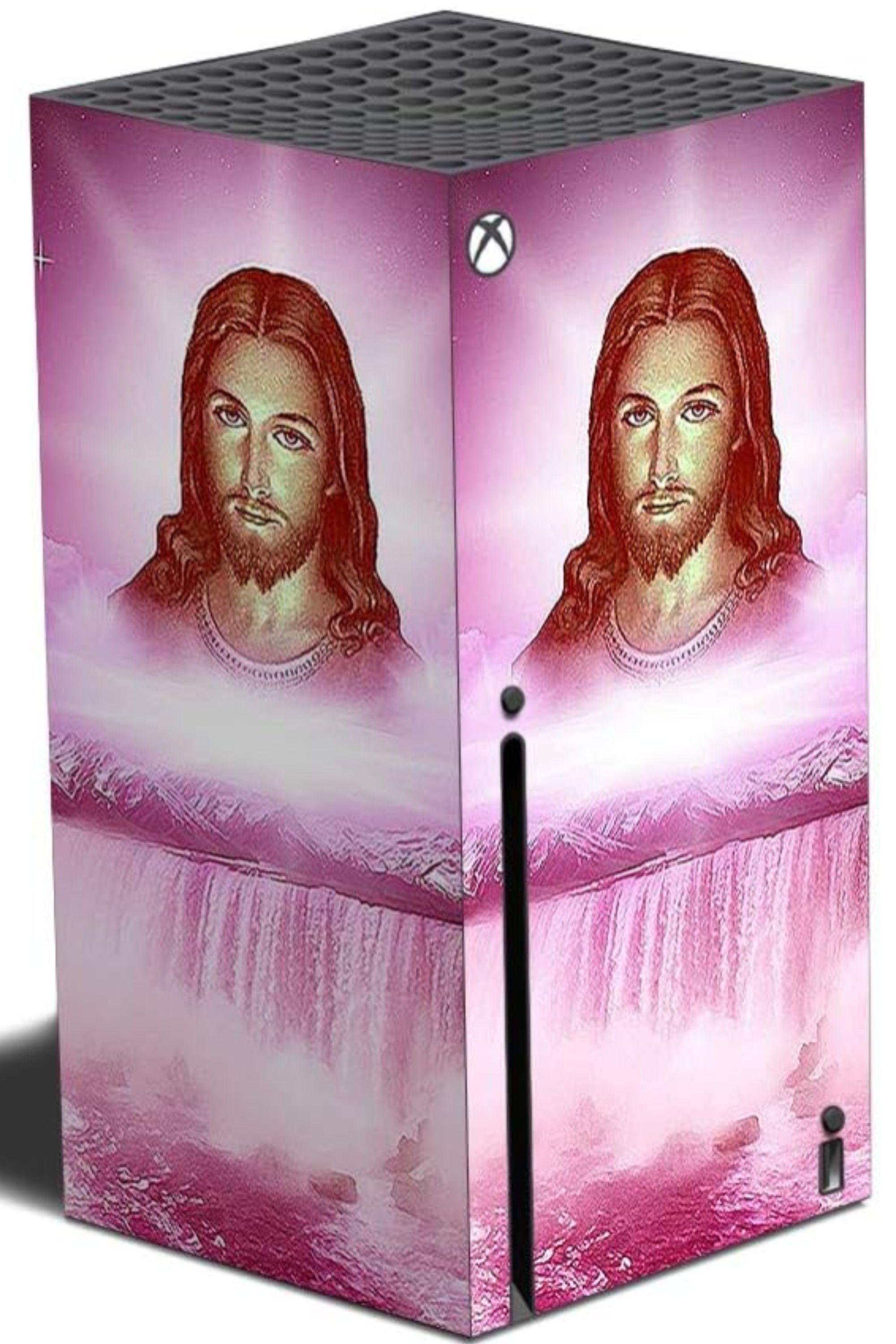 Mighty Jesus Xbox Series X Skin
$18 $24 Save $6
Mighty has a number of skins available, all of them compatible with the Xbox Series X. This particular design puts Jesus on a heavenly pink backdrop and puts his face on all four sides of your console.
Mighty claims the skin will protect your Series X from general wear and tear, and that it can be removed and applied with ease. It also boasts hundreds of different designs if you don't like the idea of having Jesus's face looking up at you whenever you game. Whether the Jesus skin is a suitable pick for you may well depend on your gaming habits. I can't imagine he'd be all that impressed if you play a lot of Diablo 4, and he's probably not the biggest Hades fan either.
Speaking of Diablo 4, Blizzard's latest game is included in Target's incredibly appealing Series X deal right now. If you buy a Series X through Target then you will also get a $70 game of your choosing to go with it. If you don't want Diablo 4, Star Wars Jedi: Survivor and Madden NFL 24 are also among the eligible options.
NEXT: Best Buy's Amiibo Restock Includes Tears Of The Kingdom And Splatoon Figures