If you have played any of FromSoftware's offerings, such as Dark Souls, Bloodborne, Sekiro, or Elden Ring, then you know how integral dodging and mobility are to survival. It goes the same with Armored Core 6, as it has also taken a lot of inspiration from its predecessors. One of the best ways to improve that particular aspect of your AC is with booster parts.
RELATED: Armored Core 6: Complete Guide And Walkthrough
Equipping the best offensive parts is all well and good, but without the right defensive pieces to supplement the former, you might as well be just a stationary cannon. This is where booster parts come into play. Having the right one that complements your playstyle allows you to get out of harm's way and quickly move into perfect position for a damaging counterattack yourself. This should be the mentality going in, as will be taught to you the hard way by the now infamous AH12-HC-Helicopter.
11
BC-0400 Mule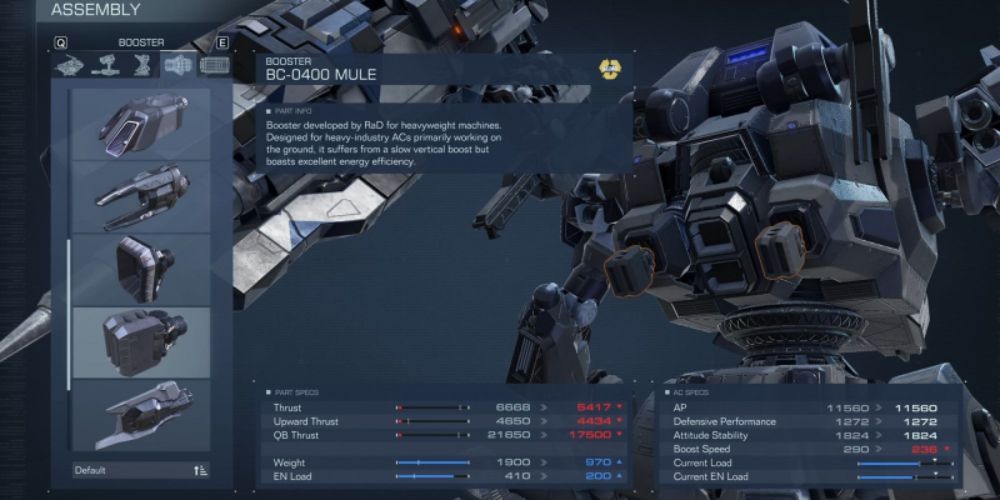 Thrust:
5417

Upward Thrust:
4434

Quick Boost Thrust:
17500

Weight:
970

EN Load:
200
A decent booster during the earlier sections of the game, the BC-0400 Mule will allow for good mobility thanks to its lighter weight and lower EN Load. That said, overall performance is noticeably weaker, and it is best to switch to a higher grade once a replacement has become available.
The Mule is a solid starting booster as it allows you to use lighter ACs, which is pretty much the only thing you have during the first couple of missions. The moment the BST-G1/P10 becomes available, it is advisable to retire the Mule, as it won't be able to deliver what you need once the game shifts gears in terms of enemy and boss difficulty.
10
BST-G1/P10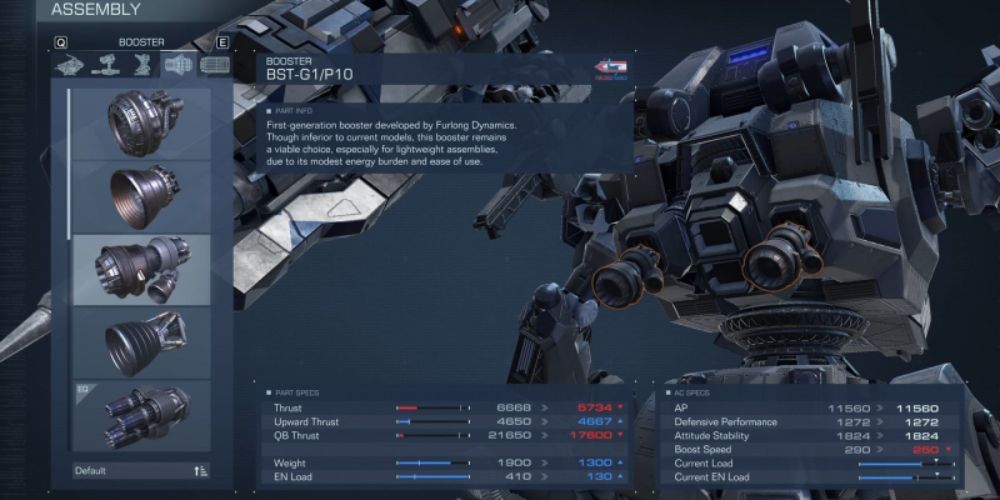 Thrust:
5734

Upward Thrust:
4667

Quick Boost Thrust:
17800

Weight:
1300

EN Load:
130
An upgrade from the BC-0400 Mule, the BST-G1/P10 will provide your AC with better maneuverability and boost. In general, the BST-G1/P10 pretty much surpasses the Mule in almost every regard, except for the weight.
RELATED: Armored Core 6: Iconic Mechs To Inspire Your AC
Fortunately, it requires less energy, so the drawback of that added weight is balanced with improved flexibility in other aspects of your AC. Thus, allowing you with that crucial improvement in mobility, which will come into play during Steal the Survey Data mission.
9
Buerzel 21D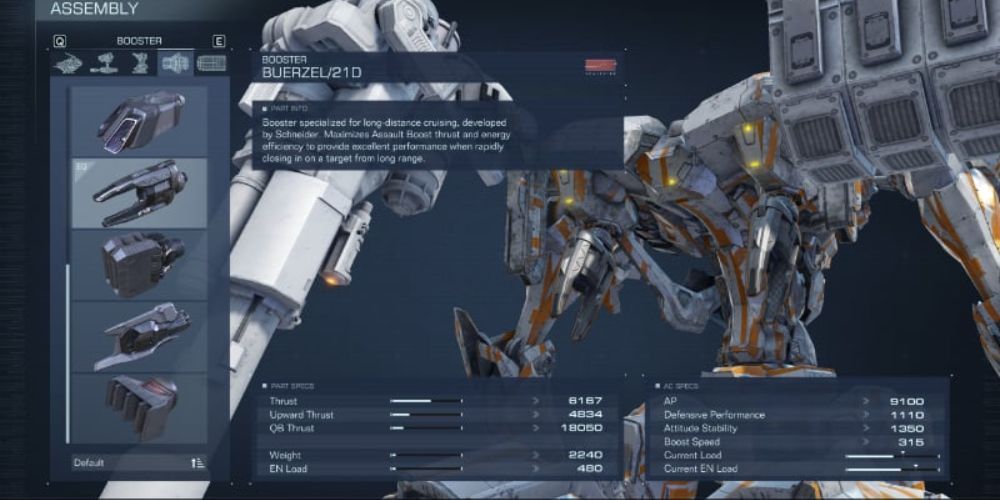 Thrust:
6167

Upward Thrust:
4834

Quick Boost Thrust:
18050

Weight:
2240

EN Load:
480
The first thing you notice about the Buerzel 21D is its immense weight, which might make you think twice about installing it in your AC. In a way, you have a point if you are going for a nimble AC build that darts across the battlefield like a barracuda.
However, the Buerzel 21D will truly shine when attached to ACs with low EN consumption and prefers an up-close and personal approach when dealing with enemies. What it lacks in Quick Boost Thrust, it more than makes up for with its solid forward thrust that will allow you to effortlessly cut the distance between you and the target, so you can unleash your heavy-hitting close-range arsenal.
8
AB-J-137 Kikaku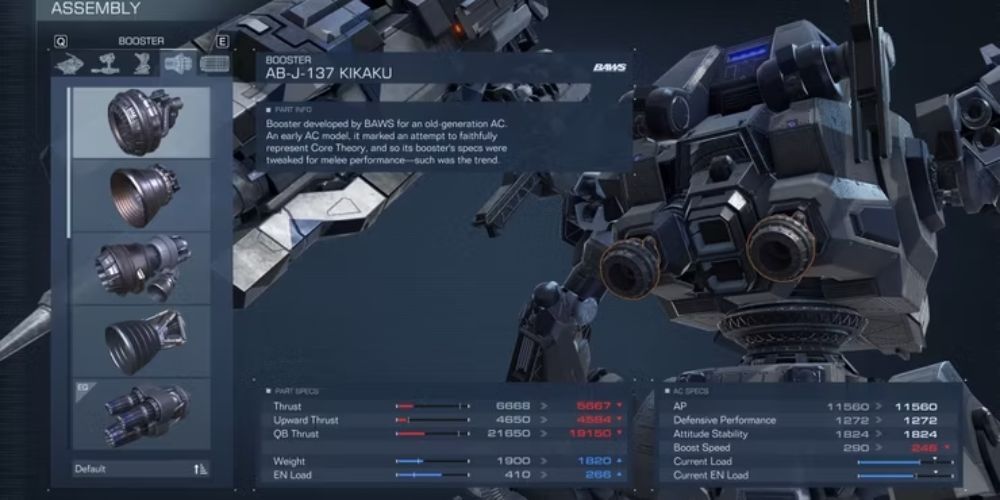 Thrust:
5667

Upward Thrust:
4584

Quick Boost Thrust:
19150

Weight:
1820

EN Load:
266
This booster consumes more energy and is heavier than the previous boosters on this list. The Kikaku is a true upper-tier booster part, as it will require a more advanced AC to handle its power. Accompanied by an upgraded, lighter AC in tow, the Kikaku will be able to truly showcase its strengths, such as an outstanding Quick Boost Thrust that will allow you to dodge more efficiently.
RELATED: Armored Core 6: OS Tuning Guide
This booster will suit builds that incorporate a lot of 'hit-and-run' strategies, as it allows you to jump in and out of enemies range and attacks. The Kikaku will be a great piece if your focus is on fast mobility and implementing Blitzkrieg tactics.
7
BC-0600 12345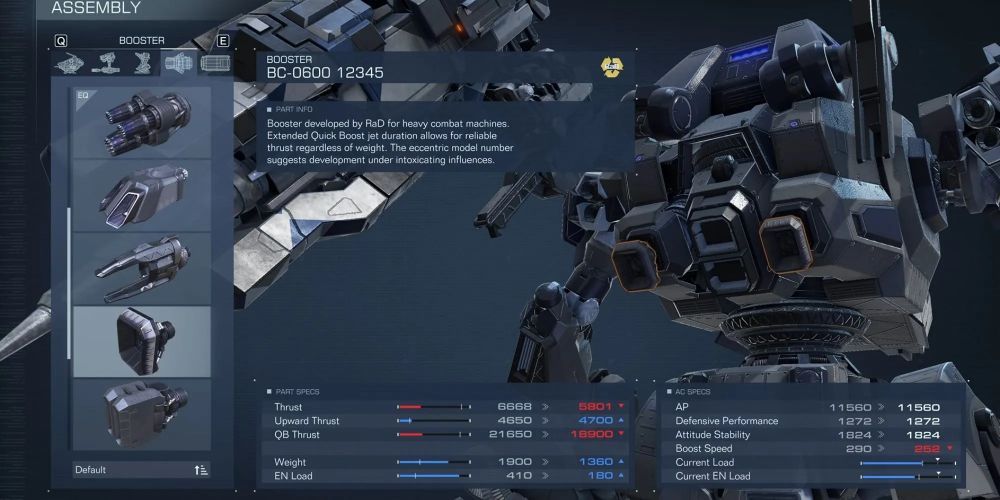 Thrust:
5801

Upward Thrust:
4700

Quick Boost Thrust:
18900

Weight:
1360

EN Load:
180
The BC-0600 12345 is a well-rounded booster with minimum energy consumption and excellent Quick Boost Thrust. Add those two elements together, and you have yourself a booster that will be much more forgiving with constant dodging. It also has a decent weight if your aim is to optimize lighter builds.
The BC-0600 12345 is one of the best when it comes to mid-game boosters, and it won't be surprising if you stick with it up until the endgame sections. For those with light AC builds, the BC-0600 12345 will be able to provide you with the exceptional maneuverability that you need.
6
BST-G2 P04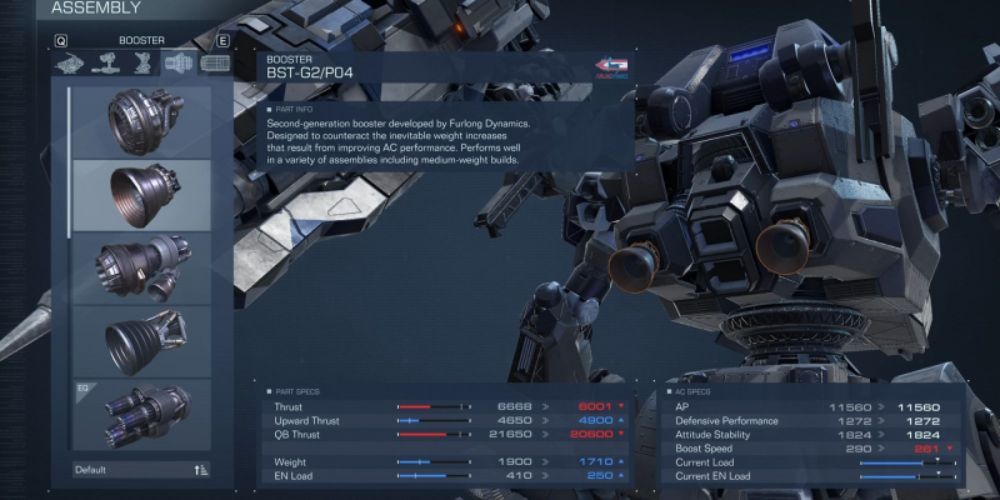 Thrust:
6001

Upward Thrust:
4900

Quick Boost Thrust:
20600

Weight:
1710

EN Load:
250
The BST-G2 P04 is a notable upgrade to the Kikaku, so if your current build incorporates the latter, the BST-G2 P04 is the next logical step. This is another booster that focuses on a well-rounded performance that considers and balances other factors in the equation.
This booster's overall performance is a significant overhaul compared to the entries above. Also, unlike other boosters that will have drawbacks in the form of being heftier or being an energy sponge, the BST-G2 P04 is the complete opposite, with a decent weight and low EN Load.
5
Fluegel 21Z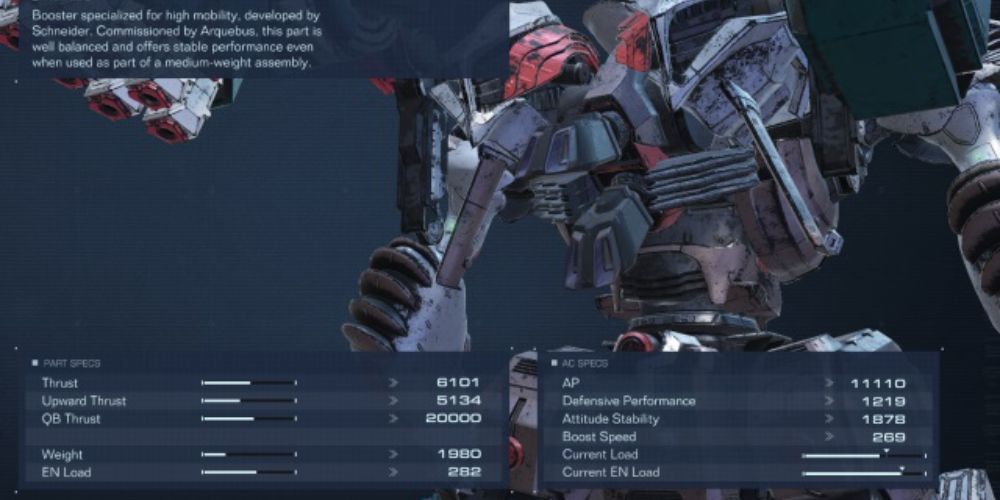 Thrust:
6101

Upward Thrust:
5134

Quick Boost Thrust:
20000

Weight:
1980

EN Load:
282
Building upon the balanced performance of the BST-G2 P04 is the exceptional Fluegel 21Z. The Fluegel gets a huge boost in stats while also providing a fair EN Load and weight that won't create notable downsides to its performance. Also, its balanced specs mean it can adapt to all types of ACs, from the heavy tank and quadruple builds to the lighter and swifter bi-pedals.
The Fluegel's lower weight and EN Load allow you to maximize the offensive capabilities of your AC as it frees up more slots. Overall, the Fluegel 21Z booster will enhance builds that depend on dodging and counterattacking — two skills that you need to master if you want a chance of beating some of the tougher missions in the game, such as Operation Wallclimber.
4
IA-C01B: Gills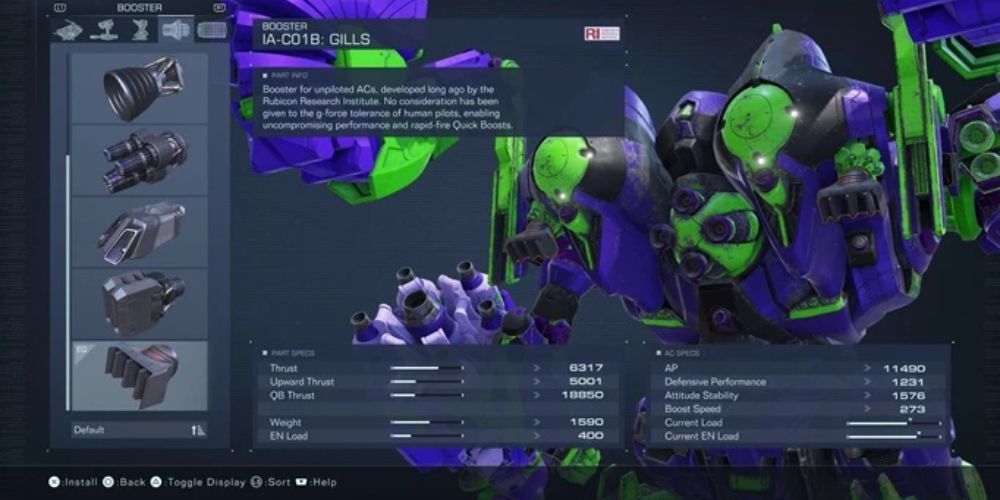 Thrust:
6317

Upward Thrust:
5001

Quick Boost Thrust:
18850

Weight:
1590

EN Load:
400
The Gills is a booster that is not purchased in the in-game store, as it is something that you can obtain in Mission 29. You will notice that the demand for the Gills is quite considerable; as such, this is something that you will most likely store in your inventory until later in the game, once you have a sufficiently upgraded AC.
The primary advantage that the Gills bring to your mech is its ability to do near-relentless quick dodges that, as long as the AC can handle them, will allow you to dodge boost with reckless abandon. This rapid dodging will be quite handy in the arena battles.
3
BST-G2 P06SPD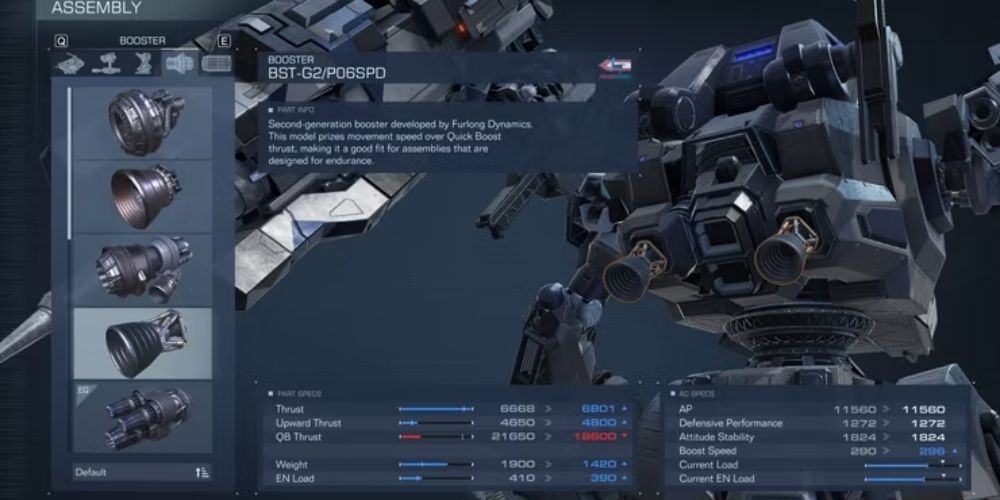 Thrust:
6801

Upward Thrust:
4800

Quick Boost Thrust:
18600

Weight:
1420

EN Load:
390
Ideal for ACs that bank on maximum mobility, the BST-G2 P06SPD generates a solid thrust and will allow you to cover greater distances in a shorter amount of time. This booster has the highest thrust score in the game, and if you want greater freedom on the battlefield, the BST-G2 P06SPD is a good option to take.
One notable drawback of this booster, though, is its Quick Boost Thrust, which takes the hit for the upgraded thrust capability. To get the most out of this booster, it is recommended to use it with a lighter AC to circumvent its weight. Understanding the pros and cons that come with each part is essential if you want a chance of completing the game's myriad of achievements.
2
Alula 21E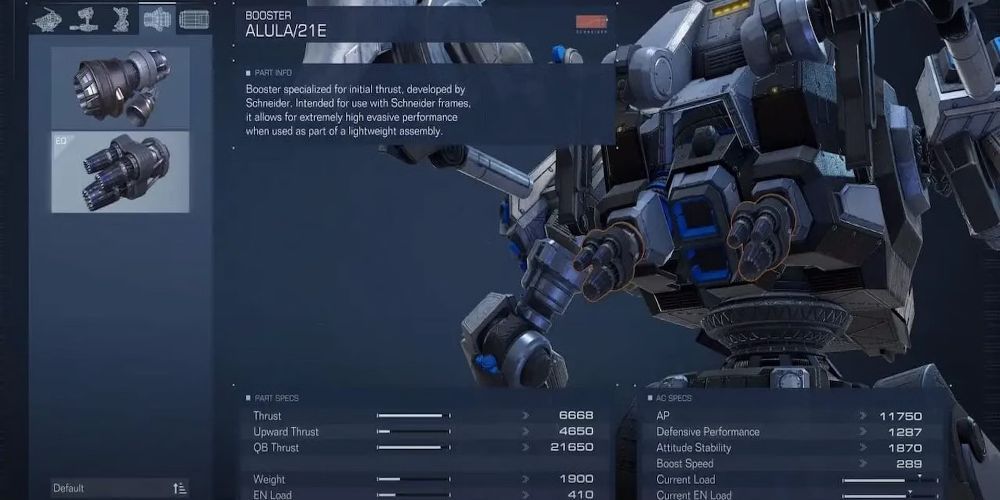 Thrust:
6668

Upward Thrust:
4650

Quick Boost Thrust:
21650

Weight:
1900

EN Load:
410
In terms of aesthetics, the Alula 21E ranks pretty high up there with its striking blue flame streak and triple exhaust design. Of course, for this booster to rank so high in this list means it is not just flashy; it also checks all the boxes necessary for an upper-tier booster. For one, it has one of the best Quick Boost Thrust ratings in the game, making it a beast in dodging. This booster allows you to float like a butterfly and sting like a bee, like Muhammad Ali.
RELATED: Armored Core 6: How To Get The Coral Weapons
As you can also see, it is second in thrust score, which allows you to cover vast distances in a single boost. Take note of the extra weight it brings to the table and adjust your build accordingly. Overall, if you have a lightweight AC with a focus on mobility, the Alula 21E is certainly one of the best boosters in the game.
1
IB-CO3B: NGI 001-Allmind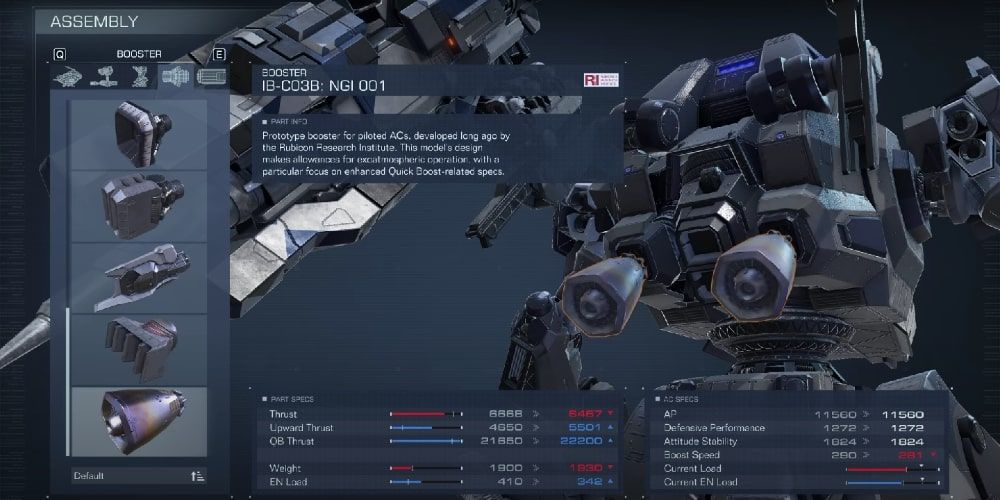 Thrust:
6467

Upward Thrust:
5501

Quick Boost Thrust:
22200

Weight:
1930

EN Load:
342
Quite possibly the best booster in the game is something that can only be obtained once you get to New Game Plus by reaching Hunter Class 13. Once you do unlock the Allmind, you will see that it has an out-of-this-world Quick Boost Thrust rating, giving it top marks when dodging. Its upward thrust capability also means you can reach high altitudes without depleting your energy in seconds.
Additionally, the Allmind works best when utilizing the Assault Boost ability. If your tactics revolve around closing in fast on your opponents and firing weapons at point-blank range, unlocking the Allmind should be one of your objectives.
NEXT: Armored Core 6: How To Unlock All Endings