The main goal in the NFL is to hoist the Lombardi Trophy at the end of the season. The goal remains the same in Madden 24's Franchise mode but with a few more concessions. Creating a football dynasty in Madden 24 starts with utilizing the NFL Draft.
RELATED: Madden 24: Beginner Tips
Scouting impactful college prospects is a key resource for your team to remain competitive while dealing with the repercussions of not re-signing expensive players because of the salary cap. We break down everything you need to know about scouting in Madden 24 and how to prepare for the NFL Draft in Franchise mode.
Selecting A Draft Class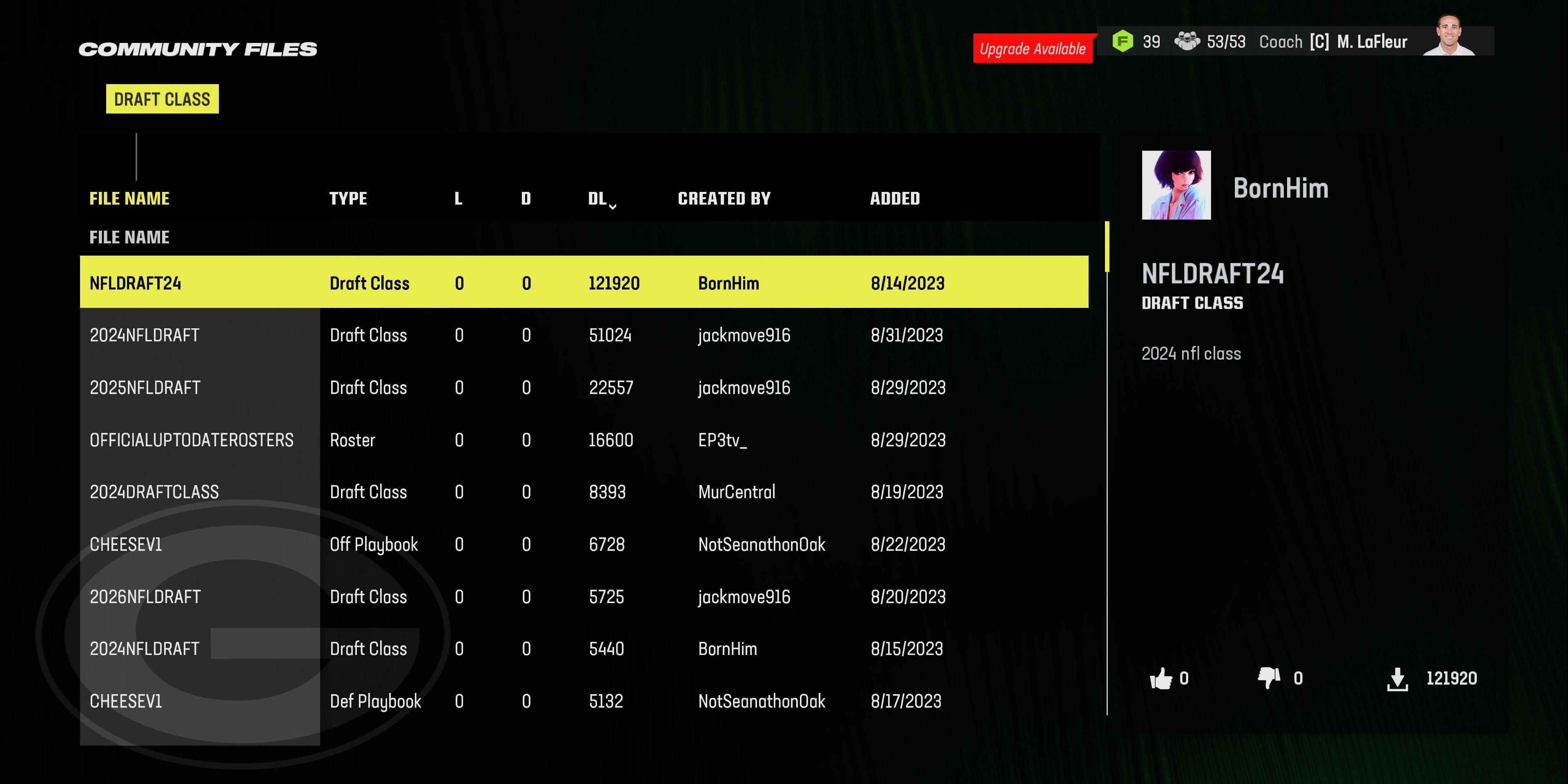 As soon as you enter your Franchise, you'll have the option to select a draft class. If you're playing online (which is recommended for Franchise mode), then you should import a Madden community draft roster to reflect the real upcoming college draft class. Otherwise, the game will auto-generate a balanced class of players.
Once the draft class is selected, you'll see the big board of prospects showing their current draft projection, how much they've moved on the board that week, and how much they have been scouted. The more scouting that's performed on a prospect, the more information is revealed about them.
Scouting Prospects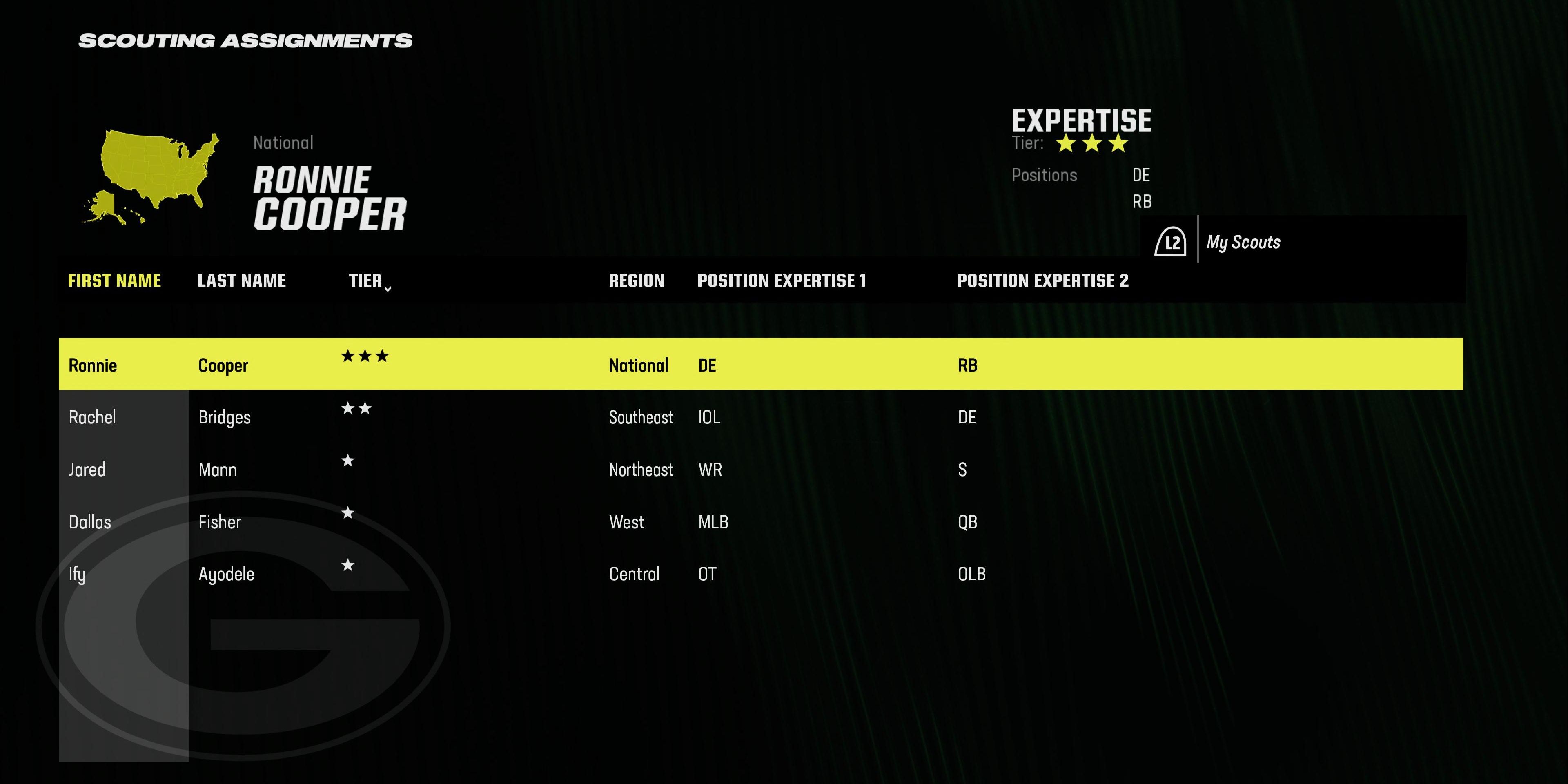 You will have five total scouts to utilize in researching college prospects. Each scout will have an area of expertise, and you can hire and fire scouts to align with your team's needs. Scouts are divided into specific tiers designated by one to three stars. If you want a different scout, you must replace them with a scout of the same tier.
Assign your three-star scout to the National Region to receive the highest efficiency bonus.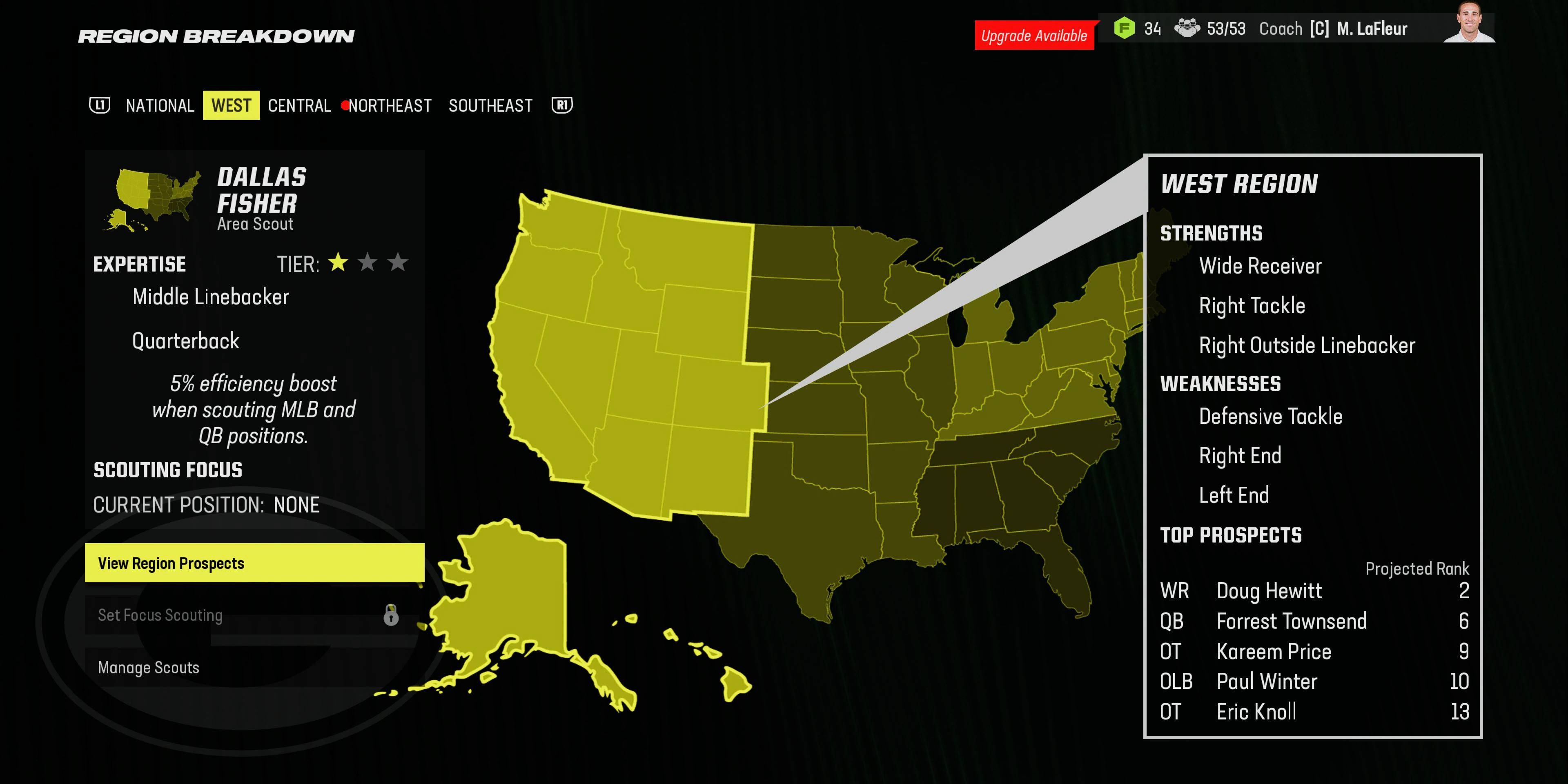 From the Region Breakdown screen, you'll see a map of the United States. Here, you can assign your scouts to the different regions based on the strengths and weaknesses of the region and the scouts' expertise.
While reviewing the Prospects screen and the region map, you can see a list of your team needs. This can help you decide which positions you want to focus on and how to disperse your scouts. Each position will have a designated letter grade that will reflect the importance of that position group.
There are three main tabs on the player card: Scouting Report, Physical Attributes, and Skills. As the season progresses, you'll unlock key player info and various player ratings that will be displayed as a numerical value from one to seven.
Elite (7)
Great (6)
Good (5)
Solid (4)
Decent (3)
Marginal (2)
Poor (1)
During Week 1 of the regular season, your scouts will begin unlocking more ratings for prospects. If you anticipate your team will be a contender, then it's recommended to avoid scouting players projected to be drafted early in the first round. You'll want to focus on players that have a projection range of later in the first round and second round.
Mock Drafts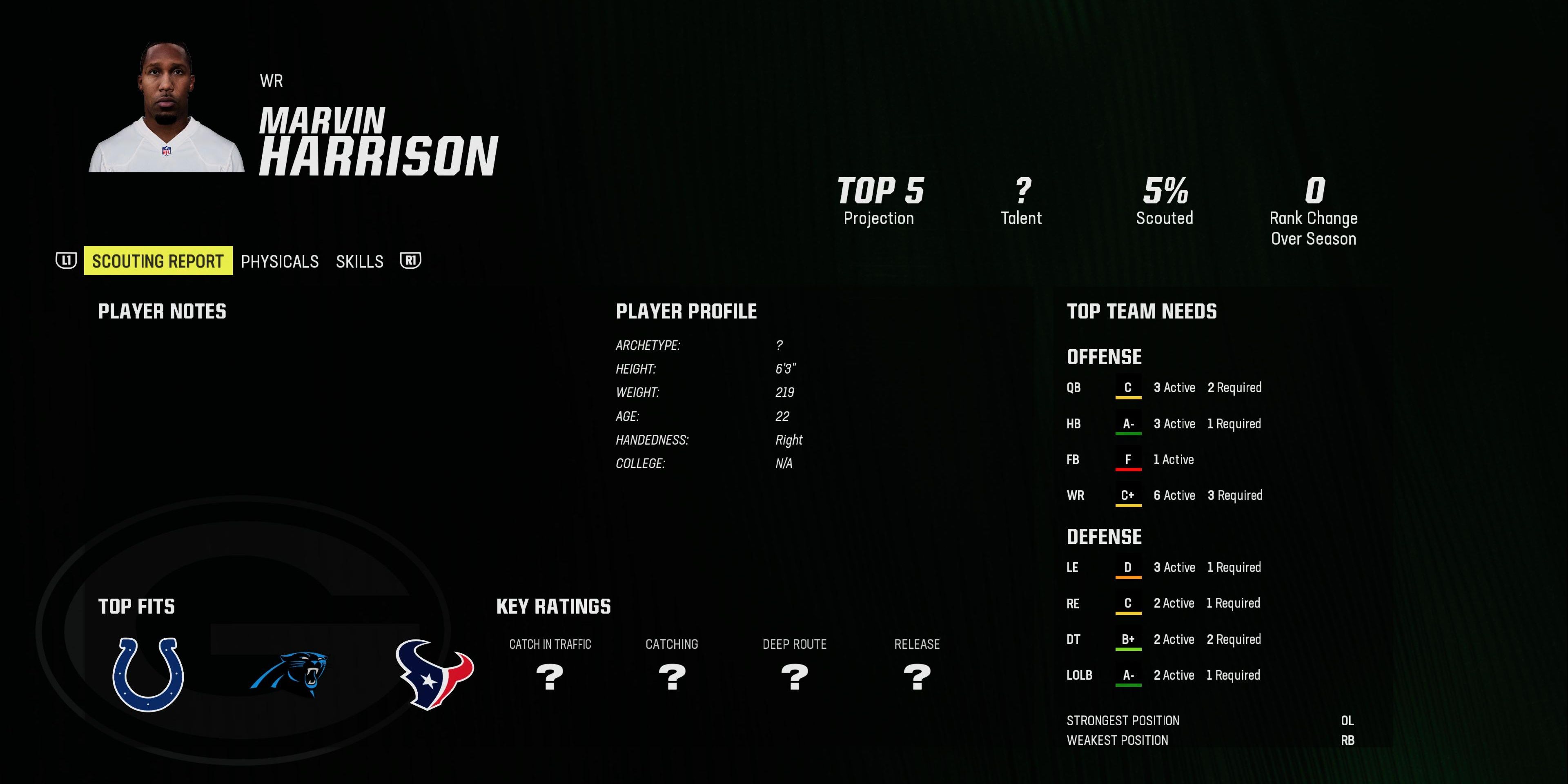 In Week 2, you can access the first Mock Draft. Mock Drafts are a useful tool to get a sense of where your team is currently projected to draft and who they will draft.
You can factor this information with where you assign the scouts to focus on prospects that will ultimately be in your draft range.
There are five total Mock Drafters before the NFL Draft.
| Mock Draft | When It Occurs |
| --- | --- |
| Mock Draft 1: | Occurs in Week 2. |
| Mock Draft 2: | Occurs in Week 8. You will also unlock National Focus Scouting, the ability to assign a position focus to your three-star scouts, which gives players in that position a 15 percent scouting bonus. |
| Mock Draft 3: | Occurs after the Super Bowl and you will also gain access to view the NFL Combine results that reveal more attributes for the prospects. |
| Mock Draft 4: | Occurs after the Combine results and you can review the College Pro Day results. These will unlock more attributes and key information about prospects. |
| Mock Draft 5: | Occurs before the NFL Draft. Utilize this Mock Draft to finalize your strategy before the real thing. |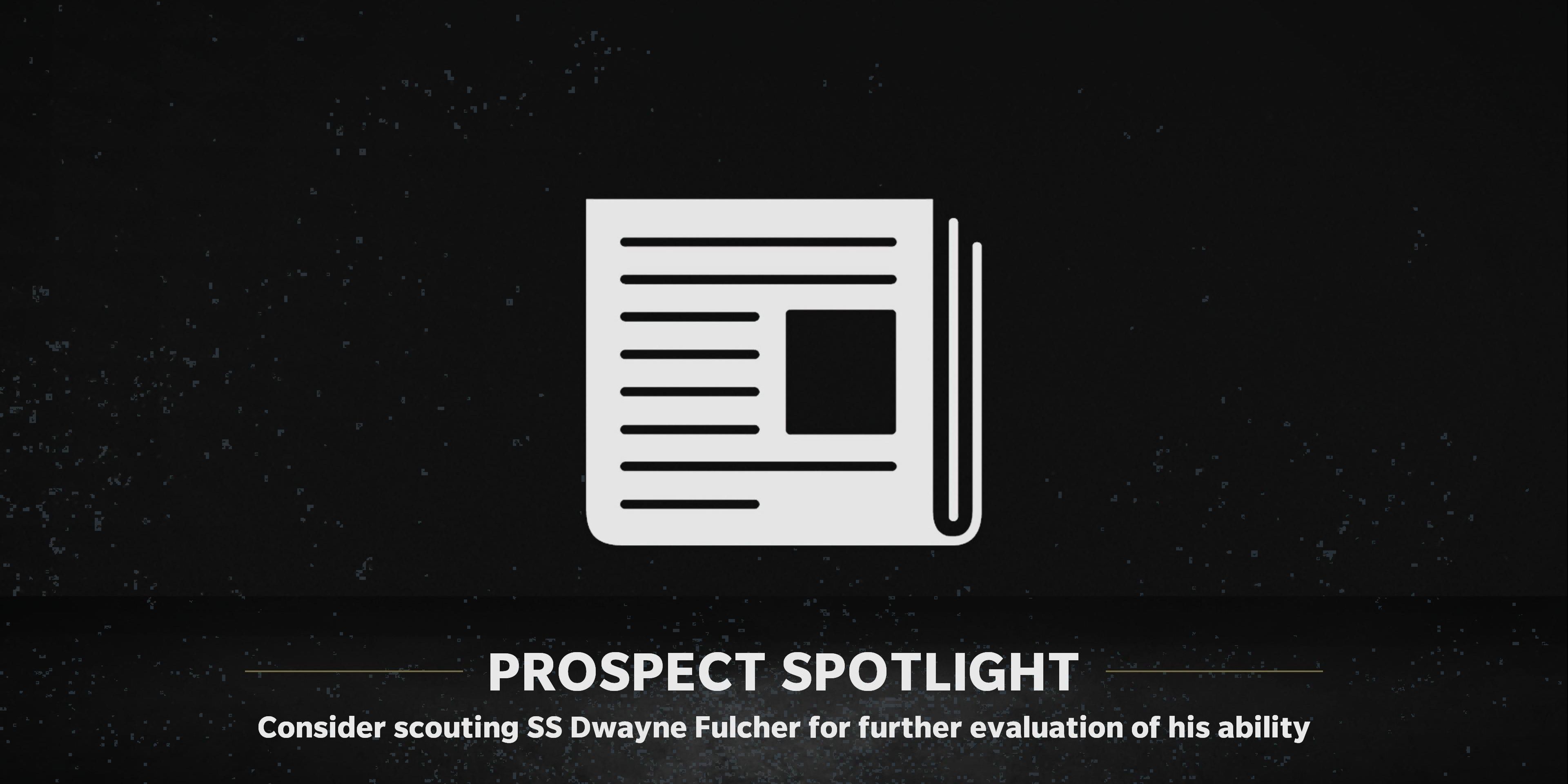 In Week 9, the Front Office will provide a Prospect Spotlight where they highly suggest completing more scouting for a specific player.
NFL Draft
During the draft, you will initially have two minutes to make your selection. As the rounds continue, that time will decrease.
You can find outstanding players throughout the draft with a Hidden Dev Trait, and this can be developed into a top talent.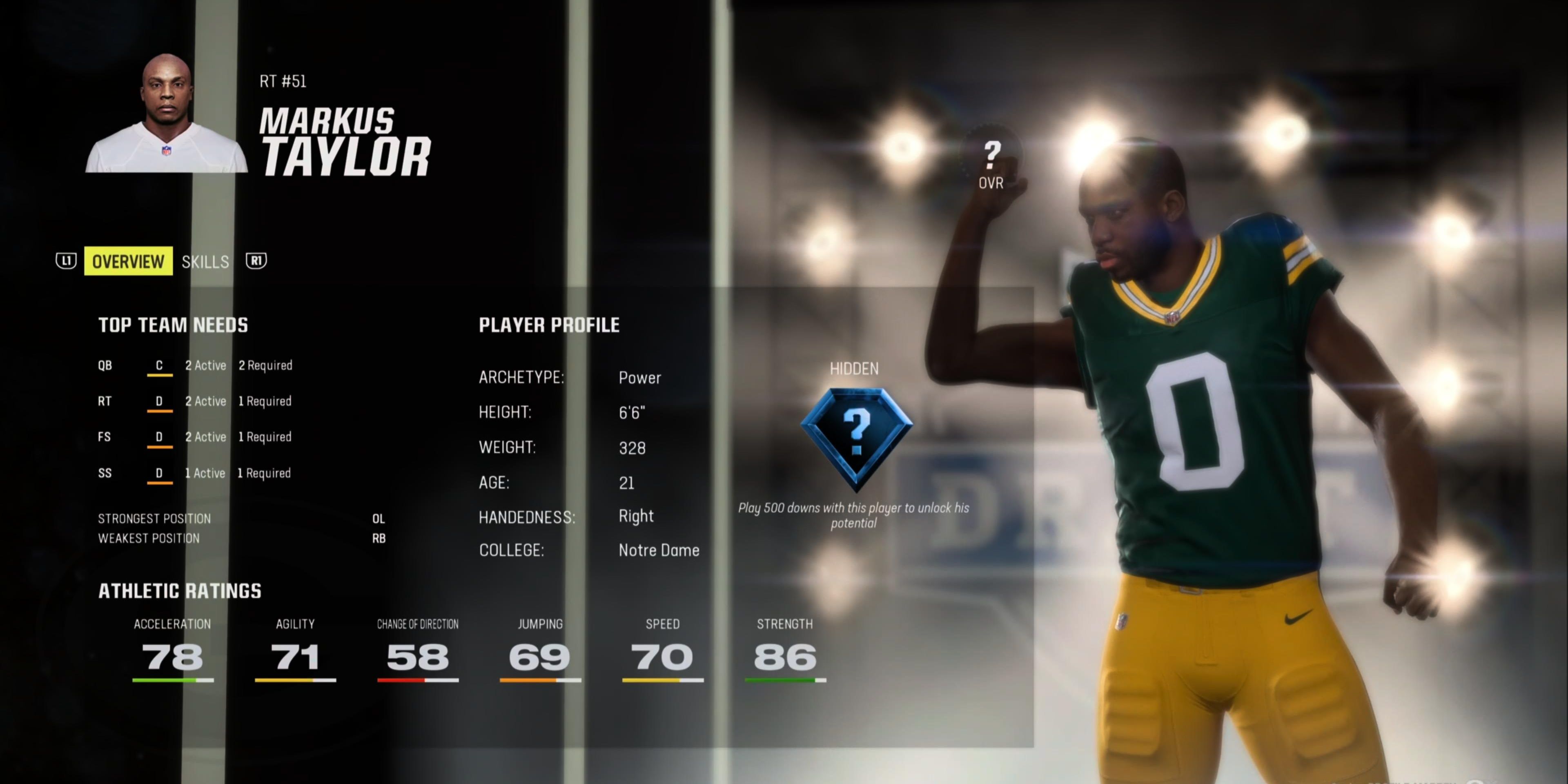 Unless you have the first overall pick, you can study your draft board and highlight any players you want to target. Once you're ready for your pick, you can simulate the draft to your team's pick or simulate individual picks if you want to keep better track of who's drafted.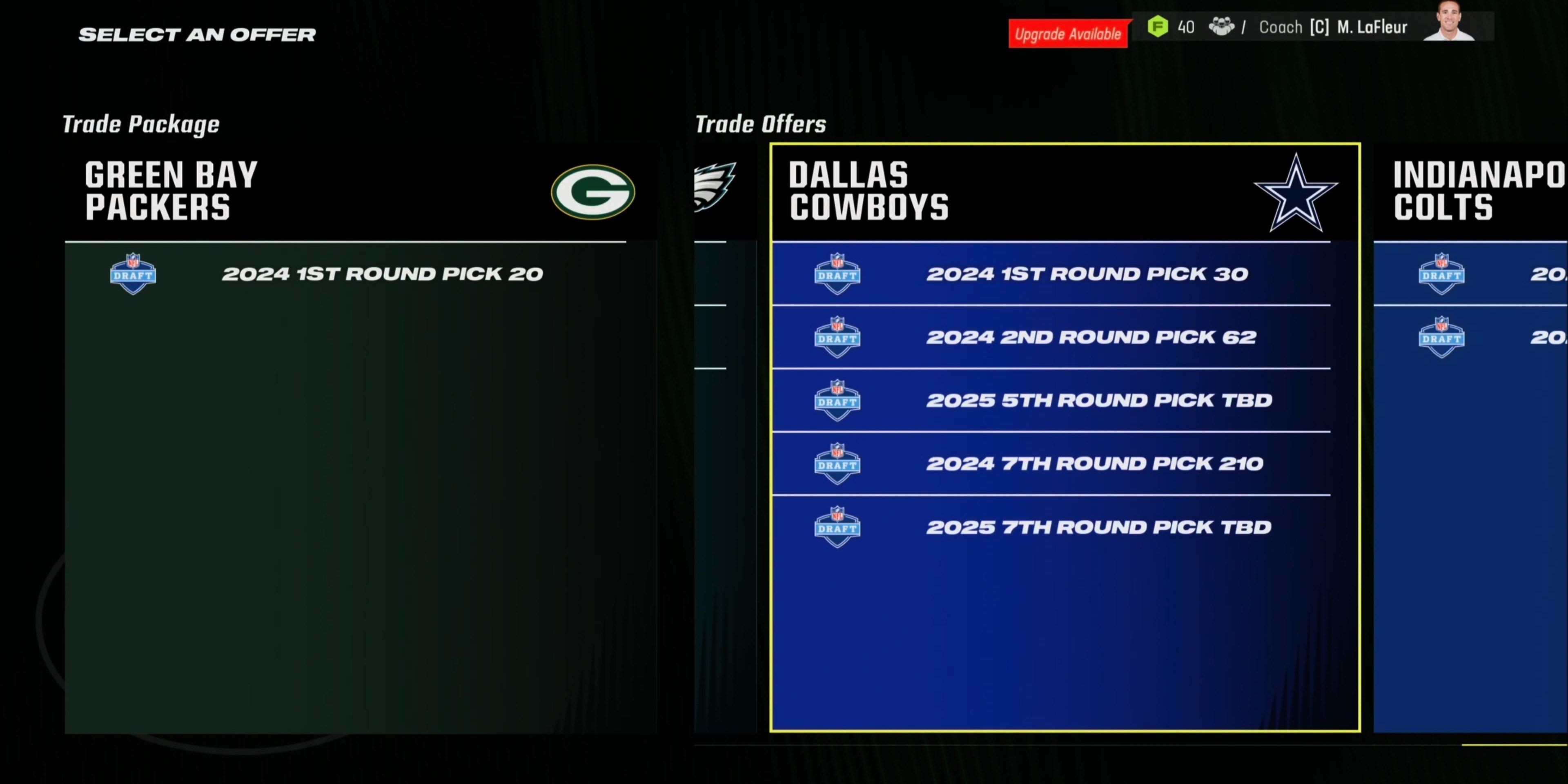 Besides drafting players, you can trade your draft pick. The game will generate trade offers you can review to try and add more draft capital to build your team for long-term success.
Once the draft is over, you can review a recap of your drafted players and advance to the next season's offseason to enter Training Camp.
NEXT: Madden 24: All Combine Interview Questions And Answers