Retro gaming aficionados will ensure that joysticks never go out of fashion. PC Joysticks end up adding a touch of realism to your gaming experience, thanks to the customizable features, ergonomic designs, and enhanced precision control. Having the right joystick can significantly amplify gameplay, whether it is a combat game or a good ole flight simulator. Most of the leading brands have built on this foundation, introducing models that have adjustable tension settings for variable resistance, multi-button configurations, and tactile/haptic feedback.
Related: Best Accessories For PS5
Considering the extensive options you have to deal with while choosing a joystick, the process does tend to get a little tricky. Which is why we have carefully curated a list of pc joysticks guaranteed to make it to your wishlist.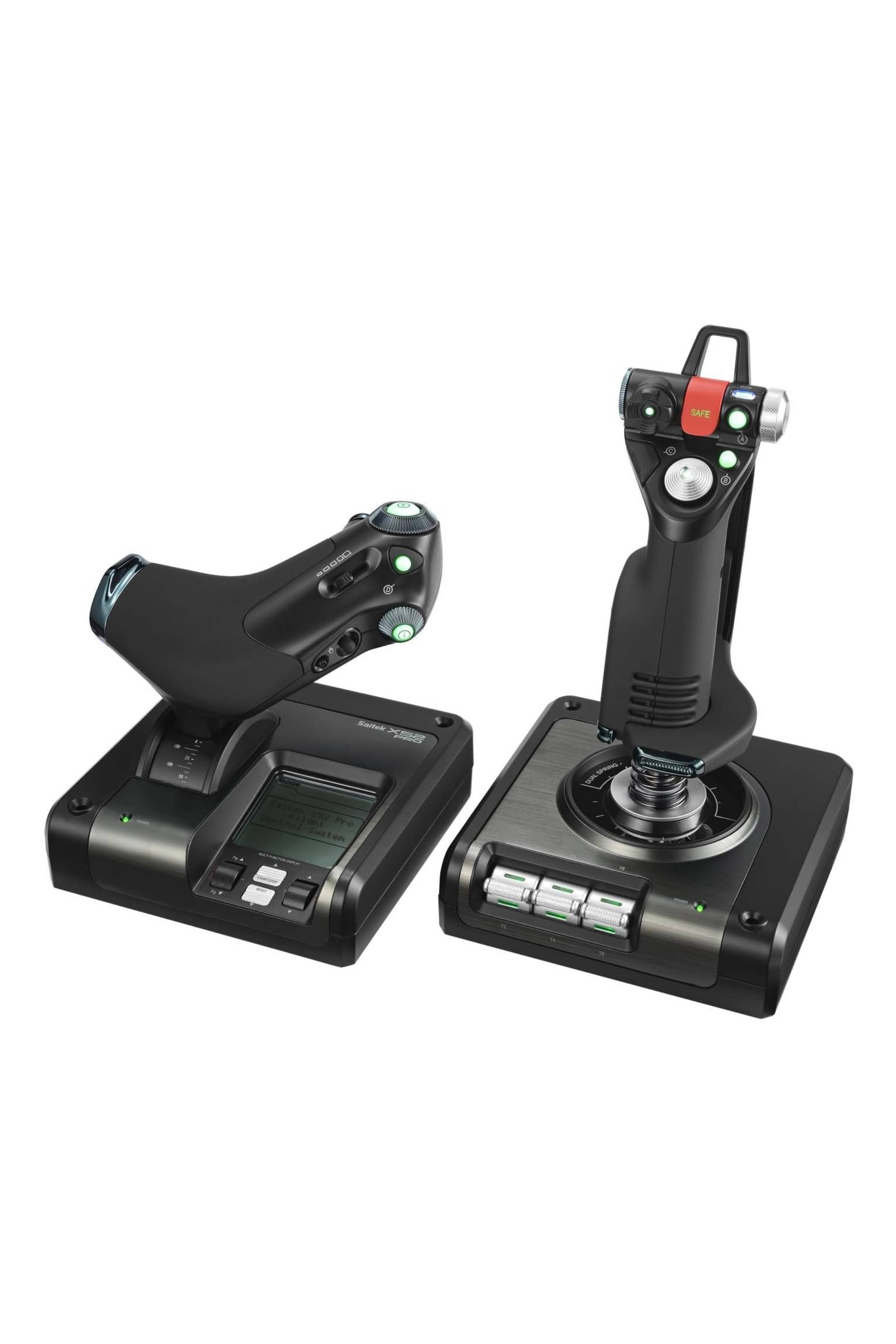 Logitech G Saitek X52 Pro
Best Mid-Range
Precision in every flight.
Elevate your flight simulations with the Logitech G Saitek X52 Pro. Boasting illuminated buttons, adjustable tension dial for tailored resistance, intuitive LCD display, and advanced grip adjustments, this joystick offers great control and customization.
Pros
Illuminated buttons and informative LCD.
Comprehensive customization software.
Accurate dual-spring centering mechanism.
Cons
PS/2 Connector Cable may be outdated for some setups.
Requires two USB 2.0 ports.
The Logitech Saitek X52 Pro has been meticulously designed for flight simulation enthusiasts. The illuminated buttons and LCD not only enhance your esthetics but also provide intuitive feedback on your button configuration. Thanks to the dual-spring centering mechanism with a precision metal cone, the joystick returns accurately to neutral positions as well.
You also get more control and a boosted durability with the unit, courtesy of the non-contact technology on the X and Y axes. You also get a progressive throttle with the unit, complete with detent that offers smooth control over reverse thrusters, idle, and afterburners.
The 3D twist rudder controls on the rig end up giving an additional layer of control which is fun, but there's also a rudder lock switch for the purists. The X52 Pro is also compatible with most of the flight simulation software options out there, making it quite the versatile choice on a sensible budget.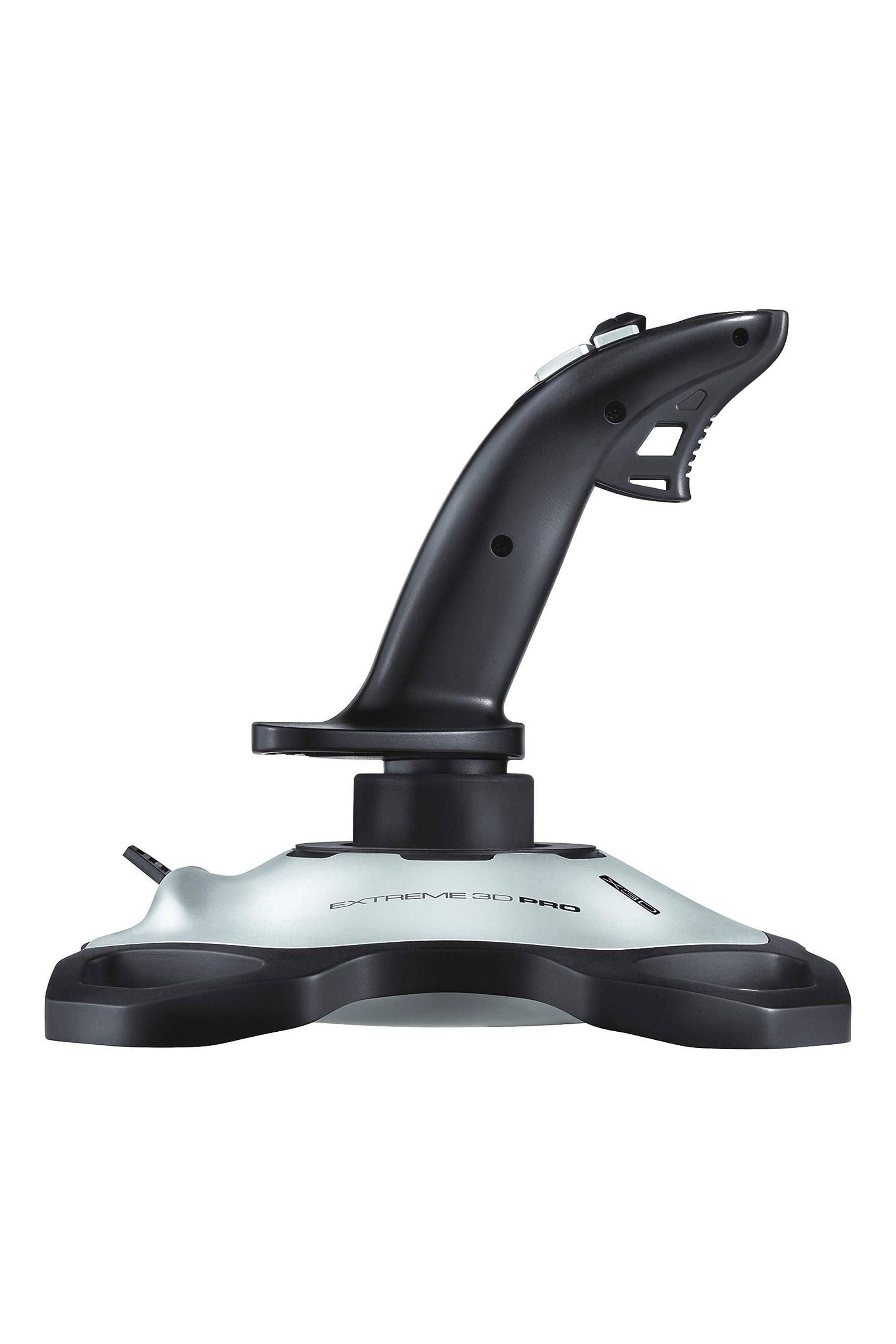 Logitech Extreme 3D Pro Precision Joystick
Best Budget
Feature-rich, wallet-friendly.
With straightforward USB connectivity that ensures a hassle-free plug-and-play on most PCs, programmable buttons, and a weighted base, the Logitech Extreme 3D Pro is designed to offer you a lot of versatility without having to break the bank.
Pros
12 programmable buttons for tailored gameplay.
Twist handle rudder for enhanced navigation.
Weighted base ensures stability.
Cons
Predominantly plastic construction.
Limited software support for configurations.
The Logitech Extreme 3D Pro is a great choice for the budget-conscious. Design-wise, the joystick is ergonomic, with contours that fit perfectly into your hand, making it great for extended gaming sessions. At its core, you get 12 programmable buttons for a customizable gaming experience.
The dedicated eight-way switch allows for nuanced in-game adjustments while enhancing precision at the same time. Given the price point, it's also quite admirable that the joystick remains anchored during intense maneuvers. This is primarily due to the weighted base.
The rapid-fire trigger on the joystick is also pretty responsive, giving you an edge in fast-paced scenarios. The twist handle rudder control allows for smooth movements as well. While it may not have the bells and whistles of the higher end models, the Extreme 3D Pro still holds its own against a lot of competition.
Related: Best Wireless Earbuds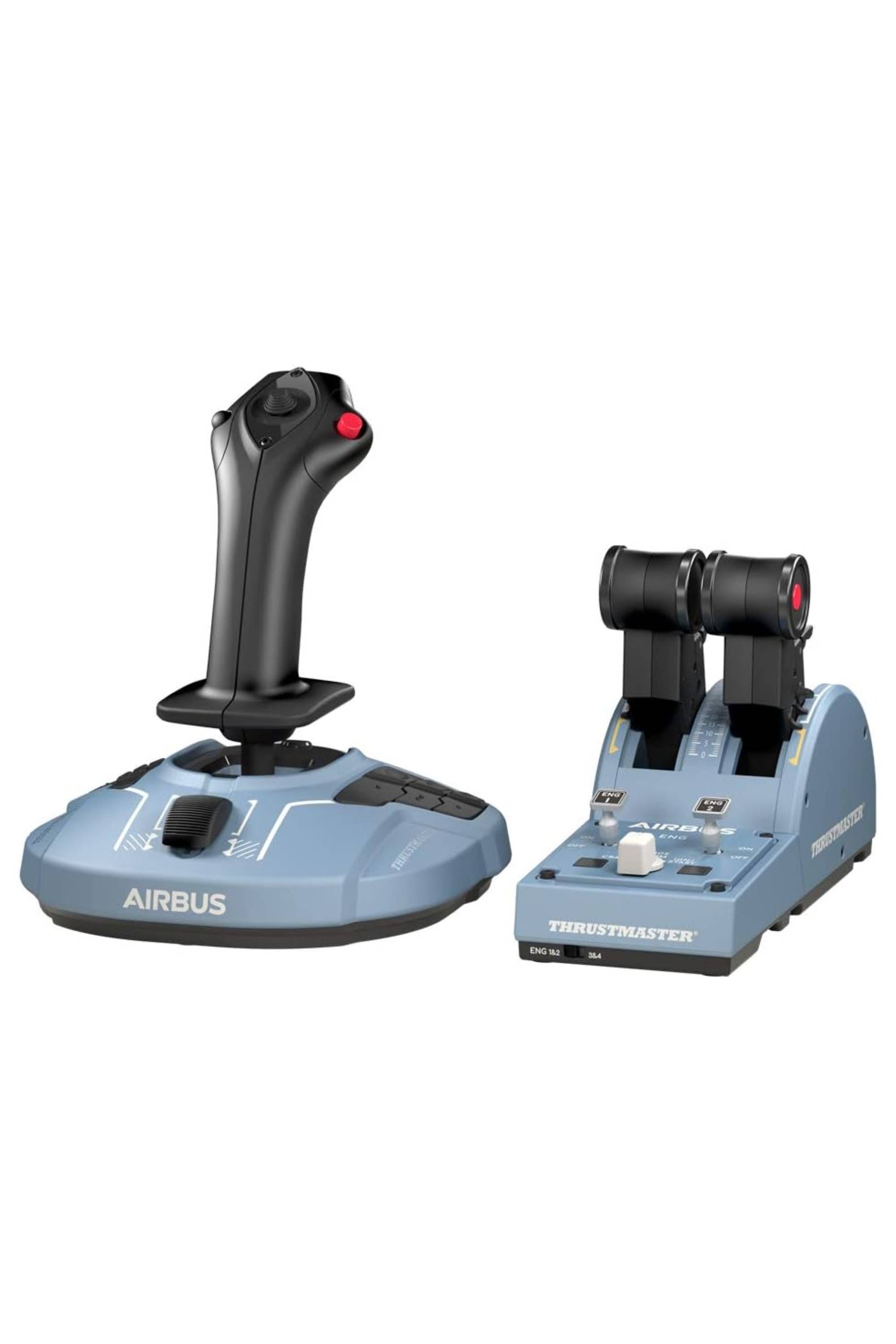 Thrustmaster TCA Officer Pack Airbus Edition
Best Airbus-Replica
Authentic Airbus flight mastery.
Experience unparalleled flight simulation with the Thrustmaster TCA Airbus Edition. Designed to replicate Airbus commands, it offers precision, modularity, and an authentic feel, setting a whole new standard for PC joysticks.
Pros
Authentic Airbus design replication.
Built-in thrust reverser mechanism.
Modular configuration options.
Cons
Limited compatibility with non-Airbus simulations.
Bulky design.
If you're someone who is looking for a joystick that mirrors the iconic Airbus commands, then the Thrustmaster TCA Airbus Edition is a great option to consider. The ergonomic design on this unit is actually inspired from a real Airbus side stick and has been scaled as a 1:1 replica, so you get that authentic feel.
Users can adjust the settings to suit captain, co-pilot, or even solo flight settings. Each of these modes have been carefully curated to reflect the real thing. There's also a built-in thrust reverser mechanism that ensures controlled landings. The rudder function, which is controlled by stick rotation, is also complemented by a locking system for a genuine flight experience.
The TCA Airbus edition features eight physical action buttons that replace Airbus controls. Dual thrust levers can also be linked for four-engine aircraft simulations. Additionally, the integrated H.E.A.R.T magnetic sensor system also enhances lifespan and precision.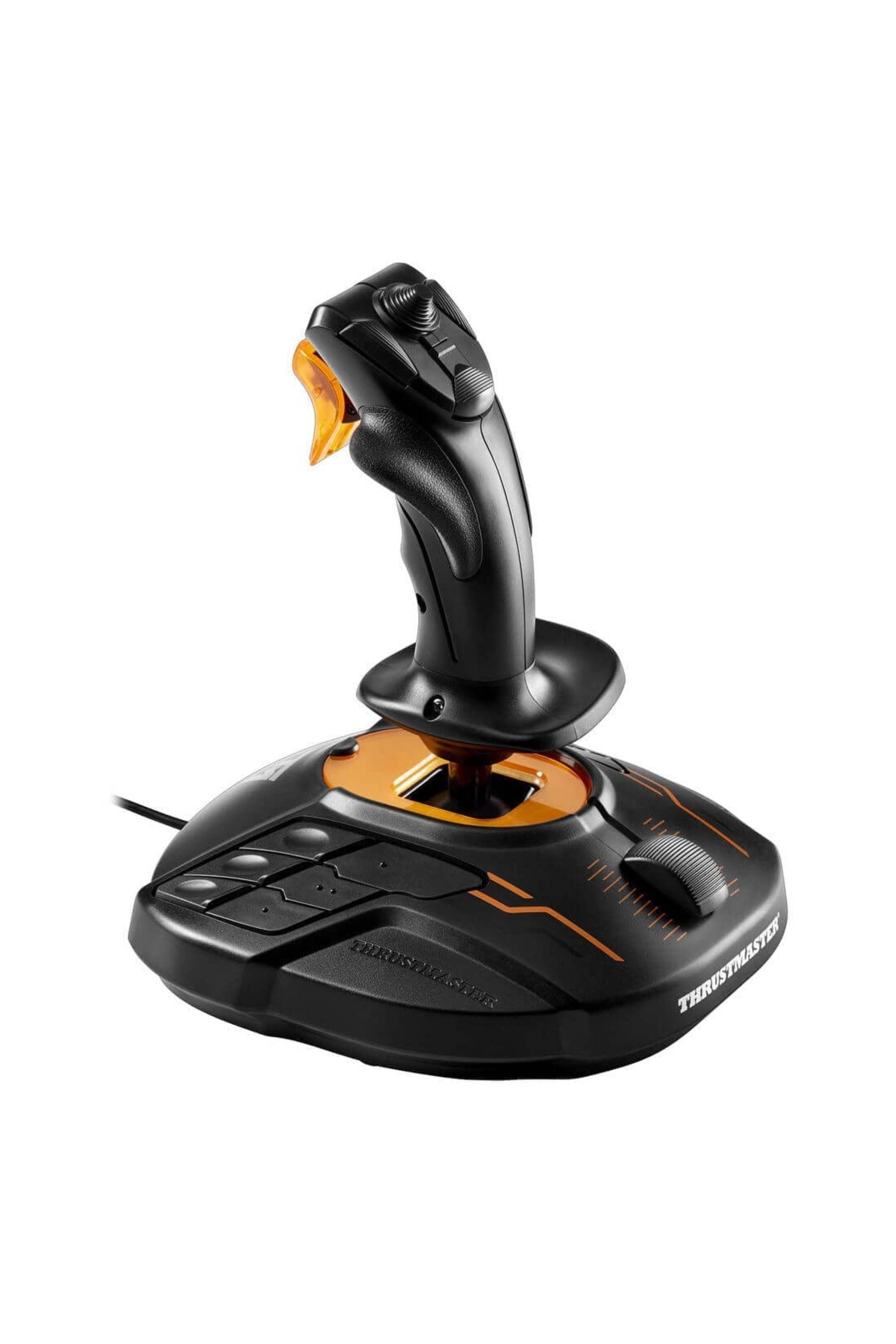 Thrustmaster T.1600M FCS
Best Ambidextrous
It can do both.
$70 $80 Save $10
This joystick from Thrustmaster is integrated with the HallEffect AccuRate Technology, comes with an ambidextrous design, and has a 16-bit resolution, all of which make sure that every moment you make is captured with pinpoint accuracy.
Pros
Ambidextrous design for versatility.
16 action buttons with tactile identification
H.E.A.R.T technology ensures precision.
Cons
Plastic construction may not appeal to all.
Limited customization options.
Handling joysticks can be a little hard if you are left-handed, because a majority of them are designed for right-handed people. They're not completely unusable, but they are a pain to deal with. This is where the Thrustmaster T16000M comes in. It is the perfect blend of adaptability and function.
The ambidextrous design with swappable buttons allows you to use this unit the way that you want to. It boasts 16 action buttons, each equipped with "braille"-style identification for tactile feedback. You also get an eight-way point of view hat switch which enhances in-game navigation.
Ergonomics take front and center, with contours on the grip eliminating any fatigue that may come from longer sessions. Stick rotation controlled rudder function gives you precision without having to deal with a hefty price tag.
Related: Best microSD Cards For Nintendo Switch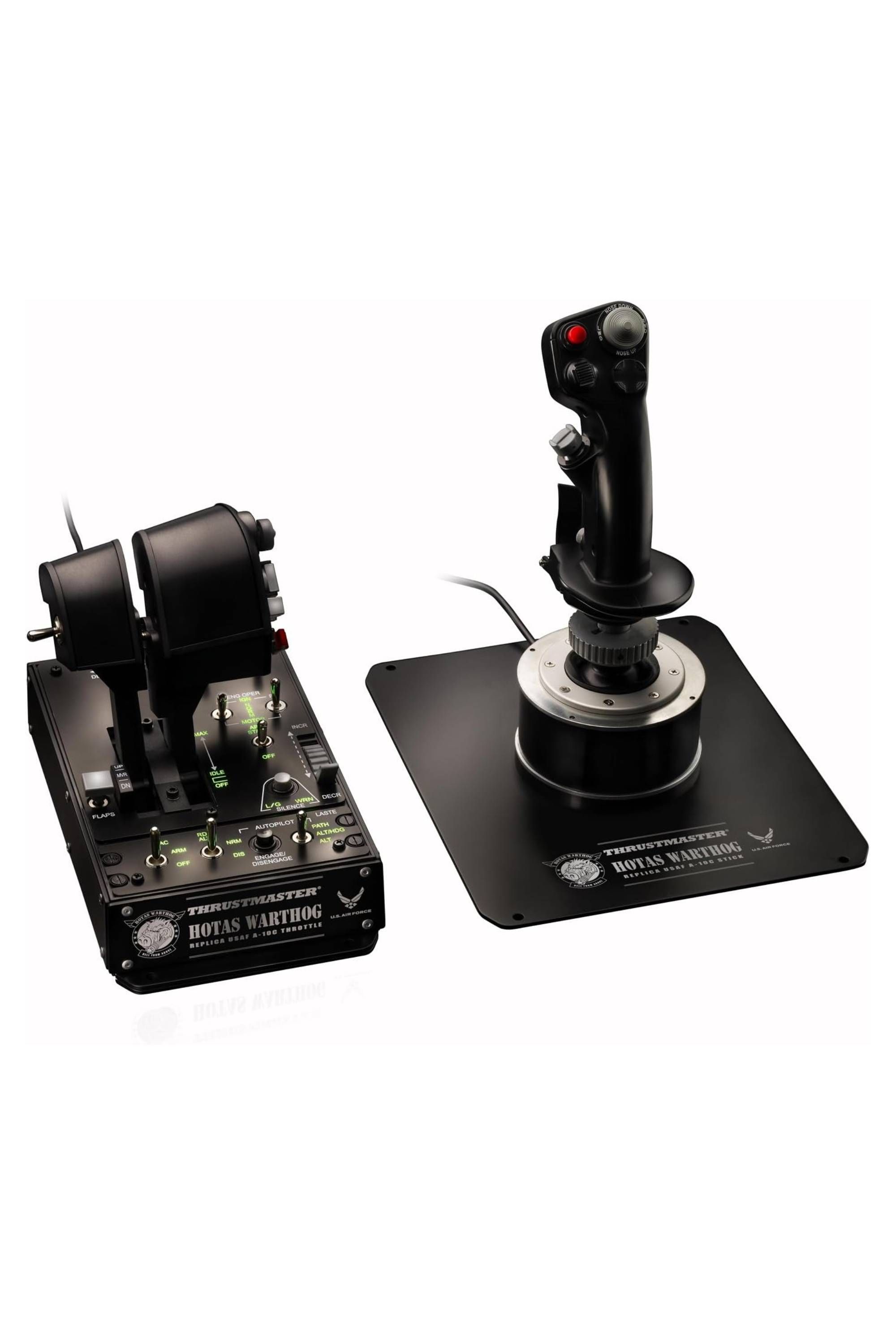 Thrustmaster HOTAS Warthog
Best High-End
Experience true flight control.
Elevate your flight simulation with the Thrustmaster HOTAS Warthog. An official replica of the U.S Air Force A-10C controls, it offers unmatched precision, durability, and a plethora of features, setting it apart as a premium choice for PC gamers.
Pros
Official replica of U.S. Air Force A-10C controls.
Premium metal construction.
Comprehensive dual throttle system and control pane
Cons
Requires significant desk space.
If realism is your thing, then look no further because it does not get any realer than the Thrustmaster HOTAS Warthog, which is an official replica of the United States Air Force A-10C aircraft. This joystick has been carefully crafted to give you a bit-for-bit reproduction of all the controls you find in the actual thing.
Even the build quality is exceptional, with metal construction that gives you both a premium feel and durability. You get 19 action buttons, a point-of-view hat, and this rig wouldn't be complete without the signature H.E.A.R.T feature from Thrustmaster.
Coming to the dual throttle system, the control panel on this rig gives you a super-cool simulation experience, thanks to the multitude of buttons and the magnetic sensors that ensure consistent performance over extended use.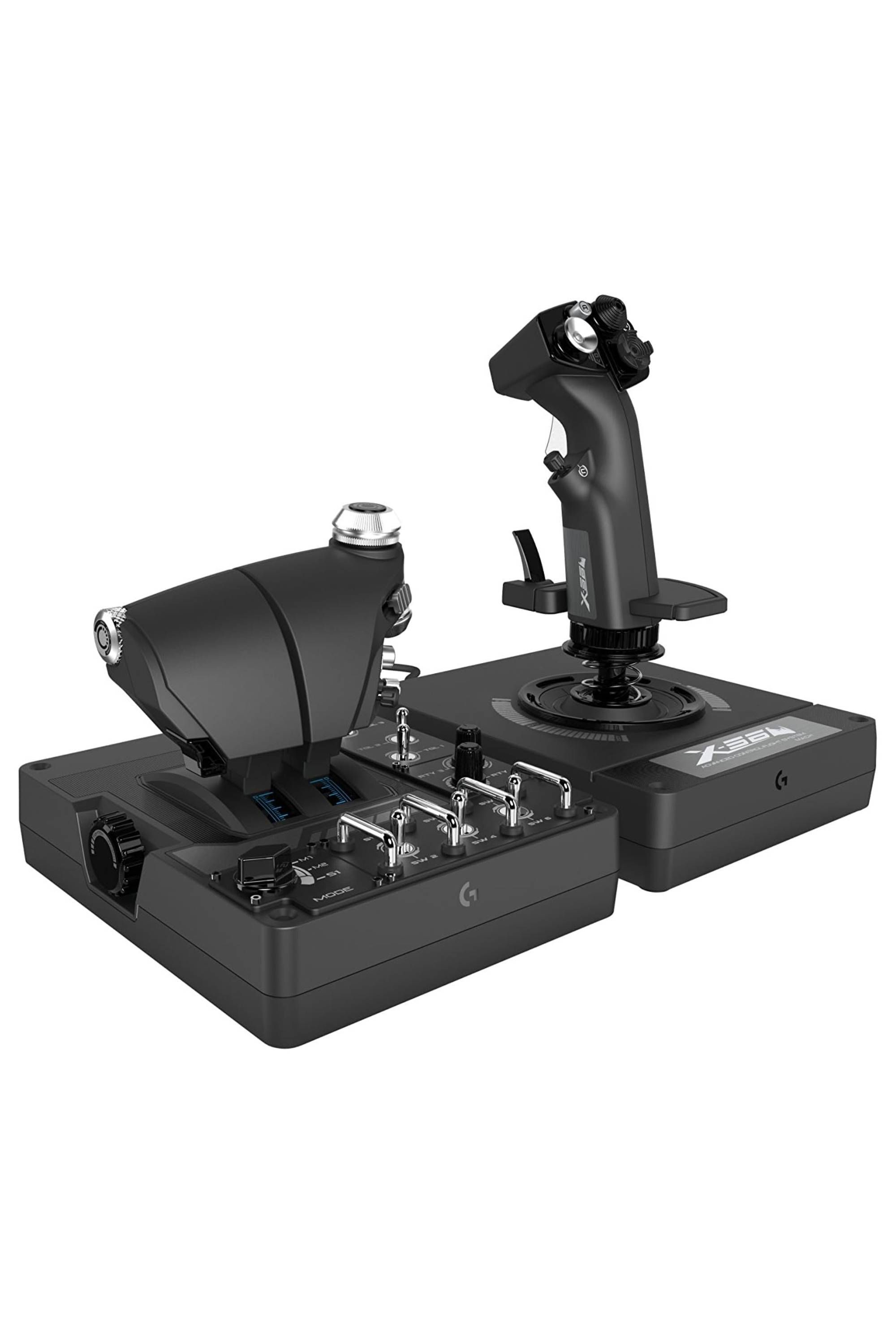 Logitech G X56 H.O.T.A.S. Throttle and Stick Controller
Best RGB
RGB precision in flight.
If precision and RGB lighting is what you're after, then the X56 is a top pick. It comes with four spring options which you can use to tailor the joystick's resistance, offering extensive control over your gaming experience.
Pros
Military-grade precision for accurate gameplay.
Over 189 programmable controls for extensive customization.
Customizable RGB backlighting to match any setup.
Cons
Requires two USB 2.0 ports.
Extensive features might come with a steeper learning curve.
The Logitech GX56 HOTAS Joystick flight simulator is a formidable contender in the gaming arena, especially for those who want to add a bit of flair and aesthetic to their setup. Equipped with fully customizable RGB back lighting, this joystick provides military-grade precision that captures your actions with perfect accuracy in all your space and flight simulations.
The minimalist, yet streamlined design makes sure that it fits into any gaming setup with great ease. The X56 also comes with six degrees of freedom which offers untethered control that can help you with everything from pitch and roll to omnidirectional navigation.
Twin throttles come with a friction adjuster and throttle lock as well, and this gives you a level of tactile feedback that is very hard to match. A noteworthy feature is this extensive programmability, which boasts 189 controls and allows you to customize everything from axes to buttons and switches.
FAQ
How are PC joysticks designed to appeal to both the casual gamer and the flight simulation aficionados?
While joysticks are usually geared towards flight simulation games, they are actually pretty cool for casual gaming as well. Most of them are USB-compatible and come with intuitive interfaces that offer plug-and-play functionality. These joysticks are designed to be user-friendly and have clear button layouts with a straightforward calibration process. Extensive programmability features allow you to fine-tune the controls depending on your needs.
What sets apart top-tier PC joysticks from the average ones available in the market?
There are a lot of things that set apart good quality joysticks from your regular ole models. A good indication is the build quality. If you have the resources, it's generally better to go for sturdier, metal constructions that offer a weighted base. Additionally, look out for ergonomic contours geared towards user comfort, programmability features, etc. While joysticks are plug and play, the good ones often come with dedicated software options that allow for fine-tuning their performance parameters.
What benefits do adjustable resistance or tension settings offer?
PC joysticks with adjustable resistance or tension settings provide a significant advantage in personalizing the gaming experience. By customizing these settings, you can control the tactile feedback experienced while gaming. Since different aircraft have distinct control feels, you can replicate the authenticity, offering immersive gameplay and realism.
NEXT: Best Wireless Gaming Mouse